Recent Enhancements to Get Connected
Listening to your needs helps us make our software better for you everyday. In addition to our regular updates release schedule, we will now be making smaller enhancements to the platform on a regular basis. Click here to read more about the enhancements process. For more information about our larger product updates, you'll want to visit this article.
More Resources:
Product Suggestions Forum
Help Center
Open Zoom:
To best support you and your tireless efforts, we will be hosting sessions where you can join us, ask your questions, connect with our Support team and other site managers, and hopefully leave with some new knowledge and confidence about how to use your software to the fullest potential!
For more information about available Open Zoom meetings, please email support@galaxydigital.com
Most Common Reports Section
Now renamed "Recommended Reports", this area has been updated to include more helpful reports we want to spotlight for our admins.
Never fear! Reports previously listed here have been moved to their respective report topic sections:
Moved to Agencies/Programs Section:
Agency/Program Activity
Agency/Program Summary


Moved to Needs/Opportunities Section:
Needs/Opportunities Added
Needs/Opportunity Summary
Details of Individual Hours
Volunteer Hours Logged


Moved to Users Section:
Top 50 User Group Prospects
Hours by User Group Report Updates
In the past, this report shows only hour records that have been directly associated with a selected user group. If the hour record was not assigned to the user group, it would not show in this report.
To address this, we have added a toggle to allow for more flexibility with this report. The toggle enables admins to link all user's submitted hours towards all of their respective user groups they are in, regardless if they are a user group when logging the hour entry.
Condensed and Improved Reports
We found that there were a handful of reports that would benefit from being merged together. This is meant to group similar data points together for a fuller overview and better, overall reporting. This update effected the following reports:
Needs Added by Interest, Responses Submitted by Interest, Hours Submitted by Interest
Condensed to create the Site Activity By Interest found under the "Site Activity Summaries" subsection.
Users Joined By Weekday, Needs Added by Weekday
Condensed to create the Site Activity by Weekday found under the "Site Activity Summaries" subsection.
Users Joined by Week, Needs Added by Week
Condensed to create the Site Activity By Week found under the "Site Activity Summaries" subsection.
Report Removals
In order to keep our Reports page updated and streamlined, as well as to make space for new reports to be added in the future, we have removed a couple reports with repetitive data that is found in other, more utilized reports. We hope this allows for admins to find better modes of viewing actionable data.
Top 50 Visitors
Instead, we would recommend using a report like the "Top 50 Volunteers" or a Site Activity report (both found in the Site Manager Panel > Reports tab).
Ability to Filter Hour Source
To filter hours by source, navigate to:
Volunteerism > Hours > Need Hours > Table Filter > Check Source Box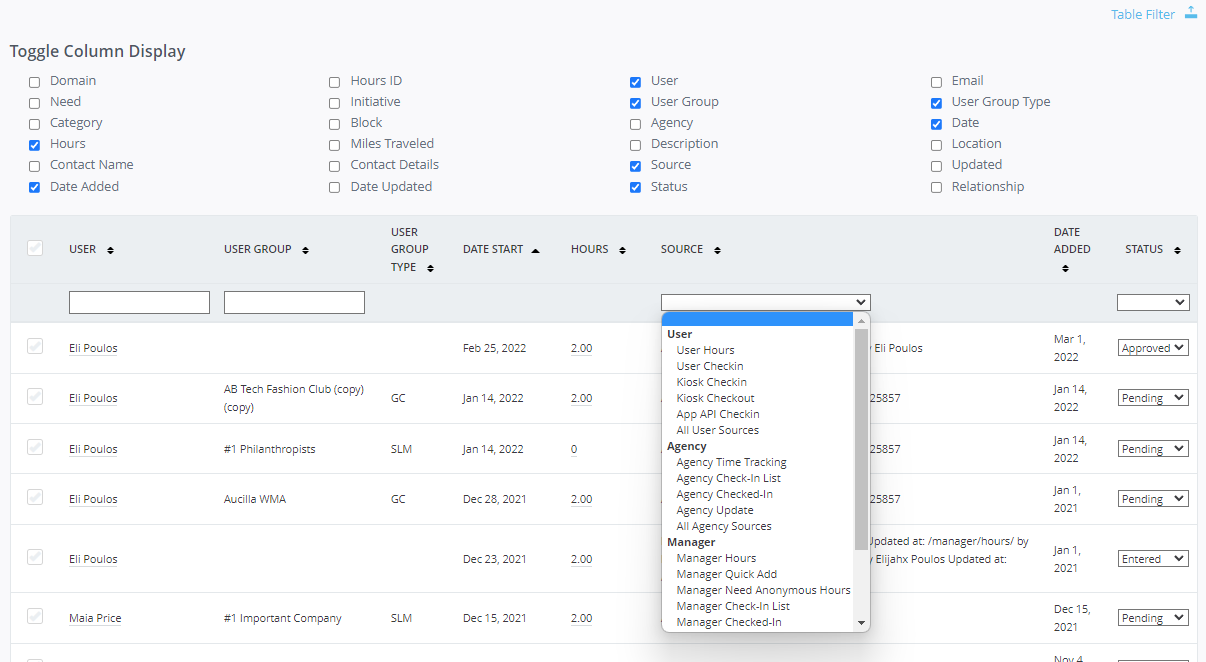 The ability to filter hour sources will allow site administrators to review the source of hour entry for volunteer hours logged. Site Administrators will also be able to review how hours were updated once logged.
Required registration questions and Qualifications can be strictly enforced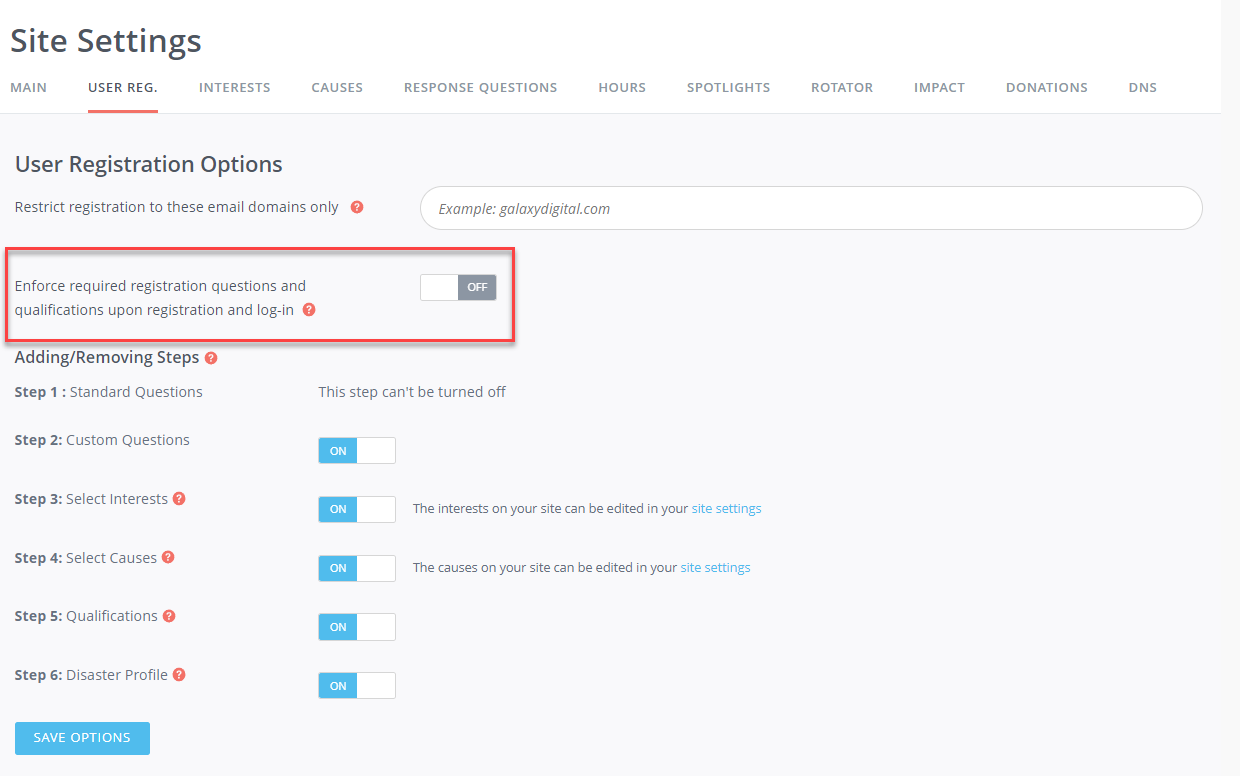 This new setting for "Enforce required registration questions and qualifications upon registration and log-in", found in your Volunteerism > User Registration area, requires a user to fill out all required standard registration questions, custom registration questions, and qualifications before they can fully access the site.
This setting applies to questions that are required within the user profile and/or at registration. If this setting is on, a check will be performed for missing required questions/qualifications after a user completes initial registration, as well as every time they log onto the site. If an existing user has not completed any of the required standard, custom, or qualification profile questions, they will be walked through each of the missing steps until they have completed all required steps each time they log into the site.
Users will now be required to fill out each registration step when creating a new account, independent of the new setting. New users will not be able to visit other pages on the site until they have finished the registration process.
Expanded agency profile social media link options
In addition to the Facebook and Twitter options, Agency Managers now have Instagram, LinkedIn, and YouTube fields they can utilize to connect with their volunteers.
Ability to view email content for messages sent via email blast
Site Managers could not view previous email blast content without needing to send a test or add themselves as a recipient. This content can be viewed in Communication > Email Stats and then clicking the respective View Email Content link.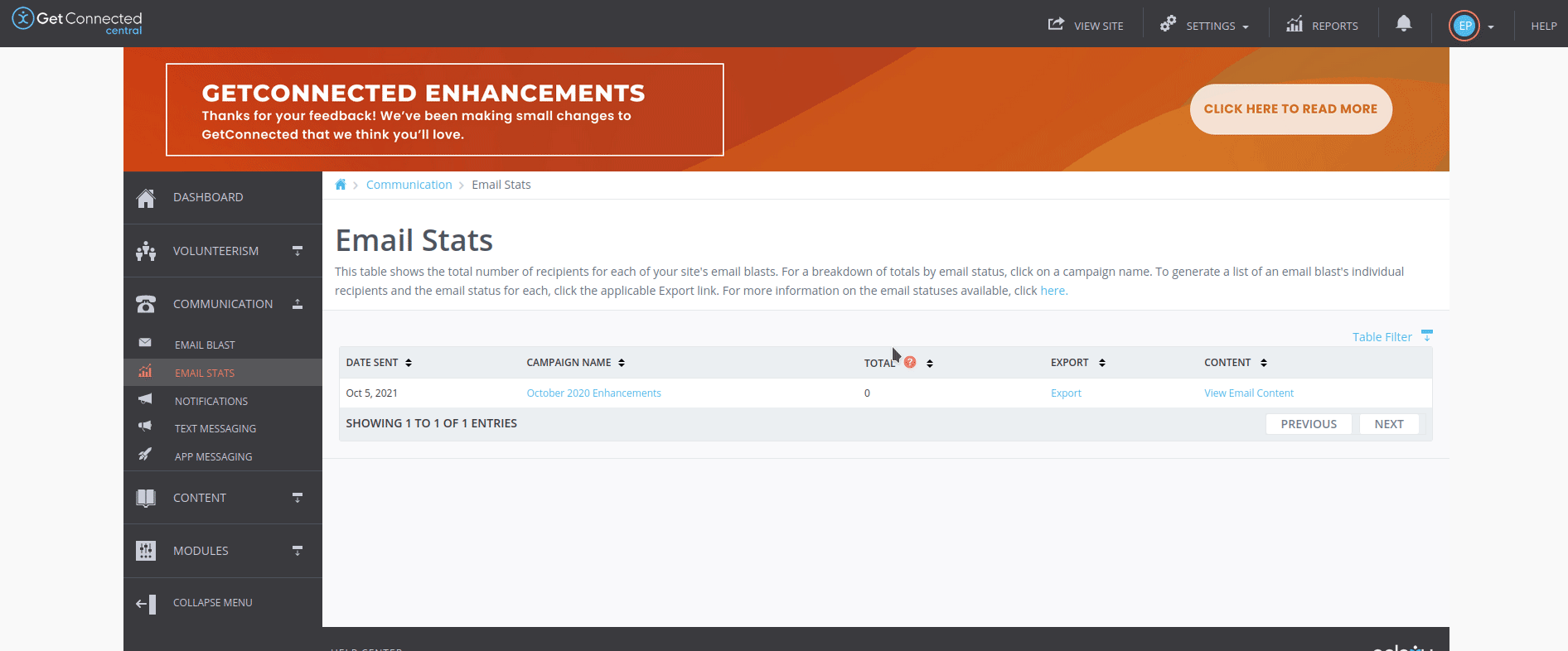 Sort order preferences for viewing needs
Site Managers can choose the default need order when users go to view the needs list. Options now include: Recently Updated (Default), Newest First, Oldest First, Soonest First, or Alphabetical and can be found in the Settings > Main Settings area.
Ability to require checkbox custom user registration questions
In Settings > User Registration when creating a custom user registration question that is a checkbox Field Type, Site Managers can now make them required for users to fill out.
Automatically strip or remove invalid characters from WYSIWYG editor to prevent page errors
Previously, custom pages and blog posts were showing a page error when invalid characters were used within the body. This update was made to prevent that issue from occurring as frequently.