Track Volunteer Hours
This is volunteer hours tracking made simple. Track volunteer hours and view impact with Get Connected Volunteer Management Software.
Make every volunteer hour count with Get Connected, an intuitive volunteer management software to track volunteer hours and report on your organization's impact.

Get Connected offers a smarter way to track individual and group hours online while delivering comprehensive, automated reporting. Plus, validating volunteer time has never been quicker. Volunteer Managers can approve hour submissions with a single click. Want to capture the data you need and save time? Get Connected can make it happen.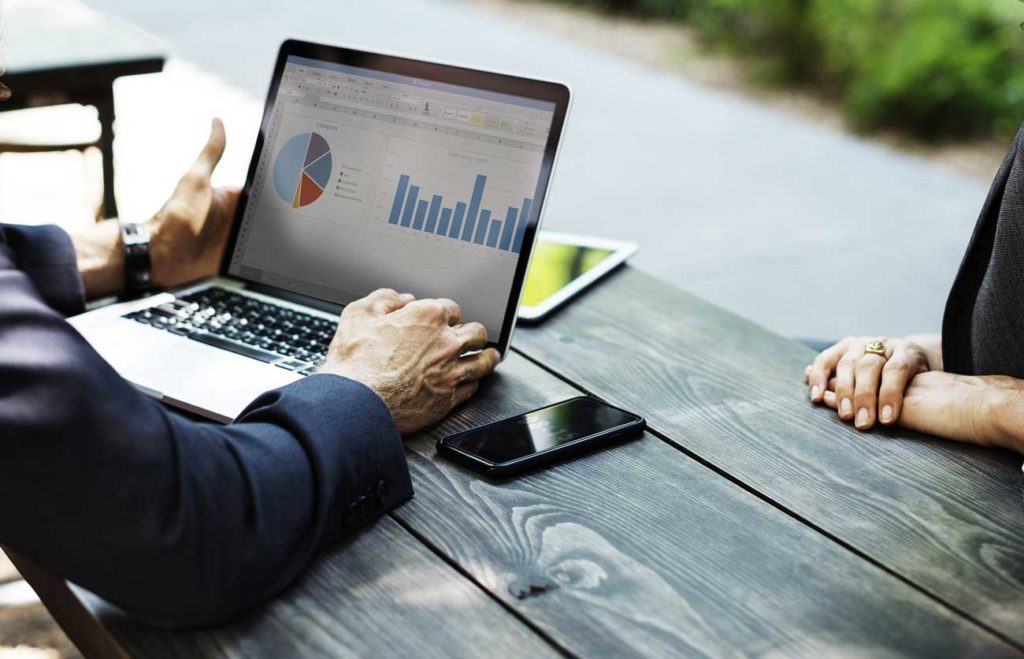 Start improving the way you track volunteer hours. Get a free demo!
Just need a quick, easy way to track volunteer hours?
Try Shift - Get a 30 day free trial!
Easily keep track of volunteer hours
Wondering how to keep track of volunteer hours for teams and groups? Get Connected simplifies team management.
Log hours together and report on group impact, even if members participate in separate activities. Get involved with Get Connected–it's the best way to track volunteer hours for groups large and small.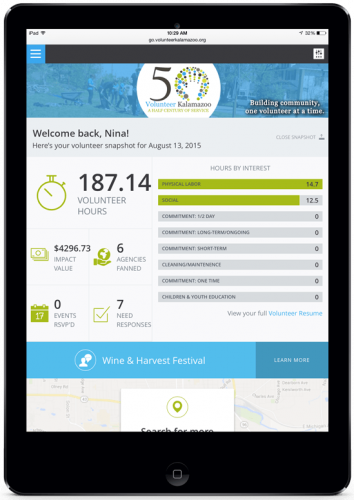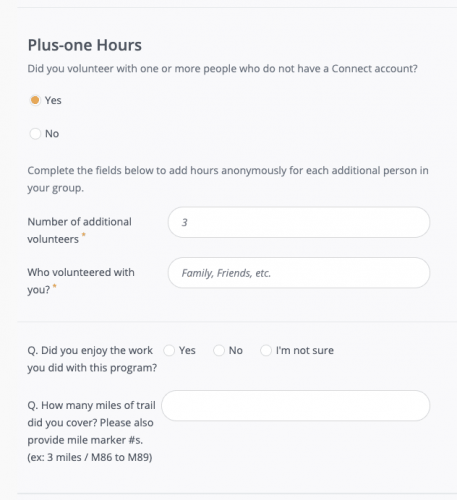 Miss fewer volunteer hours with "Plus One" volunteer tracking
Do your volunteers bring friends along? No problem! Get Connected tracks "plus one" volunteer hours on site with ease. You'll never miss a volunteer hour again.
Share Volunteer Impact on Social Media
You and your volunteers can easily share real-time impact with friends. Plus, Get Connected automatically populates a volunteer resume for each volunteer, ready to download any time. Tracking your volunteers will help you demonstrate all your hard work and inspire your community.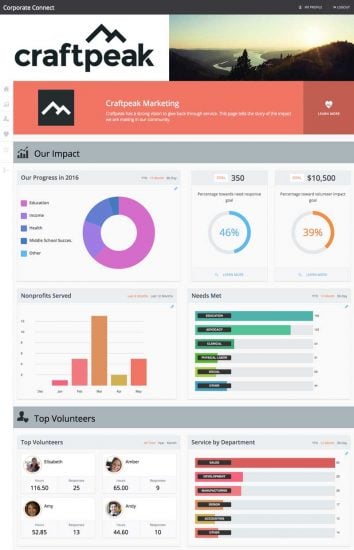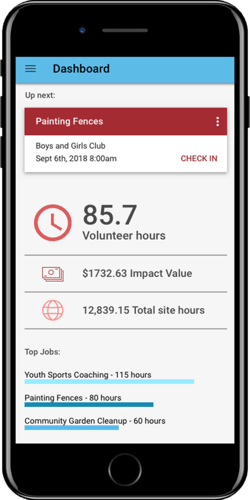 Count Every Volunteer Hour
Keep your volunteers engaged and motivated. Flexible hours submission forms and individual user profiles allow volunteers to track hours all in one place, even when accrued from other organizations, so they can view their true impact.
Easy Volunteer Reporting
Get Connected automatically populates reports in real-time. And with over 50 reports to choose from, you always have access to the data you need. Say goodbye to spreadsheets and hours of data entry. Instead, try our speedy volunteer hour tracking and comprehensive reporting: it's a truly powerful duo.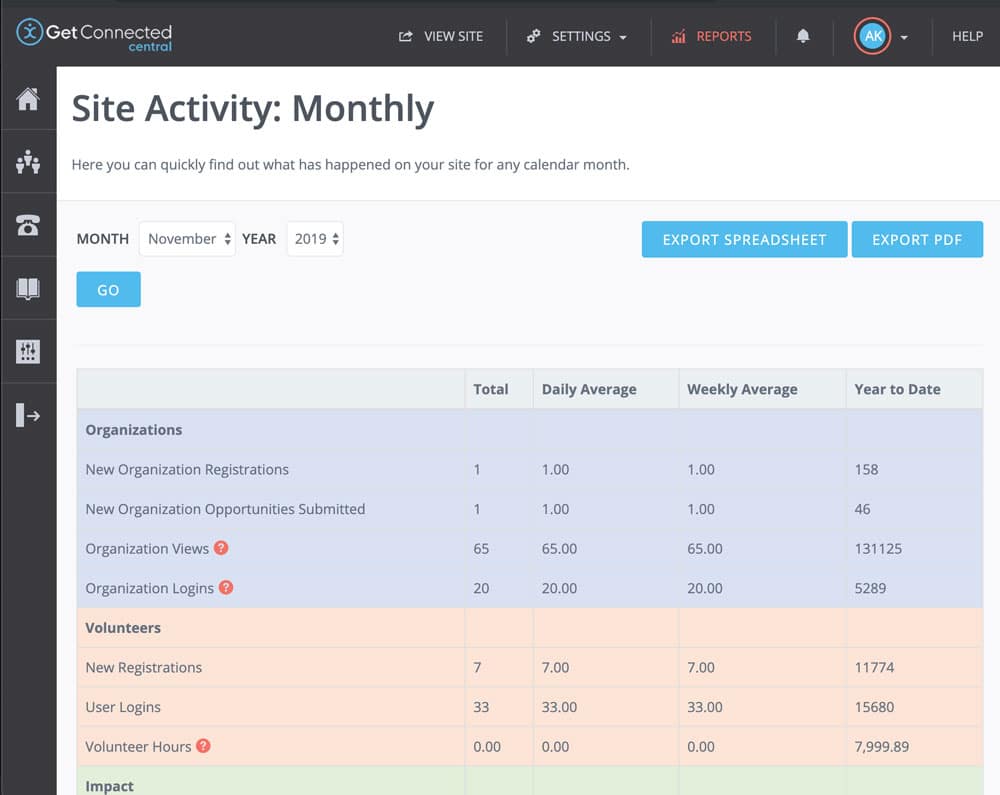 Essential Volunteer Management Tools
Tracking volunteer hours is easier with Get Connected. Access a suite of built-in volunteer hours tracking tools, from automated shift-based tracking to a check-in kiosk that's perfect for logging volunteer hours on site. Let our product specialists show you how to track volunteer hours in a way that works for your organization's needs.


A Free Volunteer App
Introducing our volunteer tracking app, Volunteer GetConnected. Volunteers can download our user-friendly app to track both individual and group volunteer hours, check in to activities on the go, and view their schedule. Even better? It's completely free! Learn more about our volunteer app.
Volunteer Check In Kiosk
Not sure how to log volunteer hours on site? Forget paper sign-in sheets. Log volunteer hours instantly anywhere, anytime, and on any device with the Get Connected's Check-in Kiosk. The Check-in Kiosk comes standard with every platform, so it's ready to launch at your next event.
More Ways to Track Volunteer Hours with Get Connected
Request Demo
Need more information about a product or whether it's the right fit for you? Let's figure it out together.
Join 20,000+ Volunteer Leaders
Get impact-boosting articles, guides, and webinar invites to help grow your volunteer program