Free Volunteer Management Software Buyer's Guide
by


Eli Samuels
Navigating the landscape of volunteer management software can feel like journeying through a labyrinth. Whether you're a newbie just setting foot in this territory, or an old hand seeking to bring life to your volunteer program, knowing where to start can be overwhelming.
In this comprehensive guide, we're set to decode the complexities of this powerful technology, simplifying how it can support the efforts of both volunteer leaders and their devoted teams. We're going to light up the path, giving you a clear roadmap to navigate this maze.
But we don't stop there. We've sifted through the market to pinpoint the standout tools available, saving you the legwork. Armed with this knowledge, you'll be ready to make an informed decision when it's time to embrace this innovation or make an upgrade to your current system.
So, let's embark on this journey of discovery together. Each sentence you read brings you closer to unearthing the ideal solution for your volunteer management conundrums. Your journey to streamlined, efficient volunteer coordination begins right here.
Free Download - Volunteer Management Software Buyer's Guide
Unveiling Volunteer Management Software: Your All-in-One Toolkit for Success
Think of volunteer management software, or VMS for short, as your one-stop digital toolbox. It's like the ultimate Swiss Army knife for volunteer leaders! This software brings together everything you need to corral your volunteers, orchestrate events, and drive your initiatives. And the best part? It's all in one handy, central location. So, your program transforms into a bustling hub of community involvement!
So, what exactly does this super-charged toolbox include? Well, volunteer management software is a jack of all trades. It's your:
Recruiter, helping you scout and bring onboard new volunteers.
Keeper of records, storing your volunteer database.
Communicator, offering a streamlined system for staying in touch.
Planner, featuring scheduling tools for smooth operations.
Event organizer, providing a space to plan and manage activities.
Bulletin board, acting as a website for listing and exploring volunteer opportunities.
Gatekeeper, offering check-in, time-tracking, and reporting capabilities.
We'll be diving into how each of these shiny tools functions, but first, let's find out what volunteer management software can do for you and your volunteers.
Already convinced that you need leading volunteer management software? Get Connected by Galaxy Digital takes care of all your volunteer management needs. How about that for a head start?
Unveiling the Magic: The Grace of Volunteer Management Systems
After making the switch to volunteer management software, volunteer managers report lots of benefits. Here are some of the top reasons organizations like yours use (and love) volunteer tracking systems:
Save Time
Streamline Your Everyday Processes and Tools
Reach More Volunteers and Grow Your Program
Understand More About Your Program's Impact
The Time-Saver: Unlocking Efficiency
Do you find yourself lost in a sea of data entry for hours on end? Or maybe you're caught in a game of time Tetris, trying to keep your volunteers' schedules in sync? If that's the case, it sounds like you need a hand.
That's where volunteer management software steps in. It's like your personal superhero, swooping in to save the day (and your precious time). How? By putting your volunteer management process on autopilot - from communications to logging volunteer hours, it's got it all under control. Just imagine the extra hours in your day. Who wouldn't want that?
But let's delve a bit deeper into how volunteer management software makes your life easier:
No more relentless back-and-forth! With integrated email and text messaging, self-scheduling, and more, communication with volunteers becomes a breeze.
Ditch the endless spreadsheets and give yourself time to build actual relationships instead of populating cells.
Sharing volunteer data with your organization and community is now as quick as a click.
Sounds pretty nifty, doesn't it?
Download a FREE Volunteer Management Software Buyer's Guide!
Streamlining Made Simple: Revamping Your Day-to-Day Operations
Are you tired of relying on a jumble of tools, from email platforms to attendance sheets? As volunteer programs expand, they tend to accumulate more and more tools.
The issue is that these tools hardly ever work together. For instance, Sign-Up Genius doesn't integrate with the piece of paper you use to check in volunteers, and Excel doesn't communicate with your MailChimp platform.
That's where volunteer management software comes in. It's an all-in-one system that can help you in several ways:
Keep all your data, tools, and processes stored in one place, using just one set of log-in information!
Say goodbye to the need for multiple third-party tools, such as check-in forms and spreadsheets.
Drastically enhance the volunteer experience with simplified, user-friendly registration, sign-up, and hours tracking.
Wouldn't it be great to have everything you need in a single, convenient solution? Volunteer management software is here to make your life easier.
Expand Your Reach: Attract More Volunteers and Boost Your Program
Volunteers these days are searching for opportunities online. However, it's essential to have the necessary infrastructure in place to effectively recruit and manage volunteers from anywhere.
By utilizing a web-based volunteer management system, you can achieve the following:
Grow your program by creating a user-friendly and visually appealing volunteer site.
Empower volunteers to identify activities that align with their passions and unique skills.
Enhance your capabilities with easy-to-use tools like automated communication and simplified scheduling.
Imagine having a platform that allows you to reach and engage volunteers effortlessly. With a web-based volunteer tracking system, you can make the most of online opportunities and build a thriving volunteer community.
Insightful Impact: Understanding Your Program's Effect
Do you have a clear picture of the real-time hours your volunteers have dedicated? Are you able to quantify the incredible impact your volunteers make in your community?
Tracking and effectively communicating the impact of your program is crucial for decision-making, engaging stakeholders, and securing funding. Unfortunately, many organizations lack the necessary data to accomplish this.
With volunteer management software, it's easy to:
Capture every single volunteer hour, allowing you to maximize the value of your data.
Generate compelling reports for various purposes, showcasing the remarkable contributions of your volunteers.
Make important decisions and allocate resources based on the invaluable insights provided by your impact data.
Wouldn't it be great if you could measure and share your real impact? With leading volunteer management software, you can confidently make informed decisions and effectively communicate the significant difference your volunteers are making in the community.
Need help choosing the right Volunteer Management Software for you?

Get the FREE Buyer's Guide >>
How Does Volunteer Management Software Empower Volunteers?
It's no secret that volunteer leaders greatly benefit from having better tools for volunteer management. However, it's equally important to recognize the significant advantages that volunteer management software brings to your volunteers themselves.
By implementing volunteer management software, you can empower your volunteers to:
Engage more deeply with your organization, fostering a stronger connection.
Discover opportunities that align with their passions and receive personalized recommendations tailored to their interests.
Get involved quickly and effortlessly with seamless registration and onboarding processes.
Understand the impact they are making and receive well-deserved recognition for their contributions.
Enjoy a seamless and enjoyable experience from check-in to check-out, making their volunteer journey even more rewarding.
Volunteer management software is packed with tech features that your volunteers will love. After all, they deserve the best tools and experiences as they selflessly dedicate their time and effort.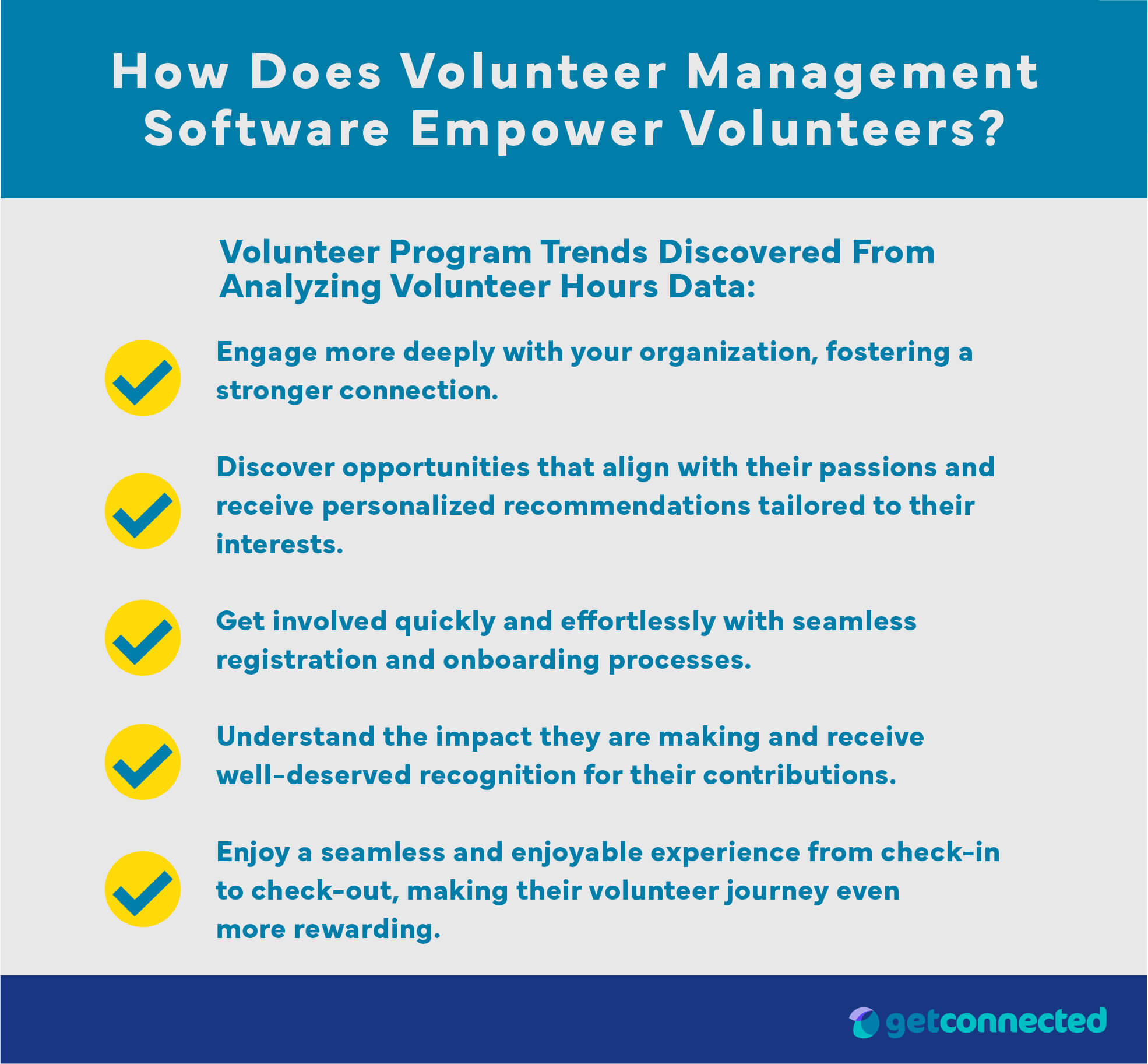 Out with the Old: What Does Volunteer Management Software Replace?
As your organization grows, the need for better management tools becomes increasingly apparent. However, not all tools are specifically designed to cater to the unique requirements of volunteer programs.
Consequently, you accumulate a mishmash of online sign-up sheets, email platforms, and scheduling software that simply don't work harmoniously together.
Essentially, the tools and processes intended to enhance efficiency fall short as your organization expands. But fear not! Volunteer management software is here to save the day.
It's a specialized tool crafted specifically for volunteer programs, seamlessly combining and replacing the chaotic mix of technology you're currently juggling. And guess what? Since the software is web-based, you can access these tools from anywhere, simplifying the management of numerous moving parts.
So, what exactly can volunteer management systems replace? Let's take a look at just a few of the standard tools they can replace:
Tedious paper logs, timesheets, and attendance records.
Cumbersome Excel spreadsheets.
Manual processes that eat up your time and energy.
Basic online sign-up forms that lack functionality.
Clunky scheduling templates that no longer serve your needs.
With volunteer management software, you can bid farewell to these outdated tools and embrace a streamlined, comprehensive solution that caters specifically to the demands of your volunteer program.
By the way: Have you checked out Get Connected's mobile app? It's free on both Apple and Android stores and is a fantastic tool for managing volunteer activities. The app lets volunteers track their hours and check into activities, while managers can organize tasks and communicate in real-time. A nifty solution for smoother volunteer management!
Don't forget your free VMS Buyer's Guide!
One Size Fits All? Who Benefits from Volunteer Management Software?
Volunteer management software is a valuable asset for volunteer programs of all sizes. Let's explore some examples of organizations that can greatly benefit from implementing this software:
Nonprofits that depend on dedicated volunteers to support their mission.
Grassroots organizations striving to make a positive impact in their communities.
Volunteer centers that serve as hubs for connecting volunteers with meaningful opportunities.
Faith-based organizations engaging their communities through volunteer work.
Corporate employee volunteer programs that encourage staff to give back.
Service learning initiatives, student volunteer programs, and parent volunteer programs in educational settings.
Medical centers and health systems that rely on volunteers to enhance patient care.
Cities, counties, and state commissions that leverage volunteers for community programs and events.
Regardless of whether your organization relies on a small team of ten volunteers or a massive force of ten thousand, there's a volunteer management software solution available to meet your specific budget and needs. It's time to discover the perfect system for your organization below!
The VMS Toolkit: Key Features of Volunteer Management Software
What are some of the features of volunteer management software? Check out some of our community of volunteer leaders' favorite volunteer management tools and features.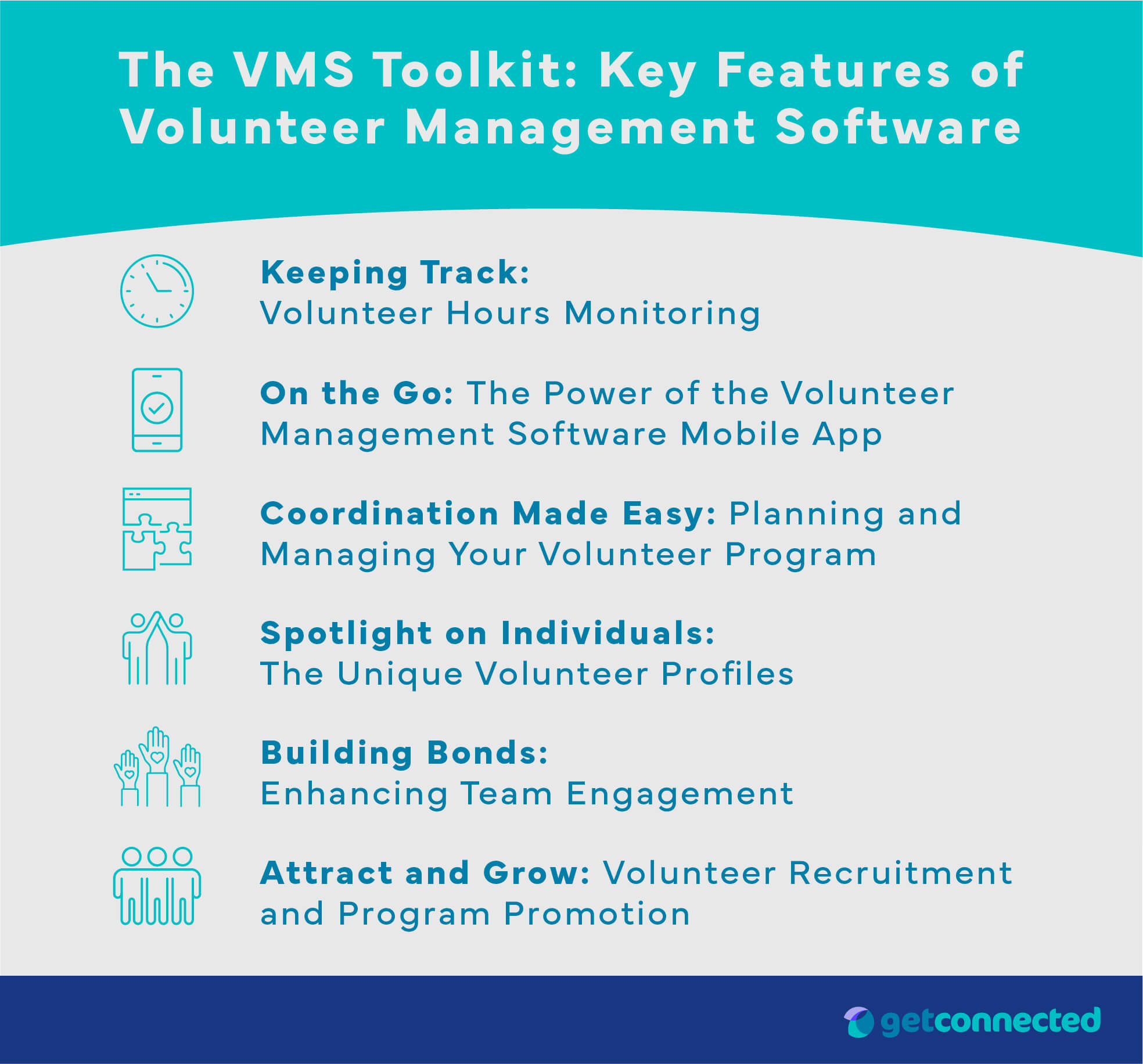 Keeping Track: Volunteer Hours Monitoring
Tracking volunteer activity is an essential function of volunteer management. The problem is, not enough programs are tracking their impact.
Why? Because, without the right tools, volunteer hour tracking can quickly become convoluted and time-consuming.
It's time to upgrade from paper sign-in forms, excel documents, and Google Sheets. Smart volunteer management software allows volunteers to log their hours instantly from anywhere, on any device. You'll collect more data and generate real-time reports with the click or two of a button.
Learn more about game-changing volunteer hours tracking tools.
On the Go: The Power of the Volunteer Management Software Mobile App
Do you feel like you're constantly having to hassle your volunteers to manually log their hours? If this is the case, you could be missing out on critical data.
That's where volunteer mobile apps come in. Volunteers can download a mobile app on their smartphones to track their hours, check in to activities on the go, and view their schedules.
The app integrates with your volunteer management software, so all your data is centralized in a single database. That means no more manual data entry!
Even better? Some volunteer management systems come with a free app!
Check out the best volunteer mobile apps for your organization!
Coordination Made Easy: Planning and Managing Your Volunteer Program
Your volunteer management system goes beyond attendance tracking; it can actually help you plan, coordinate, and grow your program.
Keep all your communications, administrative processes, and data associated with managing volunteers in one place. Especially if you're charged with coordinating multiple volunteer programs and community partners, you need a centralized system.
Capabilities like levels of leadership access, multiple program management, easy shift scheduling, and consolidated data make volunteer management software a must for the complex needs of community volunteer centers, and even state-wide volunteer organizations!
Plus, personnel planning tools help organizations of all sizes to identify and leverage the resources available to them. Manage background checks and signed documentation, place skilled volunteers in specialized roles, and deploy available volunteers to last-minute needs.
Spotlight on Individuals: The Unique Volunteer Profiles
Volunteer profiles keep all volunteer information in one place so they're in control of their volunteer experience. Individual volunteer profiles also give volunteer leaders access to information for every volunteer, so managers can work to create more meaningful, personalized volunteering experiences.
In addition to basic volunteer information (name and contact details), the software will also store the following volunteer data:
Interests, skills, and qualifications
Waivers and documents
Personalized schedules
Recommended opportunities
Individual impact tracking
Building Bonds: Enhancing Team Engagement
Volunteer teams are pivotal to the success of many organizations (just think: more helping hands and happier volunteers). From corporate groups to families, volunteering together is better!
But many organizations simply don't have the infrastructure or a strategy for engaging teams of volunteers. For one thing, communicating with volunteer groups can become confusing (not to mention, inefficient). And without a robust tracking system in place, programs struggle to collect team-specific data that keeps them engaged.
Volunteer management software can allow you to create groups in your volunteer databases, designate team leaders, generate exclusive web links for joining, communicate efficiently with groups, and create unique impact reports for every group.
Attract and Grow: Volunteer Recruitment and Program Promotion
Recruiting volunteers is an integral part of volunteer management. But many volunteer websites and listings just aren't working.
Your website could be failing to convert because your opportunities are disorganized or difficult to find.
Instead, highlight events, promote volunteer opportunities, and increase volunteer attendance with an engaging volunteer interface. The best software displays volunteer opportunities through an inviting and easy-to-navigate volunteer website.
Volunteers can even search for activities based on their interests, skills, and schedules, so you know you're getting the best volunteer for the job.
You know what exciting features you can expect from your volunteer management software. Now let's explore the best products available for your organization's needs.
By the way: Check out our handy Volunteer Management Software Buyer's Guide. It'll help you outline your objectives, review resources, explore features, and ultimately find the perfect fit for your team.
FREE DOWNLOAD:
Get everything you need to choose the best volunteer management software!
Leading the Pack: Top Volunteer Management Solutions
In a case study conducted with Willamalane Park and Recreation District, the challenges they faced in managing and expanding their volunteer program were successfully addressed through the implementation of Get Connected by Galaxy Digital.
Prior to using the volunteer management solution, Willamalane struggled with manual processes, inefficient communication, and a lack of centralized data. However, with Get Connected, they were able to streamline their volunteer recruitment, scheduling, and communication processes.
The results were impressive, as Willamalane experienced a remarkable 40% increase in volunteer sign-ups within the first month of implementation. The platform's intuitive interface and simplified registration process played a significant role in this surge of engagement.
Seen enough? Your one-stop volunteer management solution is Get Connected by Galaxy Digital. Check it out with a free demo!
We've put a lot of time into hearing your needs and just as much thought into creating a system intentionally designed for volunteer programs.
Our dedication to volunteerism and community building really pays off! G2 ranks Get Connected above the rest.
Let's have a deeper look at Get Connected:
Standout Choice: "Get Connected" Volunteer Management Software
Get Connected is made for every type of volunteer program.
With its comprehensive suite of tools, organizations like yours will take control of your volunteer management processes, build long-lasting relationships with supporters, track involvement, and so much more.
One example of the remarkable impact of Get Connected is Save The Bay, a Rhode Island nonprofit dedicated to protecting and improving Narragansett Bay.
Facing challenges in managing their volunteer program, particularly during their International Coastal Cleanup (ICC) initiative, Save The Bay sought a tool that could enhance the volunteer experience, reduce administrative time, and attract more volunteers. With Get Connected, they saw incredible results.
Previously using Google Forms and 123ContactForm, Save The Bay found them inadequate for their needs. However, with Get Connected, volunteers found signing up for coastal cleanup projects easier than ever.
The platform's intuitive interface and simplified registration process made it a breeze for volunteers to get involved. The automated notifications and data storage significantly reduced administrative efforts for volunteer management, resulting in more than doubling their volunteer numbers for ICC.
Save The Bay now looks forward to leveraging Get Connected's user-friendly platform to recruit more project leaders and corporate groups in the future while continuing to provide a better experience for their volunteers.
Get Connected offers all of the features we mentioned above (and more) in one fair subscription, including:
A free mobile app
Interactive volunteer profiles
Volunteer scheduling and calendar management
Email, text messaging, and automated communication
Lighting-fast report generation for digestible, impactful data
Ready to check out Get Connected volunteer management software? Chat with one of our Product Specialists and get a free demo.
By the way: Get Connected is more than just great software. We're also a free resource center for all things volunteer and nonprofit management!
Take a look through our Volunteer Management Software Buyer's Guide. It dives into the process and software to choose from, and helps you weigh crucial factors, like your budget, timeline, and team.
Here's a sneak peek:
Choosing the Right Volunteer Management Software
Any organization with a volunteer program can benefit from implementing a volunteer management strategy. An effective volunteer management process enables organizations to build meaningful, long-term relationships with volunteers.
Outline Your Objectives
Before investing in a new volunteer management solution, you'll want to think about how the software can help your organization achieve its short and long-term goals. Your volunteer management software should make sense for your organization's needs. Think about how you and your team are spending most of your time, and where you'd like to direct more of your time and resources.
Common Objectives
Reduce administrative time
Boost volunteer engagement
Improve program outcomes
Understand and report impact
Exploring Further: A Range of Volunteer Management Software Options
We get it. You need to research your options before choosing the best software for your needs.
We truly believe that volunteer management software is for every program and every kind of nonprofit. Choosing a volunteer management solution can be tricky—there are lots of options out there!
If you have a specific need, we went ahead and categorized alternatives by primary function:
Power Tools: Event Sign-Up, Volunteer Scheduling, Registration, and Recruitment
This group of tools focuses on online sign-up forms and event registration for scheduling volunteers and tracking attendance.
Central Command: Volunteer Communication, Coordination, and Management
Get volunteers registered with your organization and keep in touch with these management tools:
Mastering Events: The Ultimate Event Management and Fundraising Tools
These tools focus on donations, fundraising, and event management, but include some volunteer management capabilities:
Giveffect

- A fundraising software that also enables event scheduling and attendance tracking.
GivePulse

- A volunteer-facing portal for exploring local events and opportunities, as well as a relationship management database for understanding donorship data.
Mobilize

- An event management and volunteer recruitment platform. Create event postings, and send automated email and text messages to registered volunteers.
Specialized for the Spiritual: Faith-Focused Platforms
These solutions are designed specifically for churches and faith-based organizations that want to manage member information, donations, and service opportunities.
Breeze

- A church management software for managing member data, scheduling volunteers, and tracking donations.
Churchteams

- A church management software with a centralized dashboard containing volunteer requests. Plus, schedules and reminders for volunteers, and the ability to manage mission teams.
A comprehensive volunteer tracking system will help your organization recruit your most passionate supporters and set the foundation for long-lasting relationships.
We want to ensure the platform you invest in meets all of your organization's needs. When you're ready, we'll give you the low down on the best volunteer management system out there.