Volunteerism is one of the best ways to garner support for your organization and take meaningful action towards your mission.
But let's face it, the life of a volunteer management leader is no easy feat. It involves juggling multiple tasks, including planning volunteer opportunities, promoting them to constituents, engaging supporters, and retaining volunteers long-term.
In this guide, we provide readers with the essential tips and best practices to follow:
We at Galaxy Digital have helped over 63,000 nonprofit partners take charge and manage their volunteers with confidence. We've written before on the best software solutions, but wanted to do a deeper dive into volunteer management as a subject.
Start with us from the top, or jump to the section that most interests you. Let's begin!
Managing volunteers can be a challenge. See how you can get more volunteers and engage them in meaningful ways with a free demo of Get Connected volunteer management software!

What is Volunteer Management? And other Frequently Asked Questions
To dive deeper into these individual steps, refer to our more in-depth article on how to start a volunteer program.

How to Maximize your Volunteer Management
As you know, volunteer management involves much more than just planning an experience and signing people up for it. It involves dedicated efforts to volunteer recruitment, engagement, and retention.
In this section, we'll be reviewing those different areas of volunteer management and explore some top strategies to help.
Strategies for Volunteer Recruitment
Volunteer recruitment is crucial— after all, that's how you get passionate supporters to participate in your various opportunities. If this is an area that you're finding challenges in, it can interrupt the rest of your volunteer management duties.
Consider the following strategies to kick-start your volunteer recruitment: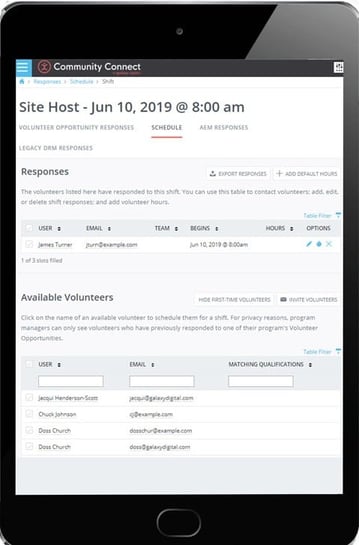 Host a volunteer recruitment event. Consider planning an event that invites prospective volunteers to gather and learn about what volunteering will look like with your organization. This is a great way to meet passionate supporters and gain some new recruits!
Create volunteer applications with compelling and clear descriptions. No one's going to sign up for a volunteer opportunity if the application doesn't make it sound appealing. Make sure to outline exactly what the opportunity entails, as well as the predicted impact of it. Supporters will love signing up for an opportunity if they know it's going to bring real value to your mission. Make a note to include the required skills and other relevant information to ensure that registrants understand it all beforehand.
Outline and implement a streamlined volunteer orientation process. Volunteer orientation is a great way to introduce them to your systems and processes. It also prepares volunteers, ensuring that they know exactly what's to come and if they need to bring anything or learn any skills beforehand.
Utilize multiple marketing channels for volunteer opportunity promotion. It's important that you spread the word for your volunteer opportunities. Don't limit yourself to just one channel, and make use of a multi-channel marketing approach. Post opportunities on your website, share it to social media, send volunteers personalized lists of opportunities, and more!
Check out our dedicated guide to learn more about best practices in volunteer recruitment >>>
Strategies for Volunteer Engagement
Just because you've recruited volunteers, doesn't mean your job is over. Engaging and communicating with them ensures a positive volunteer experience, so make sure to do so in the days leading up to the event, as well as after the event.
Follow these top strategies: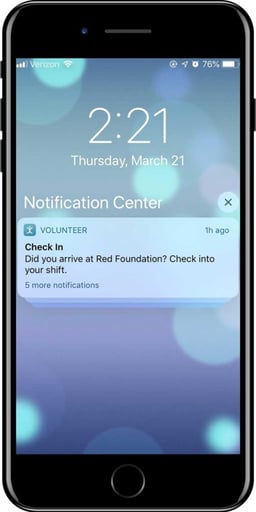 Consistently communicate with volunteers. It's important that volunteers and staff members are all on the same page. Whether it's with email or through a mobile app, consistent communication ensures volunteers know their expectations and are aware of any time-pertinent changes/updates. On this same thought, set up automated communications so that your most important emails are sent out. This includes shift reminders, announcements, cancellations, confirmation emails, and thank you emails.
Create leadership opportunities for your most passionate volunteers. Your most frequent volunteers are also some of your top supporters. Consider giving them their own leadership role, like being in charge of a particular event or team. This continues to engage volunteers and keeps them invested in your cause.
Implement incentives for your volunteers. Sometimes your volunteers go above and beyond. Incentives for your volunteers not only motivate them to keep supporting your cause but also show them that you truly recognize and value their work. Ongoing rewards and recognition through achievements/badges based on the number of hours is a great idea.
Utilize a volunteer mobile app. Depending on the volunteer management solution you invest in, you might also have access to a mobile app. A volunteer mobile app can help you connect with supporters quicker than ever before. Send them timely updates on relevant events and allow volunteers to check-in/out of events right from their phones.
The better you engage your volunteers, the more likely they'll stick around for the long haul!
Strategies for Volunteer Retention
The best type of volunteers are the ones who have been with you for a while. These volunteers know your organization and mission well and are likely to continue supporting you through any ups and downs.
How can you increase your own volunteer retention rates?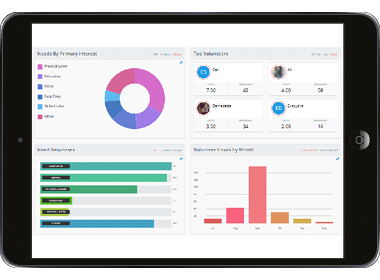 Remember, high volunteer retention leads to strong, long-lasting relationships, providing you the foundation for organizational growth!
Managing volunteers can be a challenge. See how you can get more volunteers and engage them in meaningful ways with a free demo of Get Connected volunteer management software!

Volunteer Management Software: Is it Worth it?
As you can see, volunteer management leaders have a lot on their plate. While getting everything done without the help of software and tools is doable, it will quickly get increasingly stressful and overwhelming as your organization grows. And after all, don't you want your organization to grow?
Dedicated volunteer management tools can help leaders like you recruit, engage, and retain your passionate volunteers. It keeps internal processes organized, helps you personalize volunteer communications, and collects pertinent data and engagements for later access.
What are the top features you should look out for? Consider the following:
Mobile app. A volunteer mobile app is not only an additional (and very convenient!) communication channel, but it also provides volunteers with an easy way to record hours, check-in/out of events, and view their impact. And, it's all within a device that they likely already have— their mobile phones.
Volunteer profiles. Having a database of fully fleshed out volunteer profiles is critical. These profiles should depict any unique preferences, whether in communication or events, as well as particular skill sets, volunteer history, and even donation history. This information can help streamline the entire experience for volunteers, ensuring that communications are personalized and that volunteer opportunities align with their individual interests and goals.
Hour tracking tools. Don't make the mistake of tracking hours with a simple spreadsheet. Not only should your software allow you to track hours, but it should also put the power in your volunteers' hands. That's where a mobile app can come in handy! Some tools also include an on-site kiosk where volunteers check in and out.
Recurring vs one-time volunteer opportunities. It's critical that your solution can help you manage and plan both recurring volunteer opportunities as well as one-time events. Make sure you can view, filter, and edit RSVP responses, and promote it to your currently registered volunteers!
Email and text messaging tools. Communicating with your volunteers is crucial for engagement and retention. Make use of both email and text messaging tools to send engaging content and announce new events. The right tools allow you to automate communications, automatically personalize communications, create and save filters for messaging key groups, and apply email blast statistics to track campaigns.
Group and team engagement tools. Your volunteer program might include various volunteer groups or teams. This is very common for volunteers from corporate partners or schools. Having dedicated tools for group engagement can reveal collective team impact, provide volunteers with exclusive team opportunities, and help personalize communications to each group. This can even motivate the entire team to keep volunteering with you!
Reporting tools. One of the best parts of volunteer management software is the ability to look back at your data and learn from it. Reporting tools are an essential part of any volunteer management solution and should provide you with insights into volunteer hours, popular events, top marketing strategies, and total impact. Make sure you can also export these reports as an easy way to visualize to volunteers what their impact is! Some solutions can even create individual volunteer resumes, providing a visually pleasing and intuitive way to summarize an individual's impact.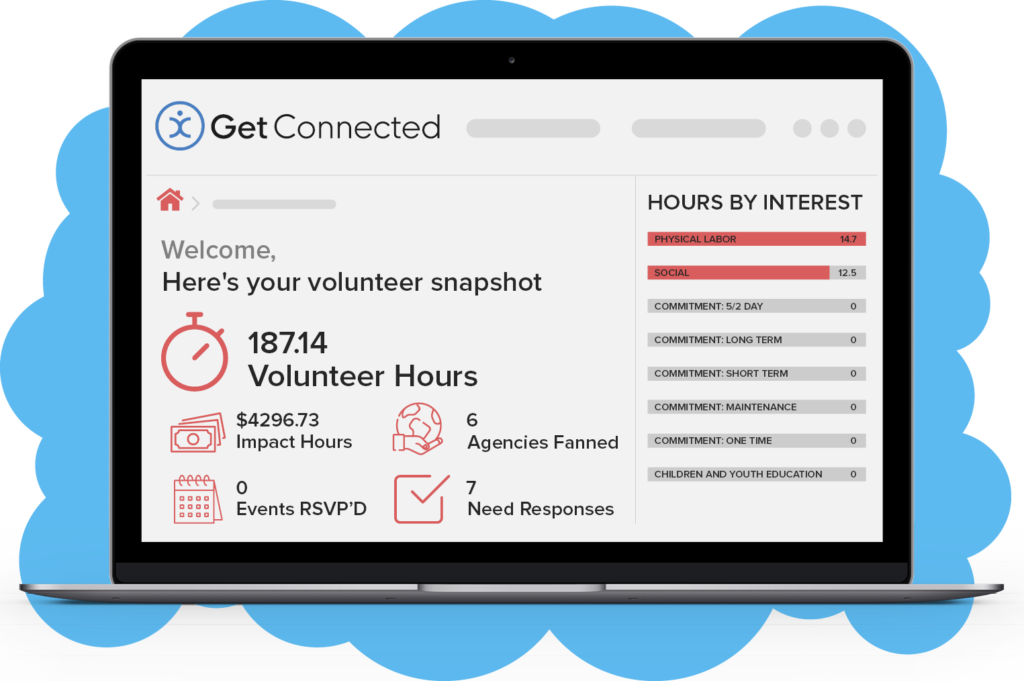 Growing organizations often invest in a variety of volunteer management tools as different needs come up. While this may be cost-effective now, it's not a great solution for the long haul. Cobbling together various free and paid tools will not result in an organized system, and instead creates a complicated and inaccurate web that even small organizations will have trouble managing.
Invest in a dedicated volunteer management solution that can do it all. All-in-one volunteer management software is all about getting everything volunteer-related under one roof and delegating many of the manual, admin tasks out to volunteers and other program contributors.
If you're interested in looking for new or upgrading your current volunteer management solution, refer to our dedicated guide on the best volunteer software options available.
Additional Resources
Want to continue learning about volunteer management? Check out our other guides to go in-depth on a topic: