Volunteer management: it's a big job.
Managing a volunteer program is a juggling act through every step of the volunteer lifecycle, from planning volunteer opportunities to retaining volunteers for the long haul.
You're a volunteer leader; you need the facts, tips, and tools you can count on without all the fluff in between. That's why we put together this go-to resource to help answer all your volunteer management questions:
Start with us from the top, or jump to the section that most interests you. Let's begin!
Volunteer Management 101
New to volunteer management? Here are the basics you need to know about managing volunteers:
What Is Volunteer Management?
Volunteer management is the strategic recruiting and organizing of volunteers to build an organization's capacity and grow the volunteer program.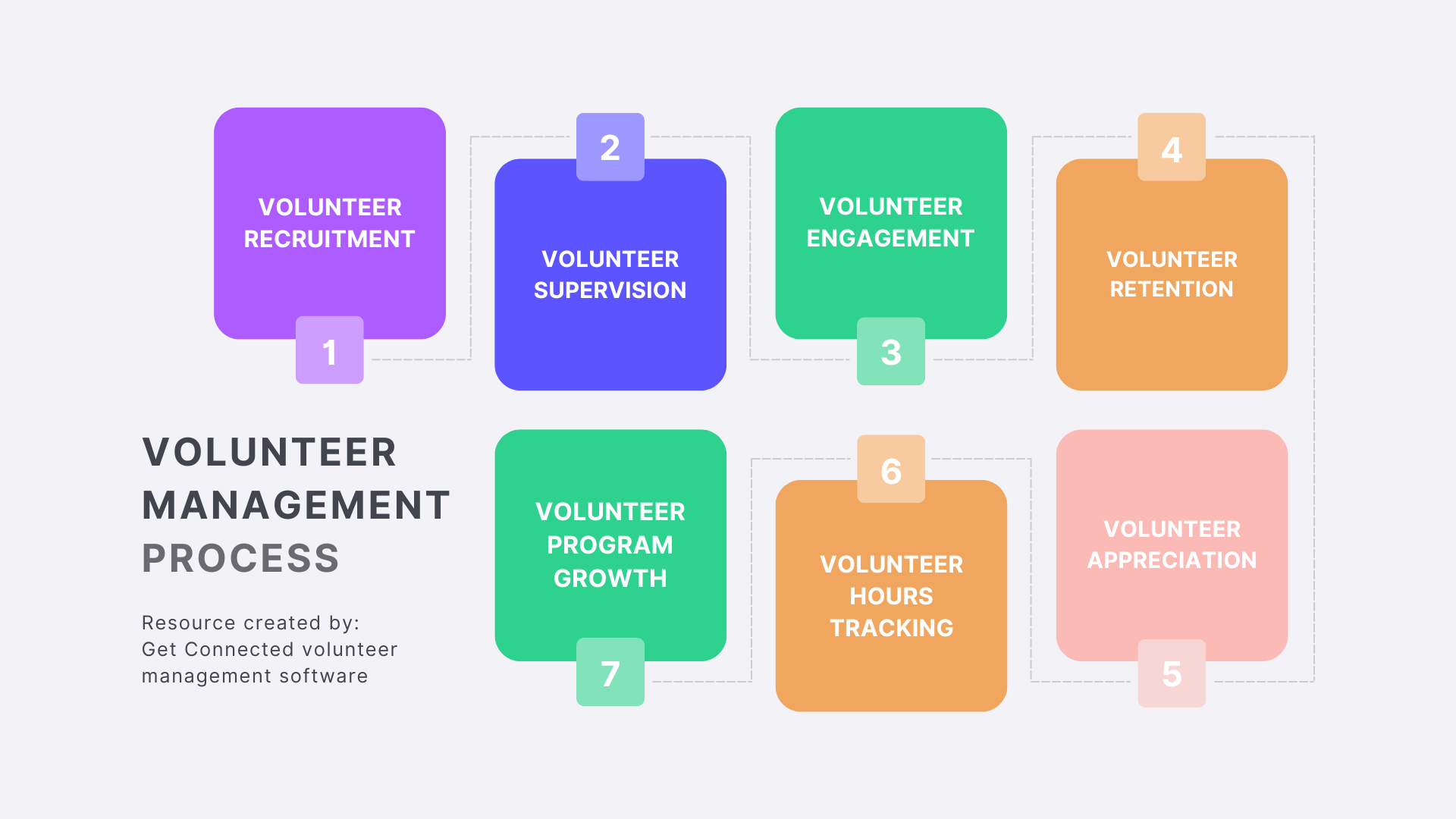 Volunteer management can also involve tasks like promoting your volunteer program, supervising volunteers, and collecting volunteer data to win grants!
But who is in charge of carrying out all of these volunteer management activities?
Typically, the volunteer manager is responsible for all things volunteer management.
FREE DOWNLOAD: Volunteer Program ROI Guide
What Does a Volunteer Management Leader Do?
Volunteer leaders often wear many hats, from marketing the volunteer program to organizing volunteer schedules. Volunteer management leaders may be tasked with every step of the volunteer lifecycle, including:
We'll cover each of these areas below. You can also learn the secrets of successful volunteer leadership.
Why Is Volunteer Management Important?
Volunteers do extraordinary things for our communities. There are currently 1.3 million active charitable nonprofits in the United States, and many of them rely on the work of volunteers to carry out the necessary activities that meet critical community needs.
It's no secret that your volunteers' time is valuable. That's why organizations that use volunteer services need a strategic plan to make the most of their time and yours.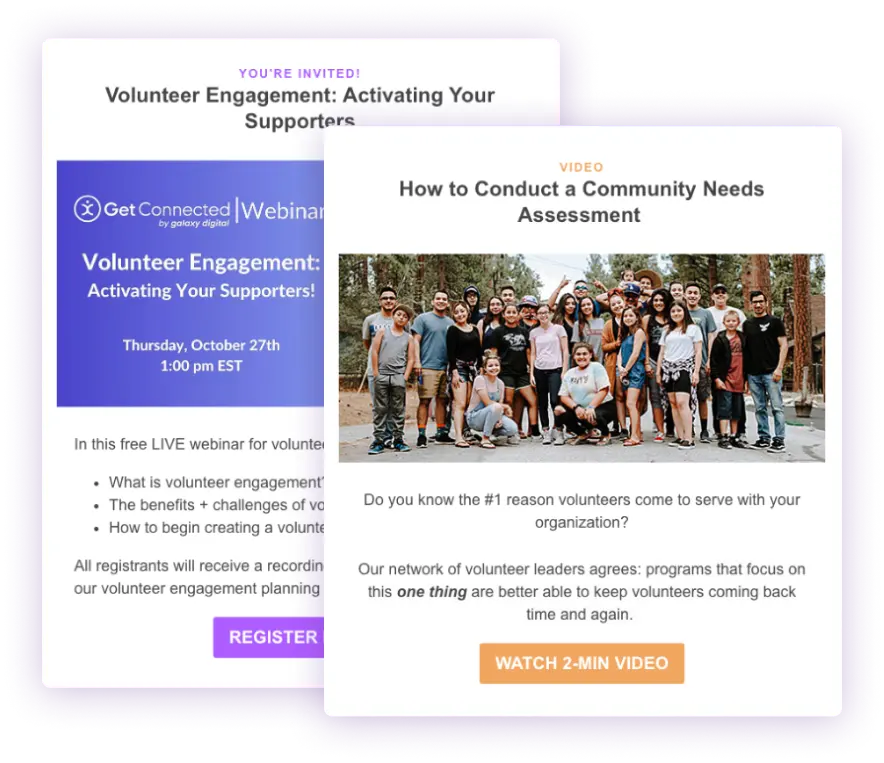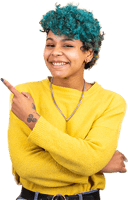 Join 20,000+ Volunteer Leaders
Get impact-boosting articles, guides, and webinar invites to help grow your volunteer program
Your Nonprofit Volunteer Management Plan
Welcome to your Volunteer Management Handbook! Below, we'll define each pillar of your volunteer management plan, outline common challenges, offer quick solutions, and give you even more resources to take a deeper look at each topic.
We'll start with the first step of the volunteer management process:
Volunteer Recruitment
Volunteer recruitment is the process of attracting and screening candidates for volunteer work. Why do organizations like yours need a volunteer recruitment plan? Because successful organizations have a steady flow of volunteers that keep their programs running!
Common Volunteer Recruitment Challenges
Even the most seasoned volunteer managers encounter a few hurdles when recruiting volunteers. By understanding these challenges today, you can create a recruitment strategy for success tomorrow.
Based on our experience working with thousands of volunteer programs, these are some of the top recruitment challenges:
Recruiting Long-term Volunteers. The most effective volunteer programs are made up of volunteers that stick around. However, finding loyal supporters usually requires a more targeted approach to recruitment, making it the number one challenge volunteer leaders face when sourcing recruits.
Navigating the Digital Recruitment Landscape. We get it: negotiating social media and other digital platforms can seem intimidating. The fact is, most volunteers are looking for opportunities online. With a bit of practice, you can expand your reach and bolster your volunteer pool through the power of digital recruitment.
Volunteer Follow-Through. How often do volunteers register with your organization, but they don't actually volunteer? More often than you'd think! Volunteers may feel an emotional connection with your organization, but life gets in the way. The key to increasing volunteer follow-through is to reduce barriers to getting involved—keep reading for ways to increase sign-ups.
Finding Skilled and Pro Bono Volunteers. For volunteer activities that require professional experience or specialized training, you need to make sure you have the right person for the job. Getting there can take time and resources.
Don't worry if you're currently facing some of these recruitment challenges; we have the solutions you need below…
Volunteer Recruitment Quick Solutions
These are just a snapshot of the many awesome ideas for recruiting volunteers. As always, you can click the links to learn even more about the topic:
Whichever method you use to recruit volunteers, you'll need to craft a compelling call to action.
Volunteer Recruitment Closer Look
Our Volunteer Recruitment page gives you even more ways to get the volunteers you need, from tried-and-true methods to creative strategies that increase interest and grow your volunteer program.
Need lots of volunteers for your next event? Check out our article on recruiting event volunteers.
Supervising Volunteers
When your volunteers arrive on-site, they'll need to be supervised. Why? Because supervised volunteers are not only happier, but they also perform better, leading to better outcomes for your community.
But what is volunteer supervision, exactly?
Volunteer supervision is the act of preparing volunteers for their shifts, and leading volunteer activities. The person or people supervising volunteers may be the volunteer manager, or a volunteer themselves, depending on the leadership structure of your organization.
Need to measure your program's ROI? Get the free resource >>
What Does Supervising Volunteers Involve?
Volunteer supervisors may perform some of the following tasks:
Scheduling volunteers
Communicating with volunteers before, during, and after a shift
On-site volunteer management
Volunteer attendance and hours tracking
Providing instruction and feedback
On-the-job volunteer training
Ensuring the safety of volunteers
Overseeing virtual volunteers
Being the point of contact for volunteers on the job
Volunteer Supervision Challenges
With so many tasks involved in overseeing volunteers, there are bound to be some hurdles that arise:
Managing Complicated Volunteer Schedules. "Top-down" volunteer scheduling relies on the volunteer leader to schedule shifts on behalf of the volunteer. While this approach is fairly straightforward, it's also time-consuming. Ultimately, the supervisor risks becoming bogged down by scheduling, especially as the program grows.
Supervising Virtual Volunteers. For some supervisors, managing virtual volunteers is unfamiliar territory. It requires some digital infrastructure and a user-friendly website to lead virtual volunteers down the right path.
Overseeing Event Volunteers. Your fundraising gala, disaster response, and other events require the simultaneous supervision of a larger volunteer workforce. Supervisors will need to avoid day-of chaos by ironing out logistics beforehand.
Communicating En Masse. There's been a last-minute weather delay and you need to inform volunteers quickly. Now what? Sending individual emails or making dozens of phone calls isn't the best use of your supervisor's time. Without a smart text messaging or email system, communicating with your volunteers in bulk is next to impossible—or can certainly feel that way.
Volunteer Supervision Quick Solutions
Make supervising volunteers easier by letting technology do the heavy lifting. Even if you're already supervising thousands of volunteers, it's never too late to improve your process!
Volunteer Supervision Closer Look
Keep learning about how to set up your volunteer program's leadership structure, the elements of effective supervision, and the best tools for scheduling volunteers in Supervising Your Volunteers.
Volunteer Engagement
Volunteer engagement can seem like a nebulous term. But we like to think of engagement as the actions and strategies associated with keeping volunteers active, happy, and bought into your mission.
Need to measure your program's ROI? Get the free resource >>
Let's take a look at some of the common challenges volunteer leaders might face when it comes to keeping volunteers engaged:
Volunteer Engagement Challenges
Volunteer Engagement Quick Solutions
Keep these solutions in mind when developing your volunteer engagement strategy:
Match Their Skills and Interests. Track your volunteers' preferences and skill sets to match them with the best opportunities. Send personalized opportunity recommendations based on their preferences—volunteer management software captures volunteer preferences and automates recommendations so they're more likely to enjoy and succeed in their roles (critical to better engagement).
Invest in a Better Training Program. Prepared volunteers are happier volunteers! Organizations that implement engaging volunteer training are more likely to enjoy greater volunteer retention and engagement down the road.
Create Leadership Opportunities. Sometimes your volunteers go above and beyond. Invite your most passionate supporters to share their voices and lead others. Create leadership roles, such as supervision of a shift or task. You may even invite loyal participants to join your board or planning committee. These opportunities will keep your long-term volunteers invested in your cause.
Gamify Volunteering. "Gamifying" volunteering will only motivate them to keep supporting your cause but also show them that you truly recognize and value their work. Learn how fun incentives and a bit of healthy competition can boost engagement.
Invite Feedback. One way to keep volunteers happy is to ask for their feedback. They often have their boots on the ground and have a wealth of insightful information to offer. A simple volunteer survey and culture of open communication will ensure you have the most important voices in the room. The next step is to use your volunteers' ideas and feedback to implement real change!
Volunteer Engagement Closer Look
Maintain a cohort of active volunteers throughout the year with our Volunteer Engagement Best Practices.
Volunteer Appreciation
Volunteer appreciation is the act of thanking volunteers for their time and recognizing their support.
Volunteer appreciation is a series of planned activities that include recognizing and sharing the impact of your volunteers, giving them gifts, and investing in their futures.
When volunteers are recognized, they feel more connected to your organization and are therefore more likely to stick with you.
Volunteer Appreciation Challenges
Volunteer appreciation isn't always as straightforward as you might think. There are a few factors to consider when recognizing your supporters:
Understanding Volunteers' Impact. Do you know how many hours each of your volunteers contributes? Do your volunteers know how many hours they've contributed to your organization? This information is critical to truly recognizing the contributions of each volunteer, but most organizations simply don't have the tools or means for collecting data for each and every volunteer.
Finding Unique Ways to Recognize Volunteers. Branded pens and plastic sunglasses make for okay volunteer gifts. But there are lots more ways to show your volunteers you appreciate them that feel a bit more personal and special.
Budgeting for Appreciation Gifts and Events. Your volunteers deserve the very best, but some programs simply don't have the budget for lavish volunteer gifts and galas. Luckily, we put together some creative appreciation ideas that won't break the bank. Check them out below…
Volunteer Appreciation Quick Solutions
Get Creative. You don't have to spend a lot to give meaningful gifts. Get inspired with these unique, inexpensive volunteer appreciation gift ideas. No boring, one-size-fits-all gifts here! There's something for everyone on our list.
Don't Overestimate a Simple "Thank You." A little acknowledgment goes a long way. Just saying thank you at the end of every shift makes volunteers feel valued. Send a thank you email after a big fundraising push or seasonal campaign, and get your CEO or board members involved by asking them to write a thank you letter to your volunteers and donors for their sustained efforts.
Share Their Impact. Show volunteers how their individual impact has made a difference to your program. Provide volunteers with a resume, which can act as physical proof for a workplace or school program. You'll need a system for tracking your volunteers' unique impact and creating live-updating reports.
Volunteer Appreciation Closer Look
Want to take a deep dive into all things volunteer appreciation? Head this way.
Volunteer Hours Tracking
Volunteer hours tracking is the act of capturing and recording the hours that your volunteers contribute to your activities.
There are lots of important reasons to track volunteer hours:
Understand and recognize the value of your volunteers' time
Demonstrate accountability
Improve your organization's return on investment
Support decision-making
But what challenges might you face when tracking volunteer time?
Challenges with Tracking Volunteer Hours
Tracking your volunteer data is a tall order. It requires an infrastructure that combines specific processes and tools to support the capturing and organizing of lots of important information.
Capturing Your Data. Imagine collecting the attendance of every single volunteer across all shifts, locations, and programs on paper. Add in virtual volunteers and big events and collecting this data can seem too overwhelming. It's no wonder too many volunteer programs avoid it altogether! The good news, collecting all this data is totally possible with some smart tools.
Organizing Your Data. Are you manually inputting data into a spreadsheet? Compiling data from different sources, programs, and shifts is time-consuming, and many volunteer managers spend too much time on data entry. Many volunteer programs are choosing a centralized, digital database instead of paper logs and spreadsheets (which are much harder to keep organized).
Communicating Impact. Maybe you have the data but are not sure when and how to present it. Sure, creating graphs in excel works, but you want to communicate impact in an engaging way to get stakeholders invested.
Quick Solutions for Tracking Volunteer Hours
We understand that tracking volunteer hours may seem out of reach but with these solutions, you can inspire your community and build capacity.
Consider the Data You Need. You may be required to submit your volunteer program's collective impact to apply for your next grant. Or perhaps your corporate partners want to know how many hours their employee volunteers are logging. Determine how you plan to use your data,
Focus on the Volunteer Experience. Tracking volunteer data is a team effort. So, if you want volunteers to log their hours, it needs to be quick and intuitive. Streamline your check-in process, and give them user-friendly, web-based options for logging hours.
Choose the Best Tracking Tools for Your Needs. For smaller, new volunteer programs, free online sign-up sheets might be just what you need to get the data you need. If you find you're growing out of your spreadsheets and free tools, it may e time for an upgrade. Take a closer look at our volunteer hours log article below, complete with downloadable logs for tracking time.
Volunteer Hours Tracking Closer Look
Here is everything you need to know about managing your volunteer data, including best practices for collecting volunteer hours.
Want to get started logging volunteer hours today? Download these free hours logs and access tips for upgrading your volunteer tracking process.
Developing Your Volunteer Program
Volunteer program development refers to the activities associated with developing, growing, and scaling your volunteer program so you can meet the needs of your community.
When well-managed, volunteer programs are phenomenal resources that can:
Aid in the effective and efficient delivery of services
Increase an organization's sustainability
Improve an organization's return on investment
Increase donations
By investing in volunteer program growth, volunteer managers are empowered with more time, resources, and capacity.
Volunteer Program Development Challenges
Volunteer management can involve strategic planning, leaving volunteer managers in charge of program development in addition to the dozens of other tasks associated with the job.
Getting Funding for Volunteer Programs. While volunteer programs hope to rely on grants to fund operations, grant funding is rarely earmarked just for volunteer services. Volunteer programs often solicit donations from individual funders or reallocate resources from other departments.
Hitting a Plateau. When volunteer programs and their managers are at capacity, they can no longer support additional volunteers. This causes a plateau that prohibits your organization from growing. Fortunately, there are proven strategies to build capacity.
Increasing Your Return on Investment. A volunteer program is only viable if it adds more value to an organization than it costs. Volunteer programs aren't free to run, and it can be difficult to make the case for more resources. However, understanding your program's return on investment will help you make decisions to improve efficiency and increase your ROI.
Quick Solutions for Growing Your Volunteer Program
Make the Case for Your Volunteer Program. Your volunteers are invaluable to your community. That's why they need to be managed well—which means you need resources. You'll need to advocate for your volunteer program to get funding and buy-in. We recommend you cite this article on the benefits and value of volunteer programs.
Think Outside the Box When it Comes to Fundraising. From selling branded merchandise to converting volunteers into donors, you may have to get creative to cover costs associated with volunteer management.
Grow Your Network. If you want to grow your volunteer program, you'll need to tap into your community network. Strategies that encourage word-of-mouth advertisement can certainly help. You can also leverage corporate philanthropy with your existing corporate partners, and explore Google Ad Grants to advertise your program.
Scale Up with Technology. You need to increase your return on investment while increasing your capacity to meet the growing needs of your community. Technology like volunteer management software makes it easier for programs to recruit and manage more volunteers while expanding services.
Volunteer Program Development Closer Look
Get a closer look into how to develop an actionable volunteer program plan and explore funding options for your volunteer program. You'll also read strategies for creating a program that is scalable and sustainable.
More Volunteer Management Best Practices and Resources
There's so much left to learn about volunteer management. We have even more best practices and resources, including:
How to Start a Volunteer Program
Resources for Managing Volunteers in a Digital World
Investing in Volunteer Management Software
Starting a Volunteer Program
Just starting out? We've compiled all the information you need to know about starting a volunteer program in this guide.
In the meantime, here's a quick take on how to start a volunteer program in 6 critical first steps:
Identify Your Community's Needs
Understand Your Organization's Volunteer Needs
Give Your Volunteer Program a Creative Name
Write a Mission Statement
Determine Resources and Funding
Formulate a Strategic Plan
Resources for Managing Volunteers in a Digital World
Volunteer management has changed a lot in the past decade, even in the past few years! A global pandemic accelerated trends that we were already seeing in other sectors: the future is digital.
Here is our list of must-have resources and further reading for managing volunteers in a digital world:
If you want to keep with today's volunteers, you'll need to futureproof your volunteer program. Your best ally when managing volunteers digitally will be volunteer management software…
Investing in Volunteer Management Software
Volunteer management software is a web-based tool designed to supercharge your program while making your job much easier.
From scheduling to tracking volunteer hours and everything in between, volunteer management software streamlines your management processes so that you can focus on building relationships and supporting your volunteers.
Benefits of Volunteer Management Software
Volunteer management software helps volunteer leaders manage their programs and volunteers using a single centralized platform.
All-in-one volunteer management software is all about getting everything volunteer-related under one roof.
Top Volunteer Management Software Features
Here are some of the top features to look for in a volunteer management tool:
Mobile App. A volunteer mobile app allows volunteers to check in to their activities, record hours automatically, and find other opportunities in the area, all from their mobile phones.
Volunteer Profiles. Store and access your volunteers' unique preferences, skills, volunteer history, donation history, and signed documents. You'll create a tailored, streamlined experience for each volunteer!
Hour Tracking. Put the power of tracking volunteer hours in their hands with a range of digital time-tracking tools that save volunteer leaders hours of administrative time.
Email and Text Messaging. Make use of email and text messaging tools that automate communications, create and save filters for messaging groups, and apply email blast statistics to track campaigns.
Group and Team Engagement. Dedicated tools for group engagement can reveal collective team impact, provide volunteers with exclusive team opportunities, and help personalize communications.
Reporting Tools. One of the best parts of volunteer management software is the ability to track the incredible impact your program is having. Reporting tools provide you with insights into volunteer hours, popular events, top marketing strategies, and total impact.
Want to talk to a volunteer specialist to see if volunteer management software might be right for you? drop us a line - we'd love to chat!
Professional Development for Volunteer Leaders
Ready to advance your career in volunteer management? Check out these resources for continued learning:
We hope you found the resources you need to manage your volunteers well and grow your program. Be sure to browse our blog for even more ideas on volunteer management
Managing volunteers can be a challenge.
See how you can get more volunteers and engage them in meaningful ways with a free demo of Get Connected volunteer management software!
Hourly tracking, e-sign documents, and more
Easy-to-use mobile volunteer app
Automations and exportable reports
Plus the best customer support and experience team in the industry, staffed by volunteers just like you.