Free Volunteer Management Software Buyer's Guide
by


Eli Samuels
Managing your volunteers can be challenging. In the old days, it required signup sheets, clipboards, and reams of paper. Now, modern software platforms can handle volunteer management for you, for a relatively low price. One of these is Signup Genius. We will uncover several Signup Genius alternatives and show you how you can you find the best inexpensive volunteer management software for your program?
Looking for a new volunteer sign up tool you can set up in 5 minutes and start using for FREE? >>> Try Shift!
What Is Volunteer Sign-Up Software?
Volunteer sign-up software is designed to help charities and nonprofits keep track of volunteers, schedule them for shifts, etc. It replaces older manual methods including physical sign-up sheets and spreadsheets.
You can also use free volunteer management software to keep track of the hours a volunteer has worked, whether you are using this to help a student meet community service hours or to determine rewards for event volunteers. The software can also track plus-one volunteers (e.g. when a volunteer brings a friend or friends along to, for example, a stream cleanup event). Volunteers can sign up for shifts themselves, or you can schedule them based off of their skills and availability.
Reports can be shared with the volunteers so they can see their impact and use them on their resumes or college application. The software also lets volunteers check in when they get on-site and out when they leave or go off duty to enjoy the event.
This saves a lot of time for both volunteers and administrators. With volunteer hours tracking being partially automated or entered by the volunteers themselves (with verification), you can spend less time tracking volunteer hours and more time running a great event or organization. However, many volunteer tracking software platforms are incredibly expensive and may not be the best use of your donors' money.
Cheap and free volunteer scheduling software does exist, but the best options can be hard to track down. One of the best-known is Signup Genius, but is it the best option for your organization?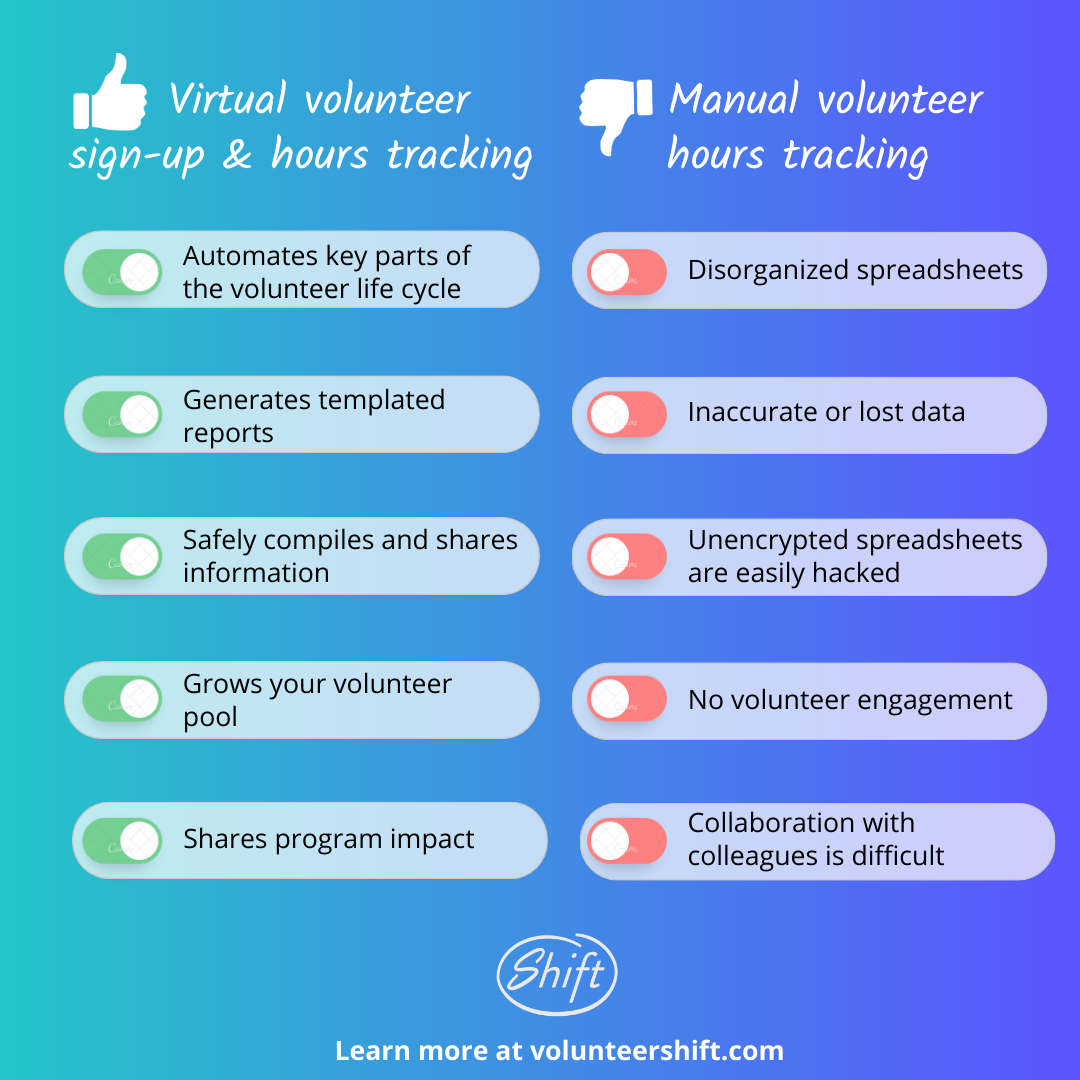 What Are Signup Genius Alternatives?
Signup Genius is one of the best-known free volunteer management software platforms and also has inexpensive monthly plans. However, the free plan is highly limited and is really designed for individuals and families doing basic event planning. It is focused entirely on signing up for things and is not a full-featured volunteer management platform. Even the paid plans let you collect sign-ups and money but don't help you track hours, although you can post needed shifts. So, what are the best Signup Genius software alternatives?
Shift
Shift is part of the Get Connected by Galaxy Digital volunteer management product suite. It allows you to collect volunteer responses for shifts, log volunteer hours, and better communicate with your volunteers. You can schedule volunteers right from your calendar and easily see how many positions you have left. Your volunteers can even manage their own schedules through the Shift app.
A simple tagging system lets you send messages to all of your volunteers, just one, or everyone signed up for a shift easily. While more expensive than some Signup Genius plans, the features make it easily the best Signup Genius software alternative.
Volgistics
Volgistics is an inexpensive volunteer management software alternative that starts at about $17 per month. However, pricing scales by number of volunteers. Furthermore, they charge more for archived volunteers (that is to say people who are inactive but might be back). They also charge extra for the ability for volunteers to access the portal directly, more for an on-site time clock. However, they include integration with background screening and high levels of customization and allow you to search your volunteer database.
The biggest issue with this option is that you have to upgrade your account as your charity grows. It's a very good option for small charities that intend to remain that way, but having to decide whether to keep the records of an inactive volunteer because you are out of space can be a problem.
YourVolunteers
YourVolunteers is a good free nonprofit volunteer management software platform. It also has a freemium tier that allows you to email schedules directly from the system and removes advertising. That said, if your budget is extremely limited, YourVolunteers is not a bad Signup Genius alternative. The free tier lets you assign volunteers to have them self-select, maintain a database, and track volunteer hours.
Track It Forward
Track It Forward is focused almost entirely on logging volunteer time, and is intended to let volunteers log their own time both on desktop and mobile. It lets you export volunteer reports for individuals or events to an Excel document. It also has a milestone system so volunteers can set goals and hold themselves accountable.
However, they charge extra for offline mode, approval of hours (meaning the basic version does not allow you to check up on volunteers), and access to a digital sign-up sheet. Also, like Volgistics, they charge more as you increase your number of volunteers, although they start with a higher number.
All of these options can potentially work well, depending on your needs and budget, and none of them cost more than $100 a month (many volunteer management platforms cost far more than this).
Is There Any Free Volunteer Management Software?
If you have a very tight budget and are looking for a free option, YourVolunteer is the only option other than Signup Genius. It is often worth paying a bit to get better software, but you can find free volunteer scheduling software and free volunteer tracking software if you need it.
The good news is that while the free options are limited, you do not have to pay the several hundred dollars a month some companies charge for volunteer sign-up software. These platforms are intended for large organizations that can afford to pay that kind of money. Shift only costs $39 a month flat rate with no weird additions.
If you are looking for good Signup Genius alternatives, consider Shift. For a very reasonable price, you can get volunteer hours tracking, volunteer scheduling software, and volunteer tracking software with all the features your nonprofit needs, and with no upselling, nickel-and-diming or limits on the number of volunteers you can have in the database.
Competitor Sources:
https://www.volgistics.com/price-calculator.htm
https://yourvolunteers.com/pricing
https://www.trackitforward.com/features