Need help figuring out how to increase your company's impact?
Corporate volunteerism is an essential pillar of corporate social responsibility. Read our comprehensive guide on everything you need to know about building a successful corporate volunteer program.
The economic power of businesses has put them in an unprecedented position to affect significant change in their communities. Today, employers are not only responsible for creating profits and jobs, but they also need to consider how their practices and products positively impact society.
Consumers and workers alike demand more sustainable business practices with a positive social impact. To remain competitive and reflect the values of their communities, for-profit companies can benefit from implementing corporate social responsibility programs (CSR). What's more, corporate volunteerism, a pillar of CSR, has become an increasingly popular practice among employers and employees.
When done right, corporate volunteering programs are a powerful tool for fostering happier, healthier workplaces while being a force for good at the local level.
FREE DOWNLOAD: Employee Volunteer Survey
Use these useful survey templates to figure out what causes your employees care about and how they want to volunteer!
This article will explore corporate volunteerism, why it's essential to your business, and how to start a winning corporate volunteering program.
Article Contents:
What is Corporate Volunteerism?
Corporate volunteerism empowers employees to participate in volunteer activities in the community. In this section, we'll define corporate volunteerism and take a deeper look at how corporate volunteering programs work.
Corporate Volunteer Definition
Corporate volunteerism is a workplace-supported initiative that provides support and resources to employees who want to volunteer in their local community.
Companies who want to leverage corporate volunteerism benefit from establishing a corporate volunteer program or employee volunteer program.
A corporate volunteer program is a business initiative that provides a framework and resources for employees who want to serve their communities.
The program typically involves volunteer paid time off (VTO) or other incentives that encourage deeper employee engagement. Program leaders should also put in place a system for tracking and communicating the impact of these volunteer activities.
Corporate Volunteerism Models
How do corporate volunteering programs work?
There are plenty of ways employee volunteers can get involved. A corporate volunteer program may employ a combination of several of these models to maximize engagement:
Direct Service Volunteering
Team Volunteering
Skills-Based Volunteering
Mentorship and Expertise
Employee Internships
Fundraising
Dollars for Doers




Let's dive into each corporate volunteering model:
Direct Service Volunteering
Direct service volunteers address immediate needs, often working onsite and impacting communities directly. Volunteers will interact with the community served by tutoring children or serving meals to those in need, for example.
Direct service opportunities are great for engaging people of all ages, abilities, and commitment levels.
Team Volunteering
Some nonprofits in your community are looking for corporate groups to help them complete larger or one-off projects quickly. Whether employee volunteers are tasked with beautifying a community park or packing backpacks for school children, there are hundreds of team projects that you can explore.
Team volunteering is a great opportunity to boost morale and participation among employees.
Skills-Based Volunteering
Skills-based volunteering, also called "pro-bono" service, calls on the workforces' unique expertise and abilities to impact community causes.
Skilled volunteers may assist a nonprofit with tax preparation, reviewing legal documents, or conducting IT audits.
Skills-based and pro-bono volunteering works well for businesses and nonprofits alike because of the wealth of resources and expertise affiliated with for-profit companies.
Mentorship and Expertise
Employees mentor individuals based on their personal and professional experiences or expertise. Volunteers may mentor youth to develop essential life skills or job-seeking adults to help them land a career.
Take Big Brothers Big Sisters of America; the national nonprofit that works with corporate partners to grow its youth mentoring network.
Employee Internships
Your company can sponsor an employee to participate in an "internship" at a nonprofit or community-based organization. Your company will continue to pay the employee's salary while donating their time and skills to a cause for an agreed-upon time period.
For example, United Way's Loaned Executive Program calls upon its corporate partners to lend employees who offer their skills and leadership. Loaned Executives make it possible for United Way to "expand our reach to those in need; deepen our corporate and community connections; and minimize costs, allowing us to invest more dollars into programs to improve lives and strengthen the community." The program benefits corporate partners as well, providing meaningful professional development opportunities.
Fundraising
Fundraising events can take a lot of planning but often have a more immediate and tangible impact. By hosting volunteer-led fundraising events, such as sponsored walks or auctions, your employees can easily give back to the community while raising money for your favorite causes.
Dollars for Doers
Dollars for Doers, or volunteer matching, is an initiative in which a company matches each hour of employee volunteering with a monetary donation. For example, your company gives $10 to the same nonprofit for every hour of volunteering. You'll multiply your impact and encourage employees to get involved with the causes they care most about.
Typically, Dollars for Doers campaigns occur within a designated period (say, over three months). Dollars for Doers is especially effective if you're looking to boost your volunteer program's immediate or short-term impact.
Corporate Volunteerism and Corporate Social Responsibility
Corporate volunteerism is an essential part of a company's corporate social responsibility promise.
Corporate social responsibility (CSR) is a business model that guides a company's social, environmental, and economic impact on society for a more sustainable future. Organizations achieve this impact by supporting volunteerism, philanthropy, and other ethical business practices.
These days, many businesses are looking to sustainability frameworks like Social Return on Investment or the Triple Bottom Line (people, purpose, and planet) to "provoke deeper thinking about capitalism and its future."
Regardless of the framework, your business adheres to, corporate volunteerism is an essential tenet of forward-thinking companies.
Corporate Volunteerism: The Benefit and Challenges
How does corporate volunteerism benefit your company and its employees? What are the benefits for your local community? What challenges might you encounter when developing a corporate volunteer program?
We'll answer these questions and more below:
Corporate Volunteerism Statistics
First, here are a few statistics that prove the power of employee volunteers: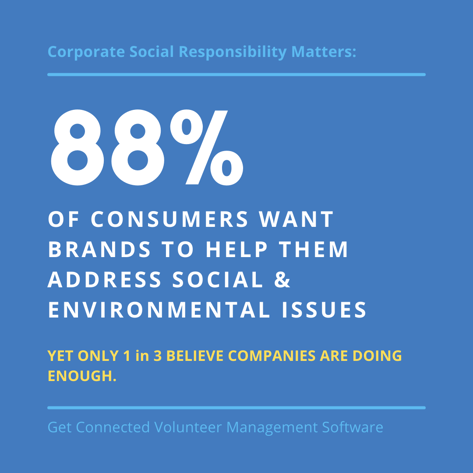 Employees who feel their work is purposeful are five times more engaged at work.
71% of U.S. consumers want socially responsible companies.
81% of Millennials expect companies to commit to good citizenship. In other words, thoughtful CSR is becoming a mandatory practice.
88% of consumers surveyed want brands to help them address social and environmental issues, yet only a third believe that companies are doing enough.
Nearly 60% of companies offer paid time off for employees to volunteer, and an additional 21% plan to offer release time in the next two years.
The Chief Executives for Corporate Purpose (a coalition of multibillion-dollar companies) report that 66% of its members offer paid volunteer time off.
How Corporate Volunteering Benefits Your Business
Thoughtful corporate volunteer programs benefit businesses, their employees, and the communities they serve.
Better for Business: Activate Company Growth
Research shows that corporate volunteerism is good for business. Here are some of the top ways corporate volunteerism can help grow your business, boost your return on investment, and improve brand recognition among job-seekers, consumers, and investors alike.
Attract More Talent
Today's job seekers want more than paychecks from their employees. So, if you're going to stay a competitive choice among new hires, you need to have more thoughtful initiatives.
Applicants find employee volunteer programs attractive because:
They can take pride in company affiliation.
They believe their values will fit with the company.
They expect companies with corporate volunteer programs to treat employees better and more fairly than companies without these programs.
Increase Customer Confidence
In 2022, consumers are more aware of the social and environmental impact of the products and services. By authentically communicating your social impact, you'll earn the confidence and loyalty of your customers.
Plus, as your loyal customer base grows, so does word-of-mouth advertising potential. 92% of consumers trust earned media over any other form of advertising, making peer recommendations one of the powerful ways to grow your business. That's why earning the loyalty of engaged customers through better business practices is so important!
Appeal to Investors
Like your employees and customers, investors also want to feel confident in the companies they support. Increasingly, investors look to back companies that positively impact local communities and the planet. Sustainable corporate social responsibility practices, like employee volunteer programs, can earn you the funding you need from like-minded investors.
Boost Employee Satisfaction, Retention, and Performance
Research shows that employees' participation in corporate-led volunteer programs has positive personal and professional outcomes. Employees who volunteer at work report five times higher well-being and 89% increased job satisfaction.
Improved Employee Engagement and Retention
Employee engagement is good for business. To stay competitive, companies must not only attract skilled individuals but must also find employees who are psychologically connected to their work or workplace.
Engagement is bolstered by the quality of resources a company provides its employees (such as social support, feedback, and constructive supervision). One such resource is a well-supported volunteering program. Corporate volunteerism supports employees in finding a greater purpose outside of their work.
Plus, because volunteering is associated with well-being and more positive associations with the workplace, employees who volunteer remain at their jobs longer.
Professional and Personal Development
As employees volunteer in the field, often with more autonomy than in the workplace, they have the opportunity to practice valuable life skills, including:
Interpersonal Skills
Communication
Leadership
Creativity and Innovation
Productivity
Active Listening
Adaptability
Problem Solving
Time Management
These skills developed during volunteering often translate well to their jobs, leading to better performance outcomes.
A New Generation: How Millennials and Gen Z Are Demanding Change in the Workplace
Most millennials and Gen-Z members—as both consumers and employees—want more accountability among for-profit organizations. In fact, 81% of Millennials expect companies to make a public commitment to good corporate citizenship.
So how do you win over the largest generation in the workforce?
By creating a genuine, positive impact in your community.
Corporate volunteering programs help to improve employer reputation. They will put your company in a competitive hiring position so that you're more appealing to talented candidates looking for purpose-driven candidates.
To many Millennials and Gen-Z consumers, your social and environmental practices are just as important as the quality of your product or service.
How Employees Benefit From Corporate Volunteerism
Volunteering has lots of health benefits, from improving mental health to quelling loneliness.
When we volunteer, we connect with others, gain a sense of purpose, develop new perspectives, and learn new skills.
Most employers agree that businesses are responsible for employee well-being. Corporate-sponsored volunteerism reduces barriers to getting involved so that your employees can lead happier, healthier lives at work.
Benefits to Nonprofits and Local Communities
It's no secret that the real purpose of volunteerism is to improve our communities and the lives of those who belong to them.
When your business teams up with nonprofits and other community organizations, you'll:
Increase exposure
Give them more resources
Foster connected communities
Make a measurable impact that can be reported to stakeholders
In increasingly polarizing times, there's a lot of good that can come from working toward a common goal. You'll forge a network of organizations working to make the world a better place.
Corporate Volunteerism Challenges: How Some Companies Get It Wrong
A haphazard corporate volunteer program can do more harm than good. That's why planning a thoughtful, structured program is essential to having a real impact.
Here are a few challenges that you may encounter along the way and how to address them:
Episodic vs. Sustained Commitment
It's not uncommon for corporate volunteer programs to host one large employee volunteer day and move on until next year. But most community needs require sustained engagement and long-term solutions.
Heed the wisdom of your nonprofit partners to help find lasting solutions. This may mean implementing practices that incentivize volunteering throughout the year (more on how later in this article).
Corporate Social Responsibility for Optics
Even companies that set out to do good can lose sight of the program's core purpose along the way. Not to mention, consumers are increasingly aware of the authenticity of a company and its CSR promises.
"Companies that commit to issues that resonate with a large number of consumers and are viewed as authentic enhance the chance of a successful campaign. Efforts that are short-term or cursory are likely to be a mistake." - Forbes.
When in doubt, ask yourself, your employees, and leadership why the volunteer program exists. Chances are you'll recenter your mission and clarify the program's purpose.
Prioritizing Company Interests Over Community Goals
Corporate social responsibility is a balancing act, requiring businesses to incorporate the goals of each stakeholder. But too often, executive interests take precedence over the interests of employees, nonprofit partners, and the community:
"Corporate volunteer programs tend to reflect the personal priorities of top management. But what matters to executives doesn't necessarily matter to employees." - Harvard Business Review.
By prioritizing corporate interests, you risk disengaging other stakeholders.
According to this survey, employees who choose not to participate are often discouraged by opportunities that only reflect the interests or values of the management. Instead, employees would rather join in opportunities that reflect their values or interests.
You'll also want to be wary of the power dynamics that can emerge when forming community partnerships. Because businesses have the purchasing power, nonprofits may feel obliged to agree to a company's ideas or demands. This may create a need that doesn't exist or a structure that burdens the nonprofit.
Misdirecting Volunteer Efforts
Leadership, your team, and your employees have unique skills and passions. And you're doing your best to create a program that resonates with your employee volunteers. But you'll also need to align your opportunity offerings with community needs identified by nonprofit partners. After all, the purpose of a corporate volunteer program is to have a tangible impact on society.
Unbalanced Employee Input and Corporate Structure
Corporate hierarchies and rigid structures can discourage employees from getting involved. Plus, inflexible programming discourages many employee volunteers.
Keep your employees engaged by identifying causes they're passionate about and creating a flexible program structure. On the other hand, you'll want to provide enough structure to support employee volunteers and focus their efforts.
Strong volunteer programs find the balance between top-down and bottom-up input. One way to accomplish this is by creating a formal framework for the volunteer program and then inviting employees to identify opportunities that appeal to their interests that fit the business's vision.
Corporate Pressure
Companies can easily fall victim to virtue signaling by creating mandatory volunteer programs or applying too much pressure on employees (or colleagues) to participate.
Corporate volunteer programs sometimes measure employee engagement by the percentage of employee participation and consequently apply unnecessary pressure on workers.
Simply having volunteer opportunities available can increase employee engagement and loyalty even among employees who don't participate in the program. Many employees like to know that they have the option to participate.
How to Start a Corporate Volunteer Program
Whether you're a company CEO or an HR representative leading the charge, here's everything you need to know about starting a corporate volunteer program, plus some tips for improving the volunteer program you already have in place!
Outline Corporate Volunteer Program Goals
Setting goals for your corporate volunteer program will help keep you and your participants focused on what matters.
Your corporate volunteer program should align with your company's vision and values. First, review your corporate social responsibility policies and mission. With this in mind, outline goals for your business, employees, and community.
Here are some examples of corporate volunteer program goals:
Business Goals
Reduce employee turnover
Refine brand recognition and perception
Improve investment potential
Employee Growth Goals
Provide more opportunities to develop soft skills
Increase participation in giving and volunteering
Enhance opportunities for connection and teambuilding
Community Goals
Provide 10,000 hours of community service in the calendar year
Partner with volunteer center to reduce homelessness in the community
Expand access to resources for working parents and their children
Remember that each goal should be tied to measurable outcomes and key performance indicators (KPIs).
Identify Causes and Community Needs
One of the most critical components of your corporate volunteering program is identifying the community needs and causes you want to address.
There are several ways to select and identify the causes that your business will support:
Upper management identifies opportunities. Executives and management identify opportunities that align with their business objectives and/or personal values.
Survey employees to identify the causes they're passionate about. Increase engagement by tapping into employees' passions and skills. Ask where employees are already volunteering and consider taking cues from employees engaged in community issues.
Self-identify community needs or causes that align with company values. You or other program leaders assess and identify community needs to shape program activities.
Partner with a local volunteer center to identify community needs. Direct program activities based on the needs identified by your nonprofit partners and community experts.
Tap Into Community Networks - Thousands of organizations rely on local Volunteer Centers to connect volunteers, making these resource centers valuable hubs for local volunteerism. Build connections with organizations in your community that reflect your company's mission. You can even explore what other companies are doing in the community.
Identify Community Needs for More Purposeful Engagement - Volunteer Centers are mandated to impact their community. Volunteer Centers will help you strategize how your organization can make the most significant difference.

Access Vetted Opportunities

- Access a wide range of opportunities that are vetted and tied to community-based impact goals.
Surveys are a great way to identify causes your employees care about! Get started -
Download
free volunteer survey templates.
Successful programs typically employ some combination of these processes while prioritizing the long-term needs identified by nonprofit partners.
Consider working backward when designing your program—first, partner with experts in your community to identify community needs. Gather several options and allow volunteers to choose. You may want to avoid offering too many options by creating a paradox of choice. Finally, tie in upper management to unify the interests of each party.
Initiate Strategic Community Partnerships
Corporate social responsibility is good for business, but not every well-meaning employee volunteer program results in lasting benefits to the company, its employees, and the organizations it serves. That's why businesses work together with nonprofit partners to invest in a sustainable future for their shared community.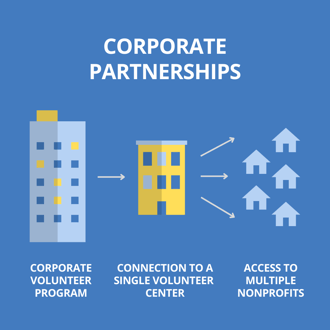 The Benefits of Partnerships with Volunteer Centers
While your company has skilled employees and other resources at hand, your local volunteer center possesses a deep understanding of the community's needs and the know-how to address them.
Volunteer centers are designed to serve four main functions:
To promote volunteerism in a local community
To build capacity for effective volunteering
To connect volunteers with local opportunities
To provide leadership and connect community organizations


Learn about how nonprofits think about corporate partnerships and how you can support them.
Here's why your business needs to partner with a volunteer center in your area:
Develop a Corporate Volunteer Program Framework
Generally, most organizations don't need thousands of volunteers in a single day. Sustained engagement tends to be much more purposeful than a one-time day of service. While single events have their place, consider how you create a framework for engaging employee volunteers throughout the year.
You'll also want to consult your senior leadership team to decide if employees will have dedicated volunteer paid time off (VTO). Allowing employees to volunteer during the workday will help boost employee participation.
In addition, you'll also want to address these questions when planning your program:
Will volunteers participate in specific events, or can employees participate any day of the year?
How many employees do you hope to register?
How will employees sign-up to volunteer? How will you accommodate volunteer teams?
Are employees required to seek approval from their manager before volunteering during work hours?
Will you control the volunteer positions and events or tap into local community partners with pre-existing needs?
How will we vet employees for skilled volunteer positions? What other vetting is required?
Who will implement and lead training?
How will you track and record volunteer participation?
You'll need to implement new tools and systems for registering employee volunteers, vetting opportunities, training, and tracking volunteer participation and impact.
While some volunteer program leaders turn to spreadsheets and other free online tools, others rely on corporate volunteer management software to streamline all of these processes. Later in this article, we'll dive deeper into the best volunteer management tools for corporate volunteering.
Corporate Volunteering Policy
To help make sense of your program, you'll also want to create a corporate volunteering policy. A volunteer policy ensures all participants are treated equally and understand expectations. The policy should also cover logistical information like registration and reimbursement instructions.
You can use this corporate volunteering policy example to structure your program:
Introduction. Discuss the purpose, goals, and mission of the program.
Recruitment and Registration. Outline the process for registering with your employee volunteer program. Include instructions for accessing your volunteer sign-up platform.
Approved Causes and Partnerships. Direct volunteers toward your list of approved volunteer organizations and opportunities.
Volunteer Time Off Requirements and Approval. Discuss volunteer time off (VTO), expenses reimbursement, and other incentives. Then, detail the steps required for gaining VTO approval.
Training. Provide instructions for attending volunteer training and accessing materials.
Hours Logging. List instructions for tracking volunteer participation and hours.
Feedback. Explain the process for sharing feedback. Gathering feedback from employee volunteers is important to growing and improving the program.
Engage Stakeholders
When planning your program, you'll need to decide which parties should be involved. Here's how to engage each group of stakeholders so you have all the right people in the room:
Executives
Executives must lead by example and should therefore buy into your employee volunteer program. Get leadership on board by presenting your goals, vision, and framework for the corporate volunteer program. Executives will need to consider the business case of any company-wide initiative.
You will also need to communicate to your Senior Leadership Team about the value of corporate volunteer programs and how they can benefit the local community and the company. Some key discussion points include:
Program costs and return on investment
Improved employee motivation and engagement
Improved company culture and perception
Increased employee engagement, performance, and retention
Human Resources
You'll want to tap into Human Resources to help implement and communicate some of your program's practices and policies. If you are HR, think about how you will support employee volunteerism.
Remember, your employees are ambassadors for your company in the community. You may want to implement sensitivity training and other guidance on working with diverse populations.
Legal
Rope in your company's legal team to review data security, privacy, and other legal concerns.
Program Champions and Leaders
Identify individuals who will champion the program. If you have offices in several locations, enlist the help of passionate employees to lead each location division. This network of program champions will increase company-wide engagement and unify your mission.
Community Members and Leaders
What is important to your community? Community members outside your organization offer valuable insight into its most pressing needs. Gather a focus group to discuss the issues that affect your community and how your business can best serve these populations.
Support Employees and Reduce Barriers
To create a more impactful corporate volunteer program, you'll need to reduce the barriers to getting involved. Most employees say that time is the most significant barrier that inhibits them from volunteering. If you create a framework for volunteers to participate during the workday, you'll see a considerable increase in engagement.
Increase Access for All Employees
Think of ways to increase access for all employees to get involved. For example, many corporate volunteer programs fail to consider the volunteering needs of employees making hourly wages. Hourly employees tend to earn less than their salaried counterparts and are statistically less likely to be able to make long-term volunteering commitments.
You'll also want to consider employees with young children who have little time for activities outside of work and childcare responsibilities.
Have you considered your remote employees? While working from home has its benefits, remote employees miss out on the camaraderie of team volunteering (volunteering together is shown to increase employee engagement).
How can you increase access to volunteering for all employees?
Paid volunteer time and volunteer grants are some of the best ways to incentivize volunteering and make it accessible for all your employees.
Virtual volunteering and a web-based volunteer management tool make it easy for employees to get involved from anywhere.
Measure and Report Impact
Tracking your volunteer program's impact is essential to its success. But quantifying success isn't always straightforward. So how do you measure and communicate the value of your corporate volunteer program?
To accurately track program impact, you need a trusted software system that measures key metrics like volunteer hours and activity.
Once you have the right tools in place, you'll want to determine what a successful volunteer program looks like.
For example, some companies want to look inward at company-focused success. In this case, you will consider the number of employees engaged, volunteer hours logged, or dollars matched. You may also survey volunteers regularly to understand how their attitudes toward work have changed.
Other programs may take a more community-focused approach to success by measuring program inputs and outcomes. These programs will track the number of meals served, trees planted, or stories and testimonials from community members served.
To get the most comprehensive sense of your program's impact, you may choose to track metrics that speak to the program's success both internally and in the community.
How to Communicate Your Impact in a Meaningful Way
Once you've gathered your program results, you'll want to share them. Consider compiling program results each year into an annual report. Share this report on your website, via email, and on social media with employees, partners, investors, and customers.
You'll want to communicate your program's impact by focusing on the outcomes of your service. Discuss your corporate volunteer program in light of the program's mission, your corporate social responsibility goals, and the company's overall purpose. Then, talk about your intentions for the future. How can the program be improved? What are your goals for next year? What new strategies are you incorporating to achieve these goals?
Remember, your customers and employees value authenticity. Quality data empowers your company to exemplify transparency, gain consumer confidence, and bolster engagement. To collect robust data, you'll want to adopt time-saving management tools.
Corporate Volunteering Tools
A company-wide volunteer program will require an efficient system to manage employee volunteers and volunteer opportunities, engage networks, track participation, and communicate impact.
Fortunately, there is purpose-built software available to companies looking to manage corporate volunteer programs.
With a robust, all-in-one corporate volunteering management software, you can:
Connect employees with approved service opportunities and organizations
Empower employees to track their impact in real-time
Gamfeify involvement by setting goals and recording progress
Easily register groups and track team impact
Automate communication with volunteers
Surveys can be a valuable tool to engage with your employees about volunteering
More Corporate Volunteering Ideas
Need more ideas to improve your employee volunteer management program? Here are a few more strategies for developing and maintaining a successful corporate volunteer program:
Corporate Virtual Volunteering
As more employees work remotely, virtual volunteering is here to stay. Online volunteering—or virtual volunteering—is a flexible way to engage remote employees. Virtual volunteering enables employees to get involved from anywhere they can access the internet. Work with your community partners to identify impactful remote and online opportunities.
How to Boost Employee Engagement
Have you already launched your corporate volunteer program? Do you need ideas for boosting employee engagement? Here are some tried and tested strategies to get employees excited about volunteering:
Leverage Employee Passions
One of the best ways to engage employees is to let them define their community. The shift to remote work creates more opportunities for employees to get involved in communities close to home. In turn, the corporate volunteer program supports these initiatives by leveraging partnerships and providing resources for employees to get involved.
Some of your employees will already be volunteering regularly but have no way to track that impact or share the causes they are involved in. Providing a platform for those employees to promote the causes they care about and communicate their impact creates an inclusive culture of giving back.
Create a Culture of Volunteerism and Social Responsibility
Creating and maintaining a climate of volunteering at a company results from both top-down and bottom-up decision-making. A pro-social culture is created by employees who express interest in volunteering and the employer who develops and implements the corporate volunteer program. In other words, these processes must complement each other.
Here are some ways to foster a culture of volunteerism within your organization:
Lead by example. Whether you're upper management or an HR team member, show your coworkers how to get involved. When you take the lead, you'll signal to fellow employees that this program is about more than just optics.
Avoid traditional corporate hierarchies. It can be tempting to run a volunteer program like any corporate office. But corporate-sponsored volunteering should be both accessible and enjoyable. Encourage all employees, including your younger, newer, or less experienced coworkers, to take on leadership roles in your volunteer program.
Gather employee input. Ask employees what they want to see in a corporate volunteer program. What are causes do they care about? How do they like to get involved? By roping employees into the planning process, they'll feel more involved and engaged from the outset.
Promote Team Volunteering
One of the most effective ways to get more employees active in your corporate volunteer program is to promote group opportunities.
Invite employees to bring their friends and colleagues. Then, use your volunteer management software to register teams, communicate with groups seamlessly, and track group impact with ease.
Market Your Program to Employees
If you want your program to gain traction, you'll have to think like a marketing professional. "Sell" your program to employees using strategies like these:
Create a video. Video is one of the most engaging ways to get a message across. Create a video that markets your volunteer program, including an endorsement from upper management and testimonials from a range of participants. Distribute the video using employee platforms like email and Slack.
Word of mouth and testimonials. Word of mouth referrals is a powerful and inexpensive way to grow your program. Encourage existing participants to bring a friend and share program details on social media. Create a positive volunteering experience to encourage those authentic "water cooler" moments.
Utilize internal communications. Use your internal communications systems, like email, Slack, and high-traffic message boards, to promote your volunteer program. Incorporate a call to action to learn more and get involved.
Tip: Why not enlist the help of your marketing department to promote your volunteer program?
Reward and Recognize
Your employees are motivated by the desire to do good. But volunteer appreciation is shown to improve volunteer engagement and retention.
A simple "thank you" goes a long way. Thank your volunteers regularly with a personal email or note from upper management. Track each employee's volunteer hours, celebrate milestones, and recognize your most involved participants.
Corporate Volunteerism Examples
Need some ideas for corporate volunteering? Here are some examples of successful corporate volunteering programs.
Home Depot utilizes its online volunteer platform to connect employees with causes they'll love. Employees can view their impact and browse opportunities that match their skills and passions, resulting in a highly engaged group of volunteers.
This company is well-known for its environmental activism and corporate social responsibility. Patagonia curated a unique experience by developing an employee internship program. Employees can volunteer at an environmental organization for up to two months while receiving their usual benefits and compensation.
Salesforce's Citizen Philanthropy program offers a week of VTO each year by providing skills-based opportunities. Employees are also eligible for special grant programs tied to volunteering.
Holman's Volunteer Program reflects its larger CSR mission, a multi-pronged approach to giving back. From Community Grants that support local organizations to employee volunteering initiatives, their programs all help support low-income families in their community.
Don't forget your free employee volunteer survey download!
---