Free sample volunteer "Thank You" letters & speech outline
by


Eli Samuels
What is Volunteer Appreciation?
Volunteer appreciation is the act of thanking your organization's volunteers and recognizing their contributions to your community.
But it's more than just saying "thank you" (although this is certainly part of it)! Volunteer appreciation is a series of planned activities that support your overall volunteer management strategy. These activities include recognizing and sharing the impact of your volunteers, giving them gifts, and investing in their futures.
Welcome to our Volunteer Appreciation Guide! Here's what you'll learn:
We're sharing our research and expertise on building better relationships with your volunteers so that you can find more meaningful ways to thank your volunteers.
FREE DOWNLOAD: Volunteer Thank You Letters and Speech Outline
Show your appreciation with our Volunteer Thank You Letters and Speech Outline
Download our free sample volunteer "Thank You" letters and speech outline to let your volunteers know how much you appreciate them.
Why Is Volunteer Appreciation Important to Your Organization?
Most of us will agree that doing good feels good. But it also feels good to be recognized, whether we're at home or at work. And your volunteers are no different.
For this reason—and many more—volunteer managers benefit from implementing a plan for purposeful volunteer appreciation. Let's dive deeper into the benefits of recognizing and thanking volunteers:
It makes people happy. You'll keep your volunteers happy by letting them know you appreciate them.
It motivates people. By encouraging volunteers and recognizing their impact, volunteer managers will keep their supporters engaged and motivated.
It fosters a sense of community. Your volunteers look to your program for a sense of community and kinship. When volunteer leaders show up and thank contributors in person, it creates a deeper connection between the volunteer and the organization.;
It reduces turnover. Simply put, volunteers who feel appreciated and that their work makes a difference are less likely to quit and more likely to feel a sense of accomplishment.
It increases performance and productivity. Volunteers who know that their work makes a difference feel a sense of pride in their work, which ultimately leads to improved results for your community.
It leads to better outcomes. Happy volunteers are more engaged in the outcomes of their work, leading to healthier, more effective volunteer programs.
Need help with volunteer appreciation, engagement, and recruitment? Get Connected can bring your tasks, tools, and volunteers together.
Learn more about Get Connected >>>
How Volunteer Appreciation Boosts Engagement and Retention
Recognizing your volunteers for their time and efforts is key to better volunteer engagement and retention. Engaged volunteers are active in your organization, care about program outcomes, and keep coming back.
Volunteers are more likely to become lifelong supporters of your cause when they feel appreciated, leading to increased retention. In the same vein, they're more like to quit when they feel underappreciated, decreasing your program's volunteer retention rate.
Over 40% of public charities rely on volunteers to operate. Nonprofits contribute nearly a trillion dollars to the U.S. economy each year, and per the Urban Institute's most recent data, Americans volunteer 8.8 billion hours annually.
Volunteers help our organizations deliver some of our community's most pressing needs in nearly every community in the U.S. Without the unifying force that is our volunteers, we wouldn't have some of the organizations communities rely on today.
In other words, we owe our community's volunteers the appreciation they deserve, and volunteer leaders are some of the best people to carry out the task!


Get this free sample volunteer "Thank You" letters & speech outline
When to Show Appreciation to Your Volunteers
You might be wondering; how often to thank your volunteers, and when exactly is the right time to do so?
The short answer is: volunteers should be thanked frequently, in person and in writing. The easiest way to remember to thank your volunteers is at each touchpoint in the volunteer journey:
Send a thank you message after they sign-up for an opportunity. Hint: volunteer management software will send automated thank-you messages when volunteers take certain actions like sign-up and logging their hours.
Gather volunteers on-site before they begin their shifts, and extend a personal thank-you.
Bring volunteers together at the end of their shifts, and thank them for their time and accomplishments. If you're thanking your virtual or remote volunteers, send an email or text instead.
Send an email a few days after a volunteer participates recognizing their contributions.
Throughout the year and after large events, recognize the collective impact of your volunteers. Compile and distribute an annual report that details your volunteers' impact.
Now that you know why and when to thank your volunteers, we'll uncover the most effective ways to thank your volunteers.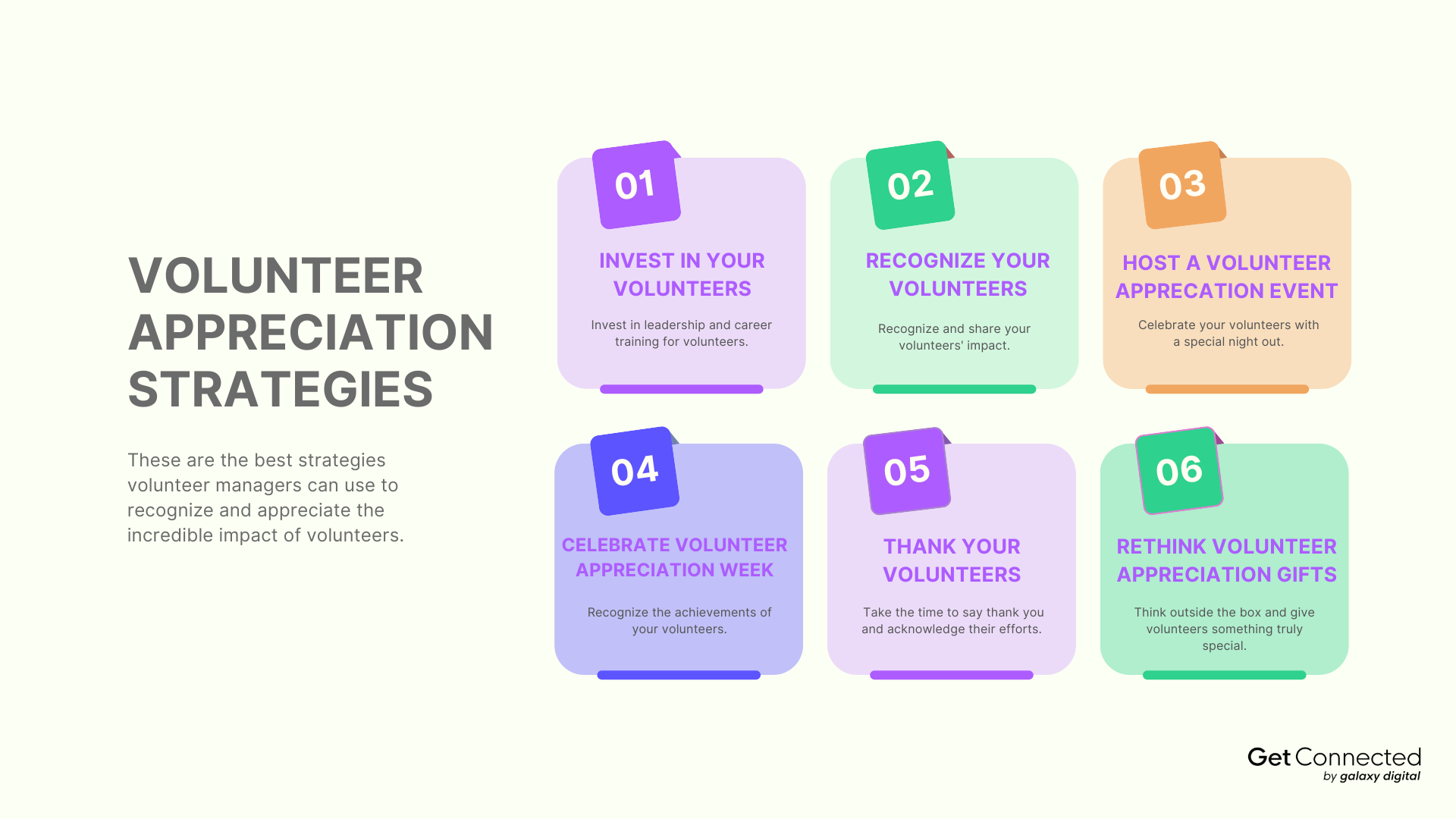 How to Show Volunteer Appreciation to Your Volunteers
As a busy volunteer leader, it can seem like there's hardly enough time to implement another strategy. However, a volunteer appreciation plan will help programs create a healthy, supportive environment for their volunteers
Let's explore 6 of the best strategies volunteer managers can use to recognize and appreciate the incredible impact of volunteers:
Let's explore each of these steps in further detail:
Invest In Your Volunteers
Your volunteers help to improve the lives of those in your community, but what can your organization do to improve the lives of your volunteers? Whether you can help a young volunteer secure their dream school, or give your enthusiastic forward-thinker a voice in your organization, here are some ways to invest in your volunteers:
Leadership Opportunities - Invite your superstar volunteers to serve in leadership roles, as consultants, or to lead training and orientation. Some of your volunteers may want to develop new skills, grow personally, or take on more responsibility. Provide them with leadership development and training opportunities, and allow them to shape the direction of your programs.
Community Ambassadors - Invite your veteran volunteers to serve as community ambassadors. They're passionate about your cause, so why not send them out to site visits, fairs, and anywhere else you want to promote your organization? Volunteers are especially skilled in recruiting other volunteers, and they'll appreciate the opportunity to help grow your program.
Career Training - Invite young and pre-professional volunteers to practice their skills and boost their resumes by filling professional roles. For example, have a team of your high school volunteers assists with your social media and marketing efforts. You can also invite your retired and professional participants to demonstrate their expertise and mentor fellow volunteers.
Regular Updates - Keep your volunteers updated on new opportunities, upcoming events, and important news related to your organization. When you keep them in the loop, your volunteers are more likely to feel like an integral, valued part of your organization.
Investing in Yourself - The tools you use to coordinate volunteers can affect your volunteers, too. So, reflect on the systems your volunteers interact with on a regular basis. Is your website updated? Are your opportunities easy to locate and register for? Are you recommending opportunities to your volunteers based on their interests or skills? Gather feedback from your loyal volunteers about what can be improved to make their experience more enjoyable. By investing in better technology and processes, you'll also be able to invest more time into building personal connections with your volunteers, all while boosting retention.
Gifts can also be a great way to show volunteers you care. Read on to explore gift ideas worth investing in and more!
Get resources to help you write your next speech-
Download Now
Volunteer Recognition
Every day, people choose to dedicate their time and skills to help your organization. While volunteer appreciation is about showing your volunteers you care about them, volunteer recognition is about acknowledging and celebrating their achievements and impact on your organization.
Recognizing each volunteer's contributions is more involved than thanking them for their time; it requires you and your team to really understand who your volunteers are and how their individual actions support collective movement. The recommendations below are simple yet powerful ways to acknowledge the contributions of your core volunteer base.
Create a "Volunteer of the Month" Feature
Recognize your most active volunteers each month with a "Volunteer of the Month" award. You'll acknowledge their dedication and even invite a bit of light-hearted competition. Feature your monthly volunteers on your website, your newsletter, and social media accounts.
Tell Their Story
Maybe one of your loyal volunteers has never missed a week, or another has been with your program since its start. There are many ways volunteers are special to your organization, and their stories deserve to be told.
Interview your special volunteers, write about why they're important to your community, and pitch the story to the local newspaper or share it on your website. Good deeds are contagious, and their stories are sure to inspire others.
Master the Volunteer Recognition Letter
The letter of recognition is slightly different from the volunteer thank you letter. Instead of simply thanking them for their time (which should still happen often), you're recognizing the specific impact your volunteers had. So, for example, at the end of the year, write a letter that details the number of hours contributed by an individual volunteer or group of volunteers, and the specific impact they had on your community.
The goal of this letter is to show your volunteers that their efforts have real, powerful outcomes and that your organization is tracking these outcomes.
Volunteers can also use this letter as supporting evidence for college applications, resumes, and employee grant programs.
Recognize Young Volunteers
Encourage the next generation of engaged citizens by recognizing the outstanding efforts of your youngest volunteers. So, why not recognize busy school children and teens at school?
Present them with an award at an assembly or a school-wide awards ceremony and invite their teachers and parents to join. You can even encourage their peers to take part.
Alternatively, present a "Young Changemakers Award" on your website or social media, alongside your "Volunteer of the Month" spotlight.
Track Their Hours
The best recognition is personal and specific to each volunteer. Imagine being able to thank each volunteer based on their unique contributions, such as the number of hours served or activities attended!
It is possible to track each volunteer's hours and participation history with the right tools. One of the best ways to make sure you have the information you need to recognize your volunteers is to use volunteer management software to track their activity. Many systems can help you match volunteers to opportunities, communicate your appreciation, and even gamify the volunteer experience through digital awards and badges.
Download a free speech outline and thank you letter template →
Host a Volunteer Appreciation Event or Celebration
As a hardworking volunteer manager, you understand the value of going the extra mile. A special night out is that special touch that lets volunteers know you see them. While it can be tempting to host the typical volunteer banquet, try switching it up with these updated volunteer appreciation events:
Switch Up Your Venue

- Instead of a banquet hall, hire out a trendy cafe or brewery. Local hangouts can offer good food and drink and a relaxing atmosphere to get to know fellow volunteers and share ideas. Plus, you'll support independent businesses in your community!

Invite a Speaker Who Knows Your Volunteers

- The volunteer appreciation speech is a banquet institution. Oftentimes, we invite city officials or board members to deliver a speech. Instead, consider the community members your program works with to share their stories. For example, ask a parent to speak about the profound difference your volunteer tutor made in their child's education. Stories like these can touch on the ways volunteers have helped improve the community in a more direct way, which will mean much more to your supporters.

Add Personal Touches

- If you work with children or the elderly, invite them to make decorations for your appreciation event. Invite children to perform a song or write and deliver original volunteer appreciation poems. These details are sure to make your next event a memorable one.

Opt for Small Gatherings

- Big banquets are expensive, and may not excite all your volunteers. Instead, invite volunteers to join you for a variety of small gatherings of appreciation, like an afternoon tea, guest speaker, pizza party, or movie night. In smaller groups, you can spend more time getting to know each of your volunteers, without the stress of managing a larger ordeal.

Surprise Your Volunteers

- People love surprises big and small. A surprise lunch, a small gift, or even a birthday celebration is a nice way to show your volunteers you appreciate all their hard work.

Leave Them With a Few Words

- Whether you say it in person or in writing, wrap up your appreciation event or gathering with a personal thank you from those involved in managing your volunteer program. Don't worry, we've put together a few examples of words that inspire us below, and may inspire your volunteers, too!

Volunteer Appreciation Theme - Create a fun, themed event to show volunteers your care. Try clever themes like "Volunteer Superheroes," complete with a superhero photo booth and treats. Or, a "Thanks for helping us grow" party with flower and garden decorations.
Volunteer Appreciation Quotes That Inspire:
Find the volunteer appreciation quotes that speak to you and to your volunteers:
"Never doubt that a small group of thoughtful, committed citizens can change the world; indeed, it's the only thing that ever has." – Margaret Mead
"Everybody can be great…because anybody can serve. You don't have to have a college degree to serve. You don't have to make your subject and verb agree to serve. You only need a heart full of grace. A soul generated by love." – Martin Luther King Jr.
"No act of kindness, no matter how small, is ever wasted." – Aesop
"We ourselves feel that what we are doing is just a drop in the ocean. But the ocean would be less because of that missing drop." – Mother Teresa
Want more volunteer quotes? See our list of the most effective words to share.
Celebrate Volunteer Appreciation Week
National Volunteer Week is a national holiday celebrating and recognizing the contributions of volunteers to our communities.
The holiday is celebrated by nonprofits, community associations, volunteers, and communities across the country, usually around the second week of April. International Volunteer Day tends to align with the first Sunday in December.
Volunteer holidays can offer a marketing opportunity to engage supporters and boost participation, but National Volunteer Week is also a wonderful chance to show your appreciation and thank your volunteers.
In fact, some organizations choose to plan their own annual Volunteer Appreciation Week or Volunteer Appreciation Day as a special way to recognize the achievements of their volunteers. So how should you celebrate your volunteers?
Here are a few ideas for celebrating Volunteer Appreciation Week:
Promote a Special Initiative - Create and promote a special volunteer appreciation week initiative or selection of opportunities. Invite volunteers to bring along family and friends to participate–the more helping hands, the merrier! Keep track of all volunteer hours and impact during this time, so you can show your appreciation for all their hard work during Volunteer Appreciation Week! Make it an annual occurrence to give your volunteers something to look forward to each year.
Host a Weekend of Fun - Invite volunteers, their families, and friends to join you and other community associations for an outdoor festival of food, games, and doing good. Set up booths to raise awareness of programs and causes in your community. Make it a community-wide event and charge a small admission fee or ask for a donation to fundraise for your organization (volunteers get in free!).
Host a Series of Appreciation Events - Each day of Volunteer Appreciation week, host a gathering or activity (like a movie night or guest speaker series) to celebrate your volunteers the whole week through. You can even incorporate some of our volunteer appreciation event ideas!
Thanking Volunteers
Thanking volunteers is perhaps the simplest and most important way to show your appreciation. Take the time after each shift, opportunity, or event to say a personal thank you. If you can't be there in person, spend some time composing a volunteer thank you note and send it promptly via email.
This year, we're retiring the volunteer appreciation certificate and saying hello to handwritten letters; once in a while, acknowledge the individual efforts of your volunteers by composing volunteer thank you cards or handwritten letters.
Spend the time to focus on the specific traits of the volunteer you're thanking!
Do they always show up to their opportunity with a smile? Do they make exceptionally delicious cookies to share? Even small acts of kindness from your volunteers make your job better, so thank them for it!
However you choose to say it, your volunteer thank you should feel personal and specific. We hope these ideas will help you find more meaningful ways to recognize and thank your volunteers this year.
FREE DOWNLOAD: Free thank you letter and speech outlines
Rethink the Usual Volunteer Appreciation Ideas
Gifts are a simple way to say "thank you." When selected thoughtfully, tokens of appreciation can be more personal than the generic volunteer certificate we see often. While mugs, pens, and t-shirts are also nice, your volunteers' cupboards and drawers are probably overflowing with items like these by now! Instead, give your volunteers something a bit more thoughtful.
Give these thoughtful yet inexpensive volunteer appreciation gifts a try:
Volunteer Program Photos - Put together a yearbook or collection of photos of your volunteers at work, of your services (like before and after pictures of a park you improved), and of those your program serves. Your volunteers can reflect fondly upon their experiences with your program and the smiling faces of the community members they work with.
Letters from Your Community - The best volunteer letter of appreciation comes from clients and community members. Volunteers love to see that the work they do is making a difference in the lives of others. If they're able, invite community members to write or dictate letters to the volunteers who have really made a difference in their lives.
Handmade Cards for Volunteers - Handmade cards from the community members you work with are a special thank-you gift for volunteers. Plus, the creative time can be fun, even therapeutic, for service recipients.
Spend Time With Your Volunteers - Some of your volunteers truly cherish the time spent with your organization and other volunteers. You provide a safe place to build relationships, share thoughts, and feel involved in a community. Therefore, giving the gift of your time to your regular volunteers can be more important than you realize. Listen to their concerns and suggestions, celebrate their personal successes at home or school, invite them for coffee, or promote their ideas in your organization.
Tasteful "Consumables" - Have a favorite coffee roaster in town? Do you love sharing gourmet chocolates or tasty treats from your local bakery? Consumables and gift cards don't collect dust, and you'll support other local businesses by giving volunteers a sweet gift that they can enjoy with family and friends.
Community Recipe Book - Good food is meant to be shared. Have community members or other volunteers bring a favorite family recipe to share. Compile them in a book as a warm, meaningful thank you. The community recipe book is a church volunteer appreciation staple, but they also make for great gifts for all!
Tickets or Gift Cards - Lately, we're really into giving experiences as gifts. Why not thank your volunteers with the gift of a memorable night out? Ask local productions, museums, and restaurants to donate a pair of tickets or gift cards to a show or dining experience. Bonus: include child care if you're giving away an experience to busy parents!
There are lots of ways to thank your volunteers through gift-giving. Check out more volunteer gift ideas here.
These tips and strategies are about adding personal touches to make your volunteers feel genuinely valued. We know volunteer managers like you may see hundreds of faces each year. But even a smile, a site visit, or a quick chat goes a long way.
Don't forget your free download - Show your appreciation with our Volunteer Thank You Letters and Speech Outline
Get the Free Templates