What Is Volunteer Recruitment?
Volunteer recruitment is the process of attracting and screening candidates for volunteer work. When recruiting volunteers, community-based organizations seek out qualified, enthusiastic community members to fill specific positions or grow and maintain their pool of on-hand volunteers.
Recruiting volunteers is an integral part of the volunteer management process. In fact, it's one of the first elements that volunteer professionals look to when developing a successful and sustainable volunteer program.
If your organization relies on volunteers to help deliver important services to your community, you'll need a volunteer recruitment strategy!
In this article, you'll learn about:

Volunteering Recruitment Basics
What exactly is volunteer recruitment, and why should you set your sights on boosting your volunteer recruitment efforts?
Below, we'll set the stage by answering a few frequently asked questions about volunteer recruitment.
What Is a Volunteer Recruitment Strategy?
A volunteer recruitment strategy is a way of organizing your recruitment efforts so that you can grow your volunteer pool and your impact in a way that is efficient, sustainable, and scalable.
Asking people to volunteer is one thing, but getting volunteers to come to you is another. Think about it: reaching out to lots of people individually is time-consuming and certainly not scalable. That's where your recruitment strategy comes in. Your plan will incorporate efficient tools and processes so that you can attract people who consistently fulfill your volunteer needs while fitting the ethos of your organization.
Not sure where to start? Your volunteer recruitment strategy should address these questions:
What are our organization's volunteer needs?
What effective messaging can we use to appeal to new volunteers?
What recruitment channels are we currently using to reach prospective volunteers? What new channels can we explore?
What tools do we have in place to recruit volunteers efficiently and effectively?
Is our recruitment plan sustainable and scalable?
Whether you're starting a new volunteer program or want to ramp up your current efforts, we'll guide you through creating and improving your volunteer recruitment strategy.
FREE DOWNLOAD:
The Volunteer Manager's Guide to Volunteer Acquisition [eBook]
This free eBook will help you:
Optimize your volunteer recruitment efforts, especially for virtual volunteers
Set volunteers up for success with an pro-level volunteer orientation
Train and develop volunteers for long-lasting engagement and impact
Download the free eBook today!
Why Is Volunteer Recruitment Important?
Volunteer recruitment helps volunteer programs, nonprofits, companies, and other community-based associations make our shared communities better places to live, work, and play.
The benefits of recruiting volunteers go well beyond "free work." Volunteers can also help:
Grow Your Program. Maybe you rely on a handful of committed volunteers, but you want to increase your impact. Recruiting volunteers will help you expand your volunteer pool and grow your program.
Increase Funding.

Volunteers can actually help bring in more funding to your organization. This

Role of Volunteering in Philanthropy report found that people who volunteer donate ten times more money to charities than non-volunteers. What's more, 67% of those who volunteered said that they would donate to the same nonprofits where they had served.
Strengthen Your Community. Volunteers deliver services that directly impact communities and community members across the country. This altruistic spirit is contagious and ultimately strengthens the places we call home.
Reduce Operational Costs. It's no secret that charitable organizations are often stretched thin. Volunteers not only deliver services directly to clients, but they can also help support day-to-day operations, such as marketing or fundraising, free of charge.
Volunteers contribute $203.4 billion to the United States through nonprofit organizations. Without volunteers, many organizations could not deliver the services that many communities rely upon. A volunteer recruitment process enables organizations to fill this need for volunteers.
Now that we've covered the what and why of volunteer recruitment, let's get to the good stuff:
How to find the best volunteers for your organization!
Recruiting Volunteers: How to Get People to Volunteer
We get it; just the thought of asking anyone to do free work is daunting. But with this approach, you'll hear a lot more "yeses" than you think!
How to Recruit New Volunteers
In this section, we'll learn how to find new volunteers and, even better, help volunteers find you. We'll even learn how to leverage the volunteers you already have. Here are 7 steps you can take to recruit great volunteers: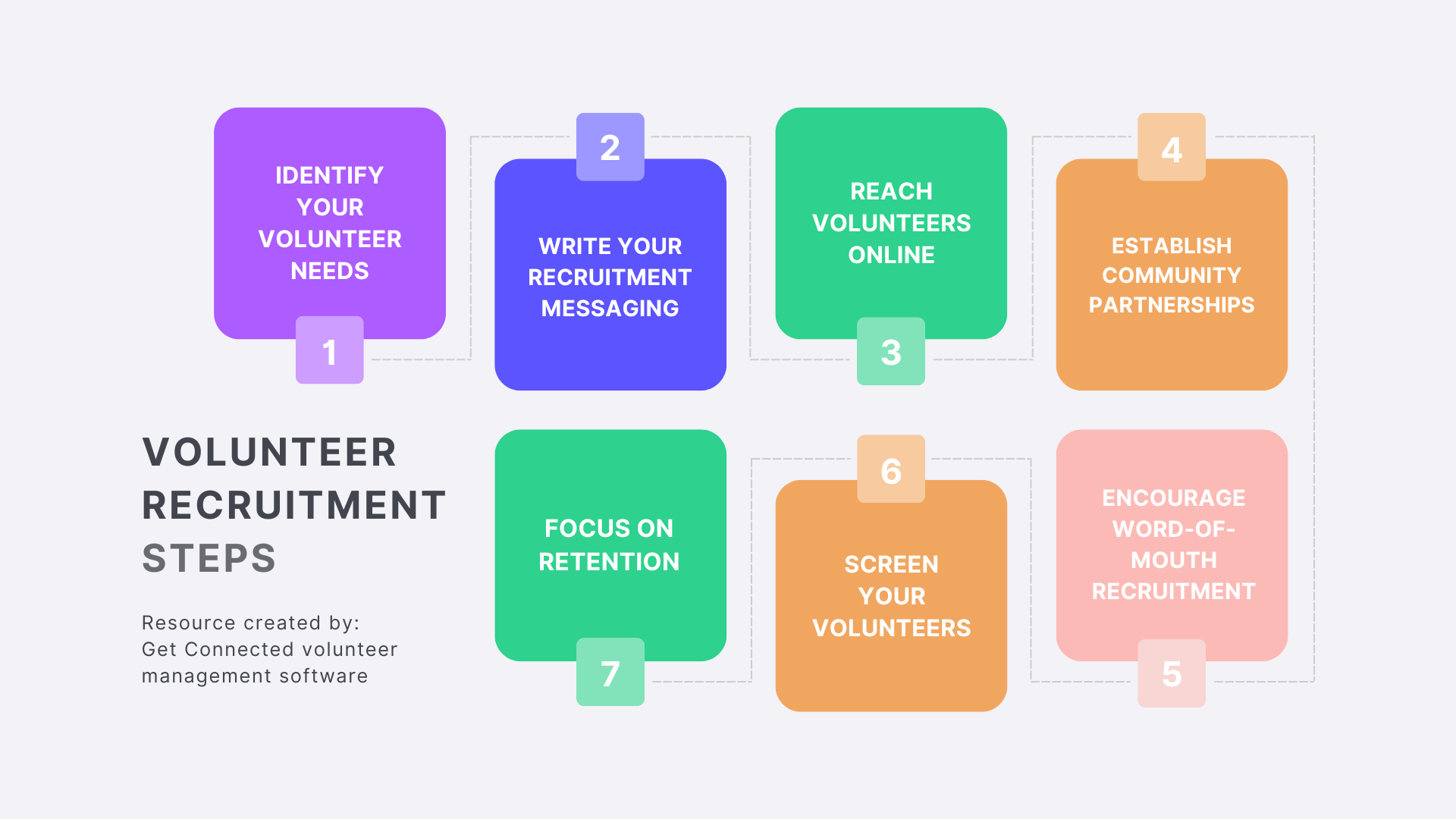 Identify Your Organization's Needs
Craft Your Message to Recruit Volunteers
Recruit Volunteers Online
Establish Community Partnerships
Encourage Word-of-Mouth Recruitment
Screen Your Volunteers
Focus on Retention
Now, let's dive deeper into each of these steps…
Identify Your Organization's Needs
The first step in taking on volunteers is understanding how you'll use them. You'll want to gather your team to figure out your organization's needs and the needs of your community.
Evaluate any gaps in your volunteer program, as well as the day-to-day operations of your organization.
There are plenty of ways volunteers can support your organization. Many programs call on volunteers to work directly with community members, whether it's serving warm meals at a shelter or maintaining public hiking trails. However your program serves the community, volunteers are some of your greatest assets in delivering these services directly to its members.
But there are also plenty of other ways your volunteers can help beyond direct service. Here are just a few examples of how volunteers can make a difference in your organization:
Fundraising for your organization
Providing administrative assistance
Supporting advocacy initiatives
Maintaining your organization's social media accounts
Event set-up and ticket sales
Serving on your organization's board
Research and consulting
Community liaison
Now you know your organization's volunteer needs, but how to recruit your volunteers will also depend on the resources available to you.
Evaluating Recruitment Channel Costs and Resources
The reality is, most organizations have a budget for recruiting volunteers—and it's not always as high as we want.
You'll need to evaluate the cost of common recruitment channels to help you determine the resources you'll need.
High-Cost Volunteer Recruitment Channels
Television advertisement
Radio advertisement
Regional newspaper advertisement
Billboards
Moderate-Cost Volunteer Recruitment Channels
Internet advertisement
Community newspaper advertisement
Subscription-based volunteer recruitment software
Volunteer recruitment events
Low-Cost Volunteer Recruitment Channels
Social media posts
Group presentations
Volunteer recruitment flyers
Websites
Word-of-mouth recruitment
Email newsletters
Some recruitment channels might be moderately priced but highly impactful—say, volunteer recruitment software—and therefore worth the investment. That's why it's important to decide, as an organization, how you'll allocate your recruitment budget.
Craft Your Volunteer Recruitment Message [with Examples]
Your recruitment message is the key information you want to tell your community about your organization to get them on board with your cause. This message should be enticing while representing your organization's collective voice.
For example, will you welcome potential volunteers with a warm message? Or will you appeal to people's sense of urgency by asking your audience to take action now?
Having a unified, clear, and enticing message prepared will help significantly boost your recruitment success rate.
Let's discover how to create an appeal that really converts:
Create a Call to Action
A call to action (CTA) is a written prompt that tells an audience to take a specific action.
Whenever you pitch your volunteer program to community partners and prospective volunteers, you'll want to include a call to action. The call to action drives your community to be proactive.
Here are a few tips for writing punchy, inviting CTAs:
Inform Your Audience
Remember, people may not know you need them. Before asking people to take action, let them know what you need—volunteers!
We're a grassroots climate advocacy group, and we rely on volunteers like you! Sign up to change our world for the better.
Lead with Strong Verbs
A description of your volunteer needs only goes so far. You need to follow your opportunity description with a command. A command is usually a descriptive verb that compels people to take action.
Specific action words like "subscribe," "register," and "sign-up" let people know exactly what you want them to do.
So instead of saying, "We're looking for volunteers to help us" try this:
Subscribe to our newsletter to stay in the know about upcoming volunteer opportunities!
Show Your Personality
Whether you're posting your CTA on social media or your community bulletin board, you're vying for people's attention. So how do you stick out from the crowd?
Let your personality shine through, and don't be afraid to have fun with your CTAs!
We see you're pretty amazing at graphic design. Why not volunteer your unique skills? Register here!
Know Your Audience
You'll want your CTA to be specific enough to appeal to the right people:
For example, if you're looking for anyone and everyone to help out at your next event, a general CTA like this will work for you:
"Hi, everyone! Are you ready to volunteer with us? Register here!"
Or maybe you're searching for individuals with unique skills? Try a specific CTA like this:
"Do you speak fluent Spanish? Apply to join our team of community advocates and make a difference today!"
Ready to take action? Learn more about writing and using CTAs for your volunteer opportunities.
Master the Volunteer Job Description
Your CTAs will usually lead prospects to your volunteer opportunities. So, you'll want to prepare clear role descriptions that let volunteers know what you're asking them to do.
Your volunteer job description should include this information:
Role Title - Write a creative and descriptive title for your volunteer opportunity; it's the first thing prospects will identify with.
Ask a Question - Use your targeted recruitment message by asking a question that helps your audience self-identify if they're the right fit for this opportunity.
Invitation - Next, let people know who you're looking for and invite prospects to get involved.
Description - After you have their attention, describe what the job entails, why you need them, and any qualifications required to volunteer.
Call to Action - Use your CTA from the previous exercise to compel volunteers to sign-up.
Additional Details -

Follow up with any additional information and logistics.
Now it's time to put all these elements together! Here's an example of a successful volunteer job description:
Meal Delivery Heroes!
Do you care about access to healthful fresh food for our community? If you have at least two hours a week you can give to this cause, you may be just the hero we're looking for!
We're searching for Meal Delivery Heroes to deliver fresh food to community members who would not otherwise have access.
On the job, you'll pick up pre-packed veggie boxes from our downtown location and deliver them to 5-10 locations nearby.
We need volunteers who can commit to at least one scheduled shift per week taking place on Tuesday, Wednesday, or Thursday. Your time commitment would be two hours or less including pick-up and delivery.
Our mission is to provide fresh food to communities living in food deserts and the Meal Delivery Hero program is a big part of that vision, as it helps us include those who are unable to travel to our location.
Join our fleet of Meal Delivery Heroes today!
Once you've completed your application form, you're required to complete a background check, attend orientation, and then go on a route with an experienced Hero to train in our team process.
* Masks must be worn for the full shift
Read our article all about writing irresistible volunteer job descriptions.
Recruit Volunteers Online
Many organizations still incorporate standbys like flyers and volunteer fairs into their recruitment strategy, and these methods are great! But these days, volunteer programs are finding success by recruiting volunteers online. Web-based recruitment is cost-effective and often allows volunteer managers to cast a wider net than analogue methods.
Social Media Recruitment Channels
Social media is a powerful tool for building community and recruiting volunteers.
Feature a seasonal campaign or video about your program's mission. A creative call to action and inviting photos will encourage prospects to get involved.
Facebook - Facebook is still the most popular social media channel. You can leverage this platform to share information about your organization's culture, images from past events, and maintain a flowing communication channel between your organization and your volunteers.
Instagram - Instagram is a popular social media that prioritizes visual elements like photos and videos.
LinkedIn - Job sites are your secret to finding professional-level volunteers. Post volunteer opportunities and events to your organization's LinkedIn profile.
Twitter - Twitter is the second most popular social platform among nonprofits. It's a platform for delivering snappy statements and supporting efficient interactions with your supporters.
Youtube - Create engaging videos to share your message and draw in your audience. You can post your recruitment video to Youtube and embed it on your website and emails.
Visit our blog for more ideas to boost your organization's social media presence.
Email and Newsletters
Email is a great tool for keeping your community (including volunteers and donors) engaged throughout their journey with your organization.
There are a number of ways to use recruitment emails and regular e-newsletters in your strategy:
Turn donors into volunteers. Your organization's donors are already invested in your cause. Segment your email list based on those who have donated, then ask them to lend a helping hand. Take your email strategy a step further by recommending volunteer opportunities based on their previous donation preferences.
Re-engage lapsed volunteers. Don't give up on your quiet volunteers just yet! Get them back with a "welcome back" email campaign that re-introduces your mission and highlights upcoming and exciting volunteer opportunities.
Inspire new contacts. Maybe you have collected email addresses from a recruitment event, community partnership, or recent registration. If they haven't taken action yet, send your contacts an enticing call to action that gets them excited about your program.
Paid Online Advertising
While online advertising can be more expensive than other recruitment channels, the results can be major. Online advertising is especially effective for that big recruitment "push" to drive people searching for volunteer opportunities to your website or volunteer platform.
Unless you have an unlimited advertising budget, you'll need to focus your ads on a target audience. The most popular platforms for distributing online ads are Google Ads, Facebook, and LinkedIn.
If you choose to try out online advertising to recruit volunteers, we recommend taking advantage Google Ad Grants. Google Ads are sponsored links that appear at the top of any Google search. The ads will appear when a user enters a Google search related to your organization.
For example, your Chicago-based animal shelter may want a Google Ad to appear any time a user searches "animal shelter volunteer opportunities in Chicago." Therefore, you'll want to have a firm grasp of your target recruitment audience before submitting your ads.
These platforms offer various paid options, but most choose cost-per-click (CPC) so you only pay for your ad when people click on it.
If you think you're ready to advertise online, we recommend checking out these resources on popular online advertising options:
Establish Community Partnerships
Addressing community needs is a team effort. That's why nonprofits and other volunteer programs form community partnerships with regional volunteer centers, local businesses, faith-based organizations, or other associations.
Community partnerships can help your organization expand its network and create new funding opportunities. They can also help you target your volunteer recruitment methods to find volunteers with unique skills and professional experience.
Here are some examples of partnerships to boost your recruitment efforts:
Corporate Partnerships
With the rise in popularity of corporate social responsibility and employee volunteer programs, more community organizations are turning to local companies for donations and volunteers.
Employee volunteers offer professional skills and experience, and connections with other community members. When your partnership is sustained over time, your organization can rely on a consistent source of volunteer involvement, donorship, and other resources.
Follow these basic steps for identifying potential corporate partners:
Do your research. Start by identifying businesses in your area that simply make sense. Does the company embrace a culture of giving back? Do employees have professional experience that may be useful to your program or its clients? For example, local animal shelters may approach pet shops and veterinarian offices for volunteer services and fundraisers.
Look for companies with VTO. Employee volunteer programs and volunteer time off (VTO) are becoming increasingly popular among community-conscious companies. Reach out to local businesses that offer VTO programs to forge mutually-beneficial partnerships.
Leverage personal connections. Board members, staff, donors, and volunteers may have connections to businesses in your community. Don't be afraid to ask around for referrals.
Visit our guide to corporate partnerships for nonprofit organizations to learn how to forge and maintain strategic partnerships.
Other Community Partnerships
Lots of local associations and groups are made up of people with unique skills, experience, and knowledge of your shared community. Look for other groups interested in your cause, and work to establish an ongoing relationship with these communities. Encourage members to volunteer in teams; they'll have lots of fun, and you'll recruit more volunteers!
Not sure where to start? Consider approaching these community groups:
Local schools, universities, and service-learning programs
Faith-based organizations
Community fitness centers
Local book clubs
Sports teams
Public libraries
Scout troops and extracurricular societies
Encourage Word-of-Mouth Recruitment
Word-of-mouth recruitment leverages the supporters you already have to recruit volunteers for you. The recruitment tactic encourages your current supporters and stakeholders to spread information about your programs with the end goal of encouraging like-minded people to volunteer or donate.
It's one of the most effective (and cost-effective) methods of recruiting volunteers.
So how does word-of-mouth work, exactly?
Generally, people are more willing to trust the opinions of friends, family, and colleagues over traditional marketing. So, when someone tells their coworker about the amazing experience they had volunteering for your organization last weekend, this coworker is more likely to remember your organization and consider volunteering with you in the future.
So, if you want your current supporters to tell others about your organization, you need to foster positive interactions with your organization. What's more, if you want your volunteers to tell others about your programs, you also need to encourage them to do so.
Here are some ideas to optimize word-of-mouth referrals:
Host a "Bring a Friend" day. Encourage volunteers to bring a plus-one (or plus-seven!). Capture the contact information of new volunteers and add them to your next email campaign.
Create team and family-friendly opportunities. Volunteering together can be fun and improves your volunteers' experience (and may increase the chance that they'll volunteer again)!
Utilize social media. Ask your supporters and followers to share a post that promotes your program.
Get organized. Make each volunteer's experience memorable—in a good way. Ensure every shift runs smoothly with easy on-site check-in and plenty of communication and support.
Communicate your volunteers' impact. Let your current supporters know how important they are to your organization—recognition makes for happy volunteers!
Don't forget to check out our complete guide to word-of-mouth volunteer recruitment for even more program-growing tips!
Screen Your Volunteer Recruits
You know that the best volunteers for your organization need to have the right skills. But they also need to match your organization's collective ethos.
Screening prospects during the recruitment process will help you ensure the safety of your clients, while also allowing you to get to know new volunteers before they begin.
The level of screening a prospect receives will depend on your organization's needs. For example, if you need lots of volunteers for your annual beach clean-up, you probably won't need to screen recruits extensively.
On the other hand, a volunteer working directly with at-risk youth, for example, will need to submit a resume, complete a background check, and attend interviews. These steps are necessary to ensure the safety of your clients and improve the effectiveness of your program.
Let's go into more detail about background checks and volunteer interviews:
Background Checks
Volunteer background checks are important for mitigating risk and protecting your community. They'll also protect your organization against repercussions if an unfit volunteer is placed.
The purpose of a volunteer background check is to verify an applicant's identity and reveal any criminal history. Most nonprofits and volunteer organizations employ professional background screening services to screen applicants because the process is fairly involved.
Does your organization need a background check?
The most common reasons organizations request background checks of their volunteers are:
Volunteers work with vulnerable or at-risk individuals or populations, such as children.
To protect a nonprofit against legal issues when placing volunteers. Some services administered by volunteers require background checks.
To create a safe environment for all participants, including volunteers, and clients.
While background checks are important for safeguarding your community, they can pose some logistical challenges.
There is always a risk of volunteers becoming disengaged during the screening process, especially if the background checks take more than a few days to complete. You certainly don't want your recruitment efforts to go to waste. So, if you plan on screening every applicant, we recommend investing in background check automation.
Background check automation integrates with your existing volunteer management platform, so they only have to enter their information into one system. This information is automatically sent to the background check provider and results are returned within a few days, ultimately streamlining your volunteer registration process.
Volunteer Interviews
You may not need to interview every prospective volunteer that walks through your door. However, if you're looking for individuals for more specialized roles, a volunteer interview may be necessary.
What should you ask your volunteers? We've put together some sample interview questions that may inspire your own:
Volunteer Recruitment Interview Questions:
What would you like to know about our organization?
What causes are you passionate about?
What experiences in your life have led you to want to volunteer?
What types of work have you done before?
What experience or training do you have that will help you in this role?
How do you deal with situations that don't go as planned?
Do you tend to work with groups or on your own?
Read our complete volunteer interview guide.
Focus on Retention
You've worked hard to get volunteers through the door. You don't want to waste those efforts by losing them after their first shift.
Volunteer retention helps keep your volunteers around for the long haul, therefore reducing turnover and the need for expensive recruitment pushes. Ultimately, retention requires fewer resources (read: cheaper) than recruitment.
Keep your new volunteers coming back with these tactics:
Match Volunteers' Skills and Interests - Volunteers are more engaged when they feel they're genuinely making an impact and contributing their skills. Capture volunteers' interests, passions, and expertise when they register so you can help them find roles that suit them best.
Implement Volunteer Orientation and Training - Volunteers who feel prepared not only perform better, they are also more likely to volunteer again. Orientation and training also help volunteers feel more connected to your organization.
Show Volunteer Appreciation and Recognition - Volunteers who feel appreciated are more likely to stick around. That's why a volunteer appreciation strategy is an investment that pays off.
Successful programs don't stop at volunteer recruitment. When creating a recruitment strategy, volunteer leaders should also consider their plan for keeping the volunteers they already have.
Volunteer Recruitment Strategy Tips and Examples
You've learned the essential steps to finding new volunteers. But now it's time to get planning and take action! But how do you organize your ideas?
We recommend creating a volunteer recruitment plan. A volunteer recruitment plan is a written document outlining your recruitment activities and outcomes.
Organizations usually use several different channels and strategies for recruiting volunteers. Without a written plan, these strategies can quickly become muddled. Documenting your recruitment activities will help your team sync up and stay organized, so you know who's responsible for each action.
Now let's learn what you should include in your recruitment plan:
Elements of a Volunteer Recruitment Plan
What makes up a comprehensive recruitment plan? We recommend thinking out the following elements:
Volunteer Need - The specific program or volunteer role that your organization needs to fill.
Person Responsible - The staff or team member responsible for overseeing the recruitment task.
Community Partner Involved - List any community partners involved in providing volunteer prospects.
Target Audience - The group of people (potential volunteers) you are trying to reach.
Recruitment Channel - The media you will use to share your recruitment message.
Resources Needed - Any assets or resources you need to complete the recruitment task.
Activities - The specific actions and steps to take to recruit your target audience.
You'll probably have several or many volunteer needs. Therefore, you'll need to plan the recruitment channels, resources, and activities for each program or role you're trying to fill.
Example Volunteer Recruitment Plan

Write your plan in a spreadsheet, as in this example, visualize to visualize how each recruitment activity supports your volunteer need.
You know how to write a plan for recruiting volunteers. Now you need the right tools for getting the job done. In the next section, we'll discover the best system for recruiting volunteers efficiently.
How Volunteer Recruitment Tools Can Help
In addition to these effective volunteer recruitment strategies and practices, you'll want to have the right tools in place to boost your efforts.
Volunteer Recruitment Software
Volunteer recruitment can easily become a time-consuming process. But many volunteer professionals rely on volunteer management software to find better candidates more quickly.
Today, most organizations and nonprofits recruit volunteers online. Volunteer recruitment managers are finding success by using volunteer management software.
At Galaxy Digital, we've put a lot of thought into volunteer recruitment and built easy-to-use recruitment solutions into our products. Check out our volunteer management software, Get Connected, and when you're ready to make a change, reach out to us!
When volunteers are passionate about a cause and feel their skills are utilized, they're more likely to volunteer with your organization again.
Consider a volunteer management platform with core volunteer recruitment functions. The right tool will allow volunteer recruitment leaders to:
Highlight volunteer opportunities - Make your volunteer opportunities stand out with a clean volunteer interface.
Promote opportunities - Share volunteer opportunities and events with a click by email, on your social media, or on your website's homepage to direct prospects to your volunteering page.
Create customized web pages - Some volunteer management platforms will allow you to create custom landing pages to engage select groups (like your corporate volunteers), and promote special campaigns.
Create private opportunities for select community partners - Create exclusive opportunities for select groups and report on their collective impact.
Schedule available volunteers or send email invites for recruitment

- Schedule from your pool of volunteers based on their availability, or send an invite to your volunteers to specific opportunities.

Match volunteers up based on skills and interests - Engage volunteers by recommending volunteer opportunities based on their skills and passions. During the registration process, volunteers will self-select their interests, and the system will automatically recommend volunteer opportunities.
Pre-qualify volunteers - A drawn-out onboarding process can discourage eager volunteers. During registration, the system should enable volunteers to quickly upload required qualifying documentation (like driver's licenses or certifications) to their platform profile. You can rest assured you've recruited the right volunteers without losing their interest.