Volunteers are an asset to our volunteer programs and communities nationwide. And you work hard to recruit enthusiastic volunteers who care about your cause. But even the most motivated supporters need supervision.
Volunteer supervision is a highly impactful component of the volunteer management process, but the benefits of effective supervision are not talked about enough.
Keep reading to learn how to supervise volunteers effectively to maximize program impact.
Article Contents
Volunteer Supervision: Frequently Asked Questions
Here's everything you need to know about about the supervision, leading, and on-site management of your volunteers:
What is Volunteer Supervision?
The supervision of volunteers is a critical component of volunteer management. Supervising volunteers can involve:
What Are the Elements of Supervising Volunteers?
Effective supervision empowers volunteers to do their best work. So what does good leadership actually look like?
Here's what volunteer supervisors should strive for:
Clear instruction
Regular check-ins
Respectful listening to volunteer feedback, concerns, and questions
Encourages

enthusiasm
Works to build trust between staff, volunteers, clients, and other stakeholders
Supports volunteer development
Creates a welcoming environment
What Are the Benefits of Volunteer Supervision?
Consistent supervision allows volunteers to perform at their best while maximizing your program's impact.
Your volunteers offer a wealth of experience, knowledge, and skills. Supervision allows volunteers to share their expertise and insight in a way that best benefits the volunteer and the volunteer program.
What's more, effective volunteer supervision can also:
Help identify potential issues, such as volunteer burnout, earlier on in the volunteer lifecycle
Ensure the program's and volunteers' needs are met consistently
Clarify volunteers' roles and tasks to help improve performance
Demonstrate appreciation and respect for volunteers' time
How Much Supervision Does a Volunteer Need?
Most volunteers don't need a whole lot of oversight. However, most volunteers will benefit from consistent supervision.
The extent of this supervision should ultimately depend on the type of role and the level of risk involved in supervising volunteers. If a volunteer is dealing with at-risk clients or sensitive information, they might need closer supervision, a background check, or more contact with volunteer leadership. Additionally, the supervisor should have enough authority and knowledge to make important decisions for reducing risk and serving clients effectively.
Lower-risk activities may require less contact with a supervisor. A supervisor might even be a fellow volunteer who is on hand to answer questions and assist with tasks.
Volunteer Leadership: How Volunteers Are Managed
Volunteer management takes many forms. From recruitment to operations, there's a lot that goes into running a volunteer program. For some programs, many individuals play a part in the volunteer management process. Other programs may rely on a single volunteer leader to run the whole show.
A volunteer supervisor generally shows up on-site and reports to the volunteer manager or program leader. A volunteer supervisor may also manage other areas of the volunteer program or be charged strictly with on-site volunteer management.
Volunteer Leadership Reporting Structure
Who is responsible for supervising volunteers? The role of the volunteer supervisor can vary depending on the size and scope of the volunteer program. The supervisor can even vary depending on the type of volunteer role.
For example, smaller organizations may see more overlap between volunteer managers and supervisors. In other words, the individual who is managing the volunteer program is also overseeing volunteers on-site.
For other organizations, a member of staff or experienced volunteer will supervise volunteers during a shift or event.
Whichever way you choose to supervise volunteers, volunteers and staff alike should know who to report to.
Consider creating a reporting structure organizational chart for your volunteer program like the one below: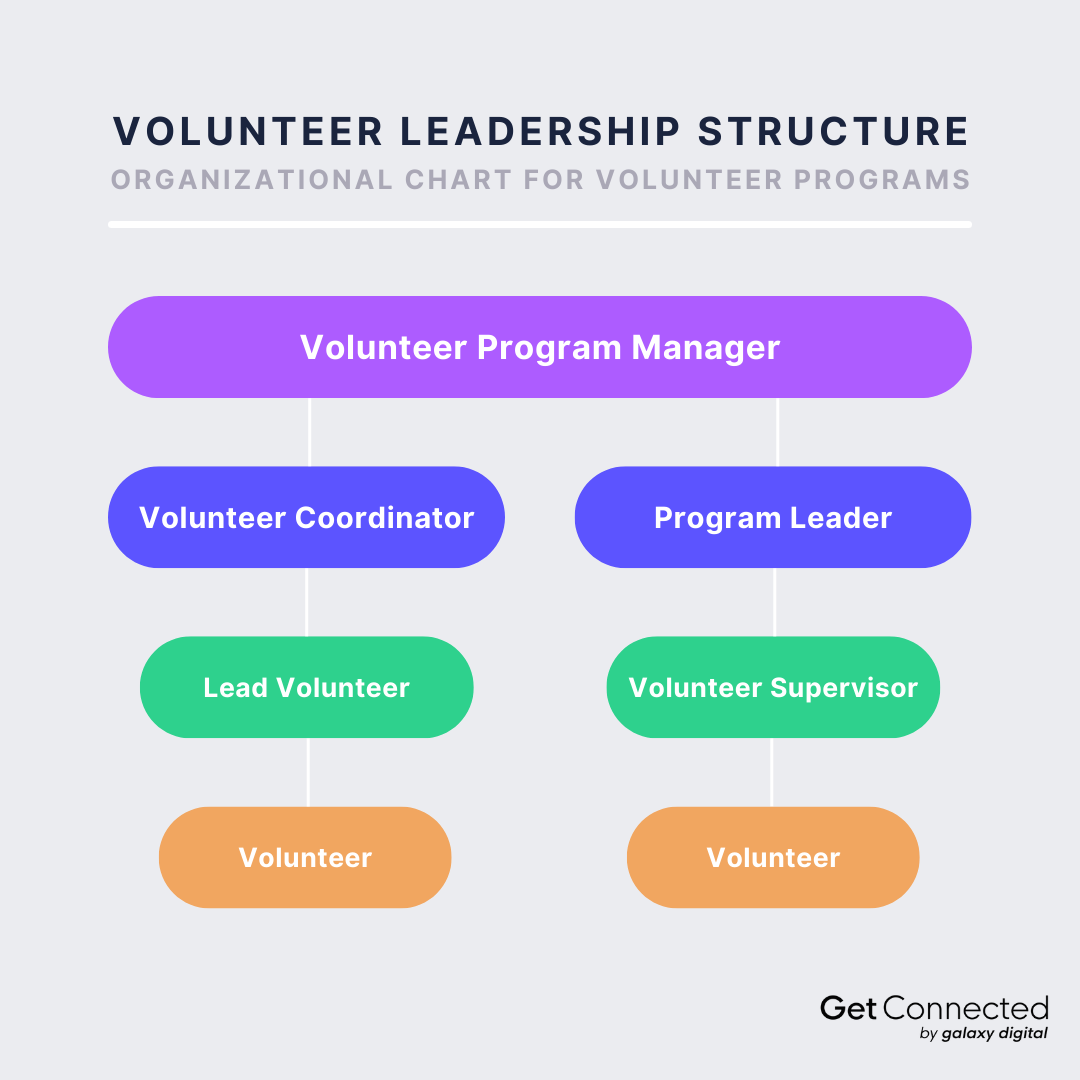 Regardless of who oversees volunteers, all leaders should undergo training to ensure each team member is providing the same standard of supervision. Lead volunteers and supervisors who are also volunteers should undergo additional training to ensure they are prepared for taking on additional responsibilities.
On-site Volunteer Supervision Best Practices
What does onsite volunteer management encompass?
Scheduling Volunteers
Organizations can approach scheduling differently. Some may rely on a member of staff to schedule volunteers, while others use a self-scheduling approach.
At times, volunteer supervisors are charged with scheduling and placing volunteers in their roles. This top-down model of volunteer scheduling will look something like this:
Gather key information from volunteers. The volunteer supervisor records the volunteer's name, contact information, availability, and preferences.
Assign volunteers to a shift and role. The volunteer supervisor chooses a time and role based on program needs and volunteer availability.
Communicate shift assignments and next steps. The volunteer supervisor contacts the volunteer to let them know about their shift assignment and next steps for getting involved.
Send reminders. The volunteer supervisor should remind the volunteer of their upcoming shift periodically (at least one week as well as one day before the approaching event).
While this approach is fairly straightforward, it's also time-consuming. Ultimately, the supervisor risks becoming bogged down by scheduling, especially as the program grows.
Many programs are turning to the self-scheduling model. Advancements in volunteer scheduling software allow volunteers to register themselves anytime and anywhere, and the payoff is huge. Coordinators get back hours of administrative time while empowering volunteers to self-select the opportunities that work best for them.
On-Site Volunteer Management
A majority of volunteer supervision occurs on-site. Some supervisors and shift leaders are strictly responsible for managing day-of operations at a volunteer event or activity.
Daily on-site volunteer management is generally comprised of the following steps:
Greet Volunteers Upon Arrival
Create a welcoming environment from the start by taking the time to meet each volunteer when they arrive. This face-to-face interaction goes a long way in creating positive first impressions.
Introduce yourself, fellow volunteers, and staff. Let volunteers know who they will be working with and report to throughout their shifts.
Oversee Volunteer Check-In
Checking in your volunteers quickly and accurately is an important step in on-site volunteer management. Volunteer check-in will enable your organization to accurately capture volunteer hours which can later be used for grant applications, tracking the growth of your organization, and measuring program impact.
What is the best way to check in your volunteers?
While paper logs and sign-in sheets are initially inexpensive, the transfer and digitization of data take time and often result in inaccuracies.
When it comes to sign-in and time tracking, let technology do the heavy lifting. Web-based options allow supervisors to manage check-in and track hours from anywhere.
Some volunteer management software comes with a web-based check-in system that enables volunteers to sign in and track their time using a tablet, laptop, QR code, or personal device. Even more useful, a mobile volunteer check-in app leverages geolocation, automatically prompting volunteers to sign in when they arrive at the event location. The app will even log the volunteers' hours, streamlining the entire process.
Provide Group Instruction
At this point, you'll want to distribute any materials and provide general instruction. Give an overview of the day's activities and goals. Let volunteers know where they can find water, restrooms, and fire exits. Offer group demonstrations of the day's activities.
Assign Tasks and Review Responsibilities
If you haven't already, assign each volunteer or volunteer team their tasks. Invite your seasoned volunteers to demonstrate specific tasks to your new recruits. Take a few moments to review the responsibilities of returning volunteers.
Some on-the-job training may be required, and the volunteer supervisor may be responsible for maintaining an organization's volunteer training program.
Be Present
During the volunteer activity, the supervisor should remain preset and approachable. They should help volunteers settle into their roles by answering questions and offering additional instruction and support.
Offer On-site Volunteer Training
Part of successful supervision is helping volunteers develop skills and track their progress. This is especially important for your interns and service learning participants.
Invite volunteers to set goals and develop metrics—both qualitative and quantitative—for measuring these goals.
The supervisor should make notes throughout the activity, then set up a check-in or review process to deliver timely feedback.
Ensure Volunteer Safety
Supervisors are responsible for ensuring that volunteers are following rules and performing their tasks safely. In times of COVID, you may need to enforce mask-wearing, hand washing, and other measures to help participants feel safe.
If the activity requires some risk, you may consider asking participants to fill out a volunteer liability waiver.
Assist with Hours Reporting and Check-Out
As volunteers leave, make sure they check out and log their hours for the day. Send a follow-up email within a few days of the activity to thank volunteers for their time and ensure you're capturing every hour.
Supervising Unique Volunteer Groups with Technology
Managing some types of volunteers can require additional preparation and smart tools. Today's tech tools have changed the way volunteer programs operate. So, keep reading for solutions to managing these volunteers:
Event volunteers
Emergency response volunteers
Virtual volunteers
Interns and students
Supervising Event Volunteers
Supervising event volunteers is similar to the on-site management of other volunteers. However, because events usually rely on lots of volunteers at once, you'll want to make sure you have all logistics ironed out beforehand to avoid chaos on the day of the event.
In addition to streamlining the arrival and check-in of event volunteers, you'll need a way to communicate with volunteers en masse. Tools like a CRM or volunteer management software enable quick communications to large groups, either through email or SMS (text messaging). This will allow you to send group reminders and last-minute updates while communicating with volunteers during the event.
You'll also need a way to manage RSVPs. Programs that host many events throughout the year can certainly benefit from an attendance tracking system.

Hint: Volunteer management software can do it all, from easy attendance tracking to streamlined communication.
Supervising Emergency Volunteers
When disaster strikes, you need a way to mobilize volunteers fast. Coordinating volunteers in times of crisis requires careful planning, so you and your volunteers are prepared for all situations.
Here are a few considerations for activating emergency and disaster response volunteers:
Update Your Website
Your website should remain up to date, with disaster management roles and information easily accessible and separate from other volunteer opportunities.
Prepare Messaging
Prep messaging and pre-approved by your public information officer (PIO) for posting. Messaging templates should be developed well in advance of a disaster. These factors allow for timely, effective communications strategies to reach response organizations and volunteers.
Using disaster management software can help an organization communicate critical information regarding the response to all registered volunteers, reducing the chance of confusion and misinformation during a disaster.
Pre-Assign Volunteer Roles
Leverage your self-registration tool so that volunteers can pre-select their roles in case of emergency. You'll also want to pre-vet volunteers with particular skills and qualifications (such as medical licenses or driver's licenses), so they're ready to go.
Implement an Emergency Notification System
The supervisor will need to use mass text messaging (SMS) to notify and activate volunteers in the event of an emergency. You'll need a system for capturing mobile phone numbers and basic biodata.
Generate Headcounts in Real-Time
Do you have a system in place for taking headcount anywhere and anytime? Use a mobile check-in tool to track attendance and view available spaces in real time.
The same tool should also enable you to easily capture and export data for FEMA reports and other reimbursements.
Supervising Virtual Volunteers
Supervising virtual volunteers will look a bit different from your on-site cohort. For one, you will need a user-friendly website that allows remote volunteers to find and register for virtual opportunities.
Note that you'll also have to rely on volunteers to check in themselves and log their own hours from home.
Supervisors of virtual volunteers also need a way to implement online volunteer orientation and training. Videos and learning management systems (LMS) are great for creating an engaging digital training curriculum.
Organizing volunteers doesn't need to be complicated. By implementing tools that help you manage the administrative aspects of volunteer management, supervisors can focus on developing and maintaining deeper relationships with organization supporters.