Free program name inspiration worksheet
You're a pro at running volunteer programs that inspire your community to take action; but composing creative names for those programs? That can be tricky. We've compiled a list of 70 original volunteer program names to engage volunteers and get them excited about your next project.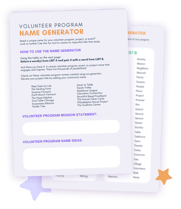 Creative Volunteer Program Names by Type:
Why Creativity is Important
When it comes to naming your volunteer programs, creativity is key. Our friends at United Way of Asheville and Buncombe County agree! Each year, the organization hosts a school supply and backpack drive, aptly named "Backpack to the Future." It's an important cause with a memorable name and creative marketing opportunities (their campaign draws upon the widely appreciated Back to the Future film). Community members, volunteers, and donors alike look forward to the program every year.
So what's in a volunteer program name?
The truth is, volunteers have many choices of where to devote their time; they're more likely to consider your program when they can remember what it's called and where to find it. A creative volunteer program name like "Backpack to the Future" is much more memorable and engaging than "Annual School Supply Drive." In other words, when volunteer programs have great names and creative marketing, they are more likely to make your organization stand out.
Creative Names for Volunteer Programs
We've brainstormed a list of 70 creative names for volunteer programs that we hope will inspire your organization and save you valuable time.

These are organized by category. All you need to do is find your cause and borrow the name that speaks to you! If you're looking for volunteer team names instead, many of these catchy program names also make for fun volunteer group name ideas! Read on to get your creative juices flowing.
Do you need a better way to collect volunteer data? Learn more
---
Activism and Community Action
If you want to mobilize your community, you need a volunteer program name that inspires. Think about what the project is really about. Is it about creating more equity in your community? Is it about standing up for change? Use positive, hope-filled words to galvanize supporters:
Agents of Change
Every Child's Voice
Equity Redefined
Hand in Hand
Project Peace
The I Matter Project
The Kind Neighbors Project
The Togetherness Initiative
True Allies
Need some volunteer program name inspiration? get the free name generator
---
Charity Walks and Races
When it comes to naming your charity walks, races, and runs, you'll want to think big! Many organizations rely on a single annual event to bring in much-needed revenue. So make sure your event name is memorable and catchy. Here are some examples:
In Her Shoes
One Step at a Time
Spokes for All Folks
The Pavement Project
Wheels of Change
---
Children and Education
Get inspired by the creative, fun-loving spirit of children! Take Girl Scouts' "Venture Out!" initiative, encouraging girls to explore the outdoors. We think the program's simple name reflects adventure and invites participants to take action (These also make great creative names for parent volunteer programs!). Here are some more names to inspire your next project:
Backpack Heros
Kits for Kids
The Full Tummies Project
The Little Library
Children of the Future
The Next Stage Theater
Learning League
Mind Masters Math Club
Every Book


---
Community Health
Here is a list of names for projects that deliver health and wellness services to community members of all ages:
Active Minds Activity Center
Healthy Families
Moving Forward
Supplies for Healthcare Heroes
The Good Nutrition Coalition
---
Disaster Relief
Disaster and emergency relief programs need to mobilize quickly. That's why you need a memorable name that volunteers know to contact in an emergency or a disaster. Consider adding your community's name so that volunteers know exactly the area they will serve (for example, Tides of Hope Houston):
City Aid
Tomorrow Ready
Tides of Hope
Ready Relief
Respond and Repair
---
Food Banks and Soup Kitchens
Nearly every community has a local food donation program. So how do you ensure supporters find yours? By giving it a creative name! Here are some heartwarming, creative names for food banks and soup kitchens:
Helping Hands and Tomatoes
The Be Kind Diner
Project Can-Do
Second Helping
The Community Dish Network
Dishing Up Home
The Belly Laugh Project
Soup for the Soul
Bread and Bounty
The Spoon Stewards
The Paper Bag Project
---
Outdoor and Environmental Projects
Each project name should reflect its purpose or cause. There are plenty of expressions, puns, and images that relate to the outdoors and nature, all making for creative volunteer program names:
Wide Space and Open Hearts Club
Conservation Station
Grass and Roots
The Open Spaces Project
Let the Sunshine In
The Spring Cleaning Project
Tiny Trail Blazers
Trash Taskforce
---
Pet Rescue and Adoption
Invite your volunteers to learn more about your pet rescue, dog walking and training, or adoption initiatives with these warm and fuzzy volunteer program names:
Paws for a Cause
Happy Tails on Trails
Furever Friends
Furever Home
A Pawsitive Light
Spay-ghetti Dinner
Hearts 4 Paws
Whisker Warriors
---
Programs for Seniors
From programs that work toward combating loneliness to senior knitting projects, here's a list of endearing senior programming names:
Adopt a Senior
The Purlin' Girls
Project Tight Knit
Project Pen Pal
Two's Company
Tea for Two
Community Bridge: Cards and Friends
Bridging Gaps
The Best Friend Initiative
---
Science and Technology Programs
Check out our list of creative names for tech volunteer programs and science initiatives. If you're looking for more inspiration, organizations like Girls Who Code match their powerful cause with creative volunteer titles (we love that volunteers become members of "The Sisterhood"):
AI Alliance
Code for Good
Nerd Herd
Coding Camp
Future Fellowship
Her Science Lab
Science Sisterhood