Free volunteer events planning guide!
We understand that you put a lot of effort into organizing your events. While recruiting volunteers can feel time-consuming, they're an essential asset to any fundraiser. So we're sharing our insight on how to get volunteers for an event successfully and efficiently. But before we do, it's important to understand what motivates your volunteers to participate:
Why Do Your Supporters Volunteer at Events?
When you know why volunteers participate in your events, you can better direct your recruitment efforts. Let's look at the top four reasons volunteers take part:
They Care About Your Cause
Passionate volunteers are reliable and committed and want to make a real difference on event day. These volunteers may seek out your organization through online search, a community bulletin, or word of mouth, so we've included ways to make it easy for these eager volunteers to find your opportunities and sign up for them.
They're Volunteering Together
Events are a great way for groups, like corporate employees and families, to get together for a day to help out the community. While volunteer groups tend to be more episodic, they offer the opportunity to recruit and engage members with your cause. That's why it's important to simplify team registration, and connect with your volunteers on event day with the goal of inviting volunteers to engage with your organization again.
They Benefit from Your Event
While most volunteers participate because they want to help better their communities, some also seek to benefit, and that's okay! Perhaps you're offering free event tickets, or your volunteers may have personal goals related to career or interests. For example, your event may offer networking opportunities, or allow volunteers to practice a certain skill. Once you identify what your volunteers want to get out of your opportunities, you can communicate these benefits in your marketing efforts when recruiting event volunteers.
They Were Asked
You may be surprised how willing community members are to help out if you just ask. Your events offer an exciting opportunity to do something different while bettering our communities. First-time volunteers can become your organization's most dedicated volunteers. Below, we explore 8 ways to reach potential volunteers for events, and keep them coming back.
How to Recruit Volunteers for an Event
1. Make Volunteer Opportunities Easy to Find
Wondering where to find volunteers for events? Let them find you! A majority of volunteers search for opportunities to participate online. Volunteers will come to your website looking for ways to get involved, so they shouldn't have to dig through your website to find them. Fortunately, there are simple fixes you can make to improve the visibility of your events. Here are a few tried and true ways to help your events stand out:
2. Employ Social Media
80% of nonprofits agree that social media is effective for recruiting volunteers, and 78% agree that social media is effective for recruiting event attendees. So why not let social media do the grunt work. Spread the word using a variety of outreach platforms; announce upcoming events on your organization's social media channels while encouraging community members to sign up for exciting volunteer opportunities. Peer-to-peer marketing is also a great method that enlists your current supporters to spread the word for you on social media.
And why not regularly incorporate a calendar of events in your nonprofit newsletter? With every mention of an opportunity, be sure to include a call to action, such as "Event volunteers needed! Sign up here." Then, provide a link or button that leads directly to the event page or your site's volunteer registration page.
Remember that your social media accounts are also about creating brand recognition, so that you become the go-to organization when volunteers are looking to support a specific cause. By keeping your social media regularly updated, exciting, and "on brand," you'll attract volunteers who understand your organization. Check out this article to learn more about crafting a successful social media strategy.
3. Reach Out to Businesses in Your Community
More companies are incorporating volunteerism programs into their business model. So why not reach out to local employers, especially those with employee volunteer requirements, for your next event? To reach out to prospective partners, you may consider writing a letter to request volunteers for your upcoming events. Your message should communicate more than the simple fact that you need volunteers for events that support your cause. In your letter, you should let companies know how they can benefit from a partnership, what your cause means to the community you share, and how your organizations can accomplish more together. You can use this outline to create a letter requesting volunteers for your next event.
Sample Letter Requesting Volunteers for an Event [Outline]
Attention-Grabbing Opening Sentence: Write an opening line that draws readers in.
Purpose or Need: What is the purpose of the event? What will your efforts accomplish?
Solution: How will their collective efforts help?
Benefits: What's in it for the volunteers and the company? Will you feature the company logo, for example?
Volunteer Expectations: What can volunteers expect to do? What kinds of work should they prepare for?
Next Steps and Contact Details: How should the company respond to your letter? How should employees register for opportunities?
Don't forget to follow up with a phone call. It will feel more personal, and will show the company know you're relying on them specifically to help make your event a success.
Check out this article for more on the benefits of corporate partnerships.
4. Simplify Team Registration
Once prospective event volunteers find opportunities they're interested in, they should be able to easily register. The same goes for teams and groups of families and corporate partners. Simple team registration means that volunteers can sign-up together for the event directly through your website, saving time and reducing unnecessary back-and-forth. After entering just a few pieces of key information, teams should be registered immediately and their spots reserved. Request the contact information of a team leader, so you can easily identify and reach out to a point person to quickly communicate need-to-know information.
5. Pre-Assign Jobs
Preparation is key to smooth sailing on event-day. Plus, your event volunteers are more likely to participate again if they have a positive experience the first time they volunteer with your organization. When listing your opportunities, include the job you want them to do and a brief description. This allows event volunteers to match themselves to the right opportunities. When your volunteers arrive at the event, they're ready to get started and will know exactly what their responsibilities are.
6. Send Reminders
After volunteers have registered for your event, follow up with an email to confirm registration and thank volunteers for their interest. Because we're humans, sometimes we forget things. Send a reminder several days before with the date and time of the event. Specify logistical information so that volunteers feel prepared. We recommend including the following information:
Location details
Day-of contact numbers
What to bring
A schedule for the day
You may also want to attach brief yet insightful literature about your cause so that volunteers are engaged before they even arrive. Your organization's preparedness demonstrates your dedication to the cause, inspiring commitment on behalf of volunteers.
7. Establish a Volunteer Check-In System
A check-in system at each event will help you keep track of volunteer attendance. As soon as volunteers arrive at the event location, have them go directly to a check-in point (and include clear signage so it's easy to locate). An automated check-in  process  will also allow volunteers to sign in and out, so your nonprofit can record valuable data about participation numbers and hours. If you don't have the technology available, upgrade from pen and paper and create a spreadsheet to track attendance and participation hours. A well-organized event will minimize stress on volunteers at events, ensuring that they have a positive experience.
8. Thank Your Volunteers
Bolster your recruitment efforts with better volunteer engagement. Now that you know how to get volunteers for an event, you can set yourself up for success for the next event. Wrap up each event by gathering your volunteers to thank them for their hard work. Talk about everything you were able to accomplish as a team, and how valuable their volunteer efforts were. Follow up with a sincere thank-you email. Being appreciated feels good — volunteers might just want to help out again!
Your organization relies on the benevolent efforts of your event volunteers. We hope that these 8 strategies will help get all the helping hands you need to make your next event a success. Don't be afraid to use these tips to engage and retain volunteers for any of your organization's future opportunities!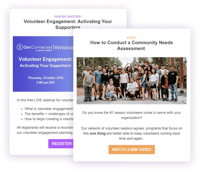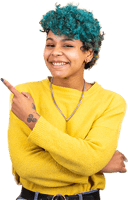 Join 20,000+ Volunteer Leaders
Get impact-boosting articles, guides, and webinar invites to help grow your volunteer program