Get free Volunteer Ambassador recruitment templates
Heading into a new year of fundraising, it's important to take stock of the strategies that have worked well for your nonprofit over recent months. But don't stop there! You might want to think about which strategies haven't panned out well, and if there any opportunities that you might be passing up.
For many organizations, peer-to-peer fundraising is a major missed opportunity. While you might have a P2P strategy in place or have conducted one or two social media-based campaigns in the past, chances are you're not making the most of this fundraising style—and you're not alone.
Nonprofits of all sizes regularly neglect to build solid peer-to-peer fundraising strategies because they believe it's not an easily scalable way to raise money online.
Peer-to-peer fundraising certainly does come with its own unique challenges, but many issues around scalability can ultimately be resolved with smarter recruiting and volunteer management.
Simply put, if you're empowering the right supporters in the right ways, it will be easier to grow your P2P strategies.
This is why we recommend conducting an ambassador campaign.
These campaigns allow you to take a more focused, smaller-scale approach to peer-to-peer fundraising, making them the perfect way to refine your recruitment and engagement strategies.
At OneCause, we've helped nonprofits of all sizes meet the moment with updated virtual fundraising tactics, and ambassadors have played pivotal roles in the success of many of those organizations.
In this quick guide, we'll walk through the basics of the ambassador approach and share our top tips for recruiting and empowering the best individuals to drive your campaigns forward.

Here's what we'll cover:
What is an ambassador campaign?
When to recruit volunteer ambassadors
Ambassador recruitment best practices
There's no better time to review your strategy, especially after an extremely challenging 2020. If tightening up your P2P tactics has been on your to-do list for a while, understanding your full range of options, including recruiting ambassadors, is a great place to start. Let's dive in.
FREE DOWNLOAD: Volunteer Ambassador Recruitment Templates
What Is an Ambassador Campaign?
An ambassador campaign is a smaller-scale and more focused take on traditional peer-to-peer fundraising. Both approaches rely on your supporters to raise money online by promoting their individual giving pages to friends and family.
However, ambassador fundraising involves actively recruiting a smaller set of high-powered volunteers rather than encouraging all of your supporters to get involved as you might in a typical P2P campaign.
Once you've recruited your ambassadors, explain your campaign and its goals. Empower them with support, resources, and their own giving pages.
When it's time to promote your campaign to your entire community, rely on your ambassadors to spread the word, secure donations and event registrations, and create an engaging feeling of competition and progress.
You might even allow supporters to join a "fundraising team" led by an ambassador like the Alamance Regional Charitable Foundation did in its campaign leading up to an annual gala: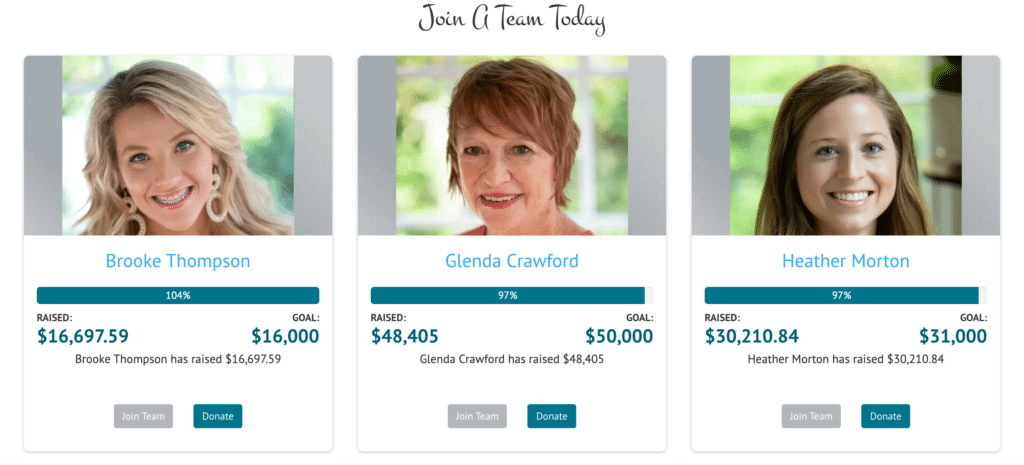 The ambassador approach to P2P fundraising has a few key benefits, including:
A greater degree of control and focus, making it easier to manage your ambassadors and strategically direct attention wherever it's needed.
Fewer individuals to support, meaning your ambassadors can get more guidance and resources that they'll need to help your campaign reach its goals.
Deepened relationships with key supporters. As a smaller group of high-powered volunteers working more directly with your team, ambassadors can have outsized impacts on your mission, making it more likely they'll stay engaged over time.
More engagement thanks to social proof. Your ambassadors' connections with the community are powerful motivators for new donors and attendees who'll see that their loved one or colleague cares enough about your mission to promote it themselves.
The benefits of ambassador fundraising make it an excellent choice for organizations of all sizes. With your focus on empowering a smaller group, you can fine-tune your management strategies in ways that would be more difficult in broad, DIY-style peer-to-peer campaigns. However, the recruitment process is the key difference between these two approaches, so it'll need plenty of strategic thought upfront.
Download FREE volunteer ambassador recruitment templates >>
When to Recruit Volunteer Ambassadors
Volunteer ambassadors are extremely useful partners in a wide range of contexts, but, as we explain in our complete guide to ambassador fundraising, they're most impactful leading up to major events (whether virtual or in-person).
In these campaigns, ambassadors will be able to pull double duty: securing donations for your cause and generating more awareness and RSVPs for your upcoming virtual gala or auction.
Standalone ambassador campaigns can be effective when planned well. However, campaigns anchored by events will help you maximize the engagement benefits that you get from this style of fundraising, like the community connections of your ambassadors.
Here's the general process you might follow if you choose to launch an ambassador campaign in order to promote an upcoming event:
Recruit your ambassadors. We'll cover specific recruitment tips below.
Empower your ambassadors. Training, explanations of your campaign and event, personal support, and useful resources will help them reach and exceed their goals. Each ambassador will also need their own page to collect donations and registrations.
Unleash your ambassadors to begin promoting your event and generating donations and registrations leading up to the big day.
Support your ambassadors throughout the campaign to check in on progress, offer additional help, and provide new resources as needed.
Kick off your event. Whether your event is virtual or in-person, make sure your ambassadors are featured and celebrated as key supporters who made it possible.
Engage attendees using their personal connections to ambassadors. For instance, have ambassadors explain what your mission means to them. Or, you might create funny challenges for ambassadors to complete when enough money is raised during a madcap live appeal.
Ambassador fundraising works especially well for smaller, local organizations like schools that host annual auctions or fundraisers because they allow you to fully tap into the sense of community around your mission.
This strategy can be adapted for missions and events of all shapes and sizes.
The main idea is simply to focus on supporting a smaller group of volunteers toward accomplishing specific fundraising and registration goals.
Don't miss out on these FREE templates!
Ambassador Recruitment Best Practices
In order to reach and exceed your ambassador campaign's goals, you have to start with a solid recruitment process. Without an effective way to identify and support your volunteers from the start, the task of keeping the entire campaign on track becomes unnecessarily burdensome, ultimately defeating the purpose of working with a smaller, more focused group of ambassadors.
Here are a few tips we recommend to strengthen your recruitment process:
1. Look for the Right Engagement Markers
Start by reviewing your donor data to find the ideal ambassadors for your campaign. Rather than simply reaching out to who you assume will be your best candidates, back up your decisions with data.
Effective ambassadors tend to display one or more of these engagement markers:
A relatively long history of engagement with your nonprofit's campaigns and events
A demonstrated commitment to your cause through repeat donations and/or volunteered time
An active network of friends, family, and colleagues who'll be likely to appreciate your mission, too
Close ties to your community and/or other local organizations with which you share supporters
Free time to spend promoting your campaign and event
Early in the campaign planning process, use your CRM and volunteer management solution to search for individuals who fit one or (ideally) several of these characteristics. When you have a shortlist of candidates, personally reach out to gauge their interest.
If they didn't meet any of the engagement markers listed above, or if you simply don't know enough about that individual, ask them about it! Ambassador campaigns are all about building and tapping into relationships, so now is the perfect time to learn more about the supporters who'll be driving your campaign to success.
2. Set Specific Goals for Your Ambassadors
Be sure to set goals that make sense for your campaign and for your ambassadors. Setting concrete donation and registration goals for ambassadors will be invaluable for a few reasons:
Keeping ambassadors motivated throughout the duration of the campaign
Checking in on progress towards specific benchmarks and knowing when to boost your ambassadors with extra support or resources
Gauging your success after the campaign ends and making strategic improvements for the next time
The recruitment process can also be simplified by having an idea of the goals you'll set for ambassadors and communicating them to potential recruits.
Get a sense of whether or not each volunteer thinks those goals are achievable by asking about their personal networks in the community.
Once you have a finalized ambassador team, work with them to refine your goals based on their opinions and the campaign's overall revenue targets.
3. Provide Helpful Resources to Ambassadors Upfront
Rather than waiting to scramble to produce resources when ambassadors need them, show your potential recruits that you're prepared to fully support them from start to finish.
This can reassure ambassadors that getting involved won't be a heavy lift on their end and that your organization is invested in their success.
We recommend offering these types of resources to ambassadors:
Training and support sessions. Team orientations and one-on-one check-ins should be built into your campaign strategy from the start. If you already have a solid volunteer training infrastructure in place, use existing resources and tactics when possible.
Templates and campaign collateral. Give your ambassadors a whole library of resources to use when promoting your campaign and event. Social media and email post templates, auction item request letters, official promotional graphics and images, and press releases will all be useful assets for ambassadors to leverage.
Online communities or chats. Give your ambassadors an outlet to build a sense of community with one another. This will create a more positive experience, strengthen their ties with your organization, and help keep everyone motivated and accountable. Your peer-to-peer fundraising software should be able to support group communication, but group text chats and private Facebook groups can work, as well.
Explainers for your technology. If you'll be using any new software during your campaign, make sure everyone knows how to use it. This might include purely internal processes like time-tracking or donor-facing software like the live-streaming platform you'll use during the event itself. Ambassadors should be able to accurately explain what donors or attendees will need to do in order to get involved.
Preparing these materials upfront will also dramatically simplify the process of scaling up your peer-to-peer efforts over time.
With a full library of templates, meeting agendas, and tech explainers ready to go, it's much easier to actively support larger groups of volunteer fundraisers beyond your first ambassador campaign.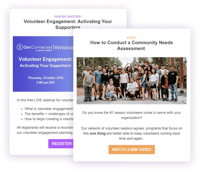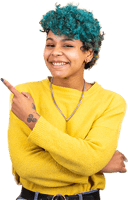 Join 20,000+ Volunteer Leaders
Get impact-boosting articles, guides, and webinar invites to help grow your volunteer program
4. Actively Motivate Your Volunteers
Determine how you'll motivate and engage your volunteer ambassadors in advance. This will give you a solid playbook to refer to throughout the campaign rather than scrambling to come up with solutions on the spot.
Try these strategies:
Create a competition out of the campaign and offer prizes to your top-performing ambassadors.
Thank your ambassadors during your event in a recognition ceremony in which you'll award prizes and allow them to speak to what makes your mission so important for the community. The opportunity to add their personal touch to the event can be a powerful motivator for your most dedicated supporters.
Create engaging fundraising challenges for ambassadors to complete (or pass off to someone else!) when they reach specific donation goals. Have them record their challenges for exciting pre-made content to use in your virtual event.
These engagement strategies, especially prizes and public recognition, can be the perfect way to convince potential recruits to get involved.
Plus, they'll make your entire campaign and event more engaging for all of your supporters. When donors know their gifts will help a loved one win a prize (or force their friend to complete a funny challenge), they'll be much more motivated to chip in.
---
Many organizations neglect their peer-to-peer strategies because actively managing and supporting large groups of volunteers toward achieving specific goals can be a daunting task. After a tumultuous year for the nonprofit sector, it's time to think beyond these misconceptions and look for new ways to raise more while engaging those who matter most.
Ambassador campaigns are a scalable, effective way for nonprofits to fine-tune their peer-to-peer strategies while deepening their connections with their most dedicated supporters.
You'll just have to start off on the right foot with a solid recruitment and management process. This overview should give you a strong foundation for these campaigns and the best practices that drive them to success. Happy fundraising!
---