Choosing software that innovates with your organization
If you're a nonprofit, you're probably looking to recruit and engage volunteers, receive more donations, or develop stronger, more effective programs this year. One way to initiate growth is to upgrade your free volunteer management subscription. While your free or nominal subscription helps you compile a list of volunteers, the right volunteer management software can do so much more–like increase year-round volunteer engagement, organize skills-based volunteer data, and extend your reach by empowering groups, companies, and teams to promote your cause. As your organization grows, it may be time to consider a more powerful volunteer management software; one that continually improves and innovates with you.
What can a paid volunteer management subscription offer?
Simply put, paid, subscription-based volunteer management software does more; you'll have access to intelligent features that address your personalized needs, like corporate engagement tools and opportunity matching. A robust volunteer management software can actually add value to your operations–ultimately saving you time and money in the long run.
With the proper technology, volunteer managers spend less time on paperwork and running Excel reports and more time focused on engaging the community. Cross-department functionality means your marketing team, your development director, and your partner agencies can all benefit from a robust volunteer management platform. Best of all, you won't have to deal with ads or limits on user numbers. Addressing the needs of your community more effectively and efficiently is worth investment!
1. Clarify your objectives
When you realize that you've outgrown your free service, you'll want to think about how your upgraded volunteer management software can help your organization achieve its short and long-term goals. Looking to cut down on administrative time? Hoping to ramp up volunteer engagement? Or maybe you want to secure more funding, and you're looking for a tool that builds comprehensive reports for your Board of Directors. Whatever your objective, it's important that you choose a volunteer management software company that's always innovating–and therefore growing with you and your objectives.
2. Identify "must-haves" and "nice-to-haves"
Once you've outlined your objectives, compile a list of features that are most important to your organization: your must-haves. Then determine the capabilities that you would like, but may not be a deal-breaker if unsupported. Use a simple checklist like the example below to help you choose the software that best matches your organization's needs:

3. Establish available resources
Determine your budget before beginning research. Be sure to look into all funding options, including grants and sponsors. Today's software is robust enough to benefit your entire organization, from the development director to the marketing manager; so your resources may be less limited than you think!
You'll want to allocate enough time for reviewing your options and implementing the new system. Establish a launch date to work toward. You may find it helpful to create a timeline (see our example below) to help you stay on track: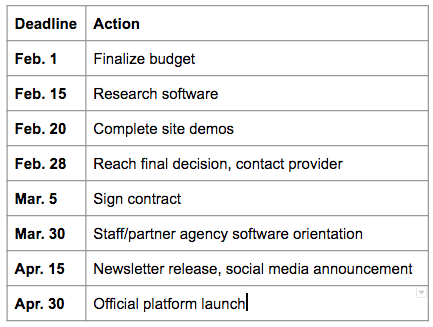 4. Ask the experts
Consult software comparison sites, like Capterra and G2Crowd. You'll be able to find software reviews and feature comparisons on these websites. Finally, you can always reach out to peers and similar organizations for their recommendations.
5. Give it a try
Make the most of software demonstrations; you should be able to experience the site from the volunteers' and manager's perspectives before making a commitment. Once you've narrowed your search, it's always a good idea to speak to the vendor and ask further questions, discuss pricing, and deepen your understanding of the software's capabilities. Make sure the right people are in the from the start, and the process will go more smoothly.
6. Get your team on board
From your Board of Directors to your volunteers, it's important to get your team to buy into your new system. Implementing new technology into your nonprofit's day-to-day operations can be a tough sell for some. You'll likely have to earn the approval of your Board of Directors or Executive Director before purchasing the software. Make the case for growth: in volunteer numbers and donations, improved marketing capabilities, and lasting engagement.
After you've purchased a new software, put together an orientation for staff and your strategic partners to get them acquainted with the new system. And of course, generate excitement among your existing volunteer base; announce your new platform in your nonprofit newsletter!
7. Choose the right software for you
Volunteer management software is about more than just getting organized; your platform should help you to work smarter and improve the quality of service your organization provides. Sometimes, in order to add value to your organization, you have to put in resources. Look for a software company that innovates alongside your organization, while keeping nonprofits, volunteers, and resilient communities at the forefront of their business model.

Next Steps: Learn more about the Get Connected volunteer management system in a free demo >>