Aristotle once asked, "What is the essence of life? To serve others and to do good." Americans are taking these words to heart; over 30% of Americans volunteered through an organization, with many more engaging in informal acts of volunteerism, like helping a neighbor.
Keep this momentum going by regularly reaching out and engaging your volunteers. Inspire volunteers by including these inspirational volunteer quotes in your organization's messaging.
We created this one-stop collection of volunteer inspirational quotes for every mood, goal, and organization type. Use these quotes in your next volunteer appreciation speech, newsletter, or as part of your nonprofit social media strategy to leave a lasting impression.
Article Contents:
Volunteer Appreciation and Recognition Quotes
Thank your volunteers and recognize their impact with these volunteer appreciation quotes:
"Volunteers don't get paid, not because they're worthless, but because they're priceless." —Sherry Anderson
"No one is more cherished in this world than someone who lightens the burden of another. Thank you." —Author Unknown
"No duty is more urgent than that of returning thanks." —James Allen
"Volunteers are love in motion!" —Author Unknown
"One can pay back the loan of gold, but one dies forever in debt to those who are kind." —Malayan Proverb
"No act of kindness, no matter how small, is ever wasted." —Aesop
"Gratitude is the memory of the heart." —Jean Baptiste Massieu
"We ourselves feel that what we are doing is just a drop in the ocean. But the ocean would be less because of that missing drop." —Mother Teresa
"Unselfish and noble actions are the most radiant pages in the biography of souls." —David Thomas
Motivational and Inspirational Volunteer Quotes
Motivate your supporters and boost volunteer recruitment efforts with these inspirational volunteer quotes.
"Volunteers do not necessarily have the time; they just have the heart." —Elizabeth Andrew
"How beautiful a day can be when kindness touches it!" —George Elliston
"We make a living by what we get, but we make a life by what we give." —Winston Churchill
"Never doubt that a small group of thoughtful, committed citizens can change the world; indeed, it's the only thing that ever has." —Margaret Mead
"If our hopes of building a better and safer world are to become more than wishful thinking, we will need the engagement of volunteers more than ever." —Kofi Annan
"Everybody can be great. Because anybody can serve. You don't have to have a college degree to serve. You don't have to make your subject and your verb agree to serve. You don't have to know the second theory of thermodynamics in physics to serve. You only need a heart full of grace. A soul generated by love." — Dr. Martin Luther King, Jr.
"Start where you are. Use what you have. Do what you can." — Arthur Ashe
"Nobody can do everything, but everyone can do something." —Author Unknown
"Life's most persistent and urgent question is, what are you doing for others?" —Dr. Martin Luther King, Jr.
"Those who can, do. Those who can do more, volunteer." —Author Unknown
"You make a living by what you get, but you make a life by what you give." —Author Unknown
"Volunteerism is the voice of the people put into action. These actions shape and mold the present into a future of which we can all be proud." —Helen Dyer
"Each time a man stands up for an ideal or acts to improve the lot of others or strikes out against injustice, he sends forth a tiny ripple of hope." —Robert Kennedy
Funny Volunteer Quotes
Add a little humor to your organization's social media feed or newsletter:
"Here's to all volunteers, those dedicated people who believe in all work and no pay." —Robert Orben
"If you ever need a helping hand, it is at the end of your arm. As you get older, you must remember you have a second hand. The first one is to help yourself. The second hand is to help others." —Audrey Hepburn
"There are three kinds of people: Those who make things happen, those who watch things happen, and those who say, 'what happened?'"—Casey Stengel
"Every society honors its live conformists and its dead troublemakers." —Mignon McLaughlin
"I always wondered why somebody didn't do something about that. Then I realized I was somebody." —Lily Tomlin
"It's easy to make a buck. It's a lot tougher to make a difference." —Tom Brokaw
Volunteer Quotes Based on Organization Type
Encourage volunteers to feel a deeper sense of recognition and connection with your organization's mission. We've selected the following volunteer quotes to help you quickly assemble your next content piece:
Volunteer Firefighters and Volunteer Fire Department Quotes
"[People] have always volunteered; they just called themselves coaches, trustees, and firemen!" —Susan J. Ellis
"When [someone] becomes a fireman, his greatest act of bravery has been accomplished. What he does after that is all in the line of work." —Edward F. Croker
"Firemen never die; they just burn forever in the hearts of the people whose lives they saved." —Susan Diane Murphree
"Firefighters are some of the most selfless public servants you will ever encounter." —Denis Leary
"I can think of no more stirring symbol of man's humanity to man than a fire engine." —Kurt Vonnegut
"But sound aloud the praises, and give the victor-crown
"To our noble-hearted Firemen, who fear not danger's frown." —Frederic G.W. Fenn
"We reserve our deepest respect and admiration for those who volunteer for service and give their lives to help keep our nation secure." —Mitt Romney
Habitat for Humanity Volunteer Quotes
"Working with Habitat families is what I love most about my time volunteering. Each completed task helps a hardworking family get one step closer to having a place they can proudly call home." —Mark Sharp, Volunteer
"Volunteering at the Habitat ReStore is a fulfilling experience. It has given me a chance to meet and make new friends while contributing to the community." —Becky Morgan, Volunteer
"Working beside the new homeowners makes it much more personal because you think, 'This is the person who's going to lay their head on the bed at night.'" — Beverly Dale, Volunteer
"If our hopes of building a better and safer world are to become more than wishful thinking, we will need the engagement of volunteers more than ever." —Kofi Annan
"Volunteering is at the very core of being human. No one has made it through life without someone else's help." —Heather French Henry
Animal Shelter Volunteer Quotes
"What's one thing that we have in our lives that we can depend on? A dog or a cat loving us unconditionally, every day, very faithfully." —Jon Katz
"It takes nothing away from a human to be kind to an animal." —Joaquin Phoenix
"Until one has loved an animal, a part of one's soul remains unawakened." —Anatole France
"Dogs are our link to paradise. They don't know evil or jealousy or discontent." —Milan Kundera
"One small cat changes coming home to an empty house to coming home." —Pam Brown
"The greatness of a nation and its moral progress can be judged by the way its animals are treated." —Gandhi
"Animals are such agreeable friends—they ask no questions, they pass no criticisms." —George Elliot
Religious and Spiritual Volunteer Quotes
"Volunteers wear working boots but leave a trail of angel footprints." —Terri Guillemets
"Whoever volunteers good – then indeed, Allah is appreciative and knowing." —Qur'an 2:158
"Good deeds are done by good people." —Talmud, Qiddushin
"Each good deed strengthens our angel wings." —Terri Guillemets
"God has not called us to see through each other, but to see each other through." —Author Unknown
"We are all like one-winged angels. It is only when we help each other that we can fly." —Luciano De Crescenzo
"Charity knows neither race nor creed." —Talmud, Gittin
"In everything I did, I showed you that by this kind of hard work we must help the weak, remembering the words the Lord Jesus himself said: 'It is more blessed to give than to receive.'" —Bible, Acts 20:35
"Love and charity are service, helping others, serving others. There are many people who spend their lives in this way, in the service of others. … When you forget yourself and think of others, this is love! And with the washing of the feet the Lord teaches us to be servants, and above all, servants as He was a servant to us, for every one of us." —Pope Francis
Volunteer Coaches Quotes
"A good coach can change a game. A great coach can change a life." —John Wooden
"Set goals – high goals for you and your organization. When your organization has a goal to shoot for, you create teamwork, people working for a common good." —Bear Bryant
"Excellence is the gradual result of always striving to do better." —Pat Riley
"Success is peace of mind which is a direct result of self-satisfaction in knowing you did your best to become the best you are capable of becoming." —John Wooden
"Discover your gift, develop your gift, and then give it away every day." —Don Meyer
Hospice Volunteer Quotes
"One person caring about another represents life's greatest value." —John Rhon
"Those who bring sunshine to the lives of others cannot keep it from themselves." —J.M. Barrie
"My hospice training redirected my life and opened doors that have transformed me." —Volunteer, Talbot Hospice
"Too often we underestimate the power of a touch, a smile, a kind word, a listening ear, an honest compliment, or the smallest act of caring, all of which have the potential to turn a life around." —Leo Buscaglia
Famous Volunteer Quotes
People often trust the wisdom of those who have been innovators in their field, inspired lasting social change, or served their countries. We've compiled this list of quotes by presidents and other memorable people in history to help engage and motivate your volunteers:
Volunteer Quotes by Presidents
"We celebrate the selfless individuals around our country who channel their civic virtues through volunteerism… devoted to a cause bigger than themselves...Volunteers help drive our country's progress, and day in and day out, they make extraordinary sacrifices to expand promise and possibility." —President Barack Obama
"Every person can make a difference, and every person should try." –President John F. Kennedy
"Volunteering is an act of heroism on a grand scale. And it matters profoundly. It does more than help people beat the odds; it changes the odds." –William J. Clinton
Other Famous Quotes
"Spread your love everywhere you go." —Mother Teresa
"As you grow older, you will discover that you have two hands — one for helping yourself, the other for helping others." —Audrey Hepburn
"The best way to find yourself is to lose yourself in the service of others."—Gandhi
"Alone we can do so little; together we can do so much." —Helen Keller
"Life's most persistent and urgent question is, what are you doing for others?" —Dr. Martin Luther King, Jr.
"Service to others is the rent you pay for your room here on earth." —Muhammad Ali
Volunteer Quotes Images
Steal these quote graphics for your website, social media channels, or your next volunteer email!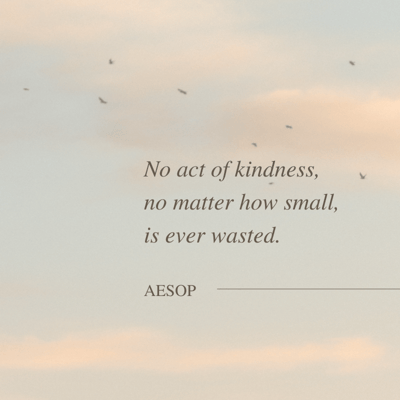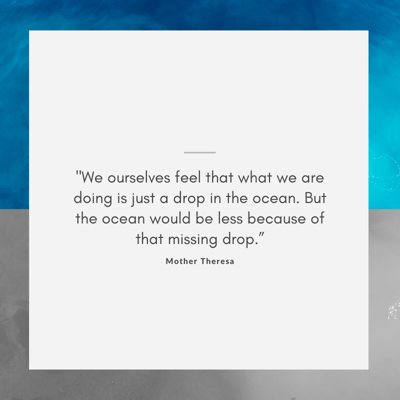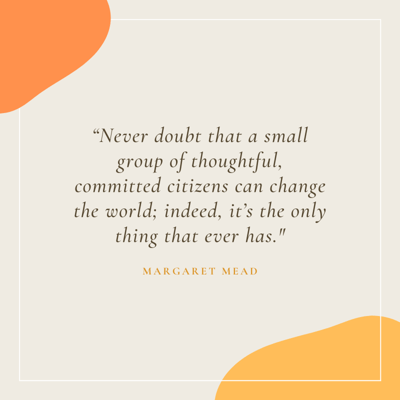 The benefits of using quotes in your different communication channels are clear. By including inspirational volunteer quotes in your organization's messaging, you can keep your supporters motivated and engaged.
Next time you reach out to your community, consider selecting a volunteer quote for your goal and your audience!
Additional Resources:
Volunteer Appreciation: A Guide to Thanking Your Volunteers
A Step-by-Step Guide to Writing a Nonprofit Newsletter
Smart Social Media Campaigns for Your Volunteer Program