As a volunteer coordinator, you're intimately familiar with the volunteer scheduling process. Whether you work with a nonprofit, school, or faith-based organization, you know that volunteers are critical contributors to the success of your mission, so it's vital to have streamlined volunteer scheduling procedures.
You're likely also aware of the challenges that accompany volunteer scheduling. The scheduling process involves many moving parts, from filling open volunteer slots to assigning volunteers to the best positions that match their skills. And if you're using an outdated or overly complicated system, these moving parts can quickly become disorganized, leading to low volunteer retention rates or poor productivity.
This is where quality volunteer scheduling software comes into play. Get Connected has been helping volunteer coordinators organize their supporters more efficiently for over ten years. So we understand that when organizations leverage proper management techniques with the right software tools, they can keep their volunteer scheduling process running smoothly.

This guide will cover common pain points in the volunteer scheduling process and how you can use the latest technology to improve your scheduling approach. We'll review:
Let's dive in!
Exploring Approaches to Volunteer Scheduling
Although every organization is different, there are a few common volunteer scheduling techniques that most organizations use. While some organizations prefer traditional approaches to scheduling, others are switching to modern tools that empower volunteers to take control of the scheduling process. We're going to review each of these strategies before exploring how technology can help simplify the process.
Creating a Volunteer Schedule
Creating a volunteer schedule and ensuring you have enough help to complete your projects is a major task. When managing volunteers and assigning shifts, you likely go through a process that looks like this: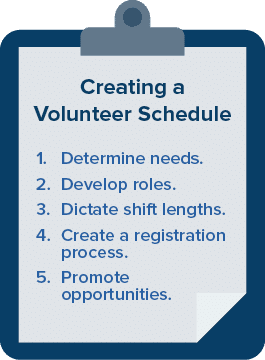 Determine needs. Perhaps you need assistance cooking and distributing meals for seniors in the community, stacking books at the library, or cleaning up a local waterway. Whatever the project is, you must first determine how many volunteers you'll need and for how long.
Develop roles. For certain projects, you might have all volunteers work on the same task, but others may require specialized skills or predetermined roles. For example, if you're building a new house for a community member, you'll probably need volunteers with specific carpentry skills to build the main framework. It's more efficient to think through these roles ahead of time so you can intentionally search for volunteers with the right skills.
Dictate shift lengths. Volunteer shifts can last anywhere from one or two hours to half or even full days, depending on the task. Consider offering various shift lengths to appeal to volunteers with busy schedules.
Optimize the registration process. This step tends to be highly individualized for each organization. Some organizations use spreadsheets, while others may use a volunteer management platform with customizable online registration forms. Volunteer registration forms typically request information such as names, contact information, emergency contacts, pertinent medical information such as allergies, and waiver signatures.
Promote opportunities to audience members. Once you've established your shifts and registration procedures, you must advertise your opportunities so you can get enough people to help out. Organizations typically turn to channels such as social media, email, and their website to recruit volunteers.
After you've established processes for each of these steps, your next goal is to maintain volunteer support through stewardship efforts. Gestures such as thanking volunteers and requesting their feedback go a long way toward retaining their support for the long term, rather than just a one-time experience.
In an ideal scenario, each of these steps flows together for a seamless process for both volunteer coordinators and volunteers themselves. But without a deliberate, tech-driven strategy in place, you'll probably run into several challenges, which we'll discuss more later on.
Traditional vs. Modern Scheduling Approaches
Some volunteer programs require a top-down approach to scheduling while others need a more complex system for managing volunteer schedules.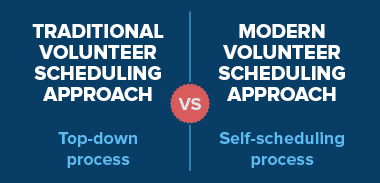 Traditionally, volunteer coordinators have often taken the approach of gathering everyone's schedules and coordinating all volunteers from the top down. This approach can be effective when planning small volunteer events or coordinating a volunteer day for a group of people.
However, coordinators who work with lots of volunteers may not have the time to manually align everyone's schedules or sign up volunteers themselves.
Therefore, plenty of organizations that rely on volunteer help have turned to modern, self-scheduling approaches. Advancements in technology opened the doors to software systems that empower volunteers to choose their own shifts and roles. This means volunteer coordinators spend much less time managing the scheduling process and more time training and engaging volunteers.
Self-scheduling systems also offer convenience to volunteers because they can sign up at any time without having to contact the volunteer coordinator. This plays into volunteer retention — a clunky, inconvenient system is frustrating and could discourage them from volunteering with your organization in the future.
If you're using an antiquated system, inefficiencies can happen whether you're using the top-down or self-scheduling approach. No matter which approach is best for your organization, you need a comprehensive scheduling platform that boosts your efficiency and simplifies the process for volunteers.
Common Volunteer Scheduling Challenges
If your organization still uses an outdated system that you're not 100% satisfied with, you'll likely run into several obstacles that make the scheduling process complicated or inefficient. These challenges may include:
Outdated Registration Systems
If you're using a system like an Excel spreadsheet or a Google Form to register volunteers, this will quickly become cumbersome as your volunteer program grows.
You may find yourself facing pages and pages of spreadsheet information or random Google Form submissions that lack all the information you need from volunteers, such as waiver signatures or volunteer history.
Also, it can be challenging to properly store all the information you need without a comprehensive volunteer database. A volunteer database will generate reports based on your volunteer data that provide a bird's-eye view of your program.
Inability to Efficiently Communicate
If you use a system that can't store volunteer data for the long term, you risk losing important contact information and volunteer preferences. This can make it challenging to keep volunteers engaged and updated on your ongoing activities.
Also, your current system may not be able to facilitate sending personal invites to volunteers for upcoming events. In contrast, a high-quality volunteer scheduling platform can retain information on volunteer history so you can reference volunteers' previous activities and send more personalized invites.
Finally, without an updated communication system, you could be missing out on new trends such as equipping volunteers with an app that conveniently connects them with new opportunities.
Failure to Accommodate Custom Schedules
You likely have a group of volunteers who work with your organization on a regular basis. Without a streamlined system, it becomes difficult to accommodate recurring shifts or other customized scheduling aspects.
This can lead to volunteer frustration or miscommunications, ultimately creating inefficiencies and wasting time when you have to figure out what went wrong and how to keep track of everyone's customized schedules.
Instead, you need access to a centralized scheduler that both your staff and volunteers can view so everyone's on the same page.
Lack of Access to Volunteer Preferences
Without a comprehensive volunteer database that's integrated with your registration software, it's challenging to track volunteer preferences or notes about their unique skills. Both of these aspects can help you build a stronger relationship with your volunteers because you'll be able to recognize and thank them for their specific contributions.
Plus, without an updated database, you might lose track of data on volunteers' skills and schedule preferences, therefore making it difficult to request their help on projects that require specialized skills.
Scheduling Becomes a Time-Suck
Conducting volunteer scheduling with a manual process can take up a lot of your time. The time you spend manually filling in volunteer schedules could be spent improving your volunteer program or working alongside volunteers to help them be successful instead.
Manual scheduling is not only burdensome, but it can also be inflexible. With a centralized volunteer scheduling platform, your entire team and volunteer base can access the online system any time and from anywhere.
These are a few common challenges we see with organizations that recruit volunteers, but with updated strategies and quality scheduling software, you can conquer these setbacks and improve the process for your team and your volunteers.
Leveraging Technology to Better Manage Volunteer Schedules
If you're ready to leave outdated scheduling systems and inefficient processes in the past, volunteer scheduling software is the tool that can get your volunteer program where you want it to be.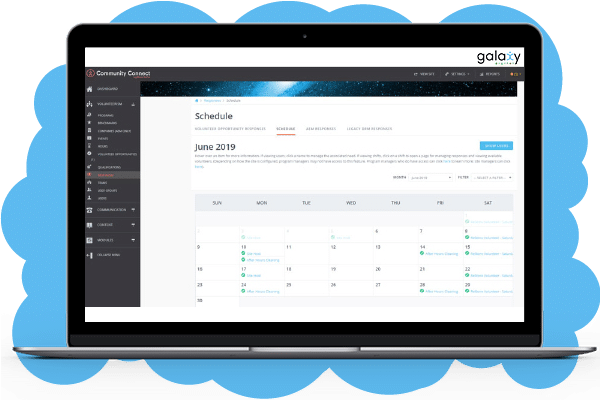 Volunteer scheduling software is an online platform that coordinators can use to boost efficiency and manage volunteers much more easily and effectively.
This technology can help you:
View critical information, such as open slots and volunteer schedules, all on one screen. This provides a thorough overview of the state of your volunteer program at any given time. Easily note any gaps or overlaps and quickly correct issues or determine which time slots you need to promote more.
Schedule volunteers or send invites using your volunteer data. This feature allows you to send messages to segmented groups, such as recent volunteers, active volunteers, or lapsed volunteers, to create specialized marketing content for each group. This can boost engagement because volunteers are more likely to interact with information that's relevant to them.
Coordinate both public and private opportunities for individuals and teams. This is especially effective if your organization works with corporations, civic groups, school groups, or other larger groups in addition to individual volunteers. These larger groups often provide a significant chunk of volunteer power and help make headway on lengthy or larger projects. Volunteer scheduling software can help you harness these benefits and provide a quality experience for larger groups, so they're more inclined to return.
Accommodate custom schedules and recurring shifts to appeal to volunteer schedules and preferences. If you have recurring volunteers from high school or college groups or corporate volunteers, you can set up ongoing shifts to accommodate these frequent contributors.
When researching the right volunteer scheduling software for your organization, search for a robust solution that can address your specific needs and requirements.
In this search process, it's also important to consider your volunteer program as a whole and what other technology tools may benefit your organization as you grow. We recommend assessing your future goals for how you envision the program developing, and choosing a solution that not only manages scheduling but other aspects of volunteer engagement to consolidate your processes even more.
Benefits of Using Volunteer Management Software
Volunteer management software can simplify your volunteer recruitment, management, and retention efforts. It can facilitate the process of building relationships with volunteers to retain their support over the long term.
Investing in a volunteer management platform not only gives your organization access to a scheduling solution but also the ability to:
Create volunteer profiles that collect and store information such as contact information, skills, and volunteer history. This allows you to personalize volunteer outreach messages by including specific references to an individual's history with your organization or specific skill set.
Track volunteer hours as a courtesy for individuals who need volunteer logs to fulfill community service or school requirements. You'll also be able to maintain accurate records for your own organization to analyze trends and measure volunteer impact.
Facilitate communications with email and SMS tools to keep volunteers updated on any scheduling changes. You can also automate announcements and schedule reminders so everyone stays on the same page.
Generate customized and pre-built volunteer reports to assess the program's productivity and growth. Use these reports to analyze what's going well and what needs improvement to boost the effectiveness of the program as a whole.
Plan one-time and recurring volunteer opportunities based on need. Easily accommodate the preferences of both individuals and groups to ensure everyone has a good experience.
The greatest benefit of volunteer management software is that it brings all aspects of your volunteer engagement strategy under one roof. Your volunteer database integrates your scheduling tool, communications platforms, and reporting system for seamless data transfers between each software tool. This saves your staff plenty of time by avoiding manual data input and allows you to maintain the accurate records you need to engage volunteers effectively.
Our Top Volunteer Scheduling Software Recommendation
After reviewing these features, one volunteer scheduling solution stands out: Galaxy Digital's Get Connected.
Get Connected is a one-stop, all-in-one volunteer management solution that helps boost volunteer engagement, build long-term relationships, and track involvement.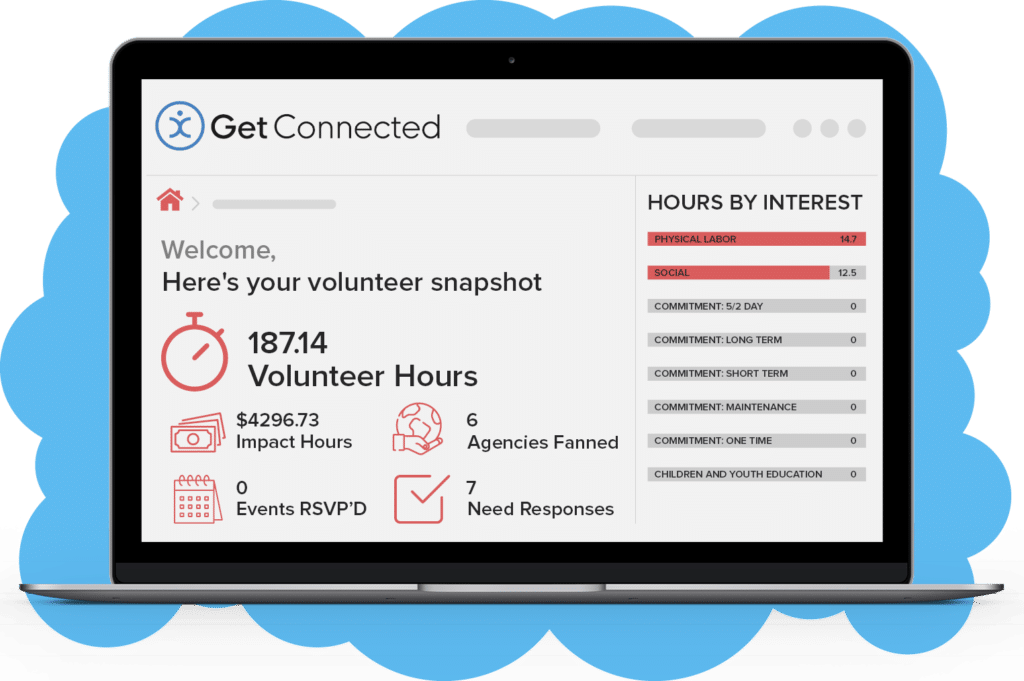 With Get Connected, you can not only manage volunteer scheduling with all the features listed in the previous section but also:
Use the free volunteer app to track hours and connect with volunteers. This gives volunteers a convenient way to log their hours, check in to shifts, and view their impact.
Access volunteer profiles to personalize their experience. View volunteers' individual preferences and skills to personalize your messages to them by sending opportunities that align with their interests and goals.
Automate communication for convenience and to manage volunteer retention. Create filters for different segments of volunteers and send each group relevant information.
Track volunteer waivers to store e-signatures and protect your organization from liability.
Manage group engagement to display collective team impact and personalize communications to larger groups.
Manage events by creating custom landing pages, receiving RSVPs, and recruiting event volunteers.
Assess volunteer impact with reports to analyze marketing strategies, volunteer impact, and volunteer retention, and learn from your past successes and failures.
It's important to invest in a volunteer management system that grows with your volunteer program, saving you time and money in the long run. By investing in one dedicated solution from the start, you can learn the ins and outs of your volunteer management system and adjust to changes on the fly.
Volunteer scheduling doesn't have to drain your organization's time and resources. With the right technology solutions, you can streamline your scheduling process to provide a better experience for both your staff and volunteers.
If you're interested in learning more about how volunteer management software, here are a few additional resources to check out: