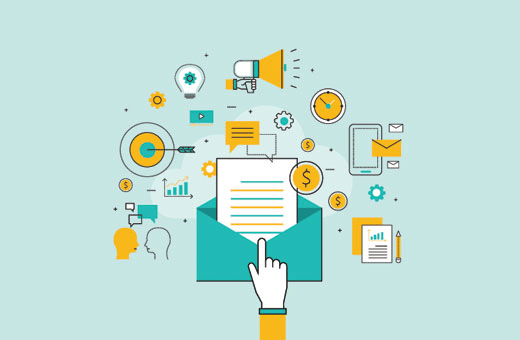 Email marketing strategies have always helped foster better engagement among volunteers. Here are some best practices for email marketing:
1. Reach out to your first-time volunteers
Send friendly emails for a few days or weeks to initiate a healthy relationship with your newly joined volunteers. You can also send a welcome email or an appreciation email on their first volunteering campaign or task.
2. Stay accessible
Always foster two-way communication. You can assign one of the team members as a point of contact between you and your volunteers.
3. Be clear with your CTAs
Stay unambiguous when it comes to your call to action. It would help if you were very specific in what tasks you are asking them to do.
4. Listen to them consistently
Follow their communication preferences to offer them opportunities and provide information on topics of their interests.
5. Connect with your volunteers on a personal level
Understand your volunteers, who they are, what their interests are, and more. Your connection could help you initiate conversations and motivate them to do better.
6. Write approachable emails
Open opportunities for engagement by using friendly and conversational emails. Emails will make you approachable as well as open to ideas, suggestions, and feedback.
Top Tactics to Utilize Email Marketing for Better Volunteer Engagement
Along with the above tips, mentioned below are our top smart email marketing tactics for establishing volunteer engagement. Know your volunteers better and build a strong volunteering community with these tips.
Be open to their suggestions.
Being open to your volunteers' suggestions makes them feel they are a valuable part of your organization. Often volunteers come with a different perspective and approach as they focus on details that you might miss. While you focus on the bigger picture, they help you understand the areas where you can work to increase your donor base.
Sending a thank you email along with the suggestions and feedback form can spark a healthy conversation with your volunteers. You can include a suggestion space where your volunteers can bring their recommendations on recent events or tasks. Or you can also conduct an open forum for discussion where they can come up with their valuable ideas and give feedback. The forum will help improve your operations and encourage your volunteers to participate. Later, implement these recommendations and ideas for your future initiatives and activities.
Express gratitude
What can be a better way to foster volunteer engagement than expressing your gratitude towards your volunteers? To motivate your volunteers, send them customized emails when they do something noteworthy. Such acknowledgments make them feel appreciated for their efforts. When they feel good about their accomplishments, this also increases the chances of future engagement.
You can also send customized emails by adding pictures of all your volunteers from the recent event. This expression means that organizations value their contributions, irrespective of how small or trivial they appear.
Let them feel involved.
Volunteers are valuable assets to your organization. Making them feel appreciated is the first step towards creating a healthy relationship. But, they would work better only if you let them be a part of your achievements and milestones. If you have attained the next target of the donor base, celebrate with them. They would love to know where their contribution stands. Also, let them know whether their goals align with your organizational goals too.
Send them a personalized thank you email with a timeline of their contributions. You can include tasks they accomplished, events they managed, and campaigns oversaw, connecting them to funds they helped to raise.
You can also learn from the specialists on how to create custom email templates to appreciate your volunteers.
Keep them educated on the cause and its impact.
What connects you and your volunteers? It is the cause and mission of your organization. This is quintessential to keep them engaged and educated. Educate them with organizational updates, recent fundraising campaigns, and more. Don't forget to provide them with information on any upcoming events and the ongoing tasks to encourage their participation.
A well-educated volunteer will turn out to be a valuable asset to your organization. To ensure they stay updated, you can ask your volunteers if they want to receive any free material about your work. Or, offer them free subscriptions of materials to educate them.
Provide Impact Updates
Volunteers spend their time supporting your organization to accomplish its mission. They work for your cause caring about how impactful their work is. Inspire them by continually providing them updates on the impact they provide with their endless supportive work.
Share stories of how impactful their work has been for the people. You can publish their work in your organization's magazine or website. Or send them monthly updates on their impact done to the organization. These updates are a powerful way to let your volunteers get in touch with your organization regularly. Also, it makes them know their contributions are highly appreciated and valued by the people they've helped.
Use Volunteer Management Software
When you are trying to engage more volunteers for your organization, it becomes imperative to communicate relevant information with them at the right time. It will give you the power to adhere to the marketing triad by targeting the right person with automation. There are several tools available that can assist you with this. With these tools, you will be able to get a holistic view of all your marketing efforts and make the most out of it.
---