Volunteer Coordinator Interview template
Volunteers make your program possible, and recruiting the right volunteers for your organization is essential. Equally essential? Hiring the right volunteer coordinator for your organization. A qualified, enthusiastic volunteer coordinator motivates volunteers, communicates well, and effectively organizes volunteer scheduling. So, we've compiled these volunteer coordinator interview questions (plus answers to listen for) to ensure your next hire is a great addition to your program.
What Qualities Should You Look for in a Volunteer Coordinator?
Before formulating your volunteer coordinator interview questions, you'll want to consider the qualities you're looking for in a volunteer coordinator. What qualifications should a volunteer coordinator possess? What values are important to your organization? What skills are required of a volunteer coordinator? If you're not sure how to answer these questions just yet, start with general requirements for the position.
Here's what to look for:
Interpersonal Communication Skills
Great candidates are strong communicators. They inspire support from people who don't get paid for their work. And they must consistently and effectively communicate your program's mission. They must keep in contact with volunteers, juggling various communication methods. Finally, the volunteer coordinator must be able to address a range of concerns from diverse voices with patience and compassion.
Leadership Skills
The volunteer coordinator must be able to motivate and lead volunteers; they must assist with forging partnerships to effectively carry out your program's mission. Remember, good leaders also ask questions and seek answers. Self-motivated individuals with a willingness to learn can make for a valuable addition to your team.
Problem-Solving Skills
Your candidate doesn't need to have all the answers. But those who excel at problem-solving are more likely to adapt to the role. A strong problem-solver can also find creative new ways to engage volunteers with your program.
Job-Related Experience
Generally, the level of experience required of the volunteer coordinator will depend on the responsibilities of the position. While some volunteer coordinators are strictly in charge of scheduling volunteers, other organizations rely on this role to manage the entire process, from sourcing funding to volunteer recruitment. Candidates who have volunteered themselves enter the role understanding the process firsthand.
Remember, these are just some characteristics to look for in an applicant. A successful candidate is an individual who shares your organization's enthusiasm for the cause. Therefore, the ideal candidate will look different for each organization.
So, what's the bottom line?
Get to know your candidates. Ask the right volunteer coordinator interview questions to develop a deeper understanding of their skills, experience, strengths, and values.

Download FREE Volunteer Coordinator interview templates >>
More Considerations for Conducting Your Volunteer Coordinator Interview:
In addition to conducting an interview, take these additional steps to help ensure you're hiring the candidate that's right for your organization.
Reach Out to Your Network
Bolster your search for the right candidate by posting job openings through employment tools like LinkedIn, as well as your social media platforms. Your organization likely operates at the heart of your community, so reach out to groups like these for excellent referrals:
Fellow staff and volunteers
Partner organizations
Community-based diversity engagement organizations
Local campuses
Provide a Volunteer Coordinator Job Description
It's essential that prospects understand what they're applying for. This is one of the simplest methods of screening candidates. Wherever you post the job, provide a job description with roles and responsibilities of the position, minimum requirements, application procedures, and a brief description of your organization and its mission.
Don't Forget About Background Checks
Many of your volunteers may complete a background check, and so should your volunteer coordinator candidates. The background check is an important step in the applicant screening process to better safeguard your community.
Next, your applicants are ready for their interview. It's time to get to know them.
But what questions do you ask?
Get inspired with this list of interview questions to ask a volunteer coordinator applicant.
Volunteer Coordinator Interview Questions
Here are some volunteer coordinator job interview questions and answers to listen for. The questions are organized based on the type of information you would like to glean from the interviewee.
General Nonprofit Volunteer Coordinator Interview Questions and Answers
Start your interview by introducing your organization and its mission. Then, start with these general volunteer program coordinator interview questions (and answers) to get learn more about the candidate's story.
Tell me about yourself.
Why do you want to work with our organization?
What causes are you passionate about?
Questions like these encourage applicants to share their enthusiasm for your organization and its cause. So, listen for answers that demonstrate the applicant's core values. Does the applicant's world view align with your organization's? The volunteer coordinator represents your organization and your volunteers. Therefore, it's important that they believe in the work they're doing.
What makes you a good fit for this position?
What are some of your greatest strengths? How will these qualities help you in this role?
Do you have experience working with a nonprofit organization?
What volunteering experience do you have? What motivates you to volunteer?
Have you used a volunteer management program or database before?
What other tools have you used that might be helpful for recruiting and scheduling volunteers?
These typical interview questions for volunteer coordinator applicants will help you understand more about their job-related qualifications. Applicants should discuss any education, employment, and volunteer experience that may help them to excel in the position. It will also help you gauge any gaps in knowledge or experience to better direct on-the-job training.
Volunteer Coordinator Interview Questions About Interpersonal Skills
Volunteer coordinators should be able to demonstrate strong interpersonal skills. Candidates should be able to communicate effectively with people from all walks of life. They should also have some understanding of how to communicate in a way that inspires volunteers and donors to support your cause.
How would you motivate or reward volunteers?
How would you promote the recognition of volunteer work?
What qualities would you look for in a prospective volunteer?
The candidate's answers should help you learn more about their knowledge of volunteers and what motivates them to participate. Listen for answers that offer creative solutions to common challenges like volunteer engagement and retention. Don't be afraid to ask follow up questions like these to further assess their ability to communicate with others:
Can you describe your communication style?
How would you communicate with a difficult volunteer?
What would you do if faced with an unhappy volunteer?
Provide your candidate with a possible scenario like this. Based on their response, you can better gauge whether the candidate is prepared to take on some of the challenges of the role.
Volunteer Coordinator Interview Questions About Leadership
Describe a time when you demonstrated leadership.
Describe a time when you collaborated effectively with others.
Describe your leadership style.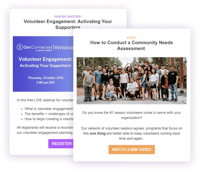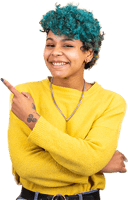 Join 20,000+ Volunteer Leaders
Get impact-boosting articles, guides, and webinar invites to help grow your volunteer program
Volunteer Engagement Coordinator Interview Questions
The role of a volunteer engagement coordinator may involve additional responsibilities beyond scheduling. Typically, the volunteer engagement coordinator is also responsible for engaging community partners and donors, organizing volunteer training, and mobilizing volunteers based on community needs. These questions, in addition to the interview questions for a volunteer coordinator, will challenge candidates to consider creative solutions to volunteer engagement in particular.
How would you encourage diversity among volunteers?
What tools would you use to recruit community partners and volunteer opportunities?
What experience do you have delivering presentations and training?
Do you have any experience in conducting outreach and organizing events?
How would you inspire donorship among your volunteers?
Remember, the purpose of the job interview is to get to know more about your candidate, their strengths, gaps in knowledge, and values. So, in addition to asking the right questions, listen attentively, invite questions from the interviewee, and follow up promptly with both successful and unsuccessful candidates. We hope these volunteer program coordinator interview questions and answers will help you find the individual that's right for your organization.
>>> Looking for questions for recruiting volunteers? Learn more about non profit volunteer interview questions.