Like many nonprofits, churches and faith-based organizations rely on the generous contributions of volunteers to achieve a core mission. Without volunteers, some of your most cherished programming—from child care to choir—wouldn't exist.
But coordinating numerous volunteer schedules quickly becomes tedious without the right tools and technology. Fortunately, we know a thing or two about technology that simplifies volunteer scheduling. Galaxy Digital connects church and faith-based volunteer coordinators with the volunteer management tools needed to manage the scheduling process successfully.
There are many church volunteer scheduling software options to consider. Most importantly, your ministry must find the right tool for your needs. To help, we'll explore these essential church volunteer scheduling software topics:
Ready to learn more about church volunteer scheduling software? Let's dive in!
Features of Church Volunteer Software
A quality church scheduling software should serve multiple functions and offer tools that help coordinators streamline volunteer shifts and calendars. More robust software options offer additional features beyond scheduling, which means you're getting more out of your investment.
So, what features should church volunteer coordinators look for in a church volunteer scheduling software?
Your platform should allow you to:
Coordinate complex volunteer schedules with ease.

Managing volunteer schedules

becomes more complicated the more shifts you offer

and

the more volunteers you take on. That's where scheduling software comes in. Customizable calendars and volunteer self-scheduling tools allow your program to grow!

Create and store profiles for each volunteer.

Each volunteer can register with your site, indicate their interests and favorite activities, and upload important qualifying documents like waivers and licenses.

View and fill available shifts.

You rely on

lots

of helping hands to get the job done. Your system should enable coordinators to view availability, send automated invites to available volunteers, and automatically cap attendance when opportunities are filled.

Simplify the check-in and check-out process

. Volunteer scheduling software offers contactless and

online volunteer check-in

through any device to simplify attendance tracking.

Permit supporters to log their hours.

When volunteers log their hours, you don't have to! Your system should provide

multiple ways of logging hours

, including automated hours tracking at check-in. Manually recording volunteer time becomes a thing of the past!

Build relationships using email messaging and automated messaging tools.

Send automated reminders and updates when a volunteer completes specific actions like signing up for a shift or logging their hours. This allows coordinators to engage volunteers more readily.

Accommodate multiple ministries and volunteer groups.

Coordinating volunteer groups, families, and even multiple ministries is no simple task. A church volunteer software can help simplify

group scheduling

. A robust system will even track separate volunteer data for each group without added work for the volunteer coordinator!

Generate reports to share with your community.

Your congregation and volunteers want to know how your programming impacts the community. A church volunteer software can track your volunteers' hours and generate

impact reports

to download and share.
Free vs. Paid Volunteer Scheduling Options
As with any investment, you'll need to consider your ministry's budget. In your search for volunteer scheduling software, you'll likely encounter a range of pricing options. These options include free online tools and paid software.
Let's explore both free and paid scheduling tools.
What can free volunteer scheduling tools offer?
Free volunteer scheduling software can provide basic functionality for church volunteer programs, making it an excellent option for smaller volunteer programs with limited resources. A volunteer coordinator can collect availability, create and share conflict-free calendars, and store contact details in a volunteer database.
Are there any drawbacks of free volunteer scheduling software?
Plenty of scheduling tool providers offer free accounts, but features are typically limited. Free options usually cap the number of volunteers and administrators that can access an account.
As your program grows, you'll likely need to pay for additional users. Or, you'll have to or delete existing users to maintain your free service. You may also encounter advertisements and other sponsored content throughout the platform.
What can you get from a paid scheduling tool?
Of course, paid volunteer scheduling platforms will require a cost (typically in the form of a monthly or annual subscription). However, paid plans can offer the robust volunteer scheduling tools you're looking for.
A volunteer scheduling software subscription offers unlimited volunteer sign-ups and administrator access. Volunteers will have access to self-scheduling tools, hours tracking, and individualized profiles.
The best software serves multiple functions, so you're getting the most out of your investment. In other words, your scheduling tool becomes your go-to volunteer management and engagement software, communications hub, and much more!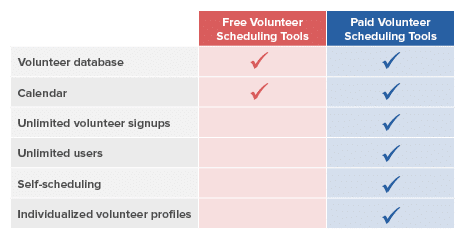 The takeaway?
Generally, you get what you pay for. If you feel as though your program is outgrowing your free scheduling tool, it may be time for an upgrade!
When choosing a paid option, always ask for a free demonstration or trial of your volunteer scheduling software choices.
Benefits of Church Volunteer Scheduling Software
Volunteer scheduling software can change the way you coordinate volunteers. It moves the scheduling process online within a single system, providing countless benefits far beyond the capabilities of free scheduling software and multiple spreadsheets.
Both volunteer coordinators and their volunteers will enjoy the benefits of church scheduling software.
The Benefits of Church Volunteer Scheduling Software for Volunteer Coordinators
For volunteer coordinators, church volunteer scheduling software can:
Save time.

Manual scheduling is incredibly time-consuming. A user-friendly church scheduling system empowers volunteers to find opportunities they're passionate about and

easily schedule shifts

that work for them.
Prevent scheduling conflicts.

The system will store each volunteers' availability allowing coordinators to schedule the help they need when they need it. The system should also notify coordinators when a scheduling conflict or double-booking occurs.

Build better relationships with outreach tools

. Imagine scheduling and communicating with your volunteers through one integrated system! A church scheduling software streamlines your workflow, saving you time and resources in the long run.

Simplify the reporting process

. Does your church currently have a system for tracking volunteer data? Your program needs a way to assess volunteer efforts. Take advantage of volunteer scheduling software that comes with built-in data tracking and reporting.

Help retain volunteers.

Volunteer retention

is key to your program's success. A user-friendly scheduling system reduces barriers to getting involved. It also keeps them happy by delivering a positive experience from sign-up to check-out!
The Benefits of Church Volunteer Scheduling Software for Volunteers
Volunteers will also benefit from your investment. Volunteer scheduling software allows them to:
Find the right opportunity.

Your supporters don't want to scroll through long lists of opportunities to locate the one that's right for them. Volunteer scheduling software saves time by making the right opportunities easy to find.

Easily register and schedule themselves

. If you want to get volunteers through the door consistently, you must make it easy for them to access opportunities. A convenient online tool empowers volunteers to self-select shifts and

manage their calendars

.

Get volunteering fast

. Avoid common scheduling frustrations and pitfalls. Once they register, volunteers can sign waivers electronically and upload any supporting documentation with a quick digital process. Eager supporters can get started volunteering without the tedious back and forth.

Track their hours

. Empower volunteers to build profiles, track their own hours, and view their impact. Your system will continue to inspire supporters while

you

save time.
Our Top Recommendation for a Church Volunteer Scheduling System
The best software strikes a balance between user experience and cost. The system needs to be simple for volunteers to use and just as intuitive for volunteer coordinators. It should also fit your budget without sacrificing functionality.
Fortunately, we have the scheduling solution that accomplishes all of the above.
Get Connected is an all-in-one volunteer scheduling solution that comes pre-built with the features church volunteer coordinators need. These features include:
Quick volunteer check-in and check-out

– You no longer need to rely on paper sign-in sheets to track volunteer attendance and time. A web-based

check-in tool

means volunteers can check in to and out of their shifts using a tablet, laptop, or smartphone.

Easy scheduling for multiple ministries

–

Not every church volunteer scheduling system accommodates numerous ministries and programs. Thankfully, Get Connected allows multiple administrators and unique pages to engage each ministry.

Dynamic hours logs

. Volunteers log their hours using the volunteer mobile app. It's contact-free and fast, so your organization never misses an hour.

Powerful engagement tools

– Clear communication is essential for managing volunteers well. And volunteer coordinators need an efficient way to reach volunteers. Built-in email,

text messaging

, and automated reminders streamline your program's scheduling, communication, and engagement processes.

Infographic reports –

Generate, export, and share volunteer impact with your church community in just a few clicks. Reports update live, which means no more manual data input here!

Integrated waivers and background checks –

Keep your community safe with

eSign liability waivers

that are stored in your volunteers' unique profiles. Plus, our background check partnership makes for painless volunteer screening (finally!).

Recruitment and engagement capabilities

– Get the volunteers you need and propel your church's volunteer program forward with the system's

social media integration

.
In addition to these features (and more), our clients love Get Connected for its intuitive, user-friendly interface. Plus, you'll get friendly customer support that helps ensure you're getting a product that fits your needs.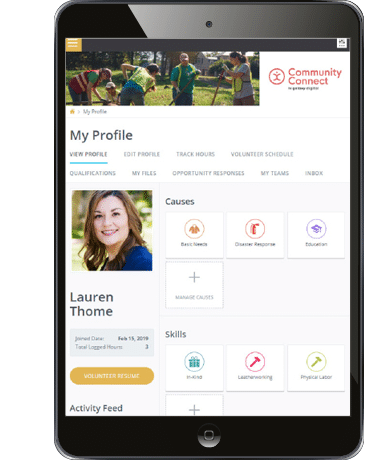 The Best Solution for Faith-based Organizations
Get Connected is your church's top pick for volunteer scheduling software—and it's also much more! We serve hundreds of faith-based organizations across the country, and they have some pretty cool things to say about our software.

Additional Church Volunteer Scheduling Resources
Managing timesheets is time-consuming. Church volunteer scheduling software eliminates inefficient manual scheduling. Therefore, volunteer coordinators can spend more time on high-impact tasks, like volunteer outreach and program development.
For more church volunteer management best practices, check out our curated list of resources below.
Additional Resources: