Is your organization maximizing volunteer potential in your community?
Volunteer management is central to a successful volunteer program. But when organizations are stretched thin, volunteer managers are often the first to lose vital resources.
That's why volunteer managers need the best tools to take on important yet time-consuming administrative tasks.
But with so many tech options available, how do you find the right volunteer management software for your organization?
Navigating the tech world can feel daunting. Fortunately, we've worked in the volunteer management space for over a decade and have condensed our research into one easy guide.
Keep reading and learn how to choose a volunteer management software that works best for your organization.
Here's what you'll learn in this article:
Volunteer Management Software: FAQs
First, here are a few things to know before investing in a volunteer management system:
What is volunteer management software?
Volunteer management software is designed to help organizations strengthen relationships with volunteers and manage resources more effectively. More specifically, it assists with a range of administrative activities associated with each stage of the volunteer management lifecycle, including:
Robust volunteer management software automates many processes, like volunteer hour tracking, reporting, and communications. Ultimately, the system will save volunteer coordinators hours of administrative time, allowing them to focus on more impactful tasks, like serving the community.
Volunteer management software has many benefits. While its core purpose is to simplify the day-to-day tasks of volunteer management, the technology can also:
Enhance the volunteer experience
Increase administrative efficiency
Centralize multiple volunteer management tools
Build community and grow your network
Save time by automating administrative processes
Improve data accuracy and win grants
Grow organizational capacity and boost return on investment
Top Reasons Volunteer Programs Use Technology
How do volunteer professionals like you use technology?
Here are the top 5 reasons volunteer programs use technology:
Opportunity listings
Volunteer intake
Volunteer communications
Time tracking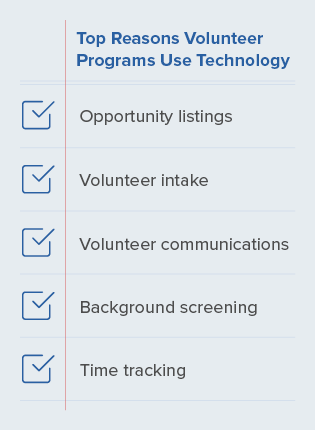 Volunteer management software can help nonprofits and volunteer programs of all sizes accomplish these activities and much more!

How much does volunteer management software cost?
In your search for volunteer management software, you'll likely encounter a range of pricing options, including free online tools and paid software.
Let's explore both free and paid scheduling tools.
Free Volunteer Management Tools
Free volunteer scheduling software provides basic functionality, making it an excellent option for smaller volunteer programs with limited resources. For example, a volunteer coordinator can collect availability, create and share conflict-free calendars, and store contact details in a volunteer database.
Are there any drawbacks of free volunteer scheduling software?
Plenty of scheduling tool providers offer free accounts, but their features are typically limited. Free options usually cap the number of volunteers and administrators that can access an account.
As your program grows, you'll likely need to pay for additional users. Or, you'll have to delete existing users to maintain your free service. You may also encounter advertisements and other sponsored content throughout the platform.
Paid Volunteer Management Software
Of course, paid volunteer platforms will require a cost, typically in the form of a monthly or annual subscription. However, paid plans can offer the robust volunteer scheduling tools you're looking for.
Volunteer management systems range in price. Some providers offer all-in-one software with a range of functionality, tools, and integrations. These comprehensive systems usually come with a higher price point but can be more cost-effective if the system meets many of your organizational needs.
Other software providers sell a-la-carte management tools in which customers choose the products and features based on their needs and budget. Some providers even offer free basic tools, like online scheduling, with feature upgrades available for purchase. While you'll pay less initially, you may decide you need additional functionality as your program grows. These options can add up quickly, costing you more in the long run.
Do I need to upgrade from my free volunteer management tools?
Free scheduling tools (like SignUp Genius) certainly have merit. They're often easy to use for small nonprofits, but many organizations eventually outgrow these free tools.
Free online volunteer tools are typically limited in functionality. And your disconnected systems, from spreadsheets to calendars, can quickly become unmanageable. That's why many organizations find relief by investing in an all-in-one volunteer management system.
What is the best volunteer management software?
The best software strikes a balance between user experience and cost. The system needs to be simple for volunteers to use and just as intuitive for volunteer coordinators. It should also fit your budget without sacrificing functionality.
Our top recommendation?
Get Connected is an all-in-one volunteer management system that comes pre-built with the features that volunteer coordinators need.
There are lots of reasons to choose Get Connected:
Save time. Get Connected empowers volunteers to find opportunities they're passionate about, easily schedule shifts that work for them, and automatically track hours.
Build better relationships. It's easier than ever to connect communities; imagine recruiting, managing, and engaging community members through one integrated system! Get Connected volunteer management software streamlines your workflow, saving you time and resources in the long run.
Simplify the reporting process. Does your program currently have a system for tracking volunteer data? You need a way to assess volunteer efforts and share your impact. Get Connected comes with built-in data tracking and compelling reporting tools.
Retain volunteers. Volunteer retention is key to your program's success. This user-friendly system reduces barriers to getting involved, keeping your volunteers happy by delivering a positive experience from sign-up to check-out!
And many more! Clients love Get Connected for its intuitive, user-friendly interface. Plus, you'll get friendly customer support that helps ensure you're getting a product that fits your needs.
Learn more about Get Connected. Sign-up for a free software demonstration!
How do I choose a volunteer management system?
Finding the best volunteer management software doesn't have to be complicated! Keep reading for your guide to choosing the best volunteer management software for your organization:
How to Choose a Volunteer Management Software in 8 Steps
Each organization has its own management needs. Taking the time now to source the best technology for your needs will save your organization time and resources in the future.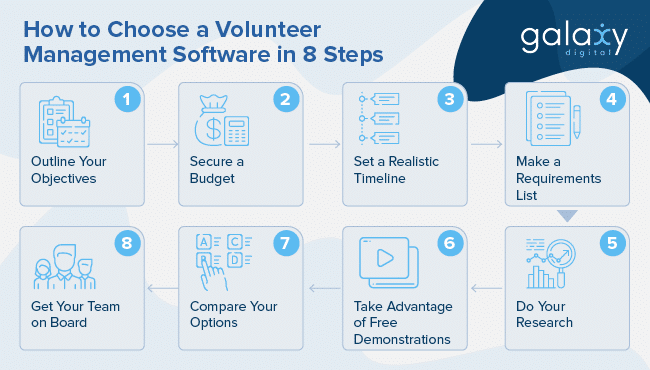 Follow these simple steps for choosing the best volunteer management software:
1. Outline Your Objectives
Before making your purchase, you'll want to place your investment into the broader context of your organization's mission, needs, and objectives. Use these guiding questions to shape your case for volunteer management software.
Mission
Keeping your mission in mind helps ensure you're making a decision that benefits all areas of your program:
What is your volunteer program's mission?
How will volunteer management software help you deliver on your mission?
Needs
You know your day-to-day volunteer management needs better than most. But be sure to involve staff, stakeholders, and volunteers to understand pain points and gaps from various perspectives. Your answers to these questions will help you identify the type of solution you're looking for:
What are your volunteers' preferences and needs? What are their current frustrations?
What volunteer management needs and gaps have you identified?
How can your volunteer management process be improved?
Why does your program need volunteer management software to succeed?
Objectives
Once you understand your management needs, create concrete objectives for your software to help you focus your search and make a case for a new tool:
What do you hope to achieve with volunteer management software?
What problems would you like the system to solve? How can technology alleviate challenges and help you achieve your objectives?
How will a new system fit into your existing workflow? Who will use the software and how?
Objectives Examples:
Increase recruitment of skilled volunteers
Communicate with volunteers and community partners more efficiently
Simplify scheduling and hours tracking
Increase bandwidth or operational efficiency
Retain volunteers by improving the volunteer experience
From here, you should be able to determine the type of technology you need to address current needs and workarounds. For example, you may decide you need an all-in-one solution over simpler tools.
2. Secure a Budget
You've decided that your organization needs a technology upgrade. Next, you'll need to think about how you'll pay for it. Securing any kind of budget in the nonprofit world can be a challenge. However, some preparation before beginning the buying process can help ease any budget-related frustrations.
Budget Considerations
Here are some considerations to help you determine your budget for volunteer management software:
Budget cycle – Many organizations find they need to work within their budget cycles to fund investments like new technology. Likewise, the beginning of a budget cycle can also bring about new funding opportunities. So, don't feel disheartened if volunteer management software isn't in the cards this quarter. Plan ahead, so you have the funding in place to make a timely purchase.
Funding options – If you don't have the budget for new technology, research outside funding options to cover the costs of your new system. Some awarding organizations offer grants specifically for technology.
Personnel Requirements – From research to ongoing maintenance, you'll need someone to manage the software. While volunteer management software can reduce administrative time, you still want to account for staff time when making your investment.
Return on Investment – Smart organizations not only account for spending when making a purchase, but they also take into account the return on investment. An all-in-one solution can increase your return on investment by streamlining and centralizing your tools and processes.
Remember, the cheapest software isn't always the most cost-effective. Hidden costs and add-ons can multiply down the road. Be cautious of providers that charge you per volunteer or administrator. These options are great for smaller programs. However, as your program grows, you'll find the price can multiply quite quickly.
Outlining a Business Case
If you're planning on purchasing volunteer management software, you may have to justify your investment to stakeholders (more on this step later). Get ahead of the game by outlining a business case.
A business case justifies resource or project expenditures. Therefore, your business case should evaluate the viability of your investment (volunteer management software) in light of the following terms:
Benefits – What challenges are you hoping to address with this investment? What will the investment achieve? Refer to the objectives outlined during Step 1.
Costs – How much do you plan on spending? Include the initial cost of the software, as well as costs associated with maintenance and growth.
Risks – What risks are involved in the project? How do you plan to manage these risks?
Plan – What stages are required for implementation? Who will be involved in the selection, implementation, and ongoing management of the project?
Writing a compelling business case can help you secure a budget from your board and funding from outside sources.
3. Set a Realistic Timeline
Avoid buyer's remorse by allocating enough time to choosing and implementing the right software option for your organization. Plus, creating a schedule for choosing volunteer management software can also help ensure that you're staying on track–that means getting the tools you need when you need them!
Time Considerations
You'll want to create an estimated timeline for making your purchase. Before bringing your timeline to stakeholders, make sure to heed these considerations:
Budget and funding cycle – When will you be able to secure the funding for your purchase? Neglecting to account for budget cycles and funding can hold up major purchases.
Time for research – Give yourself several weeks to research software options, demo the software, and bring your choices to stakeholders.
Major upcoming events – Pay attention to your events calendar. If you're gearing up for a busy season, give yourself more time to choose and implement your new volunteer management software.
Onboarding time – Robust software can take several weeks (even a few months) to implement. Build in time for training staff and volunteers on your software; it may take some time for users to adjust to new processes.

4. Make a Requirements List
You know that your volunteer program needs better tools for meeting objectives. Now it's time to get specific about the types of features and functionality you're looking for.
Compile a list of features that are most important to your organization: your must-haves. Then determine the capabilities that you would like but may not be a deal-breaker if unsupported. Finally, use a simple checklist to help you choose the software that best matches your organization's needs.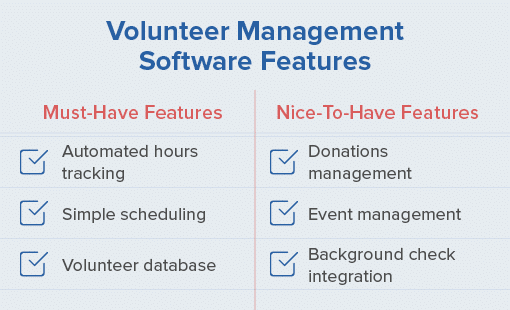 Don't forget to confer with team members, community partners, and volunteers on the features they'd like to see.
Unsure about what volunteer management software can do for your organization? Refer to our mega-list of volunteer management tools and features below!
Top Volunteer Management Software Features
Volunteer management software can assist throughout the entire volunteer management lifecycle, from recruitment to reporting. Review this comprehensive list of volunteer management features to help you compile your priority list:
Recruitment Tools
Get volunteers in the door with tools designed to boost your recruitment efforts:
Volunteer Sign-Up – Simple sign-up makes it easy for enthusiastic volunteers to get involved. Look for a system that allows volunteers to browse and search opportunities online and sign up for shifts in just a few clicks.
Volunteer Database – Collect contact details, schedules and availability, and more. Some systems offer volunteer profiles that store information like their volunteer preferences, personalized calendars, and qualifying documents.
Team Registration – Coordinating volunteer groups, families, and teams is no simple task. Volunteer software can help simplify group registration and scheduling. A robust system will track separate volunteer data for each group without added work for the volunteer coordinator!
Waivers and Background Check Integration – Keep your community safe with liability waivers that volunteers can sign electronically. Some software providers partner with background check companies, making for painless and streamlined volunteer screening (finally!). Store and access these documents directly through your platform.
Engagement Tools
Keep volunteers in the loop with software features that support year-round engagement:
Volunteer Portal – The best volunteer management software offers an interactive volunteer-facing platform. Volunteers use the platform to find and sign-up for opportunities, review personalized schedules and even track individual impact.
Opportunity Matching – Some systems will automatically generate recommended opportunities based on supporters' preferences, like their skills and volunteering interests. So, they're more likely to find a project that suits them.
Volunteer Mobile App – A volunteer app empowers users to check-in to shifts and track impact through their mobile devices, reducing the time you spend on administrative tasks.
Management Tools
Save time and simplify your volunteer management processes with intuitive, user-friendly tools:
Reporting Tools
Capture the data you need to inform stakeholders and win grants:
Automated Hours Tracking – Dynamic hours logs automate the data tracking process, virtually eliminating the need for manual tracking with spreadsheets. Look for flexible tracking options that empower volunteers and improve data accuracy.
Goal Setting – Set hours and impact goals for your community through the system. When volunteers reach your benchmarks, they're automatically recognized. Plus, track your top supporters, so you never miss an opportunity for volunteer appreciation.
Downloadable Reports – Look for a system that compiles compelling reports in real-time. These reports help you evaluate impact, understand volunteer preferences, and track participation. Plus, sharing program impact with stakeholders and community partners becomes easier than ever.
Marketing Tools
Build better relationships with these outreach tools:
Social Media Integration – Make activities, events, and other pages instantly shareable directly through your system. Volunteers can invite friends and share your message with a few clicks, so your program keeps growing.
Email Segmentation – Facilitate communications with volunteers and community partners through email and text messaging tools. Meanwhile, segmented emailing ensures your message reaches the right audience.
Text Messaging – Mobilize volunteers faster by sending mass texts directly through the system (with just a few clicks!).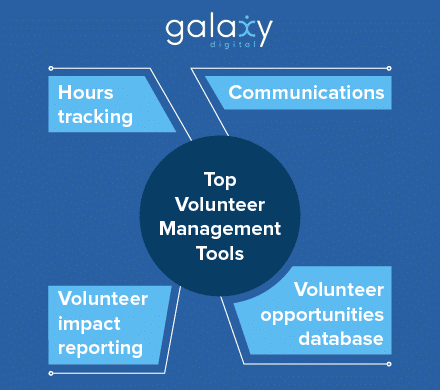 There's a lot that volunteer management software can offer. Focus on a few must-have features and build your list from there.
5. Do Your Research
There are a variety of volunteer management systems available on the market. But how do you find the best for your organization?
Research! A simple internet search is a good place to start. But you'll benefit from consulting other sources to round out your choices. Consider these sources to help you choose the best volunteer management software:
Recommendations – The best recommendations come from your peers. Scope out similar organizations, community partners, and volunteer centers in your area. Ask about the systems they're using to manage volunteers and gather feedback.
Reviews – Software comparison sites compile top options for you, reducing some of that research busy work. Most of these third-party sites feature customer reviews, which help narrow down your list of potential systems.
Resources – Refer to trusted blogs and lists from industry experts, like this volunteer management software buyer's guide from Wild Apricot.
Types of Volunteer Management Software
Seemingly, there's software for nearly every nonprofit function. When compiling your research, you'll likely come across a variety of systems with a multitude of nonprofit management functions. To ensure you're finding the right tools for your needs, we recommend you get to know these common types of management systems:
Scheduling Software – Scheduling platforms primarily handle shift sign-ups and reminders. They tend to be simpler and therefore less expensive. Scheduling software is most useful for organizations that are looking to manage volunteers and attendees for one-time events.
Event Management Platforms – Event management tools are designed for planning and coordinating events of all sizes. Key functionalities include attendee tracking, day-of management, and conferencing tools.
Member Management Platforms – Some nonprofit organizations require more specific software for managing contributing members. This software is designed to help increase revenue. These options allow users to collect online memberships, sync member communications, and create events.
Donor Management Software – Donor management systems enable administrators to receive and track donations, manage donor contacts, and organize fundraising campaigns.
Customer Relationship Management (CRM) – CRM systems are designed for centralizing organization-wide communications. From email marketing to relationship management, CRM systems offer powerful insights into customer and supporter relationships.
Volunteer Management Software – These all-in-one systems address an organization's complex needs to manage the entire volunteer management lifecycle from recruitment to retention. Some volunteer management software offer additional capabilities like donations and event management, streamlining even more of your tools and processes (the key is finding a solution with the functionality you need).
6. Take Advantage of Free Trials and Demonstrations
You wouldn't buy a car without test driving. The same goes for any investment. So, make the most of software "test drives."
Most software providers offer free guided demonstrations. Product experts will answer your questions and walk you through the sales process when you're ready.
Other providers offer free trials or "sandbox sites" where you can click around and test the software features.
Don't skip this step. These demonstrations are an invaluable component of your research and will help you narrow down your choices.
7. Compare Your Options
Once you've compiled your list of "finalists," it's time to choose the best volunteer management software for your organization. Use a simple chart like the example below to compare your top choices.
Get your volunteers involved. Volunteers can help you assess and choose a platform. Test the platform with trusted volunteers and then train volunteers on using your new system.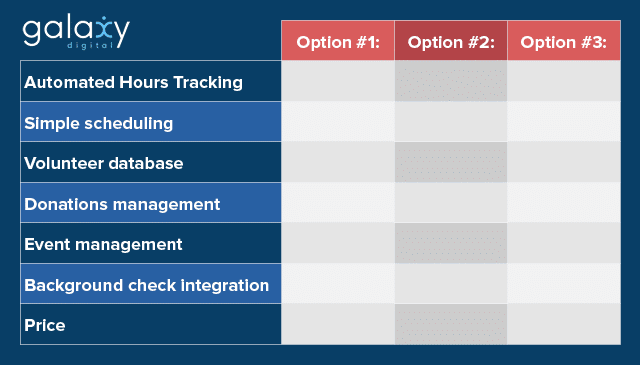 8. Get Your Team on Board
Your new volunteer management software can benefit your entire team. That's why it's important to get everyone on board with your choice (including your board!).
Wondering how to make a compelling argument for your choice? Make the case by addressing these questions:
How will the software improve your program's overall return on investment?
What challenges will you address with this volunteer management system?
How will your community and stakeholders benefit from the investment?
How does the software benefit other departments across your organization (such as the marketing team or the development office)?
Which community partners and similar organizations are using this software?
By anticipating the questions and concerns of your team, you're more likely to get your purchase over the line. Don't forget to present your business case!
More Considerations for Choosing the Best Volunteer Management Software
There's more to consider when investing in your new system. Here are some more questions to ask the software provider as your research options:
Is the software scalable?
Volunteer management software should help grow your volunteer program. So, choose a system that will grow with you.
Note: Be sure to ask about pricing structure, as some software will increase pricing as your take on more volunteers in your system. Instead, look for a system with fixed, fair pricing.
Is customer service included?
Be sure to ask about the level of customer service available. Some providers offer free customer care to guide you through the onboarding process, as well as continued support after your system is up and running.
How is our existing data moved to the new system?
You'll likely have data, such as contact details and attendance records, that will need to be transferred from your current system to your new software. Your provider should assist with the conversion process to ensure a smooth transition.
Does the software integrate with other websites?
Volunteer management software generally operates separately from your existing website. You will need to link your volunteer management platform to your website so volunteers can access it easily. Ask how the software integrates with your existing website and other software systems (such as your CRM or donations management tool).
What security measures are in place to protect user data?
Your volunteer database may store sensitive information (such as driver's licenses and signatures). You should feel confident that your data is secure and will remain accessible only to approved users. Ask the provider how information is stored and used. If relevant to your organization, you may want to inquire about HIPAA and ADA compliance.
Is the software customizable? To what extent?
Robust software options will enable customizations so that you can create a recognizable, branded environment that integrates seamlessly with your other website and marketing. Customizable sites will require more setup initially. However, you're left with a product that truly matches your needs.
On the other hand, "out of the box" software generally comes as is. These options are quick to implement and often less expensive but offer limited capacity for customization and branding.
Set your organization up for success by taking the time to choose the best volunteer management software. By following these eight steps, you ensure you're getting the most out of your investment now and for many years to come.
Additional Resources
Volunteer Management Software: 25+ Top Tools for Nonprofits
The Top 4 Reasons You Need Volunteer Management Software
Are You Up-To-Date on Volunteer Management Technology?