by


Eli Samuels
Many community-based organizations are in the midst of responding to COVID-19, while others are still bracing for its peak. While we don't yet know the full extent of the virus' impact on our communities, and it's difficult to imagine a return to "normalcy," it's never too early for Volunteer Managers and other Nonprofit leaders to start planning ahead for recovery. By planning for recovery, you can help your organization build resilience and empower stakeholders and community members to take actions that improve long-term sustainability.
The Disaster Management Cycle
While COVID-19 is not the same as the natural disasters we typically plan for, the Disaster Management Cycle can still guide your planning and decision making. There are four phases of disaster management:
Mitigation
Preparedness
Response
Recovery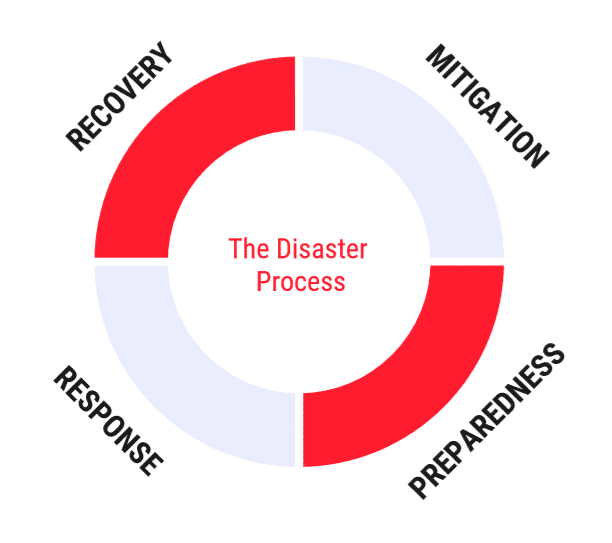 The goal of recovery is to return to pre-disaster operations. Much of recovery planning involves planning for the future. Here are 5 steps Volunteer Managers can take to plan for recovery and help mitigate the future impacts of disaster:
5 Steps for Nonprofit Recovery Planning
Whether you're currently operating at full capacity or only with critical assets, your volunteer program can benefit by planning for the transition from response to recovery. We spoke with our in-house Disaster Management Expert to bring you these steps for effective recovery planning after COVID-19:
1. Anticipate Change
It's often assumed that "recovery" means returning to a pre-crisis "normal." However, for many community-based organizations, post-disaster recovery may not be as simple as returning to business as usual. And that's not necessarily a bad thing. Your adaptations to unprecedented circumstances, no matter how temporary, can define a "new normal." So, to better plan for recovery, you'll need to imagine what a sustainable future (post-disaster) looks like for your volunteer program, and your organization as a whole. Here are some questions to help you anticipate changes to your community's needs and the way you can adapt your program to these changes:
What were our program's core essential services before disaster response?
Will our community's needs change following the disaster? How will we reassess these needs?
Which programs will we deactivate?
Will our organization continue pre-disaster programming, or do we anticipate that the community's long-term needs will evolve?
Do we have the tools and resources available to meet these long-term community needs?
What changes to our programming will we need to institute to meet long-term community needs?
Your response to the COVID-19 crisis likely involved short-term adaptations to programming. On the other hand, your recovery should deal in the long-term sustainability of your community programming.
2. Plan for Financial Recovery
COVID-19 has caused major concerns about the economic impact of COVID-19 on nonprofits and volunteer programs across the country. While responding to the crisis in realt time is necessary, your core mission and services are still as critical as ever. So what steps can you take today to help recover financially?
Gather Materials
Consider the financial resources specific to your program that you will need for recovery. Will you apply for federal relief funding? Will you file an insurance claim? One of the most important ways to plan for recovery is to gather financial materials now.
Gather program expense reports.
Track volunteer hours and impact.
If you plan to rehire furloughed staff, gather salary and benefits information.
Continue to log all incoming funds and expenses.
Calculate Cash Flow
Especially in times of crisis, it's important to understand how much cash your program has on hand, and how much you will likely have in the future. Your organization should have an accurate cash flow projection to predict when cash flow shortages may occur, and to make important decisions about expenses and financing options. The cash flow projection considers cash on hand, expected revenue, and projected expenses. We recommend using this worksheet for producing a cash flow projection.
Research Funding Options
You may have to work with other organization members to put together funding for your volunteer program. Remember, you don't have to go it alone. Local, state, and federal governments are offering relief funds for nonprofit organizations and small businesses. Visit your state's website and look for their COVID-10 nonprofit or small businesses relief page. Keep in mind that a FEMA grant may require different application materials than local or state grants, so be sure to carefully check application guidelines and gather the appropriate materials now.
Additional Resources:
City of New York: Insurance Considerations for Small Businesses
Council of Nonprofits: Loans Available for Nonprofits in CARES Act
Independent Sector: How to Apply for Nonprofit Relief Funds
3. Re-engage Partners and Volunteers
Once COVID-19 safety measures are lifted, your volunteers will look for guidance in regards to how to get involved again. Many nonprofits have adapted new engagement strategies to adhere to social distancing regulations, like expanding phone lines, instituting a newsletter, or posting virtual volunteer opportunities. Consider which volunteer engagement strategies were successful; will you continue to apply these engagement methods throughout recovery? Even now, consider revisiting your engagement strategy. Develop post-crisis messaging to your supporters and make a plan for how you will communicate with them effectively. What will future communication with your volunteers look like as COVID-19 becomes a disaster of the past?
Furthermore, you may have developed new partnerships with other community organizations and businesses to aid community response. Consider how you will maintain communications and engage newly established partners. Bare in mind that you may not have the bandwidth to maintain all partnerships. Now is the time to consider your new partnerships and decide which you will maintain. What tools will you use to engage these partners? How do these partners fit into your post-crisis programming?
4. Iron Out Logistics
You may have instituted new infrastructure in an effort to keep your community safe. From enhanced sanitation practices to reduced hours, you will need to think about how these temporary solutions will fit into your usual program infrastructure. You may choose to return to usual operations or you may decide to implement new procedures. Regardless, your volunteer program will benefit by creating a plan for this transition. Here are some logistical considerations:
How will we demobilize (or "check-out") response resources for your program?
What rented/borrowed/purchased equipment will we still need?
What experts (i.e. accountants, mental health professionals, case managers) should we contact to aid recovery?
When can volunteers return? How will we update volunteers on new procedures and logistics?
How will you transition volunteers from their temporary crisis-response roles to their usual roles?
How will we inform staff, volunteers, and beneficiaries about operational changes?
Do we foresee any infrastructure redevelopment that will need to occur?
Following a disaster, service-based organizations can encounter a lot of logistical changes. But you don't need to recover overnight. The more you can plan now, the more you, your staff, volunteers, and beneficiaries will be prepared for recovery. If you are feeling overwhelmed, start by creating a list of all logistics you will need to address as a Volunteer Manager or Nonprofit leader. Work with team members, volunteers, and community partners for a brainstorming session. Then, from this list, prioritize the most important or most pressing matters you will need to address first. This will also help you to prioritize your recovery resources, like funds and staff time.
5. Evaluate and Mitigate
Following a disaster, you'll want to evaluate your response and recovery procedures to better mitigate and prepare for future events. This will help to reduce your program's vulnerability in the event of another disaster or emergency. We have compiled some questions below to help program's evaluate your response and recovery, to better plan for the future.
Evaluation Considerations for Response and Recovery:
Which communication procedures worked during our program's COVID-19 response?
Which volunteer engagement strategies were most effective? Which volunteer engagement strategies were ineffective?
Were you able to leverage technology, like volunteer management software, to efficiently manage your volunteer program?
What partnerships did we successfully leverage during response? Which partnerships will we continue to support?
Did staff and volunteers feel safe during response? Did staff and volunteers feel supported?
Did staff and volunteers feel prepared to respond?
How quickly were we able to respond to our community's needs?
Was our program able to avoid mission creep?
Now that we have recovered, does our mission statement still ring true?
What temporary resources were available to help us effectively respond to the crisis?
What resources were available to help us effectively recover from the crisis?
Did we have the data necessary to apply for recovery grants?
While many community organizations are still responding to the COVID-19 crisis, planning ahead for recovery is just as important to the continued well-being of your community. In addition to carrying out critical services, volunteer managers can benefit from taking actions to ensure their program's long-term sustainability. For many, recovery won't be immediate, but careful consideration of communications, financial, and infrastructural recovery will help to ease a complicated transition.