It can be challenging to effectively manage a volunteer team.

In the past, volunteer managers have had to get creative with manual processes like paper sign-up sheets, clipboards, and phone-call reminders. Thanks to innovations in nonprofit technology, volunteer leaders are now able to coordinate their volunteers with cost-efficient and free nonprofit volunteer management software.

Signup.com is just one of these options, but there are many other solutions that could be more ideal for your program!

In this article, we'll explore what you should look for in a volunteer management software, affordable alternatives to SignUp.com, as well as how you can find the most efficient volunteer management software for your unique program.

Let's dive in.
What to Look for in a Volunteer Management Software
As you begin looking for volunteer management software, you will need to know what features are available and which ones most effectively meet your organization's needs. Here are some of the most common features to look for as you explore different volunteer management software providers:
What are the 5 best Signup.com Software Alternatives?
When it comes to the best SignUp.com alternatives, there are many inexpensive volunteer management software options available. Some of the best alternatives include Shift, SignUpGenius, Volunteer Impact, Volgistics, and Volunteer Hub. Explore the wide range of features and pricing options offered by these 5 alternatives to SignUp.com:
The best alternative to Signup.com is Shift volunteer management software. Shift is from Galaxy Digital, the company that created Get Connected.

Shift empowers volunteer programs with organizational and reporting capabilities, as well as its free volunteer management app. Shift is the first volunteer management app in the US or Canada that was built specifically with the needs of volunteer leaders in mind, while also being offered at a price that fits within any program's budget. Volunteer managers can sign up and start coordinating their programs in as little as 15 minutes.
Shift's Most Popular Features:
Centralized volunteer shift posting
Organized volunteer responses
Accurate volunteer hours tracking
Detailed, exportable impact reporting
Engaging communication tools
Unlimited volunteer registrations
Free mobile volunteer app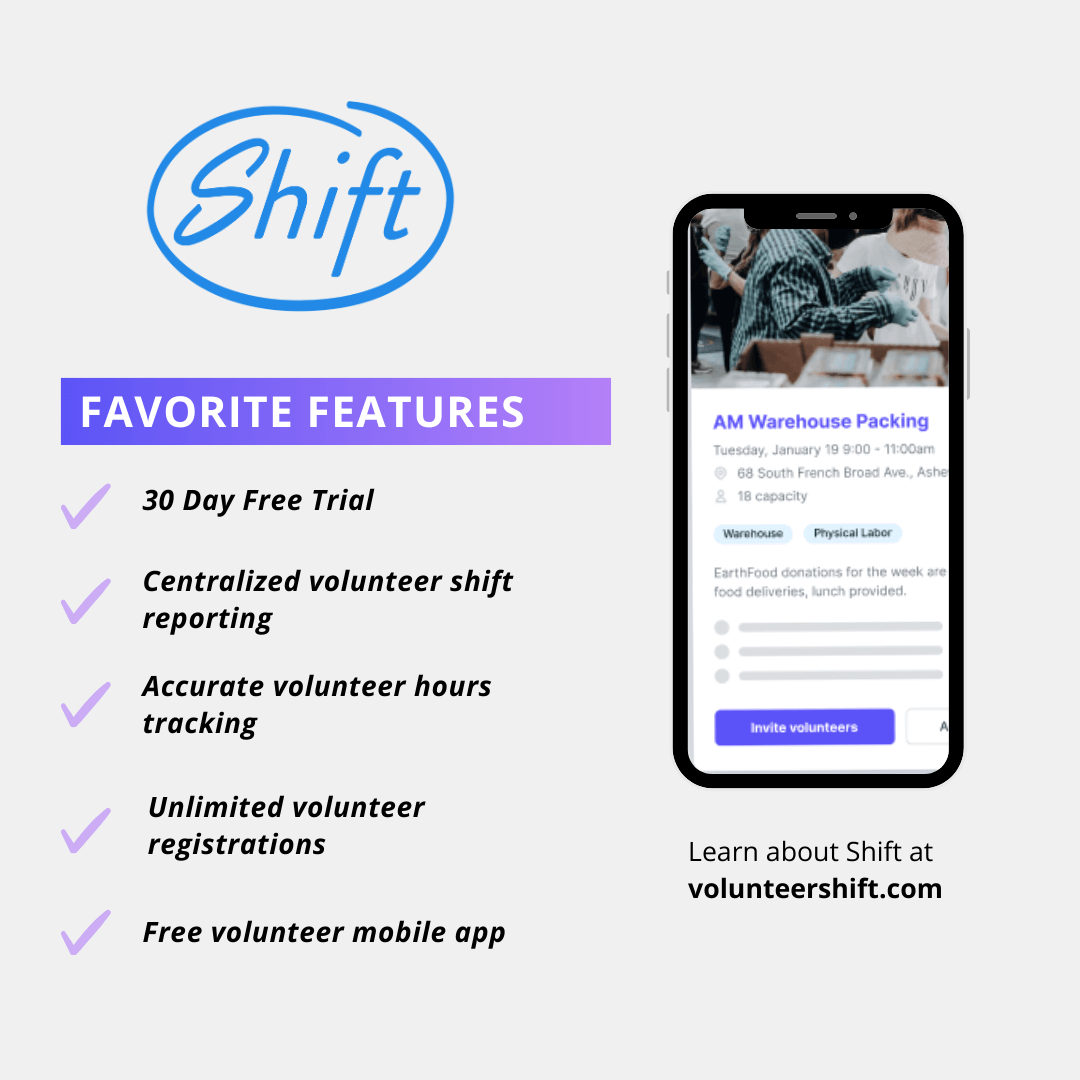 Shift offers a free, full-access trial for 30 days. After the free trial, Shift subscriptions are affordable, at only $39 per month.
SignUpGenius is geared towards smaller volunteer programs, individuals, schools, and small businesses. It is highly regarded for its user-friendly interface and diverse feature set. However, it is not really designed to be a full functioning volunteer management software; rather, it's best used for signing up for things (like a volunteer shift or in-kind donations). Those looking for more advanced management capabilities should check out our list of the top volunteer management software choices for nonprofits.
Popular Features:
Group messaging and communication tools
Unlimited online sign-ups
Payment and donation tools
Subscriptions start at around $22 per month for volunteer programs, and they also offer a free Premium trial.
Volunteer Impact has something for each organization, and offers tiered services based on your program's needs. Many have noted the stellar customer service provided. Volunteer Impact is robust enough to register, engage, and manage volunteers, though generating reports is somewhat cumbersome.
Popular Features:
Customizable volunteer profiles
Web portal and mobile app
Flexible volunteer scheduling
The most basic subscription is around $24 per month, and is billed annually. There is a 30 day free trial available.
Volgistics is another popular alternative to Signup.com. This software is most suitable for smaller programs that have already reached their growth goals. This is because you will need to upgrade your account as your program grows.
Popular Features:
Background check integration
Customizable reporting
Volunteer scheduling
Volgistics offers a 30 day free trial as well as a pre-loaded, explorable sample account. Volgistics subscriptions start at about $17 per month, but their pricing scale varies by the number of volunteers. Volgistics will also charge for inactive volunteers that are still in the system.
Volunteer Hub is an all-in-one management system that simplifies online volunteer sign ups, event registration, and attendance tracking. Some have noted the limited reporting capabilities of the software. As the most expensive option on this list, Volunteer Hub is likely better suited for mid to large sized volunteer programs.
Popular Features:
Event management and customization tools
Volunteer scheduling
Volunteer communication tools
Volunteer Hub starts at $150 per month, billed annually, but this varies depending on the number of volunteers. Additional management tools, like team manager and volunteer recognition, can be optionally purchased.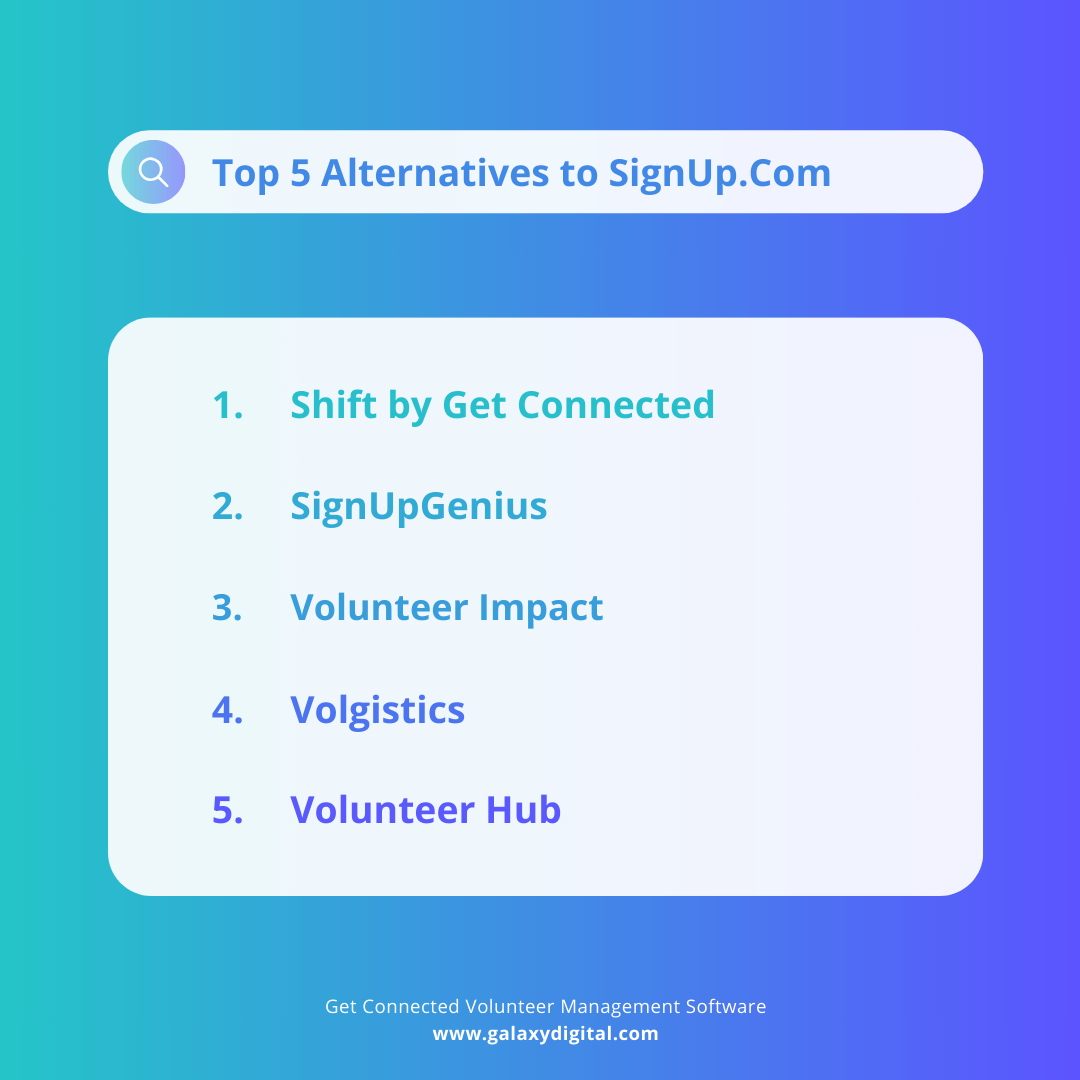 Top Free Volunteer Management Software
Sons of Service (SOS) is a free volunteer tracking software for nonprofits, schools, and churches. SOS can help volunteer coordinators keep track of volunteer data. SOS is an open source platform, meaning that it is free to use. However, it does not include any services like hosting or system maintenance. This means that your program will need to hire an in-house specialist or consultant who can customize and maintain the database for you.
iVolunteer is another free volunteer management website. However, this tool is limited to only 15 participants, and only one administrator is permitted. Therefore, iVolunteer is best suited for small programs who do not foresee significant growth in their near future.
VolunteerLocal is the final free volunteer scheduling software in this roundup. This free volunteer management scheduling tool allows you to schedule, manage, and track your volunteers in a cloud-protected database. On their website, YourVolunteers states that this is not a great match for volunteer managers who need a lot of control and privacy surrounding volunteer shift registrants. So, volunteer managers who work with court-mandated volunteers, for example, may need to seek another solution.
The key to volunteer program success is finding the right volunteer management platform with the best-suited features for your unique program. While Signup.com is a popular choice, there are several other affordable and free options that offer a range of features and benefits. By exploring these alternatives, you can find the best solution to streamline your processes, engage your volunteers, and make the greatest possible impact in your community!