Free social media planning guide
Social media can be an extremely powerful tool for nonprofits and other community-based organizations. By integrating social media with other marketing tools, nonprofits can connect with potential donors, volunteers, and supporters worldwide. Additionally, nonprofit social media marketing can help nonprofits raise awareness, solicit donations, and promote events.
If your organization is not utilizing social media, it's time to create a nonprofit social media strategy and start reaping its many benefits.
In this article, you'll learn:
Let's dive in to learn how to create working social media plans for nonprofits!
Is Social Media Relevant for Nonprofits?
Nonprofits are feeling the squeeze when it comes to social media. With the overwhelming number of channels and the constant algorithm changes, it's hard to know where to start. But the truth is, social media is still one of the best ways to connect with your audience and grow your base.
We'll demystify social media for nonprofits so you can create an achievable strategy that really works…
How to Create a Successful Nonprofit Social Media Strategy
Follow these steps and you'll be on your way to nonprofit social media strategy success.
Define Your Goals
Develop Metrics
Compose a Social Media Policy
Choose the Right Channel
Build a Social Media Calendar
Create Compelling Content
Define Your Goals
Just as your organization's goals drive your mission statement, specific goals should drive your social media posts. Here are some of the top reasons nonprofits use social media:
Drive website traffic
Foster deeper community engagement
Recruit more volunteers
Acquire and retain donors
Cultivate brand awareness
Establish thought leadership
Keep your desired outcomes in mind and you'll create a social media strategy that is sure to convert your audience to supporters.
Develop Metrics
When launching your nonprofit social media strategy, you need to measure and monitor the results. As a nonprofit, you want to ensure that your efforts lead to more donations, volunteers, and other goals your organization has set.
Setting key performance indicators (KPIs) will help you understand the strategies that are working—and weed out those that don't deliver.
Your social media KPIs might include:
Increased newsletter opt-ins
More event participants
New volunteer registration
A surge in website traffic
Number of followers, likes, or fans
Bear in mind that your metrics should align with your goals. For example, if your goal is to drive website traffic, you'll want to measure the number of website visits after posting on social media and linking to your web page.
Want this social media planning guide delivered to your inbox?
Compose a Nonprofit Social Media Policy
Establish a social media policy for nonprofit organizations that advises staff and volunteers on how to use the designated social media channels, and to safeguard against inappropriate behavior online. You may choose to conduct training for staff, interns, and volunteers on social media usage and strategy.
Choose the Right Channel
Which channel is the right one for your organization? Here are the top social media channels for nonprofits:
Facebook - A majority of nonprofits use Facebook. Facebook engages the widest demographic of all top social media platforms out there. So, if you're short on time and can only choose one option, Facebook is a smart bet.
Twitter - Twitter is a platform for delivering snappy statements, developing your organization's "voice," and supporting efficient interactions with your supporters. Twitter provides resources specifically for nonprofits.
LinkedIn - LinkedIn is a great choice if your organization is looking to strengthen partnerships with universities, local businesses, and other nonprofits. LinkedIn is also popular among recent graduates and high-income earners, great for engaging skilled professional volunteers and interns, take advantage of LinkedIn
Instagram - Instagram is a Millennial and Gen Z favorite. It's a visual platform (every post must feature an image) and therefore highly engaging. Instagram is a great tool for announcing initiatives, calling for volunteers, and sharing event photos.
Diversifying your social media presence is generally a good idea. However, some nonprofits don't have the time and resources to maintain numerous platforms. To start, choose one or two channels to focus on. If you find you're managing well, feel free to branch out!
Build a Social Media Calendar
Most marketing and social media professionals use a calendar or schedule to plan their posts ahead of time.
How often should you post?
60% of nonprofits post on social media between 0 and 3 times per week, and 21% of nonprofits post between 4-10 times per week. To keep your supporters engaged, shoot to post a minimum of once per week.
Wandering how to create an effective social media calendar? Download our social media calendar template here.
Create Compelling Content
The key to nonprofit social media success is to create content that compels and inspires your supporters. Below, you'll learn all about how to create engaging social media content for volunteers.

Download FREE social media planning guide >>
How to Create Compelling Social Media Content for Volunteers and Donors
What kinds of content will engage new volunteers and donors while continuing to inspire your existing supporters?
Here are some nonprofit social media content ideas:
Images and Videos
Interactive Content
Inspiring Words
Share, Repost, and Retweet
Images and Videos
You'll generate 94% more post views by adding compelling visual content, so consider incorporating visual storytelling into your nonprofit's social media nonprofit strategy.
Here are some examples of visuals you can share in your next social media post:
Photos of happy volunteers participating in an initiative
Digital poster or image announcing your next big event
A video montage of volunteers sharing what they love about working with your organization
Video from community members affected by your program
Inspirational quote in an artful font
Interactive Social Media Content
Engage supporters by sharing content they can interact with. Most social media platforms have a fun way of creating interactive content, such as:
Twitter polls
Instagram Q&A video
Facebook surveys
Additionally, link to different pages on your website, like volunteer sign-up pages, event pages, or your "About Us" page. The more traffic your website sees, the more likely your organization is to show up on the first page of Google's search results.
Inspiring Words
Your volunteers are the heart of your organization. Why not share their stories? Highlight their impact and illustrate why they play such a vital role in your organization.
You can also feature upcoming volunteer recruitment opportunities or share positive feedback you've received from volunteers who have already taken part in a project.
Share, Repost, Retweet
We understand that it may seem implausible to produce new content several times per week. While a majority of your content should be original (and directly related to your organization's mission), you may choose to occasionally share, "repost," or "retweet" content created by others.
For example, you may come across an inspiring news story that you think your supporters need to know about, a photo of an adorable animal, or a post from a community partner that you want to endorse.
How to Engage With Your Audience on Social Media
Social media should be a two-way conversation. It's not enough to post updates and hope people will see them.
Here are a few tips to engage with your audience on social media:
Show some personality. People want to connect with real people, not robots. Don't be afraid to let your personality shine through, so long as it meets the needs of your organization.
Respond to comments and questions. If someone takes the time to write something, make sure you take the time to respond.
Get involved in conversations. It's not enough to simply post links and articles; start discussions and ask questions.
Share exciting content. In addition to your original content, share images, videos, and thoughts your followers can identify with.
Be patient. It takes time to build relationships online, so don't give up if things don't happen overnight.
Social Media Examples for Nonprofits
Check out these examples of successful nonprofit social media campaigns:
Need more inspiration? Check out these social media campaign ideas for volunteer programs and nonprofit organizations.
Best Practices and Tips for Your Nonprofit Social Media Strategy
Social media marketing for nonprofits fosters relationships and connects with potential donors, volunteers, and supporters.
Crafting a successful social media plan for your nonprofit can be challenging, but there are a few tips and tricks to get you started.
Be authentic and transparent. Your audience wants to connect with your mission and understand how their support makes a difference. Your organization has a unique voice and a story to tell. You can find enormous success by being sincere and true to your organization's mission. so create content that shows them how their support matters.
Be consistent. Post regularly, and stick to your platforms' tone and voice. This will help people get to know your organization and what you stand for.
Be responsive. Respond as quickly as possible when people reach out to you on social media. Show that you're listening and that you care about what they have to say.
Have fun. Social media can be fun! Go ahead and experiment, and see what works best for your nonprofit.
Tailor your content. should also tailor your content to each platform; what works on Instagram may not work on Twitter.
With these best practices in mind, craft a plan that works best for you, and get ready to grow your nonprofit with the power of social media!
Benefits of Investing in Social Media for Nonprofits
Investing in a nonprofit social media strategy can help you reach more people and create meaningful connections with them. Social media for nonprofits strategies offers numerous benefits, including:
Increased visibility for your organization and the opportunity to connect with volunteers and supporters.
It's an effective fundraising tool.
It provides a platform to quickly inform and communicate with followers about any updates or changes in your organization.
By taking the time to create a successful social media strategy, you can reap the rewards of increased donations, volunteers, and public awareness.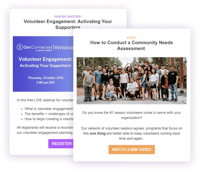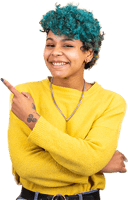 Join 20,000+ Volunteer Leaders
Get impact-boosting articles, guides, and webinar invites to help grow your volunteer program
How to Create an Effective Social Media Calendar
Creating an effective social media calendar is essential to creating a successful nonprofit social media plan. It allows you to plan ahead and ensure that you have a consistent, organized presence on all of your channels. When it comes to crafting the perfect social media calendar, there are a few things you should keep in mind.
Be bold and plan ahead. Make sure you're thinking forward and planning for upcoming events or campaigns in which your nonprofit may be involved. This will ensure that your posts always stay relevant and timely.
Consider your supporters' preferences. Consider the different platforms your organization is using, as well as the preferences of your target audience on each platform. This will help you create a tailored volunteer engagement strategy.
Repurpose content. Repurposing content will help you maximize the time spent creating content for each platform and give you time for other important tasks.
With an effective social media calendar in place and the right social media strategies for nonprofits, you'll be well-equipped to succeed in growing your reach and impact online.
Grow Your Nonprofit with a Social Media Presence
By following a few best practices and utilizing some creative volunteer engagement strategies, you can use social media to reach new heights.
So go forth and conquer those social media platforms. And if you need help managing your social media community, Galaxy Digital is always here to help. Our volunteer management software can help streamline your volunteer community communication and improve your social media presence. Contact us today to get a free demo, access our social media strategy for nonprofits template, or learn how to get volunteers for an event.