Free volunteer program planning worksheet
Summer is finally here! School is out, the weather is favorable, and organizations are planning a return to more consistent in-person volunteerism and fundraising. Not to mention, supporters are excited to engage now more than ever!
Are you ready for what the season holds for your volunteer program? To help you tackle the season ahead, we've compiled this checklist of tips and resources for a busy summer of volunteerism.
Your Volunteer Management Checklist for Summer 2023:
1. Strengthen Recruitment
Make the most of the busier summer months by ramping up your recruitment efforts!
This volunteer recruitment guide has the need-to-know information to help boost your recruitment efforts and get the volunteers you need. Here's some key insight from the guide for strengthening up your volunteer recruitment strategy:
2. Streamline Scheduling
Before you open your doors for summer, you'll need to make sure your volunteer scheduling tools are on point. Without the right tools, managing volunteer schedules can be incredibly time-consuming. Fortunately, you can boost scheduling efficiency using technology. Volunteer scheduling tools include lots of exciting capabilities that allows for:
Efficient volunteer self-scheduling.No need to manually schedule on behalf of volunteers! Instead, volunteers can view open shifts and choose the schedule that works best for them.
Automated e-invites.Send messages to segmented groups, such as recent volunteers, active volunteers, or lapsed volunteers. Call for volunteers when you need them, and send targeted opportunities to boost engagement.
Intuitive public and private event coordination. Create public and private listings for individuals and groups. Self-scheduling becomes more dynamic and you can rest assured that your supporters are finding the right opportunities and shifts.
Custom schedules.Accommodate recurring volunteer schedules (for volunteers who want to participate regularly) and customize shifts for each opportunity listing.
3. Get Your Program Back on Track
Over the past few years, we've learned a lot about how to approach volunteerism with a sense for health and safety. Here are some ways to prepare your organization for an influx of in-person volunteers this summer:
Assess your budget. As the fiscal year approaches for many nonprofits, you'll want to evaluate your resources and funding opportunities. What budget changes have you made? How will you continue to leverage volunteerism to improve your program's return on investment?
Address existing safety procedures. Check in with your community's recommendations for safe gathering. Decide which existing safety protocols you will phase out and those you will keep. For example, many organizations are choosing to keep contactless volunteer check-in. Communicate safety changes with staff, volunteers, and stakeholders.
Refocus your mission. It's not uncommon for community organizations to experience

mission creep over time. Reassess current needs in light of your volunteer program's core mission.
4. Re-inspire Volunteers
Have you checked in with your volunteers lately? Consistent and clear communication is a key component of any volunteer management strategy. So if you haven't reached out to your volunteers in a while, or you're looking to reinvigorate your volunteer program this summer, you'll want to consider your outreach efforts.
How can you reengage volunteers through strategic outreach? Reintroduce your cause, communicate changes to your programming and safety measures, and get volunteers excited about the summer's upcoming opportunities and events. Be sure to engage volunteers using a variety of communication tools, such as:
Email – Email is your communication MVP. Compose an email marketing campaign or newsletter and reintroduce your summer volunteer program. Don't forget to send an email thanking your volunteers for their continued support!
Text messaging – Invite volunteers to opt-in to receive text reminders and updates. Texting is a great way to share important announcements and call for last-minute volunteers.
Social media – Employ social media to share news, drive brand recognition, and recruit new volunteers. Take advantage of multiple platforms, such as Facebook and Instagram, and follow these social media tips.
5. Re-engage Partners
Many volunteer programs rely on community partners, from campuses to local businesses, to fill critical volunteer roles and support fundraising efforts. If you haven't already, you'll want to rekindle these partnerships to bolster your summer programming. Here's how:
Reestablish communication. If you want to nurture your network, you need to remind them that you still exist. Send personalized emails and show that you're invested in their outcomes by inviting two-way conversation and idea-sharing.
Discuss strategy and values. Following this unprecedented year, it's a good idea to check in, realign your mission and goals, and refresh your partnership strategy for moving forward. These conversations help to reestablish trust between organizations, necessary for securing long-term relationships.
Boost your social media presence. Your social media platforms are a great place to pique interest once again. Tap into each other's networks by establishing content partnerships in which each party promotes their program and shares content on your respective channels.
Make group registration easier. From college students to employee teams, your volunteer management system should allow for easy group sign-up. Designate a team leader to streamline communication and make sure leaders can hold slots for each shift.
Share impact. Corporate social responsibility programs and service-learning initiatives need to know their volunteers' impact. Do you have a system for creating impact reports for each partner quickly? A volunteer management system can track data specific to each partner and produce compelling reports that keep them engaged.
FREE DOWNLOAD
Don't forget your free Volunteer Program Planning Checklist!
6. Go Hybrid
Some volunteers may not be ready to fully commit to in-person volunteering and events, while others are eager to return. Make sure you can accommodate remote and onsite volunteers.
Integrate Virtual Volunteering
Virtual volunteerism is here to stay. And it is possible to offer virtual and onsite volunteer opportunities. In fact, by providing both options, you're creating a more inclusive environment for volunteers. Here's how to accommodate your remote volunteers this summer:
Be strategic about your offerings. Not every task is suitable for at-home volunteering. On the other hand, if the job can be accomplished remotely, make it virtual! Activities like data entry, social media management, fundraising, knitting, or kit-making are ideal virtual opportunities.
Denote virtual and in-person opportunity listings. As your volunteers scroll through your website's opportunity lists, they should be able to quickly identify virtual jobs. Create and highlight separate, searchable lists for virtual and onsite opportunities.
Foster real connections. Many love volunteering for the socialization and meaningful human interaction it offers. While virtual volunteerism provides flexibility, volunteers can lose out on the benefits of face-to-face interaction. Make your virtual volunteers feel just as welcome by offering virtual volunteer mentorships, hosting a meet and greet over video, and regularly thanking your virtual volunteers.
Visit our complete guide for Virtual Volunteering here.
Plan Hybrid Events
Hybrid events are an emerging trend in event management, and are held both onsite and virtually. Therefore, they offer valuable flexibility for attendees and event hosts.
However, coordinating onsite and virtual elements can be tricky. So, after you've identified your event volunteer needs, you'll need to consider virtual event management tools for smooth sailing. You can also read more about hybrid event best practices (and avoidable mishaps!) in this handy article.


7. Embrace Family Volunteerism
When families and friends volunteer together, not only do they lead happier and healthier lives, but your organization receives an infusion of new volunteers!

By offering family-friendly volunteer opportunities, you are also widening accessibility for people who may not have had access to traditional volunteer roles, such as grandparents or the younger members of Gen Z.

Want to learn how to recruit families or get fresh ideas for family-friendly volunteer opportunities ? Check out our Family Volunteerism Guide!
8. Ramp Up Volunteer Management Tools
As your volunteer program ramps up for summer, make sure you have the right tools and technology in place to support your program.
But with all the technology out there, how do you know which is worth your investment?
We think the best, most cost-effective tools should be multi-functional and user-friendly. Volunteer management software is your volunteer program's one-stop-shop. It'll help you manage, recruit, and engage volunteers more efficiently. The top volunteer management software options also have robust reporting and communication tools built-in.
Volunteer management software empowers nonprofit professionals to spend more time on high-impact activities like community outreach and planning (while spending less time on administrative tasks). In the long run, you'll improve your volunteer program's return on investment and even grow your program.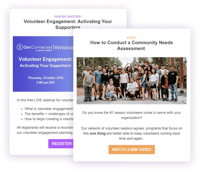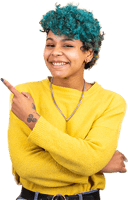 Join 20,000+ Volunteer Leaders
Get impact-boosting articles, guides, and webinar invites to help grow your volunteer program
Additional Resources
Volunteer Recruitment Ideas: 20 Awesome Ways to Get the Volunteers You Need
How to Gamify Volunteerism and Increase Engagement
Tech Features Your Volunteers Will Love in Your Volunteer Management Software