Free Template: Volunteer Liability Waiver
Volunteer insurance is one of the most important ways that your organization can protect itself and its volunteers from unforeseen circumstances. If your goal is to minimize and prevent risks to your organization, then knowing the ins and outs of volunteer insurance is the most basic place to start.

In this guide to volunteer insurance, we'll cover what volunteer insurance is, why it's important, the different types of volunteer insurance, and how to implement volunteer insurance and risk reduction in your organization.
What is volunteer insurance?
Volunteer insurance is a type of coverage that is designed to provide protection and insurance for volunteer workers.

Volunteer insurance coverage offers financial and liability coverage to the organization and volunteer in the unfortunate case of accident, injury, death, or other incidents that occur while the volunteer is fulfilling their role.

Note: Volunteer insurance is different from worker's compensation. In the case of accident or injury, volunteers are typically not covered under a company or nonprofit's workers compensation policy. In most cases, your organization will need a separate policy that specifically covers volunteers.
Why is volunteer insurance coverage important?
Particularly when first starting a volunteer program, many program managers ask themselves is volunteer insurance important? The answer is yes! Volunteer insurance coverage is important for many reasons, and can ultimately benefit both your organization and your volunteers.

Here are the key reasons that volunteer insurance is important for responsible, future-proofed volunteer organizations:
Volunteer safety. It's your duty to provide as safe an environment as possible for your volunteers; however, accidents can and do happen. Volunteer insurance ensures that an injured volunteer can receive prompt medical attention, regardless of your organization's monetary resources. An emphasis on volunteer safety is one of the most fundamental ways to build trust between your organization and its volunteers, and should not be overlooked.
Financial risk.

Sudden, unexpected expenses can strain an organization's resources, which can result in program closure. Protect your organization against unforeseen medical, legal, or property costs by purchasing insurance for volunteer workers.

Legal protection. Uninsured organizations are leaving themselves vulnerable to legal liabilities. Volunteer insurance can help protect your organization by assisting with legal expenses and settlements in the case of accident or injury.
Reputation. Organizations that do not prioritize the safety of their volunteers will eventually earn a negative reputation in their community. On the other hand, volunteers who feel valued and protected are more likely to promote your organization by

word-of-mouth

to their friends and families. Don't underestimate how your organization's reputation affects public support and

volunteer recruitment

!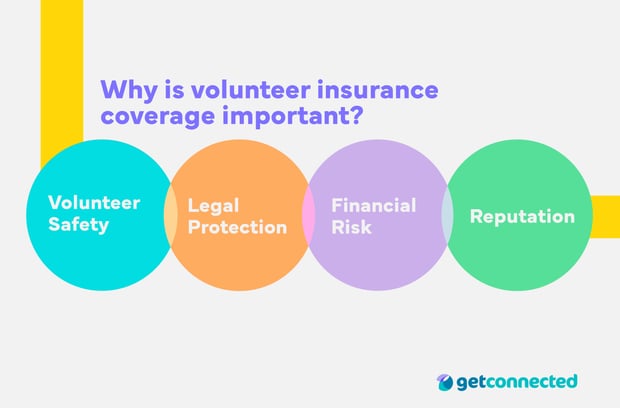 Who needs volunteer insurance?
The simplest answer is that all organizations should have a volunteer insurance policy from day one!

However, nonprofits are not legally required to carry insurance for volunteer workers. Volunteer organizations should carefully weigh the risk of not having insurance vs. the potential cost savings of foregoing a volunteer insurance policy.
What are the types of insurance for volunteer programs?
There are many types of volunteer insurance, and not all nonprofit liability insurance covers volunteer workers. Make sure that you are intentional and consult with a professional when choosing an insurance plan that's right for your program.
Here are some of the most common types of nonprofit volunteer insurance for your organization or its volunteers:
Volunteer Accident Insurance. A volunteer accident insurance policy is supplemental insurance that provides protection in the case of volunteer accident or injury while performing volunteer duties.
Volunteer Liability Insurance. These plans provide coverage for legal defense and damages when the actions of your organization have caused harm to a volunteer or their property. These plans typically include clauses that require proof of fault.
Volunteer Travel Insurance. Volunteer travel insurance covers volunteers who have traveled outside their home country in the case of illness or injury. This type of policy is typically purchased by the volunteer. Your organization may decide to require volunteers to carry one of these policies if you travel abroad for service activities.
Nonprofit Event Insurance. Special event insurance is meant for one-time or infrequent events that occur outside of the typical operations of the nonprofit organization. For example, you might purchase nonprofit event insurance for a marathon fundraiser event.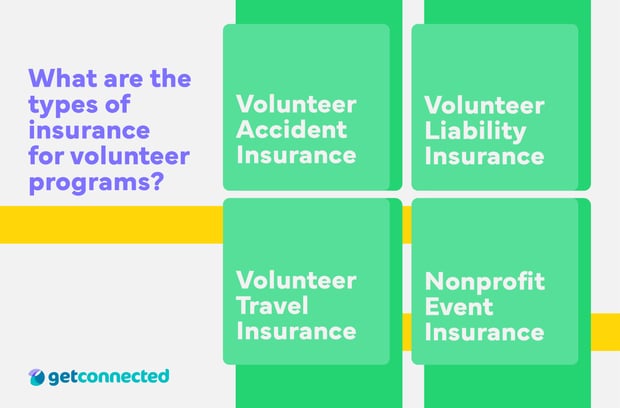 How to implement volunteer insurance and risk reduction in your volunteer program
Implementing volunteer insurance and risk reduction at your organization will take a series of steps. Here are 6 tips to start protecting your organization from potential risk:
1 . Assess Your Needs
Before choosing a volunteer protection policy, you should first take note of the possible risks associated with the specifics of your organization. Consider the environments your volunteers are working in, the tasks you're asking them to perform, and the risks they may encounter during their service.

These kinds of questions will help you determine the level of coverage that meets your organization's needs:
Will volunteers be driving a vehicle during their shift?
Will volunteers operate heavy equipment or machinery?
What are the conditions on-site? Are volunteers deploying in high-risk areas, like in natural disasters zones or fires?
Are children or the elderly involved?
2. Create a Budget
Check whether your organizational budget already includes volunteer insurance, and if not, consider how this additional expense can fit into your fiscal plan. Some policies are available for as little as $14.30 per volunteer every year.

While volunteer insurance is certainly an investment, it's the single best way to reduce risk to your volunteers and your organization.
3. Research and Select an Insurance Provider
Once you have an idea of the level of coverage you need and your budget, carefully look for insurance providers. Consult with several providers in order to find a policy that covers the accidents, injuries, liability, and property damage that are possible for your organization.

Here are some of the top providers that offer volunteer insurance (source: Investopedia):
4. Ask Volunteers to Sign a Volunteer Liability Waiver
A volunteer liability waiver, or volunteer indemnity form, will protect your organization from liability in the event of an accident. This form is best included as part of your volunteer orientation or volunteer onboarding process, so that you know you're covered before the volunteer starts their shift. Some organizations require volunteers to sign an additional liability waiver when working in high-risk environments, such as construction sites or with heavy machinery.

While many organizations still use paper waivers, it's best practice to implement a digital waiver tracking system with eSign technology. By digitizing your waivers, you can keep them organized and safely stored on the Cloud.
5. Conduct Routine Background Checks
If your organization works with vulnerable populations, such as with children or the elderly, one risk reduction strategy is requiring volunteer background checks. This will help proactively mitigate risks before they arise.
6. Provide Adequate Volunteer Training
When volunteers arrive on-site, they are trusting your organization to give them the knowledge and tools they need to stay safe on the job. Volunteer training not only prepares volunteers for their role, but it also reduces risks and accidents that arise from unintentional negligence.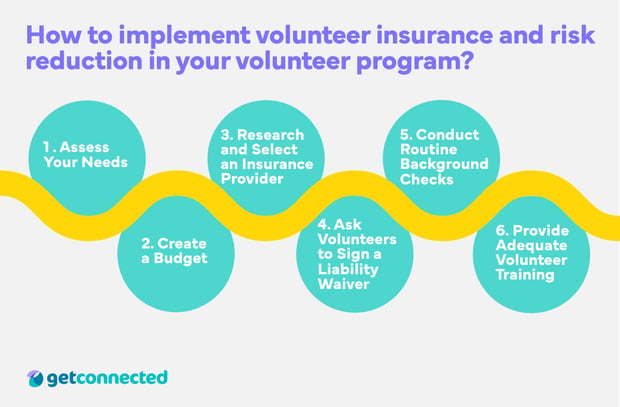 Don't Forget Your Download
Get your free Volunteer Liability Waiver Template!
It's hard to overstate the value of volunteerism in achieving community impact goals. If you've managed a volunteer program, coordinated corporate volunteerism, or have hosted live events, you've doubtless relied upon the time, skills, and contributions of volunteers to meet your goals.

But even with these positives, inviting volunteers on-site poses risks to your organization. Accidents happen all the time, and volunteer programs have a responsibility to protect themselves and their volunteers. That's why volunteer insurance is critical for forward-thinking and responsible volunteer programs.

By knowing what volunteer insurance is, why it's important, the different types of volunteer insurance, and how to implement volunteer insurance and reduce risk in your organization, your organization can be more sustainable and reduce unforeseen setbacks when carrying out its mission.