Free Volunteer Recruitment eBook
Volunteer leaders are essential to the success of any community organization. They ensure volunteer programs run smoothly and effectively and inspire volunteers to perform their best.
So, whether you are new to the job or looking to hire top talent, here is everything you need to know about leading volunteers holistically.
The Volunteer Leader: Roles and Responsibilities
Perhaps you're beginning your career in volunteer management, or maybe you're looking for an excellent candidate to lead your volunteer program. In any case, you need to be clear on the roles and responsibilities of volunteer leadership.
But there's a catch: Volunteer management is a complex process, and often volunteer leaders wear many hats. What's more, the role can vary by organization and program structure.
Before hiring, you must be clear on what you'll expect from the volunteer leader. Gather your team to outline your leadership structure and chain of command, then list all roles and responsibilities of the volunteer leader.
If you're starting a new position as a volunteer manager, you'll want to ensure you have a clear sense of the role requirements.
Let's look at what the volunteer leadership role can look like:
What Do Volunteer Leaders Do?
Volunteer leaders themselves are as unique as your volunteers. They come from different backgrounds, have a range of career and life experiences, and may perform their work on a full-time or part-time basis. Often, they're charged with many disparate tasks and must collaborate with different departments within an organization, from the marketing team to the development officer.
What's more, volunteer professionals can also hold various titles, including:
Volunteer Leader
Volunteer Manager
Volunteer Coordinator
Volunteer Resource Manager
Director of Community Engagement
Community Outreach Coordinator
… to name a few!
For some organizations, the volunteer leader is focused on leading volunteers. They're charged with coordinating volunteer schedules, training, and supervising onsite volunteer leadership.
Other volunteer leaders are also volunteer program managers. They're responsible for overseeing the daily operations of an organization's volunteer program.
Therefore, depending on the organization, a volunteer leader may be responsible for any number of tasks related to the volunteer program:
As you can see, a volunteer professional's responsibilities are varied and numerous. But if you're thinking about a career in volunteer management, don't be intimidated. The job can be equal parts challenging and rewarding.
Are you looking to hire a new volunteer leader? Your candidates may not have experience in every task listed above, mainly due to the complex nature of the role. What's more important is that they demonstrate strength in specific necessary soft skills.
What Skills do Volunteer Leaders Need?
Regardless of the role title, most organizations are searching for volunteer leader candidates that demonstrate a baseline set of skills, but these suggested skills might surprise you!
Historically, volunteer leaders were expected to have experience in marketing, human resource management, recruitment, or project management. Today, successful organizations favor candidates who demonstrate "soft skills" over job-related knowledge.
Why? Simply put, soft skills are much harder to teach. They're the types of personal attributes that lead to effective collaboration and communication and drive success.
Let's break down the core competencies that make for a great volunteer leader:
Interpersonal Skills
Successful volunteer program leadership relies on relationship building. Much of the role is carried out on the phone, on the ground, or in meetings with stakeholders. Therefore, volunteer leaders should feel confident in their interpersonal skills to form the relationships and partnerships that sustain a program.
The Ability to Inspire
Volunteer leaders are in charge of doing just that: leading. They must continuously motivate others to support a cause and donate their time and money.
Some people are born leaders; others prefer to work independently (and that's great, too!). Volunteer professionals should feel comfortable managing teams, inspiring communities, and celebrating volunteer involvement.
Leadership skills can take time to hone, and new volunteer managers need not have mastered them entirely. However, they should feel comfortable being in a leadership position from the start. Even more important? An eagerness to grow into the role.
Reliability
There are a lot of people who depend on volunteer services, and it's the volunteer leader who ensures volunteers are delivering these essential services. Therefore, volunteer leaders need to be reliable.
What does reliability look like, exactly? Volunteers and other stakeholders need to trust leadership, and one of the best ways to garner trust is to be consistently reliable. That means responding to feedback, following through on promises, and communicating regularly.
Organizational Skills
Volunteer managers oversee a lot of moving parts and are often stretched thin. From scheduling to follow-up and everywhere in between, volunteer leaders need to have a knack for staying organized. More importantly, they need to keep calm when things get hectic.
Don't worry; there are lots of tools and tech to help volunteer leaders meet the ever-increasing demand for volunteer services!
Passionate and Community-Minded
It's no secret that volunteer management is challenging. While organizations are working toward understanding the value of volunteer programs, volunteer management professionals do the work because they care about their communities and clients. They're passionate about the work they do and the causes they support. This community-forward vision is what keeps them going.
Volunteer leaders are often volunteers themselves. They understand the importance of community engagement and want to work for organizations that make a difference.
Leading Volunteers: The Day-to-Day
What does leading volunteers look like on a day-to-day basis? While the role can vary significantly, here's an example of what a day in the life of a volunteer leader might look like:
Review applications and interview potential volunteers
Assess the interests and skills of volunteers and match them with appropriate activities
Maintain and grow volunteer base through outreach to individuals, community-based organizations and groups, colleges/universities, and corporations as needed
Review program volunteer needs
Maintain daily volunteer schedule
Maintain volunteer database
Manage volunteer orientation and training program
Maintain ongoing communication with volunteers and answer any inquiries
Participate in special event planning
The amount of time a volunteer manager spends on each activity will depend on the priorities and capacity of an organization. Some volunteer leaders spend the majority of their time scheduling and placing volunteers. Programs assisted by volunteer management technology tend to spend less time on administrative tasks and a higher percentage of their day on engagement and outreach.
How to Become a Volunteer Leader
Leading volunteers can be rewarding, with plenty of opportunities for personal and professional fulfillment. What experience and qualifications do you need to get started?
Volunteer leadership education requirements will depend on the organization, with most (but certainly not all) requiring a four-year college degree in any field.
Some higher education institutions offer certifications in volunteer leadership and nonprofit studies. Other organizations like the Nonprofit Leadership Center and the Council for Certification in Volunteer Administration offer certification and training programs for volunteer managers who want to prepare for or grow in their roles.
While some organizations will require previous experience with community organizations, prospects don't need previous volunteer management experience to make impressive candidates.
One of the most important ways to prepare for a new role is by volunteering! Volunteering allows you to gain first-hand experience as you evaluate the strategies that worked and didn't work.
Regardless of your degree and career experience, volunteer manager training courses provide an invaluable opportunity to score a new job or build upon your skills. There are also plenty of free resources available for volunteer leaders who want to continuously stay up-to-date on volunteer management best practices.
Check out the new volunteer manager's handbook for everything you need to know during your first year in the role.
Volunteer Leadership Models
A leadership structure will ensure your program runs smoothly and staff and volunteers clearly understand their roles and responsibilities. Here are some standard leadership models for volunteer programs:
Typical Volunteer Leadership Structure
Many community organizations operate based on a top-down management model simply because this is the default structure for most governance.
Typically, a volunteer manager will report to the Program Director or Development Director. Larger organizations may also rely on volunteer coordinators or supervisors, who report to the volunteer manager. This top-down model creates alignment between the team's overall goals and mission and provides clear expectations for volunteers.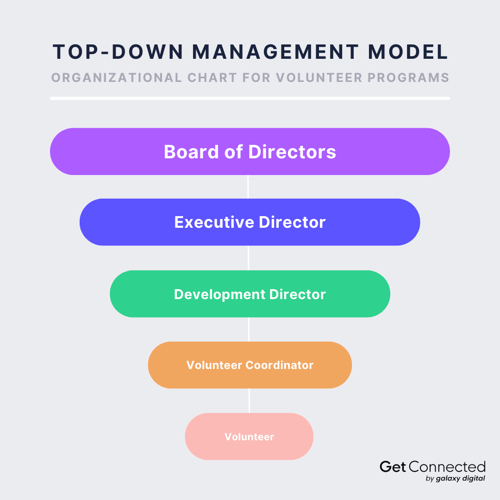 Alternative Leadership Models
Not sure a traditional leadership structure fits your organization? Here are a few other ways to lead a program:
Hybrid Leadership Structure
While top-down leadership certainly has its place, this model can discourage creativity and proactivity because it deprioritizes autonomy among volunteers. It can also lead volunteers to feel disconnected from an organization's mission.
For this reason, some organizations move away from the hierarchical leadership structure and instead implement a bilateral system that combines both bottom-up and top-down leadership. In this leadership model, the hierarchical structure may be kept in place for hiring and firing and final approval of key decisions. However, volunteers and staff are empowered to contribute to the organization's growth by joining in the decision-making process.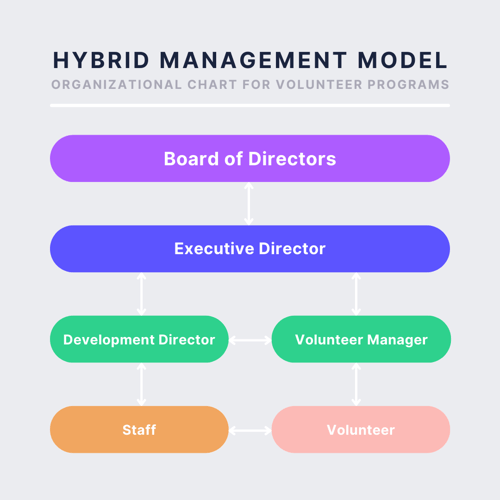 Shared Leadership
A "shared leadership" model for decision-making and strategy can enormously benefit community service organizations. This means that leadership responsibilities are distributed throughout the organization, so that staff and volunteers are also given opportunities to make critical decisions.
What can shared leadership look like in your organization?
When opting for shared leadership, it's crucial to establish a safe environment for idea sharing. As the traditional dynamic shifts, so too must the mindset of higher-ups.
Volunteers and staff may have more autonomy within their roles, and their ideas might be considered fairly.
Unpaid Leaders
Your volunteers not only help deliver direct services, but they can also assist with program management. For organizations with limited resources, volunteers can offer valuable behind-the-scenes support. Your trustworthy and experienced volunteers can even serve as leaders by participating in roles supporting program operations.
So, why not designate volunteers and interns as shift supervisors, orientation leaders, or social media managers? Ensure you have a system in place for training and overseeing volunteers in leadership roles.
Secrets for Leading Volunteers Successfully
What makes a good volunteer leader? These leadership and volunteer coordinator tips will help you lead more effectively and efficiently:
Inspire, Motivate, Engage
It's the volunteer leader's job to inspire support. Effective volunteer leaders not only understand successful recruitment tactics, but they also understand the motives that keep volunteers engaged long-term.
What can volunteer leaders do to inspire volunteers every day? Try these actions to mobilize your support base:
Understand Volunteer Motivation
Learn what drives volunteers to succeed. In addition to their altruistic intentions, volunteers are typically motivated by one of three factors:
Affiliation - These volunteers enjoy social interaction and enjoy group activities. They may volunteer because others are doing so or to make friends. This volunteer wants others to perceive them as a "good" person.
Achievement - These volunteers are motivated by specific goals. They seek responsibility and like to take on challenges.
Power - These volunteers want to impact and influence others. They tend to be driven by specific causes and want to relate to your organization's overall goal directly.
Of course, there are many reasons people volunteer. Inspiring volunteers is about speaking their language and providing them with ample opportunities to shine.
Survey your volunteers upon intake to understand what they hope to get out of their experience. Then, look for unique ways to energize an array of volunteers.
Communicate Regularly
Communication is one of the most powerful tools in your program's toolbox. Regular communication is essential to keeping your volunteers informed, making them feel appreciated, and bridging gaps between your organization and its volunteers. Empower your volunteers by communicating need-to-know information, your gratitude, and your mission using their preferred channels (such as email or text messaging).
Create Opportunities for Skills Development
Volunteers want to feel like they have a real impact. Put their skills to use by matching them with opportunities that highlight their strengths and support their interests. For those who want to hone new skills, create volunteer opportunities that allow them to learn while contributing to your organization.
Forge Connections
As a leader, you can help volunteers form meaningful connections with fellow volunteers, mentors, and other community members. Socially motivated and career-motivated volunteers will jump at the chance to meet others.
Introduce your volunteers to fellow supporters and staff, host social events, and create opportunities encouraging teamwork and collaboration.
Listen
Great leaders listen first. Welcome feedback, listen to your volunteers' concerns, and create an environment that supports creativity and forward-thinking.
Address Concerns
After you've listened to your supporters' concerns, you need to take action to win their support for the long haul. Take your volunteers' concerns, feedback, and ideas seriously. Create a system for and culture of incorporating feedback and implementing change.
The name of the game is consistency, not perfection. You may not be able to inspire every volunteer every time, but you can create a strategy for keeping your supporters engaged in your cause.
Manage (and Protect) Your Time
Time management is about more than just productivity. While time management is certainly a necessary skill, healthy leadership can also mean protecting your time.
Effective leaders set boundaries. It can be tempting to say yes to every request. But taking it all on yourself is unsustainable and can lead to more problems down the line. In other words, learning to say no is a necessary leadership practice. Sometimes this can mean being firm about your work hours and vacation time (and respecting staff and coworkers who do the same) or even advocating for your volunteers' time. Remember, leaders shape organizational culture.
Delegation as a Leadership Practice
One way to protect your time is to delegate. Seasoned volunteer coordinators know why volunteer delegation is important.
Remember, you don't need to go it alone. Strategic delegation is an essential practice for any leader. If your organization is short on staff and time, think about ways you can leverage volunteers and interns. They want to support your organization, which can also mean working behind the scenes to support program operations.
Tools for Managing Your Time
For those who are looking for ways to manage their time better, productivity tools like these can help you stay on top of your tasks:
Google Calendar - Sync with your email and other team members so you can easily plan your day and schedule meetings.
Trello - Manage tasks and projects with this visually-pleasing project management tool.
RescueTime - Reduce distractions, stay focused, and receive illuminating insights about where you spend your time online.
Dropbox - Easily store and share digital items like documents, images, and videos with this popular free service..
Evernote - Take and organize digital notes and even automatically transcribe the text in photos. Evernote is an excellent tool for the avid notetaker!
Prioritize Health
Community organizations are under a lot of pressure to deliver essential services, often with limited resources. In fact, the nonprofit industry has some of the highest employee turnover rates.
Volunteer leaders are especially susceptible to stress, burnout, and compassion fatigue because they're consistently exposed to daunting systemic challenges and are more likely to be overstretched in their roles.
For this reason, it's important to advocate for one's health and well-being. After all, you can only do your best work when you care for your personal needs first.
Burnout
According to the World Health Organization (WHO), burnout is a phenomenon "resulting from chronic workplace stress that has not been successfully managed."
Occupational burnout is a syndrome recognized by WHO. It can cause real psychological and physical symptoms and should be taken seriously by employers and employees.
Keeping occupational stress and burnout at bay will require you to advocate for your well-being. This may include taking the following actions to lessen burnout:
Take breaks
Use your vacation time
Outsource and delegate
Check-in with yourself regularly
Advocate for your worth
Communicate with your boss
Seek professional help
Learn more about the signs and symptoms of burnout in volunteer professionals.
Compassion Fatigue
Compassion fatigue occurs when individuals take on the suffering or trauma of clients who have experienced extreme stress or trauma themselves. People whose professions require prolonged exposure to trauma are more at risk of compassion fatigue.
If you think you are experiencing compassion fatigue, consider seeking professional help. You can also take these actions to help prevent compassion fatigue:
Recognize the signs. You may be experiencing compassion fatigue symptoms such as loss of productivity, depression, intrusive thoughts, or tiredness. You can also take this Professional Quality of Life self-assessment to evaluate your symptoms.
Prioritize self-care. Psychologists recommend adequate sleep, healthy nutrition, physical activity, relaxation, and socializing.
Practice self-compassion. Those working in helping professions are used to showing compassion toward others and bearing witness to others' hardships. But they may be unwilling to accept that they, too, are navigating uncertainty. Simply reminding yourself that you're human and are capable of a depth of feeling is a step toward self-compassion.
Create a community. Create a supportive community by connecting with other like-minded people. In addition to keeping in touch with friends and family, consider connecting with peers and other volunteer professionals who understand your experience.
Support Volunteers' Resilience
Volunteers, too, can experience burnout and compassion fatigue, especially if they're working in direct-service positions.
As a volunteer leader, it's important to be mindful of burnout and compassion fatigue in volunteers. By identifying and addressing the signs of burnout and compassion fatigue in others, you can create a healthy volunteer base that is happy, engaged, and effective.
What can volunteer support look like? Sometimes, your supporters will need to take time away from volunteering. Respect their boundaries and give them space to reset. Other times, your volunteers want to feel a sense of community. Simply creating a safe space to communicate and share their experiences will go a long way in leading a resilient group of volunteers.
Work Smarter
The volunteer management process is multi-faceted and complex. That's why volunteer leaders need the resources and tools to work smarter, not harder.
If there's not enough time to juggle all of the duties of a volunteer coordinator, it may be time to invest in volunteer management tools.
Volunteer management software is an all-in-one digital tool that streamlines nearly every stage of the volunteer life cycle. These tools are centralized in one web-based platform:
Automated communication
Volunteer hour tracking and life-updating reports
Volunteer profiles and self-opportunity selection
Mobile app for volunteers
Group and team engagement
Program recruitment and promotion tools
While software will require an initial investment, it can save volunteer leaders hours of administrative time in the long run and empower leaders to focus on highly impactful tasks.
Learn more about the features and benefits of volunteer management software.