Recruiting volunteers is no simple task, but managing them once they're in the door? That's a unique challenge facing many volunteer and event coordinators. Activities like keeping volunteer schedules organized and tracking volunteer hours can take a lot of time and resources.
Today, volunteer management technology is improving the way volunteer professionals coordinate supporters. With rapid improvements in mobile technology, volunteers and coordinators alike can now access dynamic tools at their fingertips.
A volunteer check-in app is one tool for the job. These applications empower volunteers to check in to shifts and track impact through their mobile devices, alleviating time spent on administrative tasks.
The right volunteer management solutions give organizations the power to manage and engage their supporters more effectively. That's why these free supporter-facing apps are a valuable addition to your organization's toolbox.

In this article, we'll explore the benefits of volunteer apps, top options for your organization, and more:
Features of Volunteer Check-In Apps
By 2024, experts predict smartphone users will reach 7.1 billion people worldwide. And many smartphone users interact with mobile apps daily. From social networking to making purchases, mobile apps add convenience to our daily lives.
In fact, volunteer mobile apps can add convenience to your volunteer program. Any organization engaging volunteers can leverage this technology to manage and engage volunteers more efficiently. So, before we dive into key features, let's explore more about volunteer check-in app functionality.
What is a Volunteer Check-In App?
A volunteer check-in app enables supporters to discover new opportunities, check in to shifts or events, and track their impact directly through their mobile devices. Many volunteer apps offer additional capabilities, like attendance and hours tracking.
Most volunteer check-in apps are free and integrate with a volunteer management platform. So, data collected from the app is automatically communicated and stored within the volunteer management system.
Keep reading to learn more about volunteer app features.
Key Volunteer App Features
What should you look for in a volunteer app? Here are some of the top features designed to simplify on-site volunteer management:
Volunteer sign-up – App users can discover events and volunteering opportunities based on their location. Once the volunteer finds an event or opportunity they're excited about, they can sign up on the spot.
Volunteer scheduling and calendar – A volunteer app displays volunteering schedules all in one streamlined location. With the calendar at the volunteers' fingertips, they're far less likely to miss a shift!
Communication – Some volunteer apps connect organizers with supporters (and supporters with each other), creating an online community and more efficient communication channels. On-the-ground organizing becomes more manageable while you grow your network.
Contact-free check-in – Mobile check-in is excellent for large-scale events and volunteering across multiple locations. Volunteers check in to a volunteer shift or event on a mobile device. Meanwhile, coordinators can manage and track attendance from anywhere, eliminating the need for paper sign-in sheets and manual data entry later on.
Volunteer hours tracking – Reduce barriers by empowering volunteers to log their own hours easily. Some volunteer apps automatically track volunteer hours when they check in to a session, while others enable manual tracking in just a few clicks.
The Benefits of Integrating Your Volunteer App with Your Management System
A volunteer check-in app is a convenient tool for saving time and engaging the next generation of eager supporters. But your technology is even more powerful when integrated with a volunteer management system.
Sometimes, free tools aren't enough. Investing in comprehensive all-in-one volunteer management software ultimately saves you resources in the future. With a full suite of volunteer management software tools, you can manage every aspect of your volunteer program from anywhere.
In fact, when paired with free volunteer tracking apps, volunteer management software can:
Streamline volunteer recruitment and management processes
Centralize your database and communication
Reduce administrative time and frustration
Boost community engagement
Improve data accuracy with better reports for donors and grants
Need help choosing the right Volunteer Management Software for you? Get the FREE Buyer's Guide >>
Our Top Volunteer App Recommendation
CauseConnect is the best option for managing check-in and tracking hours. It's designed for volunteers, so engaging with your organization is easier than ever. That's a win-win for volunteers and coordinators alike!
Even better, the CauseConnect app integrates with Get Connected volunteer management software. The platform combines all the user-friendly volunteer management tools you need for streamlining your volunteer management processes.
Learn about CauseConnect:
Galaxy Digital's Get Connected
When used together, this powerful combination provides the robust system you need to save time and grow your volunteer program. The volunteer app communicates seamlessly with Get Connected volunteer management software, so behind-the-scenes management and data tracking are centralized and efficient.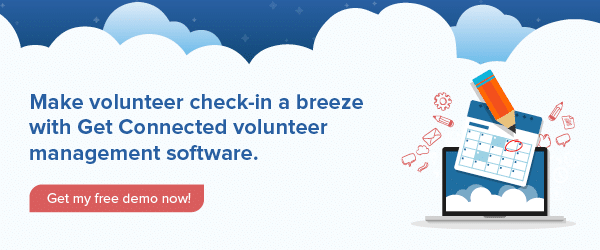 Get Connected Volunteer App Features
What do you get from the Get Connected's volunteer app? These helpful features will carry you and your supporters through check-in and beyond:
Volunteer Calendar – Volunteers can view all their upcoming shifts in a clean, intuitive schedule, so they're less likely to miss a shift!
Automated Notifications – Geolocation services remind volunteers to check in when they've arrived on location. The app also sends scheduling reminders and notifies users about upcoming activities.
Speedy Check-in – No volunteer app is complete without fast mobile check-in and check-out. With a few taps, attendees sign in to their activities. The process is contact-free and flexible so that volunteers can check in from anywhere. Meanwhile, organizers can access live-updating attendance tracking through their volunteer management software.
Automated Hours Tracking – When volunteers check in to an activity, their hours are automatically logged, providing coordinators with more accurate program impact reports.
Personalized Volunteer Dashboard – Supporters can view their impact data and upcoming schedule in an engaging, infographic-style dashboard.
Best of all? The app is free for volunteers to download from the Apple or Android App Stores.
Additional Volunteer Check-In App Options
You want to find the best tool for your organization. So we're here to help! We've compiled a list of volunteer check-in apps to aid your research:
SignUpGenius
Every event coordinator and volunteer manager needs an online scheduling tool. SignUpGenius specializes in basic group and event scheduling. They're also the makers of the SignUpGenius mobile app, designed for managing the volunteer sign-up process, communicating with group members, and more.
Through the volunteer app, participants can:
Sign up and pay for events
Edit and swap shifts
Add events and shifts to personal calendar
Administrators can use the app to:
Send email and text message reminders to attendees
Access current and past attendance records
View attendance record stats and reports (with a paid plan)
SignUp.com
Sometimes you need simple and SignUp.com offers just that. This tool provides event organizers and volunteer managers with an online scheduling and sign-up tool. Organizers can access mobile-friendly sign-up sheets online or download the SignUp.com app for iPhone or Android devices.
Some of the app's top features include:
Contact organizers and participants
View all volunteer activities in one place
Turn smartphones and tablets into sign-up sheets
Track volunteer hours
The company also offers an iPad app that turns any tablet into a "Clipboard sign-up sheet." The volunteer check-in app is free to download.
Track It Forward
Technology should empower volunteers. Track It Forward offers volunteer time tracking software that enables volunteers to track their hours and sign up for activities through an online calendar. The Track It Forward app is available for both organizers and volunteers.
Volunteers can use the mobile app to:
Log their hours after completing a service projects
Access and review timesheets
Measure achievements and time goals
Sign up and RSVP for events
Message event organizers
The app enables organizers to:
Register new volunteers
Approve and reject hours submissions
Message volunteers
Mobilize
Mobilize takes a technology-forward approach to managing nonprofit membership and attracting donors. The Mobilize software specializes in community and membership management. The Community Mobile App allows organizers to create and manage events, while attendees can find events and network with others.
The Mobilize app includes top features like:
Schedule and invite members
Communicate with networks or send private messages
Create discussions and polls
Access participation analytics
GivePulse
Your volunteer management tools should not only allow volunteers to check in. GivePulse is a platform designed to bring communities together by connecting people with community partners and opportunities for social change. The GivePulse app provides a quick way for volunteers to track community engagement.
Through the app, volunteers can:
Search and browse for local volunteer opportunities using the interactive map or list view
A user dashboard to view upcoming events and group memberships
Track and share impact, including time, money, goods, and training
Sign-in using multiple authentication options, including Facebook and Google
TeamKinetic
Based in the United Kingdom, TeamKinetic strives to help organizations recruit and retain more volunteers. In response to their customers' requests, TeamKinetic developed an app to bolster their efforts. Community members use the TeamKinetic App to locate and sign-up for opportunities.
In addition, the TeamKinetic volunteer check-in app includes these key capabilities:
Notification system to keep supporters in the loop
Volunteer portal to track achievements
Search function to discover future opportunities and events based on location
Sign-in to any organization's platform
InitLive
Managing event staff can be a challenge. InitLive software is designed to simplify the management of event staff and volunteers. Their mobile check-in app takes these management capabilities on the go. Volunteers, staff, and managers benefit from one centralized app.
The InitLive App features include:
Mobile check-in and attendance tracking
Volunteer shift sign-up
Two-way communication between volunteers and coordinators
Scheduling and team management
Access to important documents like training materials
Breeze
Need a tool that specializes in church management? Breeze church management software helps small and mid-sized churches easily manage their database, offer online giving, and manage events. The Breeze App enables managers to access Breeze on their mobile devices.
This free volunteer tracking app allows users to:
Create, edit, and manage events
Analyze giving data
Group volunteers to send targeted communications
Schedule volunteers and take attendance
Breeze also has partnered with Subsplash to offer a member-focused app integration.
MobileServe
MobileServe specializes in mobile volunteer tracking for companies, nonprofits, universities, and Greek organizations. The tool enables organizations to measure and communicate service hours, reducing the need for manual data input and outdated sign-in sheets.
The MobileServe app enables participants to:
Check-in at service events through geotagging
Log time in just a few taps
Connect with friends and engage in friendly competition with the service leaderboard
Share their impact through the social media integration
Administrators can also use the app to:
Verify volunteer hours and collect supervisor signatures
Access aggregated data and reporting
Engage community partners so volunteers can discover even more opportunities
Giveffect
Volunteer managers can get the most out of their tools by investing in multi-functional solutions. Giveffect nonprofit software is one such solution, providing all-in-one fundraising, donor management, and volunteer management tools. Their accompanying volunteer check-in app also enables administrator access, so volunteers and coordinators alike get the most out of the software.
Addition Giveffect app features include:
Check-in and check-out volunteers and event participants to track hours and attendance
Validate event tickets quickly with QR code scanning or manual entry
Scan driver's licenses for quick authentication
Search for contacts using location data
Don't forget your free VMS Buyer's Guide!
Tools like volunteer apps and volunteer management software alleviate tedious administrative work, so coordinators are empowered to refocus their time on more impactful tasks. When equipped with the right technology, organizations centralize their volunteer recruitment, management, and engagement processes, ultimately boosting efficiency and return on investment.
Additional Resources
Want to learn more about volunteer management software tools? Check out these resources: