Free volunteer events planning guide
Organizing an event requires many helping hands, and recruiting event volunteers can help support event staff. But you'll need volunteers with relevant skills and experiences to support your event, and it will require focused efforts to get them.
In this article, we'll consider some useful tips for effectively recruiting and organizing volunteers for your events. Attract the best with these tips:
Plus, Additional Resources for Nonprofit Events Continue reading to learn more!
1. Identify Event Staffing Needs
Before commencing your volunteer recruitment process, identify specific areas where you need assistance and how many volunteers you will need to fulfill each need. For an in-person event, you may need volunteers for:
Set up and tear down
Ticketing and guest check-in
Ushering
Traffic/parking management
Crowd control
Selling or distributing merchandise
Cleaning
Logistics
Customer service
For virtual events, volunteers are primarily required for online assistance, and you may need them to do some work much earlier than the event dates. Volunteers can fill roles like:
Email Marketing Support – If you are not using a nonprofit CRM, you might need volunteers as marketing assistants to support your email campaigns and follow-up.
Customer Support Agent – This can involve answering questions on your event microsite or providing technical support for attendees during the event.
Demo Audience – You might also need to recruit volunteers to serve as the audience when testing your virtual event platforms to identify possible bugs.
2. Create Specific Roles and Requirements
After identifying the needs for your event, the next step is to create specific roles to be carried out and determine the number of volunteers you need for each role. This will involve writing volunteer opportunity descriptions. Writing a compelling volunteer opportunity description is one of the building blocks of your organization's volunteer event recruitment strategy. You'll want it to be clear, inspiring, concise, and effective. Make sure your descriptions include:
Necessary skills, knowledge, and experience
Desirable Qualities
Location preferences
Time commitments
3. Launch Your Search
Use all available channels to get the word out to prospective volunteers and make value propositions to attract volunteers to sign up. Here are some ideas of where to find volunteers:
Send an email to your existing volunteer database – If you've used volunteers in the past, utilize your resources, and contact them before anyone else.
Tell colleagues and partner organizations – Ask for referrals from your colleagues in the industry who have used volunteers before.
Ask your past attendees – Consider using your past event attendees as volunteers during your event. Since these individuals are already familiar with your event and its content, they may be ideal for executing your event needs.
Put out a call on social media – Use Facebook, Instagram, Twitter, and other social platforms to announce your search for volunteers. You can post the call for volunteers on your website, and post directly on social media with a link to your site with more information.
Use volunteer databases – Volunteer databases are websites or software that match volunteers with nonprofits and organizations needing them.
List your offer on other sites and forums – Place search notice on popular listing sites or forums that volunteers visit often.
Download the
FREE volunteer events planning guide >>
4. Understand What Motivates Volunteers
Volunteers are non-paid staff, but they still take careful consideration before committing to any organization or event. Therefore, to attract and recruit the best volunteers for your event, you should understand what motivates them. People might choose to volunteer for the following reasons:
Finding an expression for their passion
Investing in a cause they believe in
Building skills and competence
Gaining work experience
Increasing employability
Developing personal and professional skills
Developing a network of contacts
Gaining industry knowledge
Getting a 'foot in the door' to work in a particular industry
As an event organizer seeking to engage volunteers, you should consider those motivations and show how your event will help them achieve their goals. In other words, your own goal may shift from merely reducing budget spending to helping your volunteers grow as individuals. This approach can help you attract qualified volunteers who will give their best to whatever tasks you assign to them.
Promise Incentives
When writing your search notice, include incentives, so prospective volunteers will know what they stand to gain. Here are some incentive ideas for event volunteers:
Unrestricted event access
Discount on merchandise
Event swag
Food and drinks
Certificate of participation or letter of recommendation
Post-event volunteer appreciation event
You can offer any other incentives that will appeal to the kind of volunteers you are targeting. Give them enough reasons to want to volunteer for your event more than any other events scheduled around the same time.
Want this events planning guide delivered to your inbox?
5. Set up a Recruitment Process
Set up a volunteer recruitment process to ensure that you are getting the best volunteers for each available role. A simplified process will include pre-qualification, interview, selection, training, and induction.
Pre-qualification
Design a questionnaire for interested applicants to discuss their top skills, areas they wish to serve, and why they are interested in volunteering at your event. Ask other questions to help identify their core strengths and see if they'll make a good match for available roles.
Interview
Shortlist candidates based on their responses and interview them through a video conferencing tool like Skype or Zoom. An interview provides the opportunity to know their work preferences and capabilities and helps you decide where each can fit.
Training and Induction
After the interview, make your selection and notify the successful candidates. Set a date for volunteer training, either online or offline. Some training can start online and then move onsite if in-person training is required.
6. Organize Volunteers for the Event
After the recruitment process, organize and prepare volunteers for their roles. There are several things to be done before the event, on event day, and after the event to manage volunteers effectively. Here are some ideas to consider:
Before Event
Create synergy between your staff and volunteers. Designate a central person who coordinates the volunteers and assigns them their respective tasks. If volunteers are to work with a staffer, let them know who they are working with. Alert your staff that they will be working with volunteers and give them guidelines on what they can assign to volunteers. To prepare for the event, give volunteers a dress code or provide kits in advance if they are to be in uniform. Also, specify arrival times on event day or login time if it is an online event.
On Event Day
Brief volunteers again about the tasks for the day. Help them to see their role as an integral part of the event's success and motivate them to give their best. Run volunteers through the event guidelines and best practices again, then assign each volunteer their specific tasks. If there is a no-show, make that up by using a "floater." Ideally, you should plan to have additional volunteers on standby to fill the gap in such a situation.
After Event
Debrief the attendees, show your appreciation for their work, and get feedback about their experience. Ask about the challenges they encountered and if they were able to achieve their goals. You can organize a small post-event party to appreciate them and give them other incentives you have in mind. You also need to review your data and measure ROI on volunteers. Consider whether it was worthwhile to recruit the volunteers and what you can do better to get the best from the program in the future.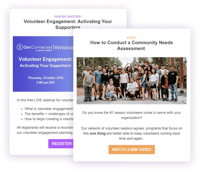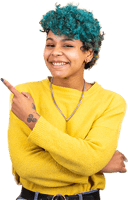 Join 20,000+ Volunteer Leaders
Get impact-boosting articles, guides, and webinar invites to help grow your volunteer program
7. Say Thank You
This is perhaps the simplest and most important way to show your appreciation. Take the time after each shift, opportunity, or event to say a personal thank you. If you can't be there in person, spend some time composing a volunteer thank you note and promptly send it via email or a personal text message. To keep in touch with event volunteers, organize them into a group on a messaging platform or use your mobile event app so they can keep interacting with your organization and one another even after the event ends. If you organize recurring events, request long-term commitments from volunteers so you can save yourself the efforts of repeated recruitments in the future.
Additional Resources
Volunteer Appreciation: The Ultimate Guide
A Guide for Nonprofit Fundraising Events: The Profits and Expenses of Hosting Hybrid and Virtual Fundraising Events