Building a Solid Volunteer-Management System with Community Connect
Habitat for Humanity has long been popular with volunteers, and for good reason. Its cause — to "build strength, stability, and self-reliance through shelter" — is one that many people can believe in and are happy to support. Habitat for Humanity seems to have a place for every volunteer, whether skilled or unskilled, old or young, local or out of town, episodic or recurring. A wealth of both individual and group volunteer opportunities, as well as numerous initiatives for people of all ages and skill levels, helps ensure that Habitats large and small have a strong, ongoing pool of enthusiastic volunteers.
A nonprofit like Habitat for Humanity requires a robust volunteer management system for publicizing volunteer opportunities, matching volunteers to jobs, scheduling ongoing volunteers, providing a simple check-in system, tracking and reporting hours, and rewarding volunteers for a job well done. Community Connect does all of these things — plus, it gives you a branded, welcoming online platform that volunteers will love to use, regardless of their comfort level with technology.
Our volunteers love the website, our staff loves the website, and we have seen a big jump in how many volunteers are actually signing up for our opportunities! Community Connect has allowed me to spend more time developing our volunteer program and being creative in other ways, instead of recruiting and fishing for volunteer data! — Cara Corrigan, Program Manager, Habitat for Humanity of Ventura County
Habitat for Humanity and Community Connect
Habitats from California to Chicagoland to West Virginia, all of which launched Community Connect this year, are already seeing the difference an effective volunteer-management platform can make. Read on to learn how some of Community Connect's most powerful features can make your volunteer platform a success!
Skills: Laying the Foundation
Habitat uses volunteers of all skills, from the retired contractor to the youth-group member who has never hammered a nail. Matching volunteers to the appropriate jobs can be a challenge, though. With Community Connect, every opportunity you post is attached to one or more skills. Volunteers can then search your database of opportunities by skill. Skill-categories also make it easy for you to match qualified volunteers to the right jobs.

One of your first tasks with your new site will be to decide which skills are most pertinent to your nonprofit's volunteer needs. You'll start with sixteen default skills ranging from advocacy to technology, physical labor to skilled. You can customize those skills as needed — replacing some, adding more, or removing the ones you don't require. In Morgantown, West Virginia, Mon County Habitat kept the default skills of Physical Labor and Skilled Labor, and they added Creative Arts, Event Planning, Real Estate, and Retail Sales. Chicagoland's Will County Habitat focused primarily on construction skills, to include Finish Carpentry, Landscaping, Drywall, and Electric. Will County even includes a "No Skill Required" "skill"! With this setup, volunteers can quickly find the opportunities that best fit their level of expertise. With the click of a button, the matching opportunities are displayed on the screen.
Programs: Setting Up a Framework
In Community Connect, the program is the source of any volunteer-opportunity posting. Perhaps the two most well-known programs within Habitat for Humanity are construction and the ReStore … but you don't have to stop there! Mon County Habitat for Humanity uses these six programs within their platform:
Construction
ReStore
Administration (for clerical and office help)
Fundraising Events
Hospitality
Youth Opportunities (for younger volunteers, such as those in Scout troops and youth groups)
On the West Coast, Ventura Habitat for Humanity's programs include New Home Construction, Habitat Home Repair, and Special Events, along with programs for their two ReStore locations.
With each program posting unique opportunities, it's a cinch for volunteers to find work that supports the causes they care most about, at the locations most convenient to them. A volunteer can simply click on a program to view its opportunities, and they'll also learn important information about the program's mission, location, hours, and more.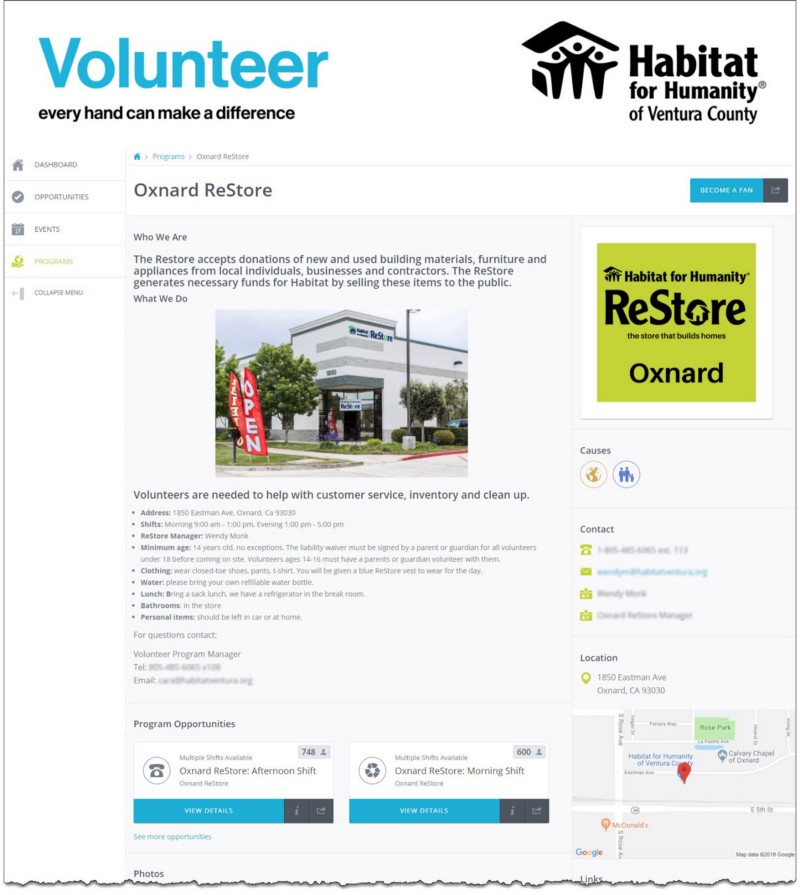 The Oxnard "Restore" program page includes general and contact information about the program, along with a list of the program's current volunteer opportunities (under "Program Opportunities").
Initiatives: The "Roof" Over a Family of Opportunities
Habitat for Humanity has a number of initiatives: Veterans Build, Women Build, Habitat Strong, Collegiate Challenge, and various youth and neighborhood revitalization projects — just to name a few! In Community Connect, an initiative is a kind of "roof" under which you can group various opportunities. Mon County's new West Virginia University initiative will feature opportunities of interest to WVU students. An initiative can include opportunities from many different programs and requiring a variety of skills; with an initiative, these varied opportunities are united within a single effort or category.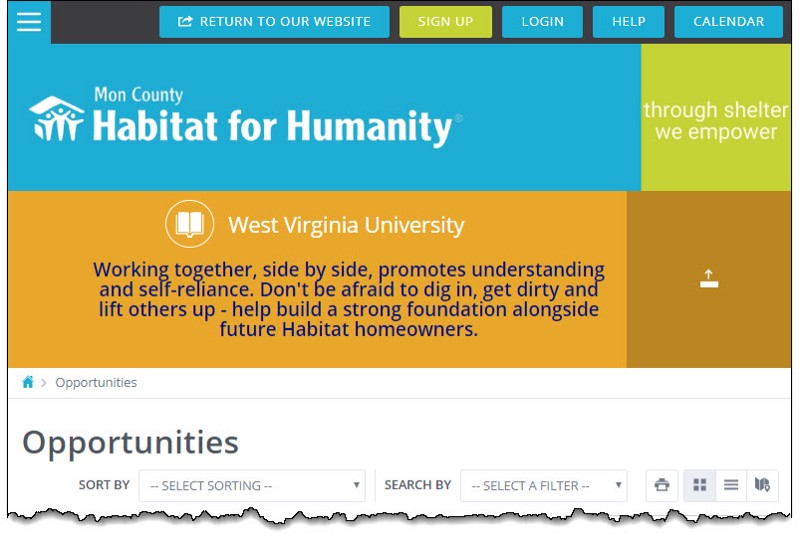 Once you've set up an initiative, you can make it easy to find by sharing links with specific volunteers, whether via email, social media, your website, or an eNewsletter. You can also spotlight initiatives on your Community Connect platform so that every site visitor can find it.

Check-in: Opening the Door
When a volunteer arrives at the ReStore for a shift or at a build site for a day's work, Community Connect's Check-in Kiosk can help ensure that volunteers are registered and their hours are recorded. With this simple tool, volunteers can enter their name, phone number, or email address and check in to the opportunity quickly. The Kiosk can be used by regular volunteers, but brand-new volunteers can use it as well; with the Kiosk, volunteers can set up a new user account, sign up for a volunteer opportunity, and check in — all in just a few steps.
Want to check everyone in yourself? No problem! With the program check-in tool, you can check volunteers in as they arrive, and their hours will be approved automatically.
Benchmarks: Steps for Recognition
While Habitat for Humanity sees many one-time volunteers participating in group and corporate efforts, it also has a rich pool of repeat volunteers who put in many hours each year, working shifts at the ReStore and lending their skills to construction projects. With Community Connect, you can not only track every one of those hours, but you can set up benchmarks that reward volunteers automatically with electronic "badges" once they've reached a goal!

This image appears in the user profile of a volunteer who met the 10-hour achievement benchmark on her local site. She also received an email letting her know that she'd been awarded a badge!
Gamification through badges is a fun, simple way to say "Well done!" to your volunteers. When you're ready to reward those faithful regulars in person — at a volunteer appreciation event or even on social media — you can check your Community Connect reports to see how many hours each of your volunteers worked. If you used Community Connect's Volunteer Check-in Kiosk, then your volunteers didn't even have to log their hours — it all happened automatically!

Reports: Sharing the Big Picture
Community Connect's reporting feature includes a wealth of important data at your fingertips. See how many hours volunteers are putting into each program, as well as what skills are most often being used. With Community Connect's Data Explorer, you can customize the data into any format you want, and with Volunteer Impact Pages, you can share much of that data with your community in an attractive, easy-to-read format. Volunteers can pull up their volunteer resumes at any time to see what projects they've worked on and how much time went into each. If you've set up corporate groups, you can access data on group activity as well. And if Community Connect doesn't include the report you need, just contact Galaxy Digital's top-notch Customer Care team. Once they understand the data you require, they'll work with the Development Team to create the perfect custom report for you!

In Conclusion
Community Connect is key to building a solid, user-friendly volunteer-management system for volunteers with varying skills, interests, schedules, and comfort levels with technology. A solid foundation of skill-categories, combined with distinct programs for posting opportunities, creates a matrix of volunteer opportunities that volunteers can navigate with simple searching tools. With initiatives, you can offer and report on opportunities related to larger-scale efforts. Features such as volunteer check-in and benchmarks make the logging of volunteer hours both easy and fun. And a variety of reporting features allow you to better manage your nonprofit and share the great work that volunteers are doing in your community! To learn more about how you can get started with Community Connect, visit Galaxy Digital's Community Connect page.