A Volunteer Manager Spotlight Series
Recent events have given us a lot to think about; they have brought us powerful stories of perseverance and creativity with respect to volunteer management. We wanted to highlight your stories with the intention of getting at the heart of volunteer management as a practice. We hope that, through these conversations, we can inspire fellow Volunteer Managers and continue to support volunteer programs nationwide.
This month, we interviewed Nick Vottero, Civic Engagement Coordinator at the City of Albuquerque. Nick sheds light on their program's successes, volunteer management challenges in light of COVID-19, and secret strategies for facing the future. Want to be featured in upcoming editions of this series? Reach out to addison@galaxydigital.com.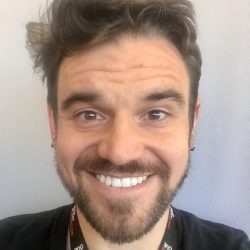 Organization: City of Albuquerque (One Albuquerque)
Interviewee: Nick Vottero
Role: Civic Engagement Coordinator
The City of Albuquerque's One Albuquerque program serves the city by "giving everyone a seat at the table to make the city's communities safer, more innovative, and more inclusive." Volunteers play a critical role in helping to collectively engage with the challenges in which the City faces. One Albuquerque connects its citizens with hundreds of community partners, organizations, and initiatives, reminding us all that "the best way to tackle our challenges is by facing them together."
Outside of your day-to-day tasks and responsibilities, what does Volunteer Management mean to you?
Nick says: Volunteer management is just one small part of our civic engagement work. Our office was created to turn city government inside out and to give every resident in our community new avenues to access and exercise power as a collaborator and co-creator for the future of our city. The best way for our city to rise to the challenge of the most substantial issues we face is through a whole-of-community approach.
Streamlining volunteer management across our departments means spending less time communicating with volunteers, logging hours, and going back and forth with volunteer documents and qualifications. This allows us to spend more time meaningfully engaging with volunteers, training volunteers, and supporting each resident individually in making the greatest impact in our community possible.
Volunteer management is about supporting and cultivating the individuals who stand with us in our mission; this is one of the reasons why we chose [Get Connected] as the platform to facilitate our work across our city departments and with our community partners. Therefore, we can provide the support and tools necessary to make our partners' work less about logistics and more about providing a benefit to their volunteers who contribute their time and the target populations they seek to help in their work.
Externally, volunteer management is about cultivating a culture of service and excitement around volunteering and activism citywide.
How has COVID-19 affected volunteerism at your organization, and how have you adapted to these challenges?
Nick: COVID-19 brought many of our volunteer programs at the department level to a complete standstill. We just couldn't have volunteers on site when safe operating capacities were so substantially limited or when facilities were completely closed. So, we shifted our focus to the volunteer-driven initiatives that were developing organically in response to the needs of individuals and families across the city.
Because FEMA Public Assistance Grants can provide reimbursement for volunteer hours logged, we lent our support to these truly grassroots efforts to provide support in systematizing their volunteer coordination and reporting.
To date, we have logged nearly $800,000 worth of volunteer hours across the city since the public health emergency was declared. We are so thankful that the Galaxy Digital system met the reporting requirements for FEMA reimbursement without additional adjustment so that we could focus on recruitment, education, and support for the residents who stepped up during the public health emergency.
What trends do you think will be important to the future of volunteerism?
Nick: Formalization and systematization are the biggest trends that will affect the future of volunteerism. I think that the desire to make a difference and collaborate for better outcomes is a part of human nature–it drives us. Volunteering has always been a less formal mode of action in communities (vs. participation in neighborhood association groups, public boards, city council meetings, or town halls), but I see that trend changing.
City government relies on volunteers for many aspects of its programming, but those volunteers don't just engage with members of the public; they have direct access to the people who decide what programming to provide and how to provide it. Working alongside administrative staff provides an amazing opportunity to change how public programs operate, particularly if they can serve the community more effectively.
Volunteering also builds professional connections, opens the door for future employment, and looks great on a resume. The comprehensive volunteer resume function of the Galaxy Digital platform empowers volunteers to easily and more comprehensively build their volunteer resume across organizations to include with their other application documents.
We hope to build volunteering into the professional development culture here in Albuquerque so that the skills developed and the time contributed to less formal activities becomes a valuable part of our residents' professional trajectories.
What makes your volunteer program unique? Do you have a secret ingredient or strategy that you can share?
Nick: The secret sauce is effective implementation. And the most valuable components of effective implementation are training. We have several ongoing, regular training opportunities for users of the site to learn how to effectively use the system for their program.
Additionally, using our Get Connected site's flexible User Group function makes the site work for our internal departments to effectively manage their volunteer programs (particularly if training is required for certain groups).
Finally, our dedicated staff makes our program unique. (Our staff includes volunteer managers at the department or organizational level, as well as the staff who coordinate interdepartmentally to streamline processes across departments.)
A sincere thank you to Nick Vottero of the City of Albuquerque for sharing his volunteer management insight. Nick's powerful and creative response to community challenges inspired us. We hope you find his thoughts just as illuminating as we did.