Wondering what nonprofit trends to watch for in 2023?
We've got you covered!
These past few years have proven that we certainly can't predict the future. However, we can analyze and report on what the social impact sector is doing to maximize its impact going forward.
This article will project advances in volunteer management, nonprofit fundraising, and community-forward technology so you can gain a competitive edge in 2023.
Click the links below to skip to your favorite section, or follow along from the start:
Volunteer Management Trends
Over the past several years, we've seen some significant shifts in the way volunteers interact with the social impact sector.
These volunteer behaviors inevitably affect how volunteers are managed. Here's a snapshot of volunteer management trends to look out for in 2023:
Let's dive deeper into each of these volunteer management trends:
Virtual and Hybrid Volunteering
Today's volunteers want flexibility. To stay competitive, volunteer programs will need to include remote, virtual, and hybrid volunteer opportunities and events. Meaning, opportunities for both in-person and remote volunteerism, or a combination of the two.
Virtual volunteering is a great way for volunteer programs and the social impact sector to build resiliency and sustainability.
Do you have any in-person events planned for 2023? Consider adding virtual streaming and online attendance options for your fundraising or volunteer event.
In addition to providing virtual volunteer opportunities, you'll want to consider how your volunteers interact with your organization. In a virtual-first world, your supporters expect to interact with your organization online first before committing to volunteer in person.
For many volunteer programs, this means upping your tech presence with streamlined registration and a well-functioning volunteer site.
Check out these resources for implementing a virtual or hybrid volunteer program:
Microvolunteerism
What if people could volunteer in the time it takes to scroll through Facebook? These days, many people want to take action but need quick and flexible opportunities to engage with the causes they care about.
That's where microvolunteering comes in. It's a convenient form of community action that's gaining traction across the country and worldwide. In fact, this topic was so popular among our readers, we even created a webinar about it!
Microvolunteering occurs on an ad-hoc basis; microvolunteering opportunities are often unscheduled or one-off activities, and tasks can be completed on volunteers' terms, either virtually or in person.
Unlike traditional volunteering, microvolunteering typically does not require an application process or screening.
Curious about this volunteer trend? Learn how to implement microvolunteering opportunities successfully!
Mobile-Friendly Volunteer Management
By 2023, smartphone users are predicted to reach 271 million in the U.S. alone. In other words, the future (and the present, for that matter) is mobile!
There's a good chance your supporters are using their smartphones to interact with your volunteer program. So, here are a few ways you can implement mobile-friendly practices into your volunteer management process:
Text Your Volunteers - Text messaging is a great tool for volunteer supervisors and recruiters alike. Invite your volunteers to opt-in to receive text messages, and send updates, recommended opportunities, and more. Hint: a volunteer management system streamlines your volunteer communications.
Invest in a Volunteer Mobile App - Empower your volunteers to self-select volunteer opportunities, check in, and log their hours straight from their mobile phones with a volunteer mobile app.
Get Familiar with QR Codes - Contactless volunteer check-in is quick and easy. You can create a QR code for virtually any web page. Print and post a QR code for your online volunteer check-in page and watch how streamlined attendance and hours logging can be!
Mobile-Friendly Email Content - Lots of us read our emails on the go. Make sure your volunteer emails, including any embedded links and images, displays correctly on mobile devices.
Donations - Your supporters should be able to make donations to your organization on their phones. Add Apple Pay or another mobile-friendly payment system.
When it comes to volunteer management, we see a clear trend emerging; the need for more efficient and flexible systems that better support overstretched volunteer leaders and their volunteers.
Now, let's look at other emerging trends in social impact sector fundraising:
Trends in Nonprofit Fundraising
What are the current trends in philanthropy and nonprofit fundraising? Let's look at the state of charitable giving to help shape your 2023 fundraising strategy:
Personalized Donor Experiences
Today's consumers are more likely to purchase a product if they receive personalized communication, and nonprofit fundraising trends follow suit.
Therefore, it's more important than ever to build better relationships with your donors.
In 2023, fundraising should feel less transactional and more personal. Donors who engage with your cause on a deeper level are more likely to become loyal supporters.
Create better donor relationships by:
Understanding how much your donors tend to give, and making an appropriate donor recommendation.
Demonstrating that your organization shares their values and sharing your mission.
Providing opportunities for your existing volunteers and donors to contribute their ideas and feedback.
Sharing donor impact. Track and communicate your donors' specific contributions and impact.
Want this community needs assessment checklist delivered to your inbox?
Online Fundraising
Digital philanthropy is widely favored among donors (and the nonprofits they support).
Nonprofits have reported a 77% increase in online revenue over the past five years!
While email still accounts for 13% of online giving, successful email fundraising can require a bit of strategy. Learn how to optimize your fundraising emails.
Nonprofits see steep increases in revenue from a peer-to-peer fundraising tool called Facebook Fundraisers. On average, nonprofits raised $1.77 through Facebook for every $100 of total online revenue.
The uptick in direct donation platforms like Facebook Fundraisers and Instagram suggests that it's worth diversifying online fundraising efforts. Many social impact organizations rely on social media to help supplement fundraising efforts, and we don't see that changing in 2023.
Membership Programs
Nonprofits are finding increased success with membership programs that offer tangible benefits. These benefits may include swag (like t-shirts, hats, and water bottles), VIP admission to events, or any other perk that the donor receives in exchange for their annual contribution.
Donor membership programs can account for a considerable percentage of total online revenue for nonprofits. Memberships are an opportunity to boost revenue and bolster donor loyalty.
Monthly Giving
Subscription services are flourishing—and that's no surprise. Smaller, monthly payments that automatically renew tend to be more manageable and convenient for consumers, while companies enjoy increased customer retention.
The concept has influenced philanthropy trends, too. Monthly givers tend to donate more over time than their counterparts who donate once per year. In fact, the annual value of regular givers is worth nearly three times more than that of one-time donors!
A Different Way to Ask
Charitable organizations have often used their past successes to appeal to donors, asking for donations to continue their efforts. However, this model may prove less effective going into 2023.
Today's donors want to know their contributions are making a difference. To engage the next generation of donors, you will need to change how you ask for donations.
Try using the following outline to appeal to donors:
There's a problem occurring right now.
You [the donor] are needed to solve the problem.
Here's how your gift, or time, will solve the problem.
This model tends to engage the proactive donor by identifying a current need and shifting the focus from the past to the present.
Smarter Fundraising in the Face of Disaster
Communities will likely continue to see an uptick in environmental activism over the next decade as communities demand action. And as natural disasters become increasingly devastating, disaster prevention and recovery teams rely more on the goodwill of individual citizens.
Many disaster funds receive outpourings of charitable donations from individuals and corporations immediately after a disaster event. However, funding can just as quickly subside, even when a significant need remains.
If your community relief organization gets involved in disaster mitigation and relief, the Center for Disaster Preparedness suggests shifting the focus from short-term, reactionary giving toward a more sustainable, strategic giving plan to have the most impact.
Here are some smarter ways to prepare for a disaster:
Plan Ahead - Have a disaster preparedness plan, ready to collect donations or lend services for planning, recovery, and immediate relief efforts.
Think Holistically - How can your organization, your volunteers, and their skill sets make a difference?
Be Strategic and Sustainable - Waiting for a disaster to strike before we act is unsustainable. A changing climate calls for creative thinking and preparation. Support innovative prevention, mitigation, and adaptability programs.
Disaster-relief giving can heighten prosocial behavior, including charitable giving and volunteering in the long term.
Ensure your organization has a program in place to receive donations and supplies when disaster strikes and consider partnering with your community's disaster mitigation efforts.

Download the FREE volunteer program planning checklist >>
Capitalizing on Corporate Giving
Today's consumers demand more from the companies they choose to engage with. Capitalize on corporate social responsibility programs by forging strong partnerships with like-minded businesses.
From employee volunteer grant programs and volunteer time off, to impact investing, businesses are looking for creative initiatives to improve public image, lend a hand, and promote employee well-being.
The State of Nonprofit Technology
Today's nonprofits and community organizations rely on technology to make a greater impact.
The right technology is efficient and cost-effective, allowing nonprofit professionals to continue to deliver essential services.
So, what's the biggest theme for 2023?
We're seeing apps and services that increase flexibility and accessibility for volunteers, donors, and the nonprofits that engage them!
Start a Movement with Social Media
Nearly 9 out of 10 people with internet access use social media, making it a must for nonprofits looking to market their programs and engage supporters. So if you haven't already, consider boosting your social media presence in the coming year.
Social media has become integral to drawing attention to community needs and creating momentum for social movements.
It's also the way younger generations are getting involved in your cause. For example, the Black Lives Matter movement mobilized thousands of supporters through social media, and Gen Z led the charge.
Movements on social media are most powerful when messaging is transparent and consistent. Making sure you have a hashtag or handle that is easily recognizable and consistent with your message is crucial.
Tap into the power of social media in starting a movement for your cause by:
Coordinating in-person events by sharing information and asking others to share on their profiles. "Town council meeting this week! Come along, and spread the word!"
Sharing community needs. "Local family in need. Donate supplies today."
Livecasting on location. "We're here today at the United Way community celebration! Let's take a look around."
Asking for donations. "Head to the link in our bio to make a donation today."
For nonprofits struggling to engage the next generation of supporters, it's important to stay updated on social media trends. As more Gen Z members enter the workforce, engaging them will become especially important to sustaining nonprofit causes in 2023.
Get our complete guide on Nonprofit Social Media Strategies.
Text Messaging: Changing How You Reach Supporters
A growing number of consumers say they're comfortable receiving text messages from brands. But texting isn't a strategy limited to for-profit businesses.
We've seen a steep rise in on-the-ground organizing over the last two years. And more community organizations are using text messaging to drive action.
Because of the effectiveness of texting, it's no surprise many nonprofit management solutions have caught on and now offer text messaging to reach supporters: text messages have an open rate of 99%! Compare that with most emails having an average open rate of 28-33%.
Additionally, about 97% of those messages are opened within 15 minutes of receiving them!
There's certainly a future for text messaging in all facets of nonprofit management, from "text-to-donate" fundraising to communicating with volunteers in the field.
Before you jump on board, your supporters must consent to receive text messages from you. Start by collecting mobile numbers during volunteer or donor registration and include terms of agreement for receiving text messages.
Video Marketing and Fundraising
Did you know that 57% of people who watch a nonprofit video make a donation?
The lesson here? Nonprofits can benefit enormously by using video for their marketing and fundraising campaigns.
For example, Children's Miracle Network Hospitals generated millions of donations through a live-streaming campaign.
Look for new ways to add video content to your organization's marketing efforts. We found this guide for creating a nonprofit video marketing strategy especially useful.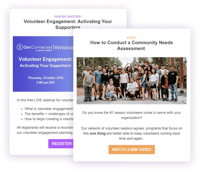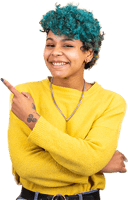 Join 20,000+ Volunteer Leaders
Get impact-boosting articles, guides, and webinar invites to help grow your volunteer program
Remote Collaboration and Video Conferencing
We've been video conferencing for a while now. But video conferencing and remote collaboration are sticking around, likely for good. Thanks to apps like Google Docs and Zoom (Facebook even launched its own video conferencing app), remote work is even more achievable.
Working remotely is probably a consistent reality for many in 2023. Look for ways to add flexibility to volunteer and donor opportunities by offering remote options when appropriate.
Inclusive and Diverse Leadership
The nonprofit sector has a lot of work to do putting inclusive leadership into practice.
The good news is, the past few years have shown encouraging strides when it comes to inclusive and diverse leadership in nonprofits. Thankfully, more organizations are making a concerted effort to establish thoughtful leadership practices.
Diversity, equity, and inclusion (DEI) facilitators who specialize in nonprofits have been in demand as many organizations make important changes to re-evaluate and create new ways of working that benefit everyone from the people served, volunteer base, and employees.
If you haven't already, make 2023 the year to evaluate your organization's leadership structure and ensure it's representing an appropriate range of community voices.
The National Council of Nonprofits offers these helpful guidelines for your organization to consider when beginning your DEI plan.
Transparency in Data Storytelling
By definition, nonprofits must be agents of transparency to maintain 501(c)(3) status. But transparency is becoming increasingly important to your supporters.
Tracking and reporting data like volunteer impact can help you win grants and attract more donors and volunteers.
But transparency isn't the tricky part; nonprofits can struggle with keeping track of their data (and lots of it!). That's why organizations rely on digital tracking tools to collect the data that communicates their impact.
Some nonprofits are sharing this data-driven transparency alongside impact stories directly to their social media profiles and we're likely to see this trend continue to gain steam.
There's a lot of information here, but the most resilient and forward-looking organizations focus on a few high-impact areas. Whether you're a volunteer leader or community development officer, we hope this round-up will help you grow your organization.