It's clear that volunteer training benefits everyone…
Volunteers are prepared and engaged, volunteer programs enjoy greater volunteer retention and improved performance, and communities see better outcomes.
But is your volunteer training up to snuff?
More volunteer organizations are moving some (or all) of their volunteer training online.
Transitioning to virtual volunteer training can be a big step for your volunteer program. But when executed well, a successful training program can lead to more engaged, prepared volunteers.
The Benefits and Limitations of Online Volunteer Training
Training volunteers online certainly has its benefits. But it's not for every program (or volunteer). Let's learn the benefits and limitations of online volunteer training:
The Benefits of Online Volunteer Training
Here are a few reasons to consider digital or online training:
Prepare Volunteers Faster
When volunteers sign-up for in-personal training, there is some inevitable lag time. In fact, the time between signing up and attending training is when programs tend to lose volunteers most often.
Online training gets your volunteers up to speed and on the ground faster—especially while they're still enthusiastic about getting involved! That's because your digital training materials can be accessed anytime, anywhere.
For volunteers who don't need extensive vetting, you can send them training materials immediately after they've registered!
Increase Flexibility and Accessibility
Because online volunteer training can be accessed almost anywhere and anytime, it's great for volunteers who are remote, short on time, or prefer to learn at their own pace.
Also, some individuals may rely on screen reading software to assist with written materials, making online volunteer training an accessible, flexible option for many training needs.
Keep in mind that not all of your volunteers will have access to computers and reliable internet. So, you'll want to think about how you can support these individuals as well. Some organizations partner with local libraries to provide access to computers. Alternatively, you may decide to keep a device on the premises for volunteers to use.
Appeal to Different Learning Styles
Educators know that a one size fits all approach to teaching never really works for students. In fact, according to Vanderbilt University's Center for Education, there are over 70 different learning styles.
Online training allows you to get creative with the way you're delivering information. For example, virtual volunteer training can appeal to visual learners through the rich visual experiences created with simple online tools—think images, videos, and interactive quizzes.
You may continue to deliver your online training using written documents and recorded videos (which appeal to your verbal and auditory learners), but think of ways to add variety to your training materials.
Reduce Training Expenses
If your program is already pinching pennies, incorporating budget-friendly digital training elements can help. Save on printing costs and other overhead by creating and distributing training materials digitally.
Need a better way to manage your volunteer program? Learn about volunteer management software today.
The Limitations of Online Volunteer Training
Online volunteer training is convenient and efficient, but may not be the only answer for onboarding volunteers.
You'll want to understand both the strengths and limitations of digital or virtual training for your organization and its volunteers.
Missing Out on In-Person Demonstration and Learning
Many people learn best by doing. Volunteers can miss valuable opportunities to watch a demonstration and practice a task in person.
So, if your volunteer activities are hands-on and require some practice, you'll likely want to include an in-person volunteer training element. That's not to say that you can't provide your volunteers with digital or online training materials ahead of time!
Fewer Opportunities for Relationship-Building
Opportunities for socializing are a major benefit of volunteering—and many of us need social interaction now more than ever!
When you go entirely virtual, your in-person volunteers may be missing out on the social and health benefits of volunteering.
If you decide to go with digital-only training, think of ways to maintain a sense of community for your virtual and in-person volunteers alike (such as appreciation events, in-person social gatherings, and virtual meet-and-greets).
New Technology Can Be Intimidating
Introducing new technology can be intimidating for some. While your volunteers' tech anxiety shouldn't stop you from transitioning to a digital training model, you'll want to be mindful of these volunteers and make extra concessions to help them feel comfortable.
Now that you know the strengths and limitations of online training, let's decide if it makes sense for your volunteers.
In-Person or Online Volunteer Training: Which Is Right For My Program?
Wondering if online volunteer training is right for your volunteer program?
Consider these questions (plus recommendations) for choosing the right training delivery method:
Are your volunteer opportunities in-person or virtual?
Virtual volunteerism calls for online volunteer training! But even if your volunteers take part in person, you can still offer some or all of your volunteer training online. Consider the rest of the questions below to determine if online training is right for your program and its volunteers.
Are there any activities that require any in-person demonstration?
Some volunteer activities are best demonstrated in person, especially if your volunteer tasks are hands-on in nature.
Of course, you can always provide some of your training online and the rest in-person—often called hybrid volunteer training (keep reading for more on hybrid training).
Regardless, you'll want to decide which information you can deliver online (such as general orientation and introductory materials) and when it's best to invite volunteers for in-person training.
Are lots of questions likely to arise?
Sometimes having a real person to talk to just makes sense. If you're giving volunteers lots of information, or you expect lots of questions to arise, you may want to include an in-person training session—you'll save your volunteers (and yourself) frustration.
Alternatively, you can supplement your online training by hosting an open Q&A for volunteers who want additional clarification.
Will your volunteers require specialized training for their roles?
Some volunteer roles require more extensive training than others. You'll be able to accomplish quite a bit of training online, but you may want to consider additional in-person training if your volunteers are:
Working with vulnerable populations
Working with potentially dangerous equipment
Performing tasks that require specialized expertise, licensure, or other qualifications
You may also want to get volunteers in person so you can evaluate your volunteers' skills and knowledge, as well as any gaps that need filling.
Overall, your priority is to ensure the safety of your clients, staff, and volunteers. One of the best ways to avoid any harmful outcomes is to implement a comprehensive vetting and training program.
How comfortable are your volunteers with new technology?
If a majority of your volunteers are anxious about technology, online training may be more of a hassle than a convenience.
On the other hand, if many of your volunteers are comfortable with computers, then you may want to spend a little extra time and effort creating a simpler training path for your tech-hesitant volunteers (such as providing them with pre-printed packets of training documents).
Hybrid Volunteer Training
Many volunteer programs find success by implementing elements of both in-person and online or virtual volunteer training. This way, you can leverage the best of both worlds!
Your hybrid volunteer training plan might look something like this:
Distribute a welcome email with an introductory video and digital volunteer handbook attached.
Volunteers review the video and handbook and complete a short online quiz.
Virtual volunteers and in-person volunteers participating in less complicated volunteer roles are ready to attend their first shift.
For volunteer roles that require additional training, volunteers sign-up for one of your supplemental in-person training sessions.
All volunteers are welcome to sign-up for an optional in-person meet-and-greet or Q&A.
Occasional ongoing training is conducted virtually.
This plan can be tailored to your organization's needs. The name of the game is efficiency and flexibility. You want to get your registrants up to speed and volunteering without lots of lag time in between. And sometimes the best way to do this is to let your volunteers hit the ground running as soon as they register with your organization!
Implementing Online Volunteer Training Program in 4 Steps
Designing a digital curriculum can certainly seem intimidating. But moving your volunteer training online might actually be simpler than you think.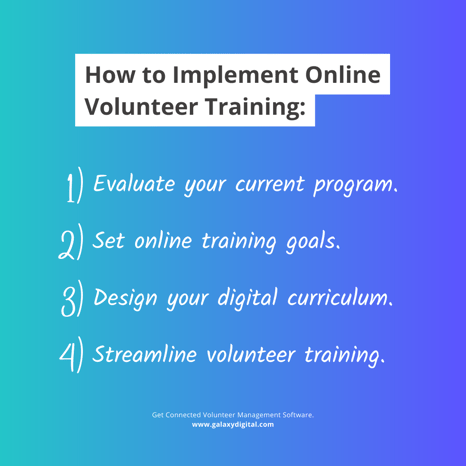 1. Evaluate Your Current Training Program
Before you introduce any new elements to your volunteer training program, you'll to evaluate the process you already have.
There are several ways you can evaluate your volunteer training.
Volunteer surveys are great tools for assessing any aspect of your volunteer program. Ask your volunteers questions like these:
Did you feel prepared for your volunteer role?
Did you feel you received adequate training before volunteering?
Did you feel supported by organization staff and supervisors?
Is there any information you wish you received before volunteering? If so, what?
What would you change about your orientation and training experience?
Your volunteers' answers should give you a strong sense of strengths and gaps. While adding online training elements may not be the answer to all of your volunteers' feedback, it may help to improve their overall experience.
Additionally, you'll want to evaluate the training program yourself. Start by reflecting on these questions (and involve any other staff or volunteers involved in leading volunteer training):
What's working for you as the volunteer leader or training supervisor?
What isn't working?
Do you feel you have enough resources to adequately prepare volunteers?
Do you feel you have enough time to prepare and oversee volunteer training?
Are volunteers performing their tasks at a satisfactory level?
Once you evaluate what you currently have, you can decide how online training will fill in any gaps.
2. Establish Goals for Online Training
Next, establish goals for your online training program. To create your goals, consider these questions:
What information and skills do you want your volunteers to get out of the online training?
Which of your volunteers will participate in online training?
What do you hope to accomplish by adding online volunteer training to your onboarding process?
How will you track your volunteers' progress during training?
How will you track training program outcomes?
Examples of Online Volunteer Training Goals
Your goals should be measurable. You'll want to address (1) intended outcomes for your volunteer program, and (2) intended outcomes for your volunteers.
Organizational Goals
Reduce volunteer turnover during onboarding
Reduce wait times between volunteer registration and first shift
Increase volunteer participation in training
Volunteer Goals
After completing online training, volunteers will…
Understand the organization's mission and background
Understand the importance of their role in achieving this mission
Be able to sign-up for a shift, navigate their profiles, and log hours
Collecting Data
Now that you've set goals for your training program, you'll want to ensure you're achieving those goals.
Determine the data you need to measure volunteer training outcomes based on your goals. Here are some examples of data you might collect:
Volunteer Turnover - Record the number of volunteers who sign-up for training vs. the number of volunteers who then attend a shift. This will help you determine if you're losing lots of volunteers during onboarding.
Knowledge Acquired - Quiz your volunteers on their baseline knowledge before and after they participate in training.
Volunteer Sentiment - Understand how your volunteers are feeling about your new online training. Survey your volunteers about their experience and how supported and prepared they feel.
Program Impact and Volunteer Effectiveness - Continuously measure the impact of your volunteer program. You can do this by measuring the outcomes of a project. Did outcomes improve after implementing your training program? Compare results to the number of hours your volunteers are contributing. Are your volunteers more effective or performing better?
Goals are set, now let's move on to the fun part…designing your training curriculum!
3. Design Your Online Curriculum
Whether you're creating a new training program or converting your in-person training activities to online, you'll need to decide which elements are best delivered digitally.
As your plan your digital curriculum, think about how you will actually deliver this information.
Remember, you don't need your volunteers to show up in person just to read a few documents. Written materials, like your volunteer manual and waivers, can easily be uploaded online or attached in an email.
Consider how you'll keep volunteers engaged in your training. In addition to basic PDF documents, you may want to incorporate these teaching methods:
Social and Collaborative Learning - Consider adding fun idea boards, polls, and word clouds to get your volunteers working together and sharing input. You can also use video conferencing tools like Zoom for virtual training or social sessions.
Mobile Elements - Do your volunteers like to do everything on their mobile phones? Consider ways to add mobile elements to your training. Maybe it's as simple as sending a text message reminding volunteers to check out your training videos.
Interactive Components - Online slideshows, course makers, and quizzes (which you can create for free using tools like Canva or Prezzi) are more visual and interactive, elevating your content above any boring document.
Video - People are much more likely to absorb your content when it's delivered via video. Record your training sessions over video and upload them online, or create simple videos using graphic design tools like Canva.
Learning Management System (LMS) - If your online volunteer training is fairly comprehensive, you may consider using an LMS. These tools allow you to create an easy-to-navigate digital curriculum. Meanwhile, administrators can track volunteers' progress, so you know which volunteers have completed training and are ready to get involved.
Next, you'll need to plan the information that actually goes into your volunteer training. Here's a sample online training outline to get you started:
Sample Online Training Curriculum Outline
Welcome

-

Welcome packet

and video from staff and other volunteers should introduce your organization and training program.

About Your Organization - Short video or digital pamphlet introducing your organization and its mission. Discuss how volunteers play a key role in delivering your mission.

About Your Community and Cause - Help volunteers better understand your work, the community you'll serve, and why volunteers are essential to your cause. This portion of your training will drive volunteers to show up to their first shift (or continue showing up). Use videos and interactive quizzes to inspire and engage your trainees from the outset.
Volunteer Training Manual - Provide your volunteers with a digital PDF copy of your volunteer training manual. Your manual should include information about your organization, staff and contact details, volunteer code of conduct, and general safety and security protocols.
Volunteer Roles and Responsibilities - What tasks will your volunteers perform? What should volunteers bring? You may create a number of different digital documents to distribute via email according to your volunteers' specific roles.
Navigating Your Volunteer Website - Show volunteers how to use your volunteer management software, sign up for a shift, submit forms and waivers, and log their hours. A simple demonstration video accompanied by a written step-by-step guide should do the trick.
Next Steps - Write out the next steps you want your volunteers to take. What should they do when they complete training? Provide appropriate links and contact information to ensure volunteers can easily take the next step immediately after completing their training (while they're still engaged).
Make sure that any volunteers required to attend an in-person training component know when and how to sign up for a session.
4. Streamline Your Volunteer Training
You've established goals and planned your volunteer training curriculum. Now, how do you ensure your onboarding and training process runs smoothly from start to finish?
Streamlined volunteer onboarding ensures your volunteers get involved quickly while still getting the most out of training.
One of the best ways to streamline onboarding and training (and your volunteer management process) is to invest in a volunteer management system.
Volunteer management software is an all-in-one tool that can simplify all steps of the volunteer management process:
Volunteer Communications - Volunteer management software is a lot of things, including a contacts database and communications tool. The system will send automated emails and text messages so leaders can rest assured that volunteers are getting all the information they need to participate in your training and beyond.
Volunteer Website - The software will serve as your volunteer website, including unique volunteer profiles, so all volunteer information is in one place. Volunteers can upload waivers and connect to background check providers. Plus, you'll be able to store all your training and onboarding materials in an access-anywhere resource library.
Volunteer Scheduling - Volunteer management software empowers volunteers to register and schedule themselves. Many volunteer management software options allow coordinators to manage training schedules and orientation sessions in the same place you schedule volunteer opportunities.
Volunteer Hours Tracking - When it comes to evaluating the effectiveness of your volunteer training, you'll need to be able to measure your program's impact accurately. Robust hours tracking tools ensure you capture every volunteer hour with ease.
Whether you're training your volunteers online or in person, volunteer management software will help you streamline your program from registration to training to reporting on impact.
Want to talk to a volunteer specialist to see if volunteer management software might be right for you? Drop us a line - we'd love to chat!