Free Volunteer Matching resource
Four out of five charities use volunteers to serve others or to help run their organization. So, there's a good chance your organization depends on the work of volunteers to operate, making volunteer management an essential component of your nonprofit's operations.
At the heart of effective volunteer management is the act of forging connections between passionate volunteers and your community's most pressing causes. When carried out effectively, volunteer matching is an essential practice that yields a greater return on investment.
Volunteer professionals that consider volunteer interests are more likely to enjoy greater retention and engagement. Volunteers become more engaged when they are passionate about a cause, and their skills are used for good. And finally, communities benefit when skilled volunteers fill gaps in service.
Keep reading to learn the best way to match volunteers to opportunities based on their skills and passions.
Article Contents:
What is Volunteer Matching?
Volunteer matching is the process of pairing volunteers with roles that suit their passions, spark their interest, or leverage their unique expertise.
It's a necessary volunteer management practice for keeping volunteers engaged and happy while boosting retention.
Why is Volunteer Matching
Important?
Volunteer satisfaction is one of the most salient factors in motivating volunteers to continue to donate their time and effort to an organization.
When you match a volunteer to the activity they are passionate about, interested in, and able to do successfully, they are more likely to feel satisfied with their experience, and to continue to contribute to your mission.


Three Reasons to Match Volunteer Interests:
Improve Retention and Engagement
Screening volunteers and matching them to jobs based on their passions, interests, and abilities is one of the best management practices that a charitable organization can make to increase retention. According to a comprehensive volunteer management report, Volunteer Management Practices and Retention of Volunteers, the volunteer management practices that are most successful in increasing retention rates "all center on enriching the volunteer experience."
Create More Meaningful Volunteer Work
It's no secret that successful nonprofits run on happy volunteers, and you want to ensure your organization is offering more than just work. Volunteers want to see the change they're making; they want to know that their skills and knowledge are being put to good use. Once they're vetted, trust in your superstars and skilled volunteers to lead–even implement–projects. Track and share their impact, and share stories from the community about how your programs are creating tangible change.
Fill Gaps in Service
Communities across the nation rely on nonprofits to fill gaps in service, from healthcare to literacy programming. And your volunteers have the experience and skills to fill these gaps. After your organization has conducted a community needs assessment, you can ensure your volunteers that their work is meeting your community's most essential needs. When the role requires more skilled work, it's especially important that you're putting forth the right volunteer for the job.
What Are Volunteer Interests and Skills?
What do we mean when we refer to volunteer interests? Volunteer interests are the activities in which volunteers prefer to participate in. They're also the causes and programs that volunteers are passionate about.
We have worked with hundreds of volunteer centers and programs and have compiled example lists of passions and interests popular among volunteers.
Example
List of Volunteer Interests
Here is a list of volunteer interests featuring common passions associated with nonprofit organizations:
Youth Mentor

Advocacy

Fundraising

Health Care and Wellness

Food Preparation

Construction
Want this planning guide delivered to your inbox?
Example List of Community Causes
Here are some common causes that volunteers may want to support:
Arts and Culture

Disaster Response

Equality

Education

Homelessness

Environment

Mental Health
Example List of Volunteer Skills
Volunteers can offer a variety of skills that can help your organization. The types of skilled and pro bono volunteers your recruit will depend on your program needs. Here are a few examples of skilled volunteer positions:
Social Media

Marketing and Public Relations

ESL Certified

Tax Preparation and Accounting
Video Editing
Child Care
Fluency in Non-English Languages
CPR Certified
Advanced Driver's License
Remember, these are just a few examples of volunteer interests, causes, and skills you may encounter. With an effective onboarding and tracking system in place, your organization can determine what your community is passionate about and the types of activities they like to participate in.
How to Match Volunteers
How can you match volunteers to opportunities based on their skills and interests?
Volunteer matching starts with your website. Your volunteer website is one of the most powerful tools you can use. Most of your prospective and current volunteers will come to your website looking for opportunities they're already passionate about.
The following steps outline how you can incorporate volunteer matching into your existing website and volunteer management practices:
Download your FREE Volunteer Matching Planning Guide >>
1. Screen Your Volunteers
Your organization may rely on volunteers to keep your programs running. So it can be tempting to place anyone and every one among your available opportunities.
Volunteer matching best practice begins with screening your incoming volunteers. Screening seeks to ensure the alignment of values between the volunteer and your organization. While most of your volunteers mean well, inadequate vetting can cause more harm than good.
Organizations choose a variety of application and screening processes. Some organizations feel that a simple application form is enough, while others opt for an in-person interview and background check. The vetting procedure is a great opportunity to understand potential volunteers' motivations, interests, skills, and qualifications.
2. Conduct a
Volunteer Interest Questionnaire
If you're looking for an attainable and inexpensive method of gathering data about your volunteers' interests and skills, you may consider surveying your volunteers as part of your volunteer onboarding process.
Use a volunteer interest form or questions to collect important data on your supporters' passions, skills, availability and more. This data is essential to match the right volunteer with each opportunity to make the most of your knowledgeable volunteer base.
Conduct a volunteer skills questionnaire bundled with the volunteer interest assessment that will provide your organization with a more comprehensive picture of your incoming volunteers.
Access volunteer survey best practices and templates here.
What is the best way to collect this data?
How should you distribute your survey and collect volunteers' interests and skills data? We recommend centralizing and automating your onboarding process. For example, when you collect essential information (name, email address, etc.) from your volunteers, you should also capture their interests and skills, and prompt initial screening procedures.
House your volunteer interest questionnaire online, so volunteers can easily access it. You may consider a web-based volunteer management software that:
Automatically captures data like interests and

skills

during registration

Stores this data in

volunteer profiles

, and is accessible to volunteer coordinators

Allows for registration customization, including the creation of custom surveys and data collection
3. Write Effective Role Descriptions
You can help volunteers to find the right opportunity simply by creating a web page or database of informative and engaging opportunity descriptions.
Your description should include:
Specific Title
Avoid generic "volunteer needed" titles that are easily overlooked. Instead, opt for a title that communicates the role (this doesn't mean your titles can't be fun and eye-catching!). Let's take a look at these examples:
Not-so-good: "Shelter Volunteer"
Better: "Dog Walker"
Best: "Must Love Dogs: Peppy Pooch Pal"
Rationale and Purpose
Why are volunteers needed for this specific role? What are the desired outcomes of the activity? What can volunteers hope to achieve?
Responsibilities
To effectively pair volunteers, you'll want to ensure volunteers are prepared for the nature of the task.
Qualifications
Are there any requirements your volunteers need to know about before the sign-up? Qualifications may include a driver's license, fluency in a second language, or a background check. By stating these requirements in the job description, you're already vetting volunteers before the sign-up!
Time Requirement
How many hours does the role require? Don't forget to include the frequency (i.e. once per week) and duration (i.e. for three months) of the role.
Benefits
What can volunteers glean from the experience? Why should they volunteer with your organization?
FREE DOWNLOAD: Volunteer Matching Planning Guide
4. Compile a Database of
Interests and Abilities
As you gather data from your volunteers, you'll want to compile a database of volunteer interests, causes, and skills. In order to do so, you'll need to figure out how to organize volunteers in a way that works for your organization.
Data like volunteer-specific qualifications, waivers, skills, and the causes that matter to your volunteers are most effectively stored in a web-based system that allows you to manage volunteer information both individually and in bulk.
We also recommend you categorize your website's listed opportunities so that volunteers can easily and quickly identify the jobs they are suited for (you can even use handy icons for quick identification).
Volunteers should be able to search and filter opportunities on your website based on interest or cause. While creating the database sounds like a lot of work, there are robust volunteer matching tools on the market that can help you to automate processes like:
Capturing volunteer data, including interests, skills, availability, and other preferences

Creating a searchable opportunities database so volunteers can find the right job with ease

Making smart suggestions based on volunteer preferences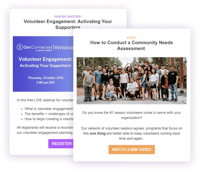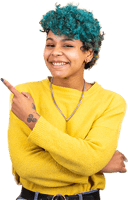 Join 20,000+ Volunteer Leaders
Get impact-boosting articles, guides, and webinar invites to help grow your volunteer program
5. Suggest Opportunities and Target Communications
Suggesting opportunities is a great way to engage new and veteran volunteers visiting your site. Your suggestions should be based on the volunteers' interests and skills indicated during sign-up.
Some volunteer management platforms come with integrated technology that automatically suggests opportunities based on preferences. If your current system does not have this feature, consider composing and posting a list of exciting, upcoming opportunities based on the most common skills and interests you encounter.
Additionally, some nonprofits choose to send a targeted monthly newsletter to volunteers that promote selected opportunities. Many email platforms will allow you to group and filter volunteers based on the tags you create (like skills and interests).
Tailoring your emails to groups of volunteers based on their preferences results in a more personalized experience for your volunteer base and can even boost loyalty to your programs.
Connecting volunteers extends beyond your first contact with a new volunteer. It's a practice that should be maintained to boost retention and sustained engagement.
Research shows that the organizations that adopted best practices designed to increase volunteer satisfaction had the overall highest retention rates. Effective volunteer management practices and retention of volunteers start with intuitive volunteer matching. So, let's help all volunteers do the best work they can.
Click here to download our Volunteer Interest Survey.
Additional Resources:
Volunteer Recruitment: How to Get the Volunteers You Need
The Most Common Volunteer Recruitment Challenges (and Solutions!)
20 Awesome Volunteer Recruitment Ideas