by


Eli Samuels
Organizing volunteers can be a challenge. Paper sign up sheets are of limited utility in today's world, and collecting sign ups via email takes a lot of admin time that could be best used in other ways. Volunteer sign up and scheduling sites are the best option, allowing volunteers to sign up for shifts themselves, from wherever they are, and showing you whether you have enough people and whether you need to contact additional volunteers or ask people to change shifts.
Even if you don't use a full featured volunteer management system, the best volunteer sign up sites save time and give volunteers additional agency.
So, what are the top volunteer sign up sites that can help your organization streamline the process?
Get Connected
If you need a full featured volunteer management system, Get Connected by Galaxy Digital is one of your best choices. Volunteer coordinators can match available volunteers to shifts, send mass emails to inform volunteers of opportunities, and allow volunteers to see and adjust their schedules using an intuitive volunteer sign up app.
You can coordinate multiple opportunities for volunteer teams, even match skills to opportunities. Get Connected is aimed at larger organizations with complex scheduling needs. The simple volunteer shift calendar tool allows all volunteers to browse and sign up for opportunities and provides the information they need for their shift or event. It has even more fantastic features to help you manage every part of your volunteer program, while providing one of the best volunteer sign up platforms and volunteer signup apps out there.
Shift
Smaller organizations that neither need nor can afford a full-featured volunteer scheduling platform such as Get Connected may find Volunteer Shift fits their needs. Shift is simpler volunteer management software from the same company. It allows you to post all of your shifts and opportunities in a central location where volunteers can read about them and then sign up. The volunteer shift scheduling tool tracks hours, reports attendance, and provides an easy-to-use dashboard that supports your program. It is affordable for most budgets (Only $39/month, with no limits on registered volunteers).
It streamlines operations, saves time, and makes it easier to recruit volunteers. It is one of the best volunteer sign up and scheduling sites for smaller organizations.
Sign Up Genius
One of the best-known options, Sign Up Genius is designed to recruit volunteers and let them sign up for shifts and events. It provides group messaging, reporting tools, and also easy ways to get donations. However, it is not a full-featured volunteer sign up platform and may not have the features you need.
It is very useful for organizations that primarily run events and need to sign up a lot of volunteers quickly, and allows participants to sign up from any device without making an account, sync to their calendar, etc. The organizer can add, edit, move, or delete volunteers. It is a reasonably priced volunteer scheduling platform but, again, does not have some of the features of other, more expensive, options.
SignUp.com
SignUp.com does have one major advantage: It's free. It is, however, pretty basic. You create a SignUp, volunteers sign up for it, and the system sends everyone a reminder. It does not track hours, provide waivers, etc. For that you have to pay for the Premium version.
However, if all you need is a signup system and you have a tight budget, SignUp.com can definitely help you out, and is one of the best free volunteer sign up sites. The premium version is also reasonably priced, with the basic starter level allowing similar features to Signup Genius and including limited spots and a waitlist. You can pay more to add waivers and check-ins, but hours tracking only starts at a more expensive plan. This leaves volunteers who are tracking hours for, say, community service, having to do it themselves.
SignUp.com is, however, a popular volunteer sign up platform, and this means that the platform and volunteer sign up app are likely to be familiar to your volunteers, which can be an advantage.
VolunteerLocal
This platform is designed to streamline registration, communication, and scheduling. It has a great self-scheduling interface that also lets you collect full demographic information and generate reports. It also prompts volunteers to share the live sign-up page which, in theory, attracts more volunteers. Of course, you may want to keep your sign-up page more private.
It also offers on-site checkin and hours tracking. However, it is not one of the cheaper options. While there is a $50/month option, it is charged per year (they also offer a one-time one-event plan for $200), so you need to find $600 up front, and you have to pay extra for hours tracking, which puts it up to $2,400 a year or $800 per event. This is a fairly steep price to get something some other volunteer sign up platforms include as a basic feature. While it is one of the top volunteer sign up sites, it is definitely not for every organization.
Samaritan Technologies
Samaritan Technologies provides full-featured volunteer management software and SaaS-style support. Their software provides one volunteer application that allows you to get all the information you need, integrates background checks, and allows volunteers to self-report service hours. Volunteers have a dashboard where they can upgrade documents and photos, edit their information, and search for opportunities. Samaritan provides a wealth of information for both volunteers and managers, making it one of the top volunteer sign up sites for large organizations and programs..
It doesn't just track hours but miles and accomplishments, allowing you to give out awards, reimburse mileage, etc. However, the company does not reveal their pricing, and one can assume it is substantial. This is definitely an offering for large organizations that have both the need for this kind of volunteer sign up platform and the budget to afford it.
Volunteer Mark
Volunteer Mark is focused on providing the best dashboard to make it easy for volunteers and managers to handle scheduling. Managers can use the dashboard to schedule opportunities, and volunteers get an elegant view to make it easier for them to sign up, edit their data, etc. You can track volunteer usage and see what different events or departments are doing, which volunteers have done the most hours, and check volunteer birthdays for age verification...or perks. This makes it one of the best volunteer sign up sites if you are running a corporate program or if you have a lot of younger volunteers and really need the age verification, which not every volunteer sign up program offers.
It has a free account that is fairly limited, but usable. and includes importing and exporting, sharing, etc. However, you need to pay to get more events and the ability to schedule fixed positions, as well as automatically approve volunteers and hours and do checkin/checkout. You also have to go to a higher plan for some basic features, including emailing your volunteers. This keeps it from being one of the best free volunteer sign up sites, but it is still useful for some organizations.
The best volunteer sign up and scheduling sites depend on your needs and your budget. But if you need full-featured volunteer management software for your large organization, Get Connected offers great value and some fantastic features. For smaller organizations, Shift is perfect for your needs. Check out both volunteer sign up platforms to find out which one fits your needs.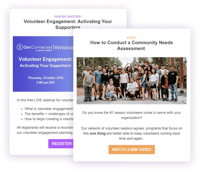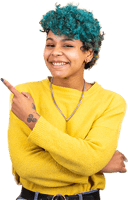 Join 20,000+ Volunteer Leaders
Get impact-boosting articles, guides, and webinar invites to help grow your volunteer program