Free Microvolunteerism Planning Guide
Volunteer programs are increasingly offering alternatives to volunteering in person. As people look for ways to invest in their local communities, remote and virtual volunteerism is a more inclusive way for people to get involved.
Virtual and remote volunteering is here to stay...but have you considered all the unique roles volunteers could fill at your program?
Discover over 30+ creative virtual and remote volunteer opportunities that will enrich your programming and drive more community impact!
Creative Volunteer Opportunities by Task Type
Admin
Transcription Services. Remote and virtual volunteers can assist with transcription of audio and video from events or interviews.
Virtual Volunteer Recruitment. Invite a volunteer to help recruit and onboard new virtual volunteers. This can help expand your organization's impact and reach!
Virtual Administrative Support: Ask volunteers to assist with virtual administrative tasks, such as community communications, volunteer scheduling, and data collection.
Translation Services.

This is a great opportunity for your multilingual volunteers to help translate your promotional materials, program services, or website into different languages.
Calling/Fundraising
Phone calls. Trained remote volunteers can help with answering crisis-hotline phone calls.
Online Fundraising Support. Have virtual and remote volunteers assist in planning and executing fundraising campaigns,

writing fundraising letters

, donor outreach, and follow-up communications.

Grant Research and Writing.

Recruit remote volunteers to research and write grant proposals

in order to secure program funding.
Marketing/Design
Graphic Design. Ask your most creative virtual volunteers for help with designing graphics for upcoming volunteer newsletters and impact reports.
Social Media Oversight. Task your virtual volunteers with

amplifying your program's message on social media

and engage with your online community.
Content Creation. Recruit skilled writers, graphic designers, and video editors to help create and edit content for your website, blog, or social media accounts.
→ Learn more about creating a social media strategy for your volunteer organization.
Data Entry or Collection
Data Entry. Enlist your remote volunteers to help with transferring information from paper sign-in sheets to your designated

volunteer management software

.
Citizen Science Initiatives. Encourage remote volunteers to participate in data collection for citizen science initiatives, like wildlife or pollution monitoring.
Remote Data Analysis. Ask your data-minded volunteers to analyze data and evaluate program impact.
→ Watch our recorded webinar, Virtual Volunteerism and Real-World Data
Want this Microvolunteerism Planning Guide delivered to your inbox?
Micro-volunteerism
Online Surveys. Get your volunteers to assist in designing, facilitating, or answering an online survey to help organizations gather feedback and information from community members or volunteers.
Homemade Arts and Crafts. Collect handmade crafts and artwork to be auctioned in the next fundraiser, or create homemade cards for community members.
Remote Advocacy and Campaigning. Create opportunities for remote volunteers to get involved with your nonprofit's cause by signing online petitions, writing letters, or tweeting government officials.
→ Learn more about micro-volunteerism and how you can incorporate it into your programing.
Educational
Virtual Tutoring. Tutoring and mentoring doesn't have to be in-person; recruit local college students to help tutor other students or assist with GED prep.
Virtual Skills-Sharing. Ask pro-bono volunteers to provide virtual career counseling to local entrepreneurs.
Remote Capacity Building. Invite your volunteers to help develop your program's online training resources or virtual volunteer orientation.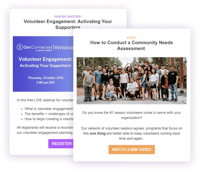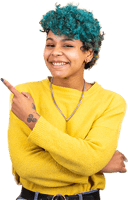 Join 20,000+ Volunteer Leaders
Get impact-boosting articles, guides, and webinar invites to help grow your volunteer program
Creative Volunteer Opportunities by Organization Type
Animal Shelters
Virtual Adoption Events. Volunteers can assist in organizing and promoting virtual pet adoption events.
Photo-editing. You don't need to use the same volunteer to take animal photos and edit them! Invite your photographer to send the photos to another volunteer for editing and posting on social media.
Adoption Application Review.

Virtual volunteers can assist with reviewing and processing adoption applications from community members.
Food Banks
Impact Story Mapping. Have a remote volunteer visualize your program's impact data in order to tell the stories of how your food bank is making an impact in the local community.
Virtual Food Drives. Hold an online food drive for non-perishable food items and donations. Remote volunteers can also pick up these donations from community members.
Online Recipe Collection. Task a volunteer with collecting and curating budget-friendly quick and nutritious food to share with clients.
Virtual Cooking Classes. Recruit a volunteer to host an online cooking class using ingredients from the food bank.
Places of Worship
Virtual Meditation and Mindfulness Sessions. Ask an experienced volunteer to lead online, donation-based meditation and mindfulness sessions for community members.
Online Tech Support. Recruit a tech-savvy volunteer to provide tech support and troubleshooting during live-streamed religious services
Congregational Support Calls. Ask volunteers to call and check in on congregants, particularly those who may need additional support or assistance from their community.
Educational Organizations
Remote College Application Mentors. Invite your volunteers to help guide high school students through college and financial aid applications via virtual meetings, essay workshops, and online classes.
Online Language Exchange. Recruit your bilingual volunteers to host virtual language exchanges or English as a Second Language classes.
Virtual Reading Buddies. Create virtual book-reading sessions with younger community members to help promote reading comprehension and literacy skills.
Tips for Virtual and Remote Volunteerism
As you begin building your virtual and remote volunteer program, remember to clearly tag each opportunity as virtual, remote, or microvolunteerism. This will ensure that potential volunteers can easily search for and find these opportunities on your volunteer management system or volunteer site.
Remember to manage volunteer expectations and clearly communicate the responsibilities and duties associated with each role. You'll also need to make sure that you provide volunteers with the necessary resources and support to make a meaningful impact in their position.

Also, out of sight does not mean out of mind! Your virtual volunteers will need the same, if not more, volunteer appreciation for their hard work! Make sure that you regularly check in with your remote and virtual team and communicate the impact of their work so that you can retain them well into the future.

We hope these 30+ bite-sized virtual and remote volunteer opportunities can help inspire your organization to widen your volunteer recruitment net and make a significant impact in your community!