by


Eli Samuels
There's a lot that goes into managing volunteers. From recruitment to training to engagement, volunteer leaders have a lot on their plates. That's why they need the right tools to do their jobs well.
In fact, according to a survey by softwareadvice.com, 94% of service-focused organizations believe that using software to manage volunteers is valuable. However, only 10% of these organizations are using dedicated volunteer management software.
But with a variety of tools to choose from––volunteer leaders want to ensure they're getting a system that includes the most valuable volunteer management technology features.
Here are the top five most useful features to look for in a volunteer management system.
Volunteer Management Software Features:
The Essential Software Features Every Volunteer Leader Needs
Innovative technology is transforming the way volunteer professionals manage volunteers. Let's look at how volunteer management software can improve productivity for any volunteer leader.
Why do volunteer leaders need a dedicated volunteer management system?
There are plenty of great tools out there to help volunteer leaders perform everyday management tasks. In fact, you may already be using volunteer management tools like online scheduling and email. But when your growing list of tools is not centralized in one user-friendly system, they can quickly become inefficient and less functional (think about all that data transfer!).
That's where volunteer management software comes in.
Dedicated volunteer management software can both simplify and strengthen the volunteer management process. A volunteer management system is designed to unify the tools needed to carry out the many administrative duties involved in managing volunteers and volunteer program activities. A centralized platform should come with a variety of features for all steps of the management process.
So, we've put together a list of the top volunteer management system features that every volunteer leader needs to work most effectively.
1. A Simple, Centralized Volunteer Database
A centralized database will ensure (1) your volunteer contact information remains secure, (2) your opportunities are easily accessible to volunteers, and (3) data tracking is live and accurate, all so you can focus your resources on making real change in your community.
The database should simplify the collection process and organize the storage of the following information:
Volunteer Data
Volunteer managers need a centralized system for collecting all the essential volunteer information in one place. At a minimum, your volunteer data should include:
Contact details
Activity logs and hours records
Schedules and availability
Volunteer preferences.
Program and Agency Information
If your organization works with other community partners or hosts multiple programs and projects, you'll need a system for organizing data for all your programs and partner agencies. Your system should capture the following data:
Agency contact details
Segmented opportunity or activity listings
Impact or participation data for each program.
Opportunities and Events
Volunteer leaders need quick, behind-the-scenes access to manage opportunities, projects, and events with ease. Especially for organizations running hundreds of opportunities and volunteer shifts, volunteer managers should search and filter through an opportunities database efficiently. The software should also display volunteer opportunities and shifts in a clean, searchable volunteer-facing list.
2. Easy Volunteer Hour Tracking and Reporting
Did you know that 62% of service-focused organizations are losing valuable volunteer data due to poor record-keeping? While every volunteer program should track volunteer impact, not every organization has a system to keep data organized.
Why should volunteer programs care about their data?
Simply put, good data empowers organizations to win grants, inspire support, and build capacity.
Multiple Tracking Tools for Easy Data Collection
If you want your volunteers to log their data, you need to make it easy for them. Even better, an automated tracking system increases data accuracy. When your volunteers have options for tracking their activities, you're more likely to get the data you need. In other words, flexibility is key!
Look for a system that offers multiple flexible tracking tools, such as:
Web-based hours log – Most volunteer management systems will allow volunteers to record their hours and assign them to a project or activity. When volunteers can log their hours easily, volunteer managers save time.
Check-in kiosk – You no longer need to rely on paper sign-in sheets to track volunteer attendance and time. A web-based check-in tool will automatically log a volunteer's hours on site when they clock in and out of an opportunity through a tablet, computer, or mobile device.
QR code – QR codes can be created for virtually any website. So, look for a system with web-based check-in and hours logs. Just print the QR code and post where volunteers congregate. Volunteers simply scan the QR code with their smartphones for contact-free check-in and time logging.
Mobile app – In a world that's increasingly contact-free, a mobile app is a great way for volunteers to log attendance and manage their schedules from their smartphones. Some mobile applications will send automated notifications to remind volunteers to check-in when they arrive at their scheduled activity.
Spreadsheets have their place. But when you're trying to gather reports on a year's worth of data for your entire volunteer program, a spreadsheet quickly reveals its limitations. A volunteer leader can save lots of time by implementing a volunteer management system that integrates real-time reporting.
Further, volunteer leaders should be able to segment reports based on a range of data, such as volunteer projects, events, volunteer groups, and more.
Groups and Teams Impact Tracking and Reporting
Need more hands on deck? Make it easy for volunteer groups to get involved. Whether you rely on corporate teams, student groups, or families, you'll need a system for tracking and reporting collective impact.
A team tracking feature is essential for organizations that rely on corporate partnerships to fulfill volunteer program needs. But keeping track of volunteer data for large groups can get a bit sticky (not to mention time-consuming) without the right system in place.
An intelligent volunteer management software like Get Connected can give volunteer teams the power to track their collective impact. Volunteer leaders and their community partners also benefit from a volunteer management system's automated reporting.
3. Automated Volunteer Engagement
Managing volunteer schedules and data is just one piece of the volunteer management pie. A powerful solution should also integrate engagement features.
How can technology improve the way you engage volunteers?
Engaged volunteers are committed to their volunteer work and, ultimately, are more likely to become long-term supporters of your cause. Some achievable strategies for boosting engagement:
Consistently communicate with volunteers and thank them regularly
Provide positive volunteering experiences
Reduce barriers to participation
Incentivize volunteerism
Volunteer management technology can help volunteer leaders implement these strategies regularly and efficiently. Engagement tools include:
Volunteer Mobile App
Some volunteer management systems offer a free mobile app for volunteers. A mobile app should be user-friendly and straightforward. It should also allow volunteers to view and manage their shift schedules and check-in to a shift when they arrive on site.
Self-registration and Scheduling
If you want to get volunteers through the door consistently, you must make it easy for them to access opportunities. Volunteers should be able to self-register and manage their calendars. The process of getting involved should be seamless, empowering volunteers to participate with fewer barriers.
Automated Rewards and Recognition
Recognizing volunteers is key to keeping them engaged and happy with your organization. But keeping track of every volunteer's impact is time-consuming without the right technology.
A volunteer management system can help to automate the rewards and recognition process. When volunteers log their hours and achieve time activity goals, the software should automatically congratulate the volunteer and inform the volunteer leader-so you never miss the opportunity to recognize every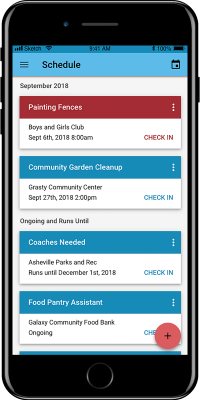 4. Time-Saving Communication Hub
Effective communication is essential for managing volunteers well. And volunteer leaders need an efficient way to reach their supporters. A system's communication features should include:
Email Blast
You won't need a unique tool for emailing one or two volunteers at a time. But if you want to reach a large audience efficiently, you'll need a system featuring email blast. Software with CRM capabilities is an exceedingly useful tool for any manager; you should be able to send emails to volunteers directly from your platform without having to build tedious email lists.
Look for a system that allows you to filter your contact database based on various options (by opportunity sign-ups, interests, availability, skills, qualifications, and more).
Text Messaging
Increasingly, organizations are using text messaging to drive action. Volunteer leaders can use text messaging to solicit donations or notify volunteers. Get the word out fast by sending updates and calls to action via text. You're more likely to get a response from tech-savvy volunteers.
A volunteer management software should collect mobile numbers upon volunteer registration, allowing managers to send mass texts directly through the system.
Notifications
Automated notifications make it easy for volunteer leaders to keep volunteers informed without sending manual texts and emails. These automated notifications act as reminders for volunteers and appear in the software, the volunteers' phones, or their emails.
How do notifications work?
The system is prompted to send a notification when the volunteer takes a specific action on your site. For example, a new volunteer may receive a notification when they register with your site. Or, the system may send a follow-up survey after a volunteer logs their hours. The feature is a real time-saver that goes a long way in maintaining effective communication efficiently.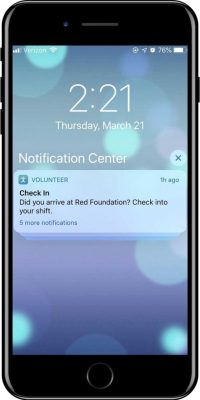 5. Engaging Volunteer Profiles
Volunteer profiles keep all volunteer information in one place once they self-register with your organization. Individual volunteer profiles also give volunteer leaders access to information for every volunteer, so managers can work to create more meaningful personalized volunteering experiences.
In addition to basic volunteer information (name and contact details), the software should also collect and store the following volunteer data:
Interests, Skills, and Qualifications
Do your volunteers have the appropriate skills for the task at hand? Are they passionate about the work you're asking them to do? Whether your volunteers are working with children, offering pro bono legal advice, or providing healthcare, your organization must appoint a qualified volunteer.
What's more, your organization should be able to build programs around volunteers with specialized skills and certifications, like healthcare professionals and ESL certified teachers. If your current software doesn't skill match, you could miss out on volunteer retention and engagement.
Waivers and Documents
With many volunteer profile options, volunteers can upload digital copies of any qualifying documents (like licenses). They can even sign volunteer waivers electronically, which means no more waiting for volunteers to print, sign, and return paper documents!
Keeping thousands of volunteers' documents in order can be tricky. But when paperwork is intuitive and centralized, it's easier to maintain administrative documentation.
Recommended Opportunities
In addition to collecting and storing a volunteer's interests and qualifying certificates, the volunteer management system should also provide recommended volunteer projects or opportunities based on their profile. A robust solution can automatically generate these recommended opportunities, so volunteers are more likely to find a project that suits them quickly.
One of the best ways to aid volunteer retention is to create personalized experiences for each supporter. Pairing volunteers with the right opportunity–and doing so efficiently–is a crucial component of any retention strategy.
Personalized Schedules
Each volunteer should be able to view and manage their unique schedules with ease. (A software that features a calendar view is especially helpful.) When volunteers can see their schedules, they're less likely to forget about a shift. More agency over one's experience can even lead to better engagement.
Individual Impact Tracking
The more data the system collects, the more you can create a personalized experience for each volunteer. When volunteers can access their data, they feel empowered to participate again and track their hours.
Check out this volunteer profile from Get Connected, featuring a real-time impact report: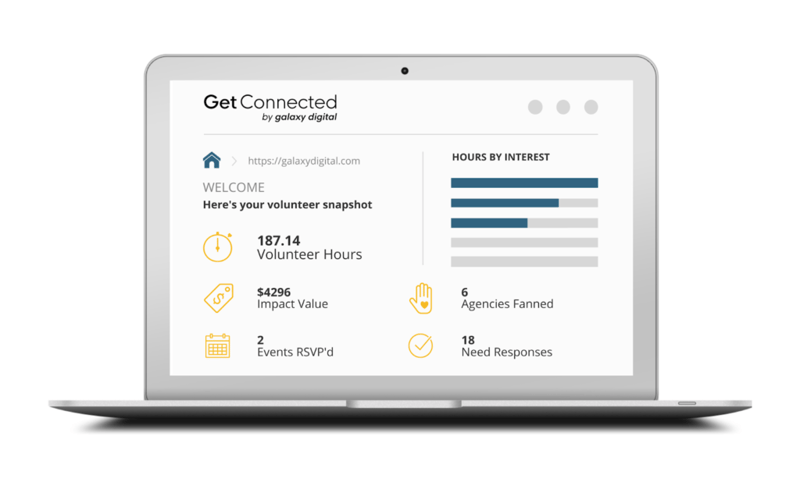 ---
There are lots of software options available. Generally, when investing in a volunteer management system, you get what you pay for. A system that incorporates these top features can be a cost-effective, time-saving alternative to your collection of disparate management tools.