Volunteers do so much for your organization already. But did you know that 85% of volunteers will also donate to the nonprofits they already serve?
If you don't have a volunteer giving program, you may be missing out on essential opportunities for multiplying your program's impact.
In this article, you'll learn how to convert your volunteers to donors in 5 steps, PLUS even more tips and best practices for a successful volunteer donorship program.
Let's get started…
How to Convert Volunteers to Donors in 5 Steps
Asking volunteers for donations can feel a bit, well, awkward! They already spend their free time supporting your cause, the last thing you probably want to do is ask for even more.
But you may find that many of your volunteers are more than willing to donate!
With a little tact and a bit of strategy, you can grow your volunteer program and create a winning volunteer donorship plan.
How do you convert volunteers to donors? We've boiled it down to 5 essential steps: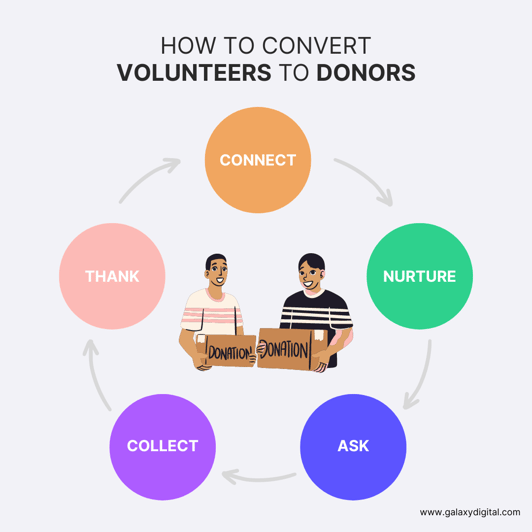 Click on the links below to jump to any step, or follow along for the full picture.
Plus, more best practices for converting volunteers to donors

. Let's jump in!
1. Connect with Your Volunteers
Volunteers who donate tend to be long-term supporters of your cause. So, building relationships and connecting with your volunteers early on is essential to growing your impact.
From the moment each volunteer registers with your organization, you'll want to turn your attention toward volunteer engagement and community building.
Here are a few ways to connect with your volunteers from the beginning:
Say Hello. Connect with your volunteers as soon as they register with your organization. Send a personalized email (which you can automate using your volunteer management software) and make that extra effort to say hello in person during orientation or a first shift.
Develop a Strong Onboarding and Training Program

. Invest in your volunteers' success with thoughtful

volunteer onboarding

and

training

. Acquaint supporters with your mission and make sure volunteers are prepared for their roles.

Create a Sense of Community

. Invite lots of opportunities for socialization and collaboration, such as team projects and volunteer socials. Partner new volunteers with seasoned mentors, and invite supporters to bring along their family and friends!

Connect Volunteers to the Right Opportunities. Happy volunteers love the work they do. Match your volunteers with the right volunteer opportunities based on their skills and passions.
Once you've initiated a connection with your volunteers, you'll want to nurture these relationships. Here's how:
2. Nurture Your Relationships
Your volunteers have signed up for an opportunity, and maybe even completed their first shift. Now it's time to maintain and deepen your relationships with your supporters.
Long-term volunteers are much more likely to donate to your organization than your episodic volunteers.
So, how can you deepen relationships with your volunteers? Try these strategies:
Collect Data on Your Volunteers' Impact - Understand how your volunteers are already contributing to your organization so you can personalize your appreciation efforts.
Recognize and Appreciate Your Volunteers - A volunteer appreciation strategy is key to happy volunteers. Recognize volunteers for their specific and unique contributions to your organization by creating a volunteer appreciation strategy.
Stick to a Communication Plan - If you want to continue to nurture relationships with your volunteers, you'll need to maintain communication throughout their volunteer journey. Ask volunteers for their preferred communication method (email and text messaging are highly effective at keeping your supporters engaged). Then, choose key moments to reach out.
Personalize Your Message - Blanket communications have their place in volunteer management. However, if you want to deepen your relationships with your volunteers, you'll need to address them personally. Use your communication tools to send automated yet personalized messages, so you spend less time communicating better.
Focus on Retention -

All of these activities are part of an overall

volunteer retention plan

. Keep retention at the forefront, and you'll not only keep volunteers for longer, you'll also find that they're more willing to give.
3. Ask Your Volunteers
Once you've nurtured strong relationships between your organization and your volunteers, you'll feel more comfortable asking them to donate.
So, your next step is to create a fundraising campaign specifically for your volunteers.
Try an Email Campaign - Email campaigns are highly effective fundraising tools. Segment your email list to target your most engaged, long-term volunteers (you don't want to ask too much, too soon). Then, write a short, enticing subject line and a compelling call to action in the email body.
Talk About the "How" and Why" - People are compelled to donate when they feel an emotional connection to the cause. When fundraising, talk about how these donations help your cause in addition to their volunteer work, and why their donations are essential to your program.
Tailor Your Donation Request - Offer different options for giving. Small monthly donations tend to be more manageable than larger one-time gifts. However, some of your volunteers may prefer to donate as they feel compelled and comfortable. Make sure your volunteer platform has an easy-to-find "donate" option.
Don't Forget About Text Messaging - Text messaging has extremely high open rates. So, if your volunteers opt-in to receive texts, why not create a text-message fundraising campaign? Apply the same strategy as your email fundraising (you'll need to segment your contacts list and include a call-to-action). Just keep your texts more succinct thank your emails and link to your donations page.
Volunteer Donorship Example Email
Compose a winning fundraising email that converts your volunteers to donors with this suggested format:
Start with a personal greeting
Communicate the volunteer's impact (if you can) or your volunteer program's collective impact
Make your donation appeal
Tell the reader why you need their donation and how the donation will be used
Add a CTA and link to the donations page
Wrap up with a sincere "thank you"
Let's see how it all comes together in this sample volunteer fundraising email:
Subject Line: Thanks for being YOU!
From: [Volunteer Leader Name] at [Organization Name]
Hi [Volunteer's First Name],
This year, you have volunteered X hours of your time to [Program Name]!
You contribute so much to our organization already (and we truly couldn't do it without you). But did you know there are more ways to help [Organization Name]?
By donating to [Organization Name], you can multiply your impact.
Nearly half of our community's children rely on programs like [Program Name] to get the nutrition they need to grow healthy and strong.
For $X per month, you'll supply one child with a week's worth of wholesome lunches.
Prefer to make a one-time donation? $X provides after-school snacks for every child in our [Program Name] program for an entire month.
Ready to keep making a difference? Donate today. [Link to platform].
Thank you for your continued support. We're truly grateful to you, and we hope to see you again soon!
Sincerely,
[Volunteer Leader Name]
[Organization Name]
4. Collect Your Donations
One key to successful fundraising is to make donating easy. Your organization's homepage and main navigation bar should include a clearly-labeled "Donate" button or page option.
Even better, versatile volunteer management software enables visitors to make online donations through the same platform they sign up to volunteer! It's easier than ever to track and recognize all the ways your supporters contribute.
5. Thank Your Donors
You know volunteer appreciation is important. And thanking your donors is equally essential to the success of your volunteer donorship program.
Send a sincere and timely thank you message after each donation. You may also want to send a handwritten thank you note at the end of the year to express your gratitude for your volunteers' sustained support.
We understand that keeping track of every donation and then remembering to send a thank you note is no easy task. Tools like volunteer management software and donor management platforms can automate these processes so every volunteer and each donor receive prompt, customized thank yous.
Want to boost your volunteer giving program? Here are some more tried-and-true best practices for converting volunteers to donors....
More Tips for Converting Volunteers to Donors
Take your volunteer donorship program a step further with these quick, essential tips:
Create a Streamlined Experience with Technology

- As a volunteer leader, you have a lot on your plate already. But

with the right tools

, it's possible to give your volunteers a memorable, streamlined experience every time they volunteer and donate.

Get Volunteers Involved in Fundraising - Not all your volunteers will be able to donate. But they can help in other development activities. Volunteers are great at soliciting donations and building relationships with potential donors. In fact, today's supporters are quite receptive to peer-to-peer fundraising.
Tap Into Corporate Volunteers - You've worked hard to develop strong corporate partnerships and employee volunteer programs. Why not invite your corporate volunteers to take part in a workplace giving program? A few keys to success: For each corporate partner, create a unique donations landing page on your website. Then, track and communicate their collective impact.
Convert Donors to Volunteers - Double down on your impact by asking your donors to volunteer! Work closely with your development team to identify opportunities for marketing your volunteer program. This interdepartmental collaboration will help you create a volunteer giving program that draws upon your team's strengths while continuing to meet your community's needs.
Ready to get started growing your impact and meeting even more of your community's needs?
We have lots more resources for managing and growing your volunteer program. Check out our comprehensive resource center for volunteer leaders like you!